The Vancouver Giants have hit the 60-goal mark and are headed for the home stretch of the regular season. The team has already clinched a playoff spot with a record of 24-28-5-3 and will be looking to fine-tune their play heading into the postseason. Here is a look back at some of the teams' top players over the past 60 games.
M.V.P: Ty Thorpe
Ty Thorpe continues to be the straw that stirs the Giants' drink, as the captain is now up to 64 points in 58 games. He also recently eclipsed the 30 goals mark for the first time in his career and is just 12 points off 150 points for his career. As captain, he continues to lead this young Giants squad and will be looked upon to provide strong two-way play as Vancouver gets set for the postseason.
Best Defenceman: Dylan Anderson
A leader on the blueline, Dylan Anderson continues to shine for the Giants. He is now up to 27 points in 44 games which includes points in 17 of his past 20 games. Whether it is on the power play, penalty kill or late in games, he has done his hometown of Langley proud as his W.H.L. career slowly comes to a close.
Unsung Hero: Jesper Vikman
Jesper Vikman continues to give the Giants a chance every night, thanks to his strong goaltending. The Vegas Golden Knights prospect is 18-19-1-2 in 42 games this season and has picked up points in six of his last eight games. He has also made at least 30 saves in seven of his past ten starts. It will be hard to upstage his performance from last year's playoffs, but Vancouver is hoping he has one more stellar postseason run in him before he moves on from the W.H.L. this offseason.
Best Performance During Last 10 Games: Mazden Leslie vs Prince George
Against the Prince George Cougars on March 1st, 2023, Mazden Leslie became the first and so far only Giants player to record a hat trick. The 2023 N.H.L. Draft prospect scored his ninth, 10th and 11th goals of the season in a 6-2 victory over the Cougars. He also finished the night with five shots on goal which was the most by any Giants player.
Leslie has been enjoying a career year this season with 46 points in 60 games. He is currently ranked 80th among North American Skaters by N.H.L. Central Scouting and should hear his name called in Nashville at the 2023 N.H.L. Draft. A key part of this Giants blueline, he should play a massive role for Vancouver once the postseason rolls around.
Player Spotlight: Brett Mirwald
Every team needs a steady backup goaltender, and that is exactly what Brett Mirwald has been for the Giants. The Saskatoon native has a .907% save percentage in 22 games this season and is currently on a two-game winning streak where he has stopped 61 of 65 shots. His strong play has also helped Vancouver manage Vikman's minutes, helping keep him fresh throughout the season and ready for the postseason. One of the Giants' best acquisitions this past offseason; watch for him to get a few more starts in the final eight games of the season.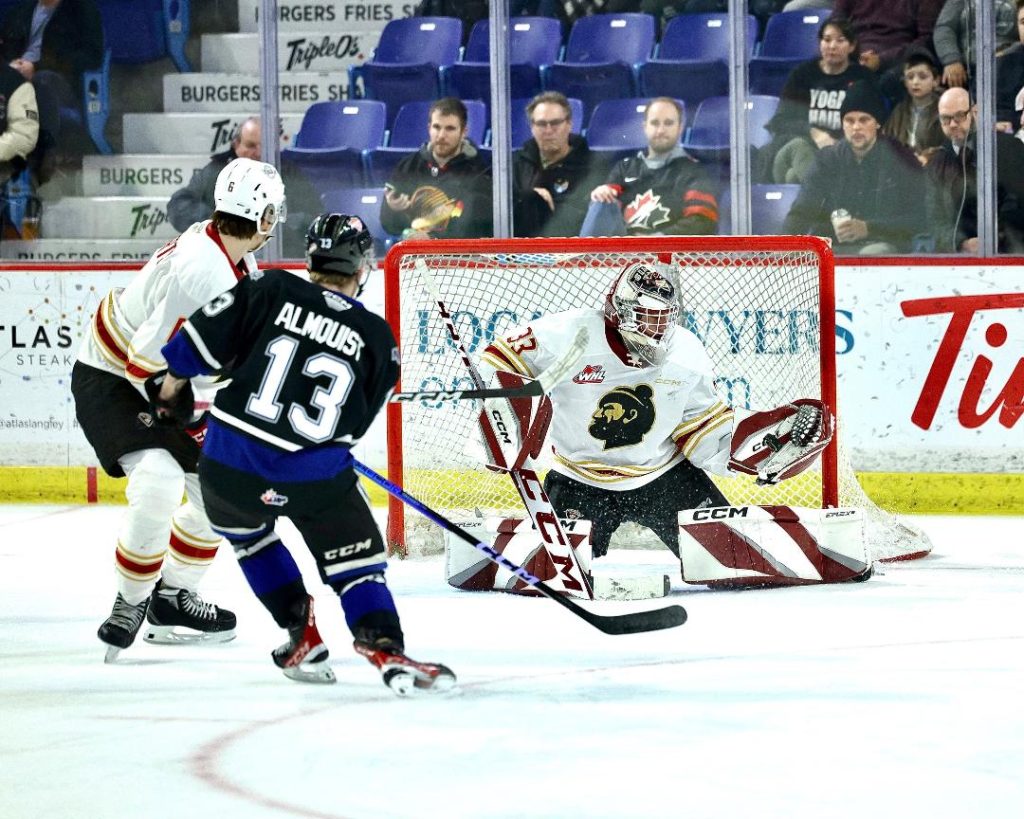 That will do it for the Giants' 60-game update here on the Area 51 Sports Networks. Make sure to keep your eyes peeled right here as we bring you the best W.H.L. coverage all throughout the season.