(Photo: Larry Brunt/Spokane Chiefs)
Entering the 2022-23 season, Spokane Chiefs goaltender Cooper Michaluk had appeared in just five regular-season and four playoff games in the Western Hockey League after signing his WHL Standard Player Agreement in early February 2022. When the Area 51 Sports Network last caught up with Michaluk, he had seen just two starts and three appearances. Now, just over one year later, with 36 appearances for the Chiefs this season and plenty of experience, Michaluk shares how he approaches the game and what he has learned after a full season in the WHL.
3-0
While the Spokane Chiefs were waiting for Mason Beaupit to return from camp with the San Jose Sharks, Cooper Michaluk was relied on to hold down the fort as the season began, picking up wins in each of his first three starts.
"It was obviously unique," said Michaluk on the opportunity. "Getting into your first year, you're playing two or three games back-to-back. It's obviously taxing on your legs. You have to make sure you're taking care of your body and make sure you hydrate and watch what you eat and stuff, but it was great. My team in front of me made it really easy on me and let me have the shots I should have and they dealt with the rest of it." Though, the rookie netminder admitted that it was a bit nerve-wracking and that he did feel some pressure heading into the games, but reinforced that the rest of the Spokane Chiefs team made it easy for him, specifically in the first month of the season.
YEAR-OVER-YEAR
Of course, on how things have been during his first full season in Spokane overall, Michaluk says that things have been great.
"Being here in Spokane, I'd say it's the best place to play. The fans are on our side and cheering us on every night. The development I've had with coaches, players, and teammates has been extremely awesome and I couldn't be happier with where I am right now, just improving every day."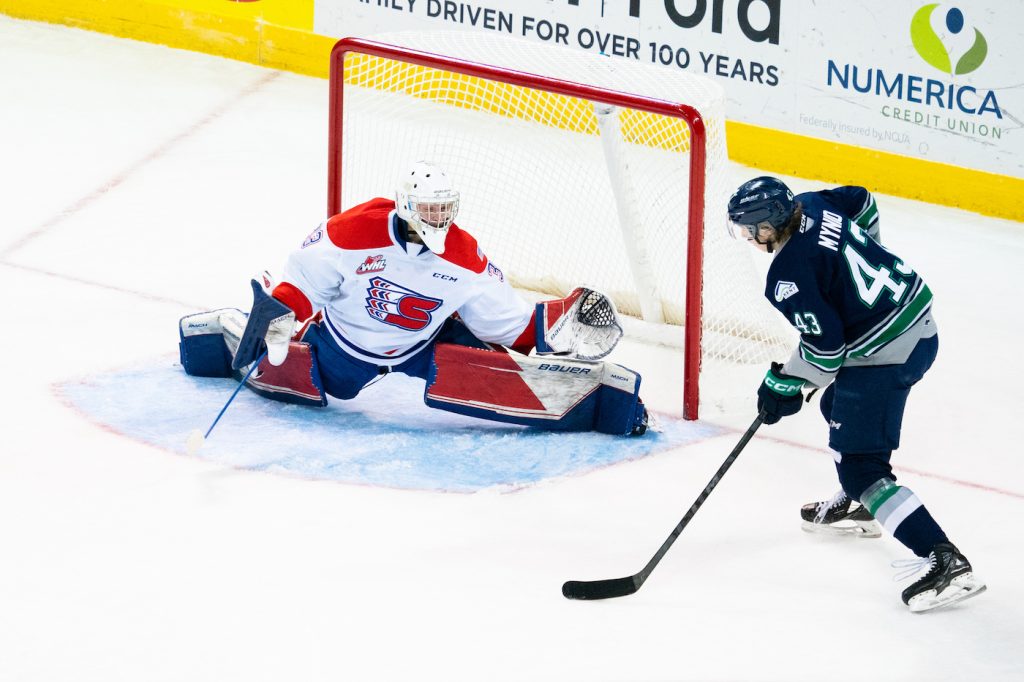 As for where the 18-year-old netminder says he has improved his game the most over the year, Michaluk says that it is his hockey IQ. Recognizing that the game is a lot faster than what he had been used to and that the players he is up against every night are all at an elevated skill level. However, one big area of focus has been his skating. Yes, even for a goaltender, skating is a skill that can't be ignored.
"You definitely have to pick up on releases faster. You have to start to figure out that if you want to compete at the high levels, you have to get your skating good and I feel like I've been working on my skating. Making sure I'm getting to spots quick and fast and I'm learning how to keep up with the pace."
However, skating and general hockey IQ are not the only areas of improvement for Michaluk. Following his third appearance in the WHL, Michaluk noted that screened shots were a difficult thing to adjust to when coming up from the CSSHL.
"Even from the start of this year, I still had only gotten a taste. I still found that it was very hard to see shots when you've got 6'3 and 6'4 guys standing in front of you. They don't move from the puck. They're stuck there, so you have to find ways to look around them. There are a few tricks that I've learned with my goalie coach Lucas Gore. He's helped me with that a ton and we've just been banging that out throughout the year and learning how to collapse in the spot and fill spots instead of hoping it hits me."
SKATING
Going a bit deeper on the subject of skating, Michaluk shared just why skating is such a valuable skill in net, explaining that with even the number of ways you can get into or out of position, the way you move on skates changes your effectiveness. Something that seems obvious when it's mentioned, but that many do not consider when watching a game of hockey.
"A big thing is to stay level and set throughout the whole push, not bobbing up your head and getting all wonky in form and all that. It's nice to stay tight but also stay loose. There are shuffling and little side-steps you can do and things such as c-cuts along the butterfly, making sure you have a good angle on the post, and all of that."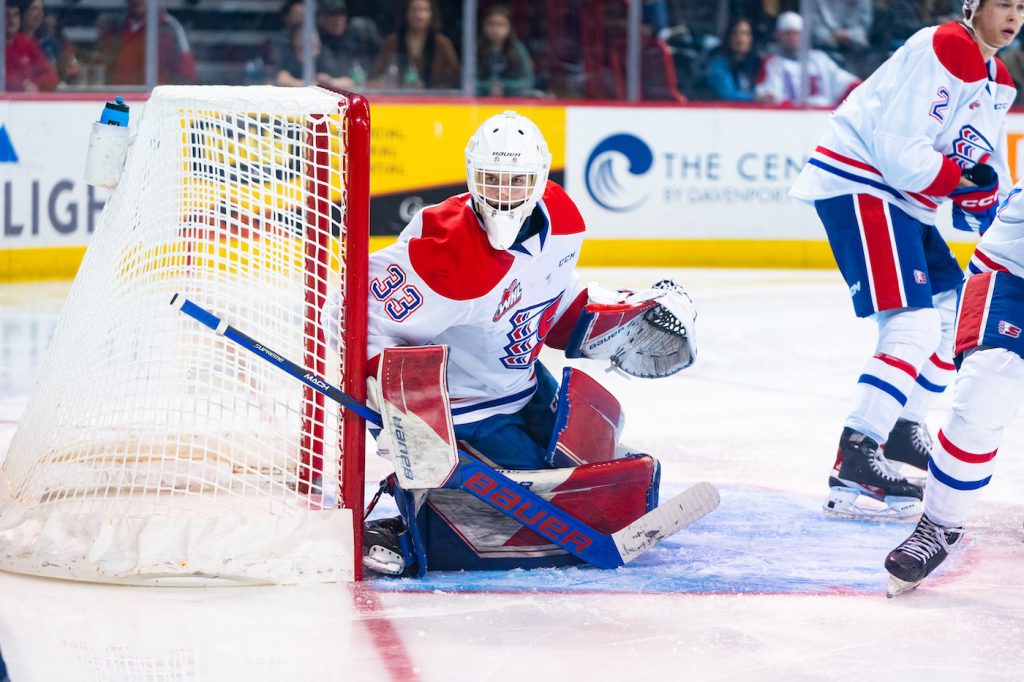 Michaluk also mentioned that there are key pushes that are worked on and that being able to keep your balance through any push makes everything easier, noting that while they go into each goalie skate with Gore having a planned focus, there is time for work at the end for them to work on "more complex things that will kind of trick you and knock you off balance, so it's good to get better at that."
"It's tough and that's why I'd say it's probably the most important thing to get to the next level, finished Michaluk. "You've got to work on your skating. The goalies that are in the NHL and are at the next level are probably the best skaters in their age group and the whole league. So you definitely have to hammer those out. It's tough, too. When we have our goalie skates, it's usually 10-15 minutes of just straight skating and it burns sometimes. You get the calves going, the ankles going a bit. It gets pretty tiring and it's complex, but it's fun."
DRAFT SEASON
The 6-foot-2 Michaluk is a first-year draft eligible and coming into a season knowing that your draft is just months away would be intimidating for anyone. "Obviously it's on your mind and you think about it every now and then," said Michaluk "but going into games, you've got to be dialed. You've got to have a straight, clear mind and you try not to think about it too much. Especially when you go through those up and downs. The goalies who dig themselves out of those are the ones that are going to succeed. Keep it in your mind, what you're working towards, but also store it away for that right time so you can have a clear mind and just be completely focused on your job in front of you, which is stopping the puck."
Even without the pressure of an upcoming draft, goaltenders have plenty of expectations to balance, from themselves, their teammates, the fans, and everybody else up and down a hockey organization. "Throughout the game, we carry a bunch of the load and when it all goes wrong it's something that we can reflect on," commented Michaluk on the potential stressors in a game, continuing on to discuss how to combat the negative effects of that pressure. "It's how the high-league goalies carry the load and keep our chins up, make sure we're ready for next practice or the next game, whatever it may be. Just have a good attitude. Once you get in your own head, you start to get messy because then you're forcing saves and forcing plays. Trying to do too much and that's just not how it works anymore."
What it comes down to, per Michaluk, is confidence and he knows just what helps to stay confident:
"You can't let something knock you down or get you off your feet. You've got to stay happy and that's what it's about, right? Having fun and all that. It makes it a lot easier to keep your confidence up when you're having fun."
STAYING FOCUSED
"Some games it's hard, some games it's not."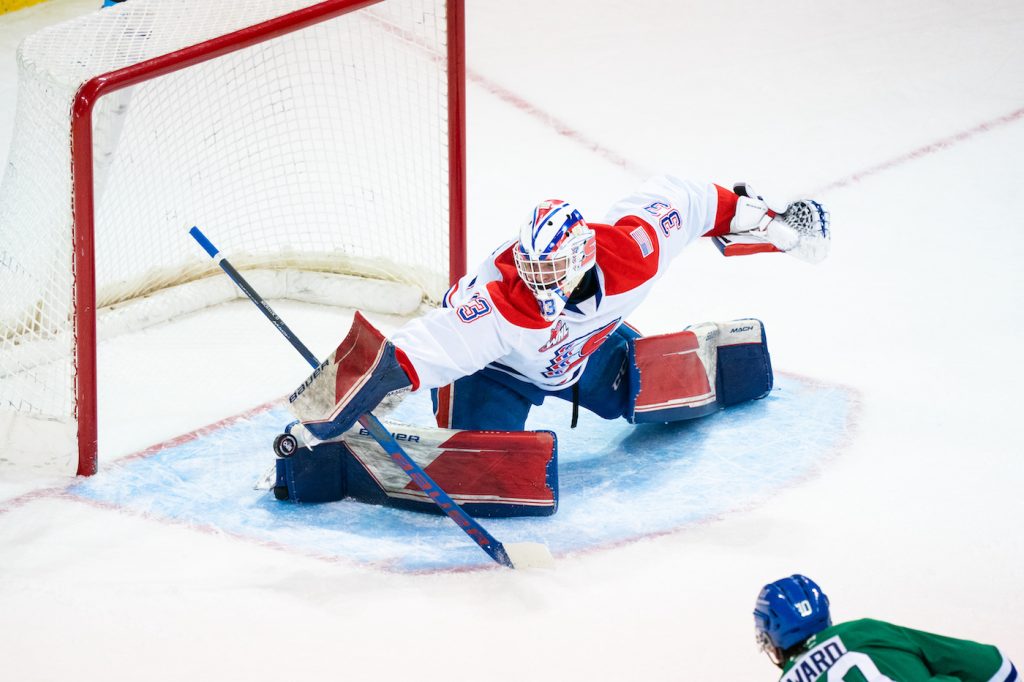 Cooper Michaluk says that warming up for games does not always come naturally. On the mental side of things, the Spokane goaltender shared his pre-game routine but noted that sometimes he will change something if he isn't feeling something on a particular game day. "I'll do my warmup, all my ball work, and get the eyes going. After that, I wind it down and take a towel, put it over my eyes, and just kind of clear my mind. I just try to think about nothing, or maybe think about one thing at a time and go through the whole game plan. The shooters you're playing against and all of that."
Once it is time for on-ice warmups, Michaluk says he tries to keep it loose and have fun with his teammates, "Make saves here and there and just track the puck."
In the time between on-ice warmups and lining up for the anthem, Michaluk says he puts on the headphones and zeros out. "Just honestly having the music go through one ear and out the other and literally getting into that hard, deep zone."
But what about if the game doesn't start in his favor? Michaluk sticks with those that preach a short memory:
"If it all goes wrong on that first one or whatever. Grab water, squirt it all over my face, down my neck, and then take deep breaths. The thing about goalie is that it's tough. Let's say the first shot doesn't go your way. You're going to know that you've got 25-30 more coming. You really have to be quick and forget. They always say to think like a goldfish for a goalie, right? Once something bad happens or something you don't like? It's done. You don't even remember it. The goalies that figure that out and can do that at a really high level and really quick are the ones that are going to succeed so I definitely stress on just getting through that and forgetting about it right after."
If you are wondering what is playing in Michaluk's headphones before a game, he hinted at it in a recent Spokane Chiefs video…
"A lot of Red Hot Chili Peppers recently. I mean, that's kind of my mojo lately. It's been kind of soothing but also high energy so that's just what really gets me in the zone now."
STAYING POSITIVE
Having previously shared that he got through his first few games in the WHL last season with "a lot of positive self-talk", Michaluk said that the practice remains part of his game.
"You make a good save, you've got to give yourself a little tap on the back. Even if a shooter makes a good play and beats you, you've got to tip your hat then sometimes. That makes it easier too when you're a little bit easier on yourself in net. It makes it more fun as well." Michaluk also recognizes the talent of the players on the ice with him and lets that help be a motivating factor, even if a puck finds the net behind him.
"These guys that are shooting pucks, they can all score. So when they get a nice goal on you, you can't beat yourself up about it and start to freak out about why you didn't make that save or something. You've just got to let it go and be like wow, it was a good shot, but I've got the next one. You make it a competition. Obviously, you go into games and you don't want to get beat at all, but sometimes you have to think, hey this is going to happen but it's how I bounce back. There's always going to be another shot and so it's just about making sure you get that next shot."
OKAY, BUT COULD WE SEE A MICHALUK GOAL?
He has eyed it before and Cooper Michaluk does admit that he would go for it.
"Yeah, I mean when you're playing and the other team pulls their goalie, it's always in the back of your head. What if they dump it in soft on you and you get a chance?"
Does the Spokane goalie think he could find the back of the net? Well, you already know what he thinks about the importance of being confident.
"Personally, if I ever get the shot, I think I could throw it down there," quipped Michaluk. "I'm pretty good at getting the puck up in the air and I've got some power to my shot. I feel like if I ever get the opportunity in a game, I'll definitely give it a shot. I'm hoping it goes right because if I mess that up I feel like I probably won't get the chance to get it again."
(Don't worry, we won't tell any of the coaches ahead of time)
Michaluk did, however, mention that any time he has attempted to test if he could make a goalie goal (which he said tends to happen at the end of practice when they guys are just messing around and they're all shooting the puck), he usually gets a few. He went on to admit that in a game, the added pressure and need to score it on that first try would likely change things in the moment, but he does practice for it. Who knows. Maybe we'll see it one day. It hasn't been very long since we last saw a Spokane Chiefs netminder…
GET TO KNOW COOPER MICHALUK
Walk us through your gameday routine:
CM: Wake up. Usually, we have a pre-skate so I'll head out to the rink and we'll do a little 20-25 minute skate around. After that, I'll sit on the dot in the zone and then just kind of watch pucks go into the net. Guys will be shooting it and just messing around and I'll just try to get my eyes to lock on the puck a little bit. Usually, after that, I'll pick [Kooper] Gizowski out and we'll go to about the blue line and we'll take 5-10 pucks and he'll shoot at my glove and then my blocker and then I'll slide into it, and do all that to get my eyes and hands active.
Then I'll get off the ice and stretch out, do a little with the roller to get my muscles feeling good, and then I'll head home as early as I can. Probably around 12, I'm at home and I'll make a quick lunch. Usually, there's soup or something ready for us with my billets. I'll take a bowl of that and then crush a good nap. Usually an hour and a half, maybe an hour forty-five. Then, I eat some chicken and rice. That's my go-to [pre-game meal], I like that. I head out to the rink and make a stop at Starbucks. I'm a big coffee guy so I always get a hot latte right before I head to the rink. I'll drink that on the way.
After arriving to the rink, I'll tape my stick on the bench and listen to music. Usually more calming music, nothing too crazy. Just kind of to get my mind set. After that, I'll put the runners on and start doing ball work on the wall and juggling for about 15 minutes. Then, I'll get a good, deep stretch. It's usually about 25 minutes, my stretching routine. Just gets the hips opened up, my muscles loose, and all that. Kind of quick and ready to go and then I'll hit the band work a bit. Kind of get my glutes fired a little bit and make sure my legs are ready.
From there we do our jump around. It's just like we put on loud music and go a little crazy, it's a little warmup and it's a lot of fun when we do that. After that, really we've only got five or six minutes until warmups. I'll do that, a loose warm-up on the ice, and then put the headphones on, towel over my head, and just kind of really start to zone in. By game time, I'm ready.
Okay, that's a pretty detailed gameday routine, but what would a perfect day off look like?
CM: I'm a big summer guy. I'm not really a big fan of winter. That's why I'm glad I'm down here and not back home in Edmonton where it's -40°C all winter. So, hopefully, the sun is shining. I don't mind that. Go for a cruise and grab a coffee and then from there I'll just kind of hang out with the guys. Maybe go to Chipotle or hang out and maybe watch a movie. Some of the guys like watching movies and all that. From there I just go home, hang out with the billets and eat supper and all that. Pretty relaxing day and hopefully the weather is nice because that just makes it better.
Who is the loudest guy on the bus?
CM: Jaren Brinson has a lot to say on the bus. He's probably the one guy that I think probably gets the least amount of sleep on the bus because he's always stirring the pot and chit-chatting here and there. I'd give him the loudest guy for sure. Him or Laner actually. Grady Lane is another one like that, not much sleep out of them, just all go, go, go.
So, are you a big sleeper on the bus then?
CM: Yeah. I mean, I'm a movie guy too. I've usually got my headphones in and am usually watching a bunch of shows but yeah, I'm a big sleeper on the bus too. I'm not too rambunctious.
Best bus movie you've watched this season?
CM: Probably The Batman. The new one. That's a really good show. It's two-and-a-half hours too, so it kills some time but that's definitely a great one that I had this year.
Which three teammates would you want on your zombie apocalypse team and what would their roles be?
CM:
Well definitely got to go with Chevy [Ty Cheveldayoff]. I mean, you've got a 6'4 225-pound guy and you're just going to want him on your team so I'll definitely have maybe fighting off the zombies for me. I think he'll have the upper hand out of anyone. I'll give him the dirty work, and make sure he handles the zombies and gets through them.
I would go with Ben Bonni. I think he's [underrated] for sure, but he thinks really well. He always thinks outside of the box and in a zombie apocalypse, you're going to want guys who can think of things. I think he'd definitely be a good utility guy, maybe a strategy guy. Figuring out places to go and directing, almost being the team leader. I think he'd fit that role perfectly.
Oh, maybe Chase Bertholet. He's a really fast guy and so if we ever need someone to go grab something or even be the last survivor, I think he would be that guy. He could run way faster than anyone. He'd be our escape guy. If it's up to him to save humanity, I'd give it to him to take the briefcase and just run with it, make sure it's in a safe place. He's got some quick boots on him so I'd give him that role.
What would your role be?
CM: I don't know. I don't want to say I'd be useless, but I feel like I would just kind of go with the flow. I'd try to be an all-around guy if they need me to help out here or there. I feel like I could fend off a few zombies with Chevy and strategize with Bones [Bonni] a little bit. I think I could be an all-around guy. Just a team player kind of helping out everywhere they need me to be.
If you were a fruit, what fruit would you be and why
CM: I would have to go with a peach. You've got the fuzz on the outside that's kind of fluffy, fun, and loose, but once you get closer to the middle, you've got the pit which is kind of the nitty gritty of the fruit and I think that fits me well because I'm kind of fuzzy on the outside but inside, I've got a lot of competitiveness. I feel like that fits my role really well. You get past the first fuzzy layer and then you've got the dog that's picking fights in practice and making bets here and there so I think a peach would fit me well.
You've got to appear fluffy and a little happy and stuff. Nobody's going to approach you if you appear too nitty gritty on the outside so I think that fits me well. I've kind of got a little bit of a baby face. Guys give me a hard time. I'm not able to grow a mustache or anything like that so that's the fuzz on the peach there, for me. Once you get towards the middle it's like alright, this guy knows how to play.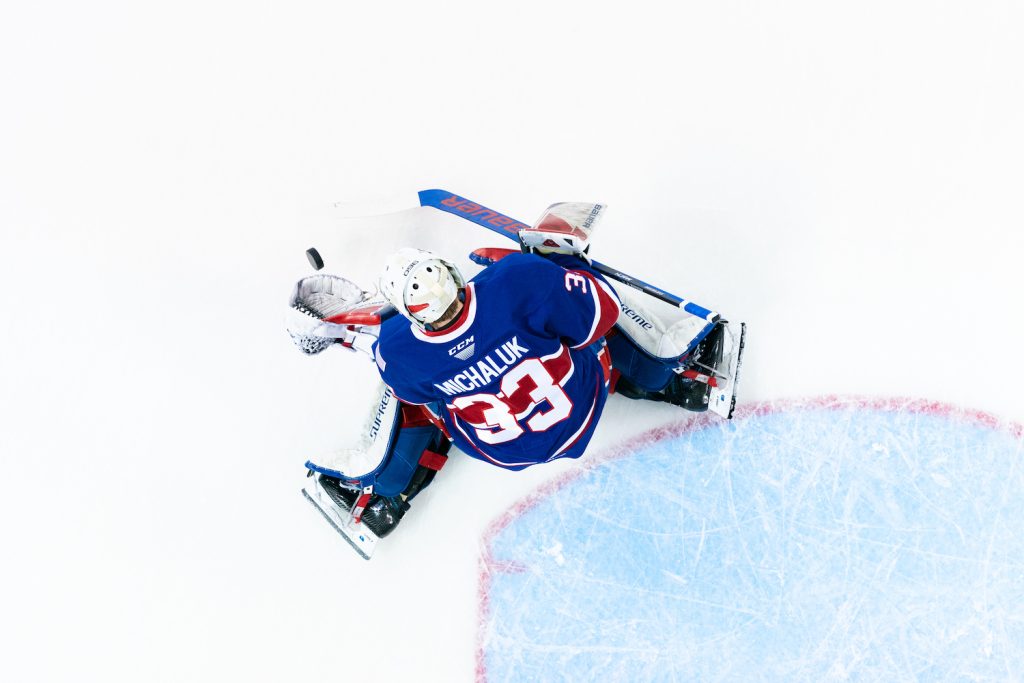 What has been the best memory from this season?
I mean the guys are great, right? So it makes the road trips a lot of fun. Those are always highlights. That eastern swing was also a very cool thing that we did. That 18 or so days on the road was really fun. We got really close with the guys. We had a bunch of poker nights in the hotel lobbies and lounges and stuff like that. Then, obviously after wins. Especially at home in front of our fans. We love to put on a great show for them and it's just always great to get wins and celebrate that. Thank everyone and the team in front of you. The whole year has been a roller coaster but it's been awesome. I couldn't be happier.
FOR THE SPOKANE CHIEFS FANS
CM: They've brought it every game, so I don't have to tell them to bring it because I know they will. I think we've got a sold-out building here Saturday. I'm honestly just looking forward to it. I can't wait. I'm hoping to grab them a win and then make it a good end and last note and get us started for next season. I think it'll be great and I can't wait to see them there at the rink and cheering us on and always supporting us. I can't express how much I appreciate the fans. They're definitely the backbone of our team and we thank [them] for everything they] have done for us this year.
ONE LAST THING…
CM: It was a great season. Yeah, it had its ups and downs, but that happens. Our team is really resilient. I think we have the most resilient group. We're going to go into our offseason here with a little bit of a chip on our shoulder. We're going to work on a bunch of things individually and then come back in late August and really dial it in for a great next season.