As the 2023 playoffs draw closer, the Vancouver Giants will be relying heavily on defenceman Mazden Leslie. The 2023 NHL Draft prospect is having a career year with 44 points in 59 games and ranks 15th across the WHL in points by a defenceman. An offensive threat from the blueline whenever he has the puck on his stick, he is ready for what will be the most important few months of his hockey career.
Leslie's first experience in the WHL was something to remember, as he played 17 games during the 2020-21 season. Over 100 games later, he has learned some valuable lessons on how to succeed in the WHL.
"I learned that you can't just play one side of the puck," Leslie said. "You need to play both sides to be effective. That is the main thing."
For all draft prospects, consistency is something scouts look out for. This is something Leslie is aware of and has been working on all season. The training seems to have worked, as he has registered a shot in 19 of his last 20 games this season.
"I have been working on being more consistent, trying to get shots on net and creating opportunities offensively. That is something I have worked on and will keep working on."
All the work has already paid off, as Leslie was the first Giant to score a hat trick this season on March 1st, 2023, in a must-win game against the Prince George Cougars. It is safe to say he was excited not just to score the three goals but also to reminisce on a historic night.
"The first one was a nice pass by (Jaden) Lipinski just cross ice and behind the back. The second one was a little lucky, and then the third one was a power play goal where (Samuel) Honzek just passed it back, I shot it from the point, and it just found its way in."
Leslie has always been great in the offensive zone but where he has made the most improvement is in his defensive game. He is starting to round out his game which will not only help his draft stock but also his play with the Vancouver Giants.
"At the start, it was a little bit messy. I think I have worked on that in practice a bit, so I think that has gotten a little bit better by boxing people out and not letting them get easy opportunities. I have worked on my defensive game and just keep trying to get better. Excel at gap control, boxing out, all those types of things. Just trying to get better in my own zone."
One of five Giants expected to be drafted in June, this is a special opportunity for Leslie and the Vancouver Giants. Whether it is talking with his teammates or reaching out to a now-drafted friend, this year has been a memorable one so far.
"It definitely makes it a lot easier knowing there are four or five other guys who have the same chance of being drafted as you do. I think it definitely helps. I am very excited. Also excited for all the guys we have too. I've talked to a couple of guys. I am pretty good friends with Jagger Firkus, who went to Seattle last year, so I have talked to him quite a bit."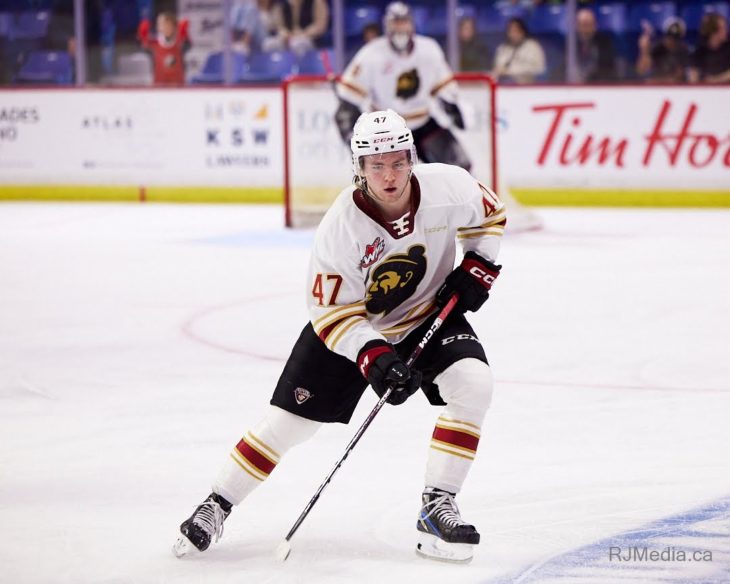 Last season, Leslie went down with an injury during the playoffs and was only able to play one game against the Kamloops Blazers in the second round. With another battle against their division rivals projected, he is ready to get revenge and make a statement against the 2023 Memorial Cup hosts.
"I think playing Kamloops would be fun. Obviously, they are a good team, and we have to bring our best every night. I think it would be a good challenge."
Ranked 80th among North American Skaters by NHL Central Scouting, a big postseason could be what Leslie needs to rocket up draft charts. A dynamic offensive threat, he continues to get better, which is bad news for whoever gets in the Giants' way.