(Photo: Kevin Light/Victoria Royals)
Victoria Royals fans spent the last year waiting to see forward Carter Dereniwsky back on the ice after a shoulder injury sidelined him early in the first month of the 2021-22 season. While the road back to the ice took quite a bit of time, he went into it already knowing what to expect. The Canora, SK native had already worked his way back from a shoulder injury once before.
"I had my shoulder done a couple of years prior to that, so I kind of knew what I was in for, but it was definitely hard — probably harder mentally than it is physically."
Available for the team through just the first eight games of the last season, Dereniwsky stuck around Victoria while waiting for a surgery date that was delayed due to COVID. Saying that there was pain while injured, Dereniwsky said that the biggest struggle was to stay upbeat around his teammates. However, he said being around his Royals teammates and the team atmosphere helped him keep his spirits up as well. Having been in the hockey environment since he was three years old, being around the team was a sense of normalcy for Dereniwsky. It also gave him less of an opportunity to dwell on the injury and the distraction helped keep him positive.
Another thing that kept Dereniwsky going through the hard times was the knowledge that he wanted to continue his hockey career.
"I wasn't going to let this shoulder be the reason that I have to stop at a young age. Especially with COVID the year before, and everything limiting the amount of games I've had in the past three years with the surgeries and COVID — I wanted to make sure that I stayed positive and got this fixed so I could have a good year this year."
While it may have been easier to call it quits and move on from the sport, Dereniwsky wasn't ready to walk away. The Victoria Royals forward knows what he plays for, and it's been a driving factor for him to come back and continue to play despite injuries and setbacks. It makes sense as Dereniwsky says the best advice he's received throughout his hockey career is "find your why".
"Find your reason for why you play because there's going to be days where it's really tough to show up to the rink — whether it's an early morning skate to after a long road trip, or you're too fatigued and don't want to go put in the work. You've got to have a why, a reason that will MAKE you go to the rink, and keep reminding yourself of that reason. It helps a lot with motivation. Even when you aren't motivated to come to the rink, it still brings you the rink every day and makes you put your work in."
Of course, it was after Dereniwsky got the surgery he needed that the trek back to the game began. Saying that the surgery is painful, the 18-year-old forward says that the rehab is the grueling part, but that it's important not to rush it. So that's how he spent a large part of his summer while working on preparing for the current season.
"Other than that, it was a lot of strength-building and getting my size up, knowing that after the past few years I need to add a bit of muscle and weight in order to play and produce at this level the way I wanted to."
If you're wondering, through 10 games this season, Dereniwsky is off to a strong start and has picked up two goals and four assists.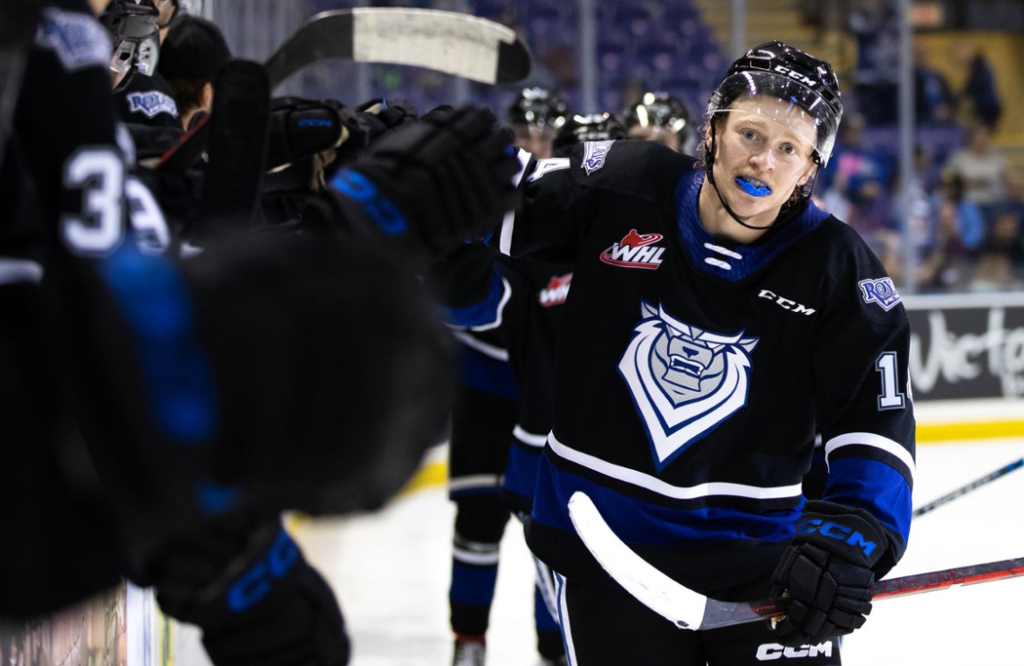 Growing into the sport
While Dereniwsky is committed to the game now, his hockey story almost ended before it really had the chance to begin. With a father who had played and an older brother to watch on the ice when he was little, Dereniwsky took to the ice early, but wasn't so sure about the experience.
"I know for the first year, I actually kind of wanted to quit because I didn't enjoy it too much. I couldn't really figure out the skating thing, but it eventually came along and I fell in love with it since then."
Luckily for the Victoria Royals, watching his brother play was one of the reasons Dereniwsky kept going when he was little. The competitiveness between the two drove them both to try to be the better player, though while it's often the younger brother who gets put in the net so that the older brother can get some practice shooting on a goaltender, things were a little backwards in the Dereniwsky house… or rather the basement.
"When we started getting a little bit bigger, our basement was unfinished in our house so we used to play hockey down there. Just me versus him and he wanted to be a goalie pretty bad, so he used to buy road hockey pads and strap 'em on for me. There were countless hours spent down there, fights that broke out, and stuff like that."
The time that he spent practicing against his brother help build the fundamentals of the player Dereniwsky is today which he describes as a smart and competitive forward.
"I like to have the puck on my stick, whether that's setting up my teammates or scoring goals myself. I like to spend a lot of time in the offensive zone."
Get to know Carter Dereniwsky
What does your gameday routine look like?
Carter Dereniwsky: [I] usually wake up a couple hours before we have to be at the rink, have a shower, and get a decent breakfast. Nothing too heavy or crazy, but just some fruit and maybe a bowl of some protein cereal or something like that. Then head to the rink. We do our team stuff, have our team meeting and warm up. Usually go on for gameday skate, provided it's not a back-to-back, and then head back home. Have a 45-minute nap or so and then eat my pregame meal, depending on what time the game is, usually like four or five hours before the game, and head out and grab a cold brew from Starbucks on my way to the rink. For a 7:05 [PM] puck drop, I'm usually at the rink by 4 o'clock.
What about your perfect day off?
CD: Just going for a walk and catch up with some of the guys. Whenever we do get a day off, a lot of us like to go for a walk — whether it's downtown by the water, or just anywhere. We like to go, especially with how nice Victoria is and a lot of us being from out of town. We'd like to go experience the weather. We get beautiful weather all year long.
How do you reset after games?
CD: I usually call my parent pretty quick after games whether it's the night after the game, or the night after both games if it's back to back. I like to talk to them. Usually, I talk to my dad a little bit more about the actual hockey game itself and talk to my mom more about personal, how it's going back home, and stuff like that and see what's going on back home because [I'm] pretty far away right now. I live on a farm, grew up on a farm my whole life, so they're in harvest right now.
It's good to kind of help me get my mind away from hockey, whether I thought I had a bad game or something. I can always talk to them and it helps me reset. Dad can kind of run me through what he saw in the game and then I can talk to mom and dad — and my brother even — about how it's going back on the farm, how the dog's doing, and stuff like that.
What was the most fun thing you got to do this summer?
CD: I went to Country Thunder. It's in Craven, Saskatchewan. It's a country music festival. I was able to see Morgan Wallen and a couple other big names there and a couple of guys on the team also went. I met up with Carter Briltz and Kalem Parker came with me, so I was able to kind of hang out with them. And then a lot of hometown friends and guys I know through hockey were also there. It's a pretty big thing.
Who would you say are your top-three music artists?
CD: Right now I'd probably say Zach Bryan, HARDY, and Riley Green for country artists.
If you could pick your own goal song, what would it be?
CD: Actually, a couple of us were talking about this last year. I was thinking "Bad" by Michael Jackson and I'd skip into to the part where he starts singing the chorus and I'd let that play for a little bit.
Would you do the dance to go along with it?
CD: I don't know if I could pull it off. Maybe if I had a really nice goal or after a win. If I maybe have a little bit of confidence in me I'd be able to pull it off, but I don't know about that.
On a road trip, who's the loudest guy on the bus?
CD: Anthony Wilson hands down.
Which three teammates would you want on your zombie apocalypse team and what would their roles be?
*this interview took place prior to the Victoria Royals announcing their three overage players. Anson McMaster was still with the team*
CD: I don't know about that. Probably Kalem Parker. I lived with him a couple years ago. I feel like he's a pretty strong dude. He could kind of kind of protect me. And another guy, maybe Anthony Wilson as well. He'd make sure I'm awake all the time, because he won't stop talking. Then we'll go with McMaster, just a big guy. I might be a little bit faster than him if we start running. Good to be able to run away from the zombies a little quicker.
Would you guys survive?
CD: I feel like a few of us will be able to survive pretty long, but there definitely be some casualties along the way.
If you were a fruit, what fruit would you be and why?
CD: Pineapple. It's a pretty cool-looking fruit. It's got all the spikes and it's got a cool top. I like to think I've got pretty good hair. So it goes along with that and it's pretty sweet on the inside. So I think it'd be a pretty good match.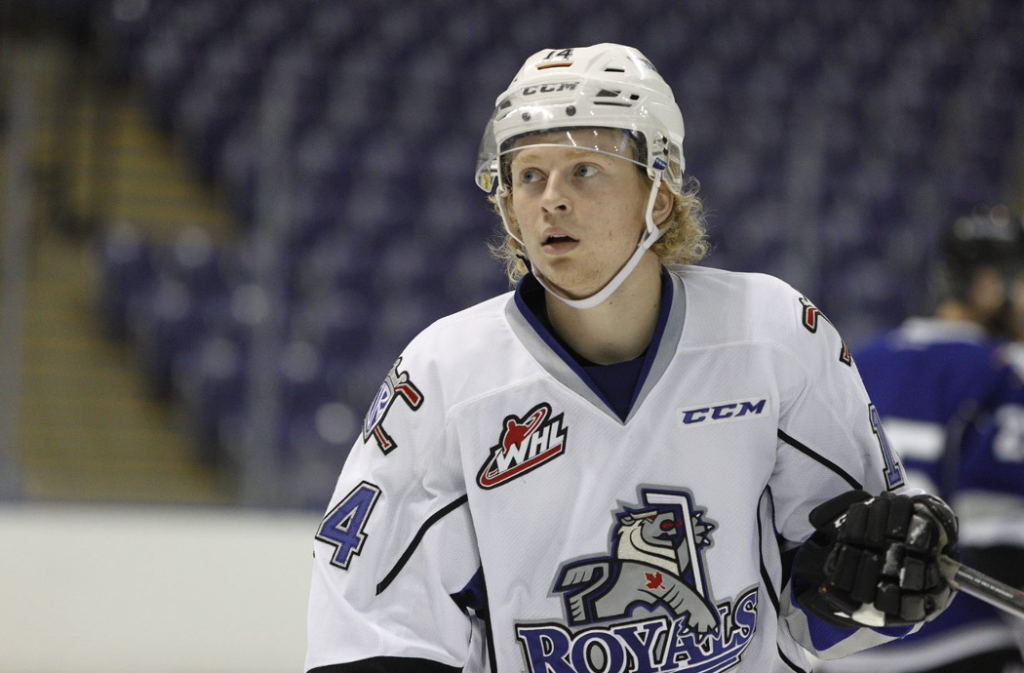 What is one word that describes the Victoria Royals?
CD: Deep. I'd say we're a very deep team. We have lots of depth in all positions forward, defence, and even goaltending and we continue to get better every game. We know what we need to work on, we're working on it, and it's only gonna go up from here.