(Photo: Larry Brunt/Spokane Chiefs)
The first time Chase Bertholet stepped onto the ice at three years old was a traumatic experience, but nothing was stopping the self-proclaimed "stubborn child" from getting back out there. His mom took him to the rink for his first experience, but while she may have not been on the ice, she might have taken the outcome a bit harder than Bertholet himself.
*UPDATE: His mom was, in fact, on the ice*
"I fell and cracked my chin open my first time skating, after that, my mom never
took me anymore. My dad kind of got me into hockey — he used to play.
Hockey was everything at that time."
It didn't take long for the young Bertholet to head back out to try again, from what he can remember, and he said he probably tried again just a couple of days after the stitches were healed. While an injury the first time out might have deterred some from wanting to head step back on a rink for a while, Bertholet says that as a child, he tried everything and wasn't scared of much.
"I just wanted to get better and keep going."
Camping with the Jets
Of course, all of this took place in Bertholet's home province of Manitoba, where just a handful of weeks ago, the forward from The Pas, MB participated in Winnipeg Jets training camp and skated with the Jets prospects at the 2022 Young Stars Classic. The 19-year-old returned to Spokane having learned a lot during his time with the Jets organization, noting that he picked up little details that other guys were doing to improve skills and better their overall game.
"It was a first-class organization too. Winnipeg's a great place and, being in my
hometown, it couldn't have been more special."
As fans of the WHL know, one of Bertholet's biggest strengths on the ice is his speed and that's the message the Jets gave the forward during their exit interview before returning him to Spokane.
"They gave me a lot of tools to work on over the season and what they're looking for,
so it was really good conversation with them.
Putting in the work
Speaking of his game, Bertholet says speed has always been a big factor for him, but he's given it some extra focus over recent years. While working with his trainer over the summer, a little extra emphasis was placed on workouts that would even further that skating strength.
"We [did] a lot of explosive movements, and a lot of it's basically all explosive:
squats, deadlifts, prowler runs. It really was training that resembled my game."
With eight points in the first eight games this season (3G, 5A), Bertholet says that as a player, he'd describe himself as a hard worker who likes to make plays. Using his speed to beat defenders wide and in the corners, he prides himself on playmaking abilities.
"I'm usually a pass-first type of guy, but when I get the shot, I take it."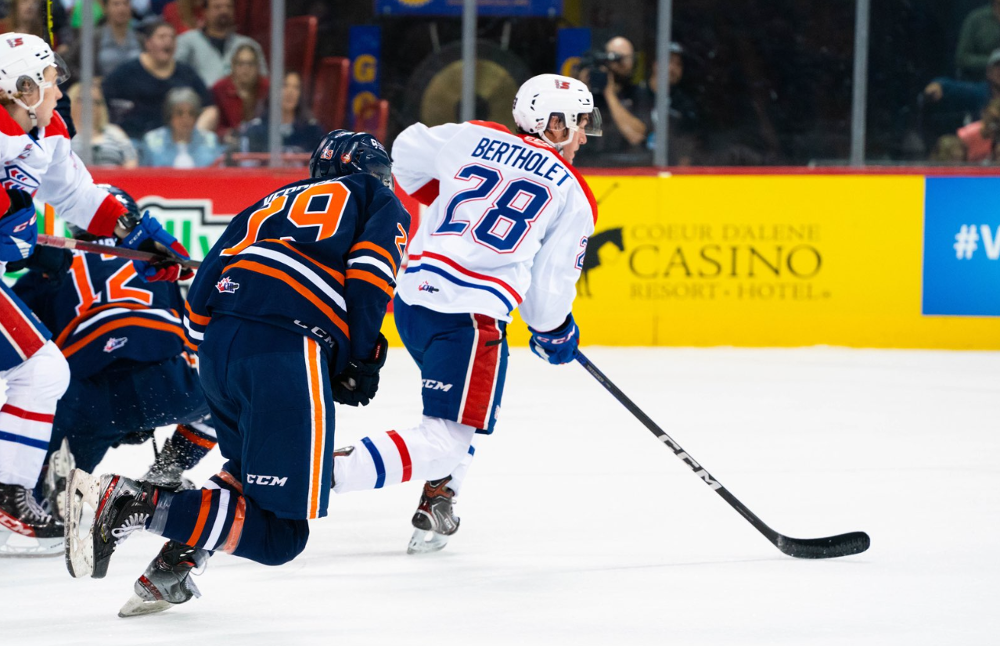 Coming into this season, Bertholet's mindset was focused on the team. While he wants to improve as a player and a person throughout the year, he says his focus is not on himself.
"We want to win, and my mindset is to do whatever I can to help the team win.
That's my main goal."
The long season
In the 2021-22 season, Bertholet was one of two players to play in 72 regular-season WHL games, four more than teams are scheduled to play. Having appeared in 25 games for the Winnipeg ICE before being acquired by the Chiefs in early December, Bertholet went on to play another 47 games with Spokane, pushing him above the typical number of games in a season. A long season became even longer, but Berthloet would agree with the idea that time flies when you're having fun.
"It didn't feel that long, because I was enjoying it so much in Spokane."
However, it was almost like coming into a new season when he arrived in Spokane to get things going with the Chiefs last year. While still building on what he has learned with the Winnipeg ICE, it was a bit of a reset for the then 18-year-old as he adapted to a new team, new systems, and a new city.
As for his second season with the Chiefs, Bertholet has a strong word he would use to describe this year's group:
"Resilient. I feel like we never give up. We are a team that will battle
back from any deficit and show no, quit."
Claiming back-to-back victories over the Victoria Royals over the WHL's opening weekend, Bertholet and his Spokane teammates were looking to prove that the season-ending victory over the Royals that earned them a playoff spot last season was no fluke.
"We went in sauomg that we're gonna work our butts off and get this win."
Get to know Chase Bertholet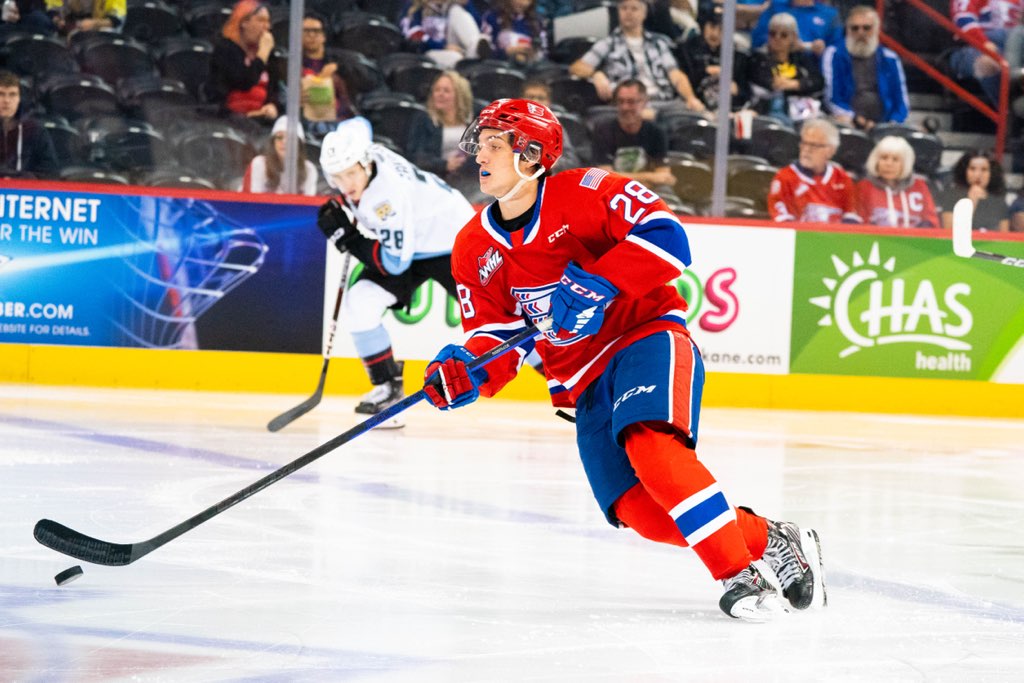 What does your perfect day off look like?
Chase Bertholet: Getting a good sleep and having a really good breakfast, preferably like some pancakes or french toast, and then hitting the golf course with the boys or the fam. Then going for ice cream later in the day. That's probably a preferred day off.
What's your favorite club in your bag… also what's your favorite ice cream?
CB: Favorite club is definitely the driver. Favorite cookies and cream or chocolate chip cookie dough.
What was the most fun thing you did over the summer?
CB: Probably just being that the lake and riding the jet skis was probably the highlight of my summer just doing that all the time.
At any level, what has been the best hockey experience you've had?
CB: When I was in Atom, my team won provincials down south. We come from a small town way up north and we came down and beat all the southern teams and I think that was one of the biggest highlights of my career.
You're stuck on a deserted island, what three teammates would be the best to have around?
CB: Hazer [Cade Hayes], because I know he can shoot some guns and some animals so I think Hazer to be on guard and then I'd probably say Swetty. [Blake] Swetlikoff just because he's such a calm, mature guy I'm sure he'd be able to make sure we're all doing the right stuff and trying to lead us to survive on the island. Then I have to pick Ben Bonni because I heard he's pretty good at fishing and I could see him catching us some big fish to eat.
What would you be doing?
CB: I'd just be everywhere. I'd be fishing, I'd be shooting the odd animal, and I feel like I'd be the cook. I'm a good cook, so I'd definitely build a fire for the boys and try a raccoon or something over it and serve it to the boys.
(Yes, I'm very confused by this island as well)
If you were a fruit, what fruit would you be and why?
CB: I think maybe an orange because I'm… uh… Oranges are pretty sweet, right? Maybe an orange because I'm a sweet guy, I guess
If you could pick your own goal song, what would it be?
CB: Okay, this is not my favorite song or anything but just because. my hometown [team] back in my day, our goal song was "Who let the dogs out" because our team name was the Huskies. So I would say that song.
Who's scoring the Teddy Bear Toss goal this year?
CB: I'd say Tommaso De Luca. Put the European scoring.
For the fans
CB: Thank you fans for coming to support us every night. Keep being loud! We really appreciate you guys bringing all the energy and it keeps us going. So thank you.