Welcome to the Vancouver Giants prospect report. In this series, we look at how some of the team's prospects are doing so far this season. This edition will look at Matthew Hutchison, Chloe Primerano, Jakob Oreskovic and Aaron Obobaifo.
Matthew Hutchison
Hutchison has found his rhythm in the VIJHL with the Oceanside Generals. The recently turned 16-year-old has a 3-0 record with a goals-against average of 1.67 and a save percentage of .943%.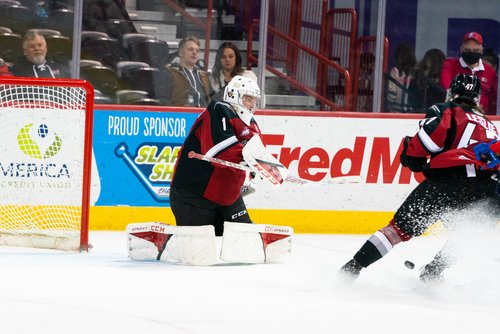 His best game so far came against the Campbell River Storm, where he made 35 saves on 37 shots. The former 2021 third-rounder had a strong training camp and should be in the WHL full-time sooner rather than later.
Chloe Primerano
After a strong showing at training camp, Primerano joined the Kelowna Rink Hockey Academy U-18 women's team. All she has done since arriving is dominate, as the defenceman has ten points in five games. She not only leads her team in points, but she is the top defender in the league, with only two players having more points than her. At just 15 years old, she is already establishing herself as one of the top U-18 women's player in the country as she fights to become the first-ever female defenceman to play in the CHL.
Jakob Oreskovic
The 22nd overall pick in the 2022 WHL Bantam Draft, Oreskovic has come out flying for the Delta Hockey Academy's U-18 prep team. In three games, he has seven assists which ranks sixth in the league. What is even more impressive is he is only 15 years old and one of just five 2007-born players on the team. He has already signed with the team, so do not be surprised to see him get some games as the season progresses.
Aaron Obobaifo
Due to Shattuck St. Mary's early start, fans did not get to see Obobaifo during training camp, but they should be excited about what the 2022 19th overall pick can do. So far this season, he has 14 goals in 12 games which leads his team. A pure goal scorer, he should be near the top of the 15U AAA league by the end of the season.
That will do it for this edition of the Vancouver Giants prospect report. Make sure to keep your eyes open all season as we check in to see how the organization's top prospects are doing.