This season will be a special one for Ty Halaburda. Not only is the Vancouver Giants forward returning from a lengthy shoulder injury, but it is his draft year. The Victoria, B.C. native is ready for any challenge that comes his way during the 2022-23 campaign, which, so far, includes playing a position he rarely played last season.
203 days is a long time to go between regular season games, but that is what Halaburda had to endure after having shoulder surgery last season. Most home openers are special moments for the players, but this one was extra special for him, considering the long layoff.
"I was very excited," said Halaburda. "I had a lot of family and friends attending that game, so that boosted my excitement level. Overall, I was just really excited to get back to playing with the boys and competing with my team. We didn't get the turnout we wanted, but it was good."
Before the injury derailed his season, Halaburda was building a great first impression in the WHL. He was invited to the Capital City U-17 tournament, where he scored four goals in five games before capturing Gold, and locked down the Giants third line center position. While the injury was frustrating and meant he couldn't participate in the playoffs, he still was able to learn off the ice just how hard you need to work in the postseason.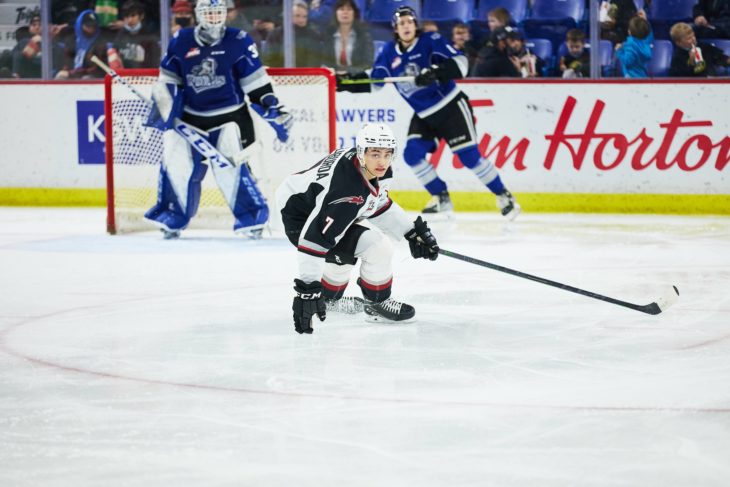 "I took a lot of things from how we played in the playoffs. After the Everett series, I learned how much you have to do just to win a playoff series. I understand how hard it is to compete in the playoffs and win. That's what I took away from my team's playoffs. Staying level-headed was the biggest thing. Waiting for the surgery, though, was the hardest part because there is nothing you can do, but as soon as I got my surgery, I started rehab right away and worked on getting my shoulder better every single day.
Before the home opener, Halaburda got the chance to test out his shoulder against Kelowna in the preseason. Not only did he score a goal in the game, but he was also able to get a feel for the game flow after so much time off.
"That preseason game in Kelowna was huge for me. Getting a feel for what it is like to play again. It was tough; I am not going to lie, but now that I have two regular season games out of my way, I feel a lot more comfortable. I feel like I can get back to the game I left on and be even better."
After playing last season at center, Halaburda has started this season playing the wing. It is a challenge he is ready to take on and show the scouts he has some versatility in his game.
"I like playing wing or center. Either or, I am fine with it. I am used to playing both and like playing both, so I am happy."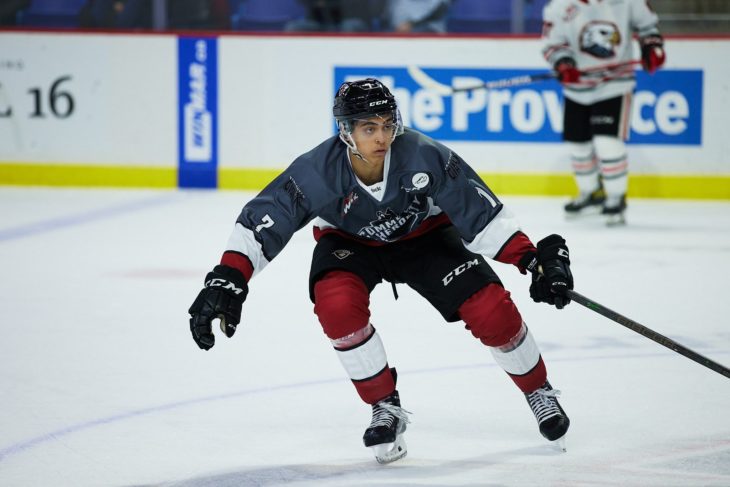 As mentioned, this is Halaburda's draft season. Despite the event being months away, it is something he will be thinking about as the season progresses.
"I think about it. It is something I try not to think about too much, but it is in the back of my head. I am just trying to go out there, play my game and help my team win every night. If I do that, it will help me develop as a player, and I will be able to help the team."
The Giants this season could have as many as five players go in the draft. Outside of Halaburda, Samuel Honzek, Mazden Leslie, Ethan Semeniuk, and Jaden Lipinski should all be part of the NHL's Central Scouting list by the end of the season. Having teammates that are going through the same process has been helpful for Halaburda as they can lean on each other when needed.
"It totally helps. We talk about it and love to share our thoughts about the process. We push each other every day to get better. It is a healthy relationship and a good bond. Competing against each other hard every day makes us better hockey players."
As for his own play, he wants the scouts to walk away from every game, talking about his work ethic and how he can be a difference maker.
"I am a hard worker who can compete in every situation on the ice. I won't back down and feel like I can win all my battles."
While many know him as "birds," Halaburda has a second nickname reserved just for the golf course. Despite, according to him, being unable to fully live up to the nickname, he likes to go by "Halabirdie" when hitting the links.
"My nickname is birds, so going back to last year, I want to say it was Chucky (Zack Ostapchuk), Sourds (Justin Sourdif) or maybe Dycker (Head Coach Michael Dyck). One of those three gave me the name. (I can live up to the nickname) maybe on one hole. My whole game wasn't great, but on that one hole, I feel like I deserved the "Halabirdie" name.
Halaburda will be a vital piece of this Vancouver Giants team this season. Based on the way he plays, do not be surprised when his name is called in July at the NHL Draft. This is one of the hardest working players you will meet, and he is excited for what could be a special season.