(Photo: Kevin Light/Victoria Royals)
Building a backyard rink is hard, but his dad taking on the task introduced Victoria Royals defenceman, Wyatt Wilson, to life on the ice. Wilson says his dad was always skating when he and his younger brother (and Victoria Royals teammate) Anthony were younger and had decided to build an outdoor rink at their old house.
"He actually flooded the whole street trying to flood the rink," said Wilson of the early attempt. Of course, the rink construction was figured out and that outdoor rink is where Wyatt and Anthony learned to skate. "We were skating in the backyard and he was teaching us. That's how I got into it and from there, it's just kind of blossomed into where I am today."
Being just a year and a half apart in age, Wyatt says he and Anthony have always been competitive with one another. While he says, "There's definitely been some good battles on the outdoor rink for sure," Wyatt thinks the two of them were pretty evenly matched for the most part. Also, that competitive spirit? Yeah, that hasn't really gone away.
"We both jabbed back and forth as little kids, and we still seem too."
We watch Wyatt Wilson, but Wyatt Wilson watches…
Growing up, the Swift Current, SK native says he watched the Pittsburgh Penguins, "Every kid kind of watched them, with Crosby being a young guy there and being such a great player as he was." However, the team he currently calls his favorite? The Chicago Blackhawks.
Joining the Locked on Canadiens podcast for an episode over the summer, Wilson named a few NHL defencemen that he tries to emulate in his play. Though it's only been a few months since that interview, his answers have stayed consistent.
"Victor Hedman is a big d-man that's pretty rangy and there's Seth Jones. There's a lot of guys. I mean, Cale Fleury too. He likes to lay the body and I like to get in those dirty areas sometimes too."
One player that Wilson says he tries to model himself after both on and off the ice is Toronto Maple Leafs defenceman, Mark Giordano.
"He's such a good guy off-ice and I take a lot of pride in doing stuff in the community off the ice, whether it's going to schools or donating to a charity."
Being someone in the community that kids can look up to is something Wilson says he tried not to think about, but his family billeted for the Swift Current Broncos when he was younger, so he knows the impact players in the WHL can have on kids.
"I just remember how good the billets were to us and how much I looked up to them. Adam Lowry was there, he's with the Winnipeg Jets right now, and him being around us all the time, it was huge. You look up to those guys because you want to be them one day and before you know it, you're in their shoes."
On that note…
Speaking of Adam Lowry and the Winnipeg Jets, Wilson was invited to Winnipeg's rookie camp and participated in the rookie tournament alongside the Jets' prospects.
"It was unbelievable," said Wilson of the experience. "To play in that tournament, especially for a Canadian team, was unbelievable. I had so many takeaways. The game is faster, it's so much fun to play at that level and at that pace with such skilled and creative players. I loved it.
Players dealing with media was something that Wilson said he never thought about as a kid, but the experience at the Young Stars Classic was a learning experience on that front as well.
"As a younger kid, it was tough because you didn't really know about media. It was just 'oh this guy plays in the WHL, he's so cool,' but before we went to Penticton for the rookie tournament, just being around some of those top-end guys… Lowry was there, which was pretty cool to see, and seeing Wheeler, Schiefele, and Perfetti, just how they handle themselves on and off the ice, it's huge to see. To bring that back to Victoria, it's unbelievable. The guys take all that information and apply it to their games on and off the ice."
On the ice, Wilson says that the biggest lesson he's brought back to the Royals from his time with the Jets has been what to do before having the puck.
"Before you go back for a puck, say for recovery in the d-zone, have an idea in your head of what you're going to do with it. That was one of the biggest things they said to us and a lot of the other prospects there.
Back with the Victoria Royals
Going back even further, Wilson has one big lesson he's bringing with him from last season in Victoria:
"Don't let anything get in your way."
While that is the simplified version of the bigger lesson, Wilson remembers how he and his Royals teammates overcame obstacle after obstacle throughout the 2021-22 season.
"Last year, we battled through sickness and there were some brutal injuries. You've got to look through that and focus on the now. You can't have excuses your whole life, you just can't have them. You've got to play with what you've got and make the best of it."
Early in the season, that is Wilson's mindset, and what he'd remind his teammates of as well:
"Just focus on the now. Try not to get too ahead of ourselves and just take it game by game. I think we've got a really good group of guys. We're all super close on and off the ice, so I feel like we have good chemistry. Just focus on now."
Coming back into the season from over the summer, the 6-foot-3 blueliner says he spent quite a bit of time on his skating.
"That's something, as a bigger guy, you kind of have to work on your whole career. I mean, McDavid never even stops," noted Wilson. He continued on to say that he's seen a lot of improvement in the fluidity of his skating from where he was to end last season.
Get to know Wyatt Wilson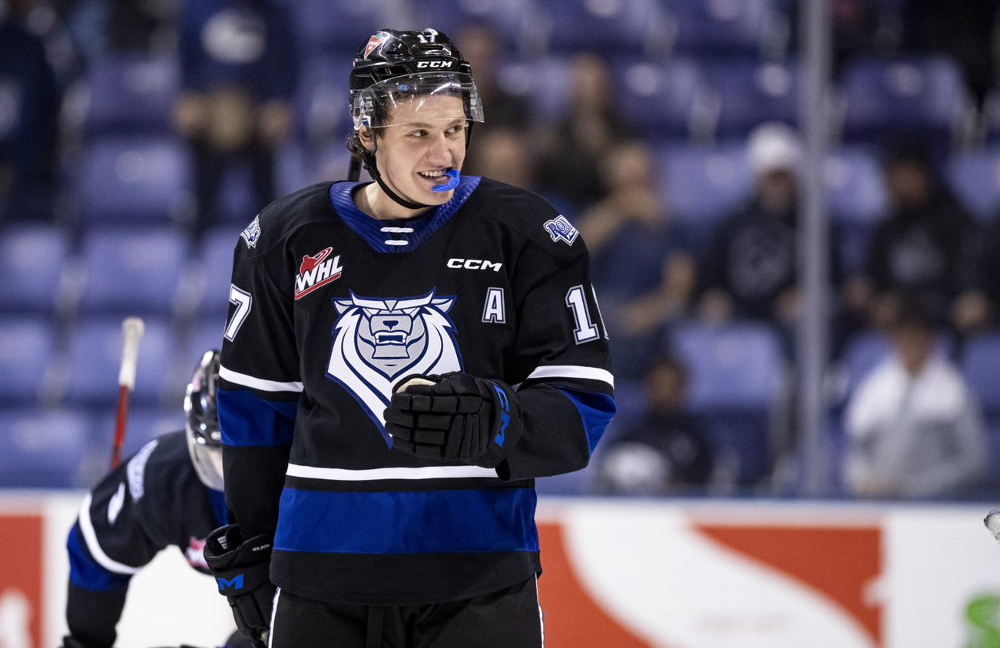 What was the most fun thing you did over the summer?
" I do a lot of golfing in the summer. I did a lot of wake surfing too. We have a wake boat back home in Saskatchewan, so I was at the lake a lot. I do a lot of fishing too, so that was probably the thing I had the most fun with in the summer."
Did you catch anything good?
"Yeah. I caught a couple decent walleye. Nothing too huge. It was a slower year actually, for fishing on the lake, but it wasn't too bad. I was pretty busy with training too, so I didn't get to go as much."
What does your gameday routine look like?
"We usually have our pregame skate and come to the rink at 9:30ish and then 10 o'clock skate. I never take the option and stay off. Go home. I eat breakfast. That's usually my pre-game [meal]. I have my breakfast/pregame at about 12:30."
(Yes, you read that correctly.)
"It's pretty early. Guys kind of think I'm crazy for it, but I like to play super late. I like to play really hungry sometimes. Then, I have about a 35-minute nap. I don't like to nap too long, but nap for 35, cold shower, and then I head to the rink. I'm usually the first guy there. I'm usually about 3 hours and 45 minutes before game time. I just like to get dialed in and stick handle a little bit to get my hands loose. Tape my sticks and I do a lot of visualization about 30 minutes before the game and then go out for warm-ups and just play the game."
Sorry, did you say you're usually at the rink 3 hours and 45 minutes before the game?
"Yeah." (laughing)
"I like to be pretty early. It's kind of crazy how early I am. I just can't wait to get to the rink, I guess, so I have to go that early."
Alright, so are you a pre-game coffee guy?
"You know what? Sometimes I'll do espresso shots. I try to stay away from energy drinks for the most part. I mean, they're not the greatest for you, but sometimes the casual or odd espresso shot, I guess."
What does your perfect day off look like?
"We do a lot of shopping downtown. A lot of the guys like to go walk around downtown and kind of do their shopping. Lululemon, guys love Lulu so, we're usually there quite a bit. We all just kind of hang out and go for sushi or go shopping."
Who are three four teammates you'd want on your zombie apocalypse team and what would their roles be?
"One would have to be Marcus Almquist. He would just be there for laughs. I don't think he would do a whole lot, just make the squad laugh. Then [Luke Shipley]. He has a little bit of a background in hunting. I don't know how good of a shot he is. He claims he's pretty good, but I'll have to see that in person, so I guess I'll take Shipley. And probably Riley Gannon. I'd take him. He'd probably be for laughs too. We'd laugh at him for the most part. He's kind of a goofy guy. We'd have him and Marcus there for the laughs and Shipley there to help. Last, probably [Anson] McMaster. McMaster's a pretty big guy. I think he'd be pretty good on the battlefield and a pretty funny guy too."
What would your role be?
"Probably fighting off zombies. I don't know. Probably just fighting zombies. Maybe giving orders?"
Would you guys survive?
"I don't know. A day or two maybe. I don't know how much help Almquist and Gannon would be, but we'd try our best, I guess. I'd give us two days."
Who has the best nickname on the team?
"I honestly don't know. There's a couple of generic ones. I mean Marcus is Almy or Marky and then Shipley's is Shipper."
"[Gannon Laroque] has probably got the most variety of nicknames. We call him "Rock" or "George" or… I don't know. He's got a bunch of different names. He gets called a different name every day, I think."
(It's true. Oh, and yes, Wyatt Wilson does know about the Pebble nickname.)
If you could pick your own goal song, what would it be?
"Probably Gold on the Ceiling. It's pretty good. I don't know. I like it. It's pretty catchy. I think that'd be good."
Who is the loudest guy on the bus during road trips?
"Scotty [Tanner Scott] likes to chirp me and likes to think he gets under my skin, but Scotty's probably the loudest guy. Shipper talks sometimes a little too much, but probably Scotty and Shipper, I'd have to say for sure. Marcus sometimes. He's always on his phone talking to people back home in Danish, so sometimes he gets a little loud too, but Shipper, Marcus, or Scotty for sure."
If you were a fruit, what fruit would you be?
"Probably a fig."
Why a fig?
"I like figs. I like the taste of them."
(Upon investigation, a fig is not technically a fruit, but we'll let it slide…)
For the Victoria Royals fans
"We appreciate the support. Thank you guys for coming out. We wouldn't be able to do it without you."