Portland Winterhawks forward James Stefan wearing number 60 for the Los Angeles Kings at the 2022 Rookie Faceoff (Photo: Amanda Cain/San Jose Sharks)
"It's been awesome. It's been everything I imagined," said Portland Winterhawks forward James Stefan on the first day of the 2022 Rookie Faceoff in San Jose, Calif. Stefan was attending his second NHL rookie camp as an invite, his first with the Los Angeles Kings. "The Kings are such a great organization just top to bottom – from the staff to the players. I feel really welcome and it's been a really fun experience. I've been learning a lot so, it's really good."
A certain 2019 Kings draft pick, in particular, has stood out in helping Stefan feel more comfortable and showing him the ropes in the Kings organization:
"One guy that comes to mind is Andre Lee. He's a great guy, I've talked to him quite a bit."
Last summer, Stefan and fellow Winterhawks forward Gabe Klassen attended development camp for the Arizona Coyotes together. This year, they were found on opposite benches over the weekend. As an invited player, Klassen was attending the Rookie Faceoff with the Colorado Avalanche. As it happened, the first matchup of the weekend featured the Kings and Avalanche teams and both Stefan and Klassen found their place on the roster for the game.
"It was kind of funny," said Stefan after the game. "We bumped into each other a couple of times, but it was fun. It was nice to see Gabe out there."
As a note, the Kings and Avalanche locker room areas were right next to each other during the event, and Klassen walked by multiple times during this talk.
The feeling of the event was just what Stefan was expecting on the ice, recalling that because he went to an NHL camp last year, he knew a bit more of what to expect as he headed into rookie camp.
"Guys are pretty strong and pretty fast out here so yeah, it was what I expected."
You tend to hear current and past Winterhawks talk about how the team prepared them for the pros by emulating the same kind of lifestyle and game that you see at the AHL and NHL levels. For Stefan, his takeaway from camp with the Kings is another level to the pro lifestyle.
"These guys are so good in just the way they prepare and the way they carry themselves around the rink and away from the rink. I'm just learning from a lot of the guys. Guys like Quinton Byfield who have played NHL games, it's cool to learn from those guys."
One player at the Rookie Faceoff Stefan said he had been looking forward to playing against was Colorado Avalanche prospect Sampo Ranta. Overall, however, Stefan said, he was looking forward to facing some of the NHL's best prospects.
"It's definitely great playing against some of the best competition you can play against."
Of course, some of those "best competition out there" players were sitting on the bench next to Stefan during games, and he soaked up the opportunity to share the ice with them.
"Guys like Quinton Byfield and Brandt Clarke. Those kinds of players, it's really fun competing with them every day here."
While Stefan says the environment and level of play were what he expected, he came into rookie camp with the Kings feeling like a different player than he was at Coyotes development camp in 2021.
"100%. I definitely feel like I took a big step in my development last year in Portland, so definitely a lot more confidence coming into LA this summer."
It's also a different experience being with the Kings because they were one of Stefan's local teams growing up in Southern California.
"It's been super cool," said the Laguna Beach native on getting the opportunity to play for Los Angeles. "Just playing at the old rink that I grew up playing in and seeing all the Kings guys at practices when I was younger and now practicing in that jersey. It's definitely a special experience."
The message from the Kings staff to Stefan and the rookies was just that they wanted to see everyone play their own game.
"They don't want us to try to be something we're not. Just go out there, don't be nervous, and just play to who we are. "
If you haven't watched James Stefan play, he describes himself as a "shot-first kind of guy."
"I like to finish all around the ice and use my hockey sense and skill as well."
If you have watched James Stefan play, he said that he put in work on his all-around game over the summer and worked to improve his 200-foot game with an emphasis on his work in the defensive areas of the game.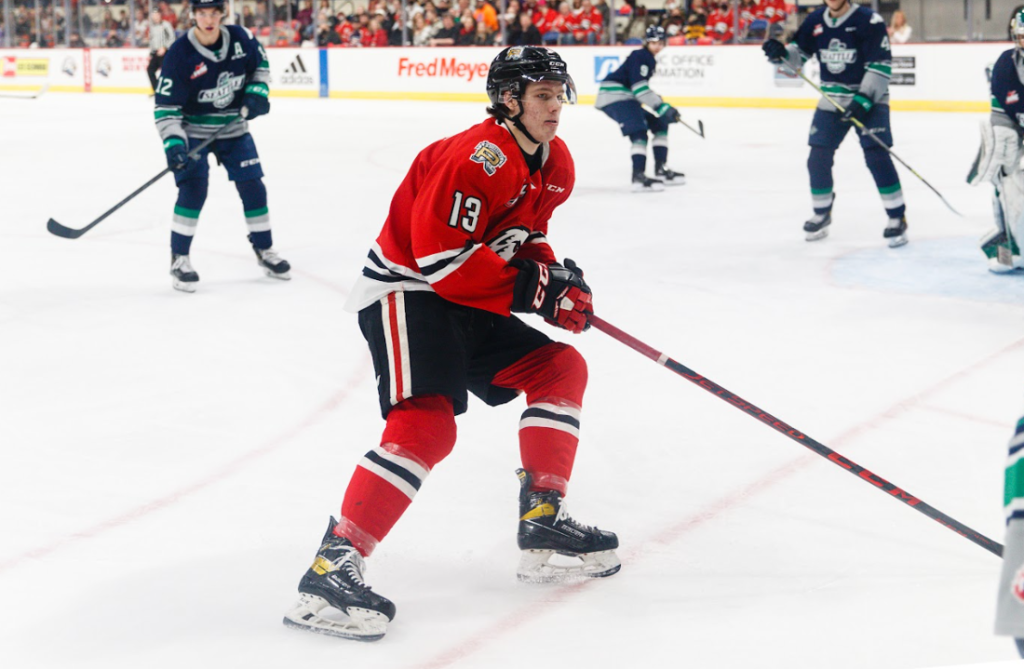 Not being with his Winterhawks teammates to finish the preseason (Portland was playing a pre-season game against the Spokane Chiefs during this chat) or start the season, Stefan says is weird, but not all bad.
"I've been in touch with a lot of the guys back home, but I'm definitely happy to be here and participating in this."
For Portland Winterhawks Fans
"I'm just super excited to get the season started. We've got a good team this year and it's going to be a lot of fun."
Also, for those who stuck around to the end, James Stefan said that if he were a fruit, he would be a…
"I would say probably a watermelon. I love watermelon so much."