Tri-City Americans defenseman Lukas Dragicevic (Photo: Keith Dwiggins/Portland Winterhawks)
Growing up in a hockey family, Lukas Dragicevic got started on the ice at an early age, saying he began skating at two or three years old. Longtime WHL fans may have recognized the Dragicevic name as Lukas's father, Milan Dragicevic, played four seasons in the WHL with stints with the Regina Pats, New Westminster Bruins, Spokane Chiefs, and Victoria Cougars. Oh, and four games with the Tri-City Americans himself.
"He's been great for my career," said Dragicevic about his dad's experience and guidance. "The only thing he does is help me and support me with everything. He's been through a lot, played for a lot of teams, and knows a lot of people. It's great to have him as a father for sure."
Of course, while Milan may have been a factor in his son's journey into the hockey world, Lukas has proven that he is the more balanced player. The elder Dragicevic may have the edge in physicality and time spent in the penalty box, having accrued 754 penalty minutes in 240 games (Lukas currently has 71 through 82 games)
Having spent the late 80s as a player in the WHL, Milan went on to spend time behind the bench for the Tri-City Americans, serving as an assistant coach from 1994-98. While it had been a few years since Milan's time in the Tri-Cities area when Lukas was drafted by the club 4th overall in 2020, the duo knew a bit of what to expect.
"He definitely knew what this was about," noted Dragicevic. "So he helped for sure and it made my transition easier."
2022 U18 World Championships
One thing Milan Dragicevic couldn't prepare his son for to the same extent was the 2022 U18 World Championships in Germany, something Lukas says was one of the coolest hockey experiences he's ever had.
"It was great to play in Germany and meet new people and play with all different guys from Canada."
Two fellow Western Conference WHL players to have gotten the call to represent Canada were Brayden Schuurman and Kalem Parker of the Victoria Royals. However, while there were plenty of fellow WHL guys to get to know, Dragicevic says he spent time with a mixture of guys on the team.
"We had a bunch of team bonding stuff, so we got to be pretty close pretty fast. I got to meet a bunch of new people and was hanging out with all different types of guys."
One potential difficulty with an international tournament is that building chemistry with teammates has to happen at a much faster pace than it does during a full season, though Dragicevic said it wasn't too much of a concern while the team was in Germany:
"It's definitely spending a lot of time with your teammates and being able to do a lot of video so you can get to know each other on the ice and your tendencies. It's a lot of team building, and when you're staying in a hotel with the guys, honestly you just naturally become close with them and talk with them. When you're rooming with new people it definitely helps as well."
Now that they're all back to their respective teams, Dragicevic says that while it's different seeing some of the guys he played alongside representing Canada back on the other side of the ice, it also adds some fuel to the fire in games.
"You want to have those bragging rights to beat them too, so that definitely pushes you a little bit more."
Back in the WHL
Speaking of beating teams for some bragging rights, Dragicevic and the Tri-City Americans enjoyed a bit of a hot streak at the end of October, winning four-consecutive games. Starting with a 4-1 victory over the rival Spokane Chiefs, the Americans went on to dominant performances over Western Conference powerhouses in the Everett Silvertips and Portland Winterhawks before starting their Eastern Conference road trip with a 6-2 victory over the Moose Jaw Warriors.
"I just think we're clicking as a team right now. We're rolling," Dragicevic said about the collection of games. "We're definitely being hot right now and it's good to see."
While the team hit a bit of a rough patch in the last three games of their Saskatchewan swing, falling to the Regina Pats, Prince Albert Raiders, and Saskatoon Blades, Dragicevic says they brought confidence into the trip and the games. Now heading into the Manitoba leg of the trip, that confidence will be important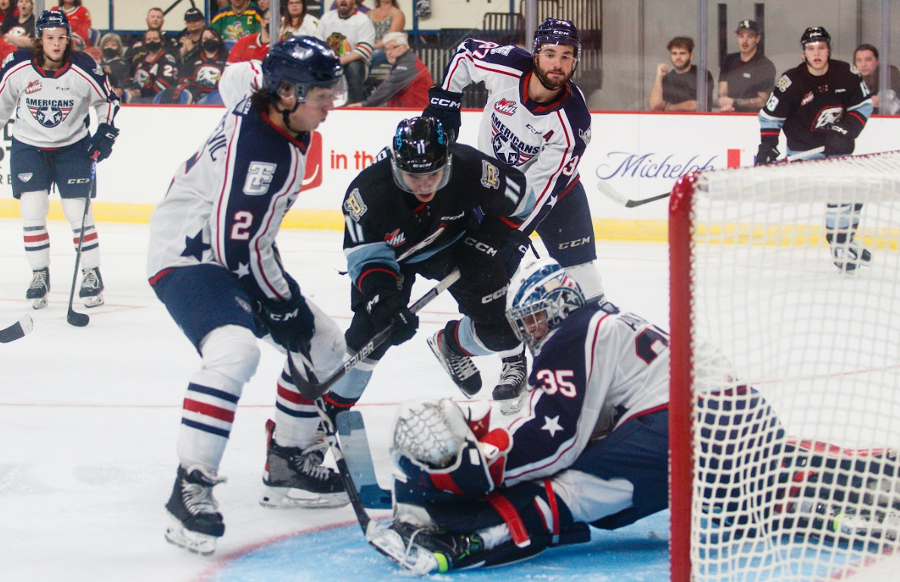 "Now that we know we can beat Everett and Portland, I think we definitely more confidence and that's definitely going to help our game but I think we're excited and we just need to keep playing like we are."
Playing "like they are" nearly drove the Americans to a comeback victory over Prince Albert on Nov. 1 as the team came back to tie the team after going down 4-0. While the Raiders would claim the 5-4 victory, the Americans showed they could push through and respond to adversity, something they surely are happy with in that performance.
2023 NHL Draft
With NHL Central Scouting's preliminary draft rankings released at the end of October, Lukas Dragicevic found himself a B-ranked skater, meaning he's projected to be a 2nd or 3rd-round selection in the 2023 NHL Entry Draft. While his draft stock may change over the course of the season, expect it to rise a bit by the end, the blueliner says he isn't thinking about the draft right now.
"Yeah, [the rankings], but I try to get my mind off that stuff and just focus on the team and just continue getting better with the team every day."
Speaking with Tri-City Americans assistant general manager and head scout Roy Stasiuk ahead of the season, the emphasis was on team success bringing indiviudal success and it appears Dragicevic is on board. The 17-year-old's personal goals for the season have nothing to do with the draft, rather he just wants to continue to improve his own game.
"I'm going to continue working on my defensive play," shared Dragicevic on what he wants to work on throughout the year. "Other than that, I just want to play my best game every game. I just want to be the best for myself and ultimately for the team, so I'm going to push myself every single game and help the team win."
Describing himself as an offensive, puck-moving, defenseman, Dragicevic noted that he likes to have the puck on his stick.
"I like to make plays and like to join the rush, create in the o-zone and then I'm a power-play guy that likes to create on the power play. Get shots on net, create offense, and then also be reliable my d-zone, Just get pucks out and be hard to play against."
Get to know Lukas Dragicevic
What does your gameday routine look like?
Lukas Dragicevic: I live with Alex Serraglio, so we get up and then we head to the rink. We practice — we don't do anything much before practice — and then he goes to Graze. It's like a sandwich restaurant, I don't go to Graze. He comes back to the rink, picks me up, and then we go home and take a nap. We always eat at 3:15[PM] for a 7PM game. We eat chicken and rice this year, it's the same thing. And then, we have our own shower times, so it's the same every game day. Then, we head to a new coffee spot in town, it's called Nikki's, and we get coffee from there before every single game and then and then we head to the rink. So, nothing too out of the ordinary. We just kind of keep it simple, but it's good and effective.
Wait, so what do you do while Serraglio is at Graze?
LD: I stay on the ice for a little bit of extra time on game day. Just to get some things right and get some things prepared for the game. So while he's at Graze, I just try and stay on the ice for a little bit longer and then he comes back and I'm ready to go.
Okay, and what's your go-to coffee order?
LD: I get a vanilla latte and he gets a dark iced coffee. It's really gross, so I try to stay away from that.
Any pre-game superstitions or routines you stick to?
LD: Yeah, I keep the same routine. I do the same thing for every single game. It's just my warm up is the same and my stretching is the same. Obviously, on away games, it's hard to because sometimes we show up late or show up earlier. So I try and keep things that I can do at home the same for away games. But, one of the main things I do, is I always touch Ethan Ernst's mustache and his beard. So that's one of the main things I do. He tries to touch my mustache, but my mustache isn't too long right now so he doesn't have much to touch.
What does your perfect day off look like?
LD: Me and Alex will go play golf or we'll just hang out watch Sunday football. Usually our days off or on Sunday. Our billets just bought us a brand new TV, so we like to watch football on it. It's a lot of relaxing but then we'll go to the rink for stretching or a workout. Like to just keep it low but also be a little bit active.
On the note of golfing, what's your favorite club in your bag?
LD: My pitching wedge, for sure. It's the only club I can hit consistently. Every other club, I have no idea where the ball is going.
What has been your best hockey memory to date?
LD: Oh, my first game in the Western League, for sure. It was great. I was 15 and the guys were awesome. They were pretty excited for me and it was great to get my first Western League game under the belt.
Do you remember much from that game?
LD: It was in Spokane, and it was the COVID year so there are no fans, which kind of sucked, but at the end of the day it's your first Western League game so you don't care too much. You want to get the game. I remember, my first shift, I got scored on by Adam Beckman, so that was my welcome to the league moment, for sure. He came down and sniped on me, so it was tough, but it was my welcome to the league and it happens to everyone.
The team is going on a road trip, who's the loudest guy on the bus?
LD: Tomáš Suchánek or Reese Belton. Probably one of those two. They like to talk a lot. I don't know, we don't really have loud guys, but those guys probably talk to most and they're just all over the place.
If you were stuck on a deserted island, which three teammates would you want with you?
LD: Okay, so I'd definitely pick Alex Serraglio. He'd for sure take care of me and everyone else there so I'd have to go with him. I'd have to go with Carter Savage as well, he just always has a positive attitude. I think we'd get off that island and he'd be there just supporting us so he'd be someone I really want to bring. Ethan Ernst. I'd have to bring him. He'd be the dad of the group. He's older too, so he knows the way things go. He'd be there for us.
(Dragicevic says his role would be to keep things loose and provide the guys some laughs so they're not so worried about being stuck on an island)
It's way too early for this, but who's getting this year's Teddy Bear Toss goal?
LD: I'd like to think Jordan Gavin would get it, but I think Alex Serraglio is going to get it because he got it last year. It was his only goal last year so I think he's going to get this year's for sure, but I think Jordan Gavin is a close second because he's been hot.
If you were a fruit, what fruit would you be and why?
LD: I think I'd have to go with a kiwi. I'm not too sure why, but I like kiwis a lot. I don't know a lot of people that don't like kiwis? I just think kiwis are cool.
If you could pick your own goal song, what would it be?
LD: Teach Me How to Dougie [by Cali Swag District]. It just gets me in a mood and every time I listen to it, I start dancing. I think the fans will get into it as well.
For the fans
LD: We've been hot right now, so we're going to keep going. We're going to go on this long road trip with with the team and we're going get a few points out of it. We're going come back really hot and continue to get some wins at home.