(Photo: Matthew Wolfe/Portland Winterhawks)
Named the 48th captain in Portland Winterhawks history, Gabe Klassen says he wasn't too concerned about who the 'C' was going to before it was announced.
"I think we had a lot of great leaders on this team," said Klassen about the leadership in the Portland room. "It really could have gone to a few guys. Mike [Johnston] always waits a little bit into the season to make his decision." Going on to be the guy announced to take over for 2021-22 co-captains Tyson Kozak and Clay Hanus, Klassen went on to say, "I was happy with the selection and just to show that I've earned the trust of my coaches and teammates to be able to wear the 'C' here."
Picking up on the leadership skills of previous captains, such as Kozak and Hanus, Klassen said watching them over the years was a learning experience:
"Just watching how they kept the group as one and made sure the culture in the locker room was always the same. Not having the group split. Everyone's equal and has a voice and I think we do a really good job of that here. I want to keep that going."
Summer camping
Of course, before being named captain and before the WHL season began, Klassen spent time with the Colorado Avalanche and their prospects at the organization's development camp in July and rookie camp in September.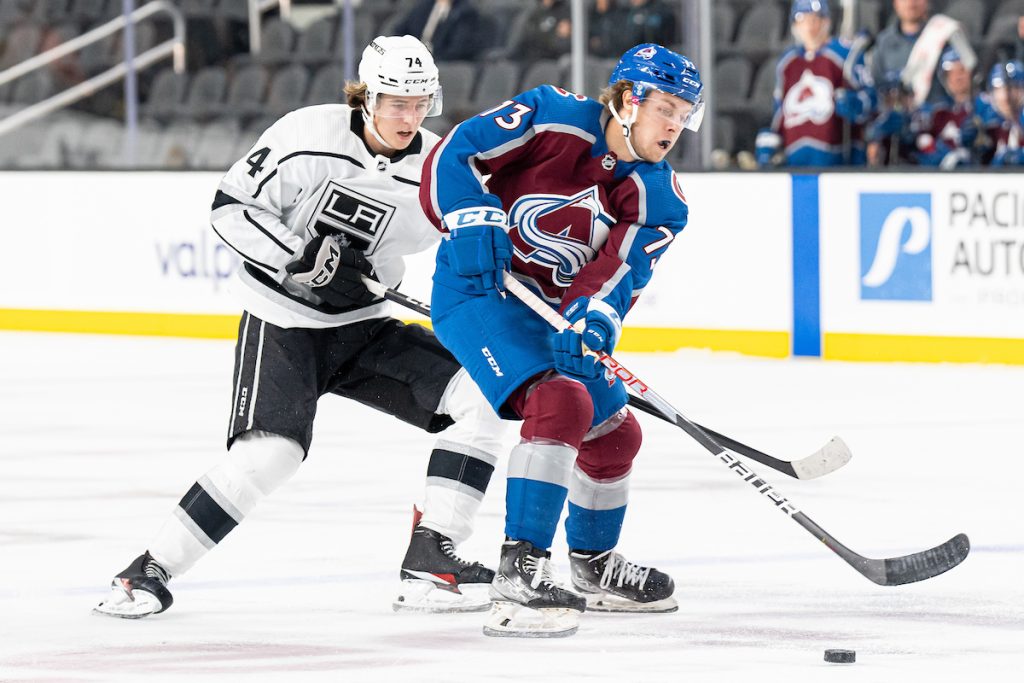 The Prince Albert, Sask. native said that he went into the Colorado camps just looking to pick up as much as he could. Noting that at camp with Arizona the summer before, he witnessed the work ethic necessary to be in professional hockey, he soaked up the experience with the reigning Stanley Cup Champion organization.
"You have to be present every day, at the rink, and you can't let an opportunity like that slip away. I was lucky enough to get the chance to go to Colorado this year and show what I can do. It was a lot of fun and I had a really good camp. I got to play in some games at the rookie tournament, so just a really good experience and you try to take away as much as you can from those."
Describing his game as being a two-way centerman with some offensive abilities, Klassen went on to say describe a little more of what he brings to a team:
"[I'm] responsible in my own end and a key guy in every situational play — the power play and penalty kill. I think I'm more of a shooter but I can also make plays."
While Klassen knows his strengths, he and the Avalanche recognize an area of his game to work on, and he's been putting in the time to improve it.
"The main thing has always been just my speed and quickness," said Klassen on what the Avalanche guided him to focus on as the camps ended, "which is what I've been working on. I think I've improved in that. That's an area that I'd like to keep improving in order to get to the next level."
Getting back to the Portland Winterhawks
Since returning to the Winterhawks Klassen was off to a hot start even before being named captain, picking up two goals in the Winterhawks' first game of the season before turning around the next day and having a four-goal night. In fact, in Klassen's seven games this season, he's picked up 10 goals, missing out on lighting the lamp in just one outing. However, the 19-year-old picked up his only assist of the season (so far) in the game.
Opening the season with seven consecutive wins, the Winterhawks entered the 2022-23 season with something to prove after being eliminated in playoffs by the Seattle Thunderbirds after seven hard-fought games.
Klassen attributed the strong start to the season to having a young team that learned from a deep run last season and then having a little extra motivation to show they could do it again.
"Obviously, when you win seven straight, that's not easy to do at any time in the year, especially at the start. We had a lot of chemistry going early and had some long practices at the start of the year to kind of just dial everything in. Building off of last year, everyone had a little bit of a chip on our shoulder to come back strong and prove that we're another contending team this year."
Get to know Gabe Klassen
If you had to choose three guys on the team to be on your zombie apocalypse team, who would you choose and what would their roles be?
Gabe Klassen: Probably have to go with Kyle Chyzowski. I live with him and he's inspired by David Goggins, who is an ex-Navy Seal. So, I think he'd have a good mindset going into that. I'd take James Stefan, I'm probably closest with him on the team and he's he kind of just does it all. I'm not too sure what his specific job would be, but he'd just be good company to have around. Kurtis Smythe probably would have probably been my third, but maybe Marcus Nguyen. I live with him as well and he's pretty dialed into what he's doing. He can stay focused for a long time, so he'd probably be good for whatever we're battling through there.
Who has the best music in the room?
GK: Stef does a pretty good job in the room. So does [Robbie Fromm-Delorme]. They both play pretty good stuff.
Okay, now who would you never hand the aux cord to?
GK: Oh, good question. I don't even know. We don't share too much. We kind of just let those two guys take over so I don't even know what the other guys are listening to when we're not around.
If you were a fruit, what fruit would you be and why?
GK: Maybe a watermelon? It's probably my favorite and they're colorful inside.
If you had to pick one word to describe the Portland Winterhawks team this year the word would be…
GK: Resilient. Just based on what we had last year and looking at the stuff we've got going on this year. I think we're a pretty resilient group coming into the season to try and keep it going.
It's way too early for this, but who's scoring the Teddy Bear Toss goal this year?
GK: I think Stef will probably get it this year.
For Portland Winterhawks fans
GK: Just keep it going. We've had some good crowds going on this year and I think it's gonna get better after this hot start we've had. It's going to be a fun year and we're just working on building on what we got going last year. So, it's gonna be good. Just keep the energy in the building.