(Photo: Larry Brunt/Spokane Chiefs)
*This was originally posted on April 22, 2022*
At just 16 years old, Jake Gudelj has spent the 2021-22 season as the youngest full-time player in the WHL. Having a December birthday, the Spokane Chiefs forward came into the season as a 15-year-old. Today, he and the Chiefs play their first game of the playoffs as they work their way closer to the Ed Chynoweth Cup.
However, Gudelj's hockey journey began in downtown Vancouver, watching the Vancouver Canucks on TV.
"I don't even know how old I was, it was just after I started walking. I just wanted to be like them. So my dad got me playing in Vancouver minor, which is a small community kind of hockey league and minor hockey, and then I don't know. I just fell in love with the game."
While Roberto Luongo, Dan Hamhuis, Alex Edler, and Alex Burrows were all guys he remembered when he was younger, a certain duo left a big impression.
"I really looked up to Henrik and Daniel, especially Henrik. He's such a good leader and just was a role model on the team."
Because his family lived near the rink, Gudelj was able to meet some of the Canucks he watched, and that included both Sedins. Yet, when the Boston Bruins beat Vancouver to win the Stanley Cup in 2011, the then five-year-old Gudelj was able to see the cup and get some advice from someone who had reached the absolute top.
"Milan Lucic came to our church, Serbian church, because he's also Serbian and brought the Stanley Cup. I talked to him, and one thing that kind of stuck with me. He said you really gotta want it. I kind of go by that."
Eleven years later, and Gudelj is finishing his rookie season in the WHL in the playoffs, hoping to win a cup of his own, albeit a different one. (For the record, Lucic won both an Ed Chynoweth Cup and a Memorial Cup as a member of the Vancouver Giants).
Looking back on the start of his first season with Spokane, Gudelj is thankful for former Chiefs captain Jack Finley.
"He was helping me a lot, and when he got traded [to the Winnipeg ICE], I was upset because he was the guy that helped me transition."
That being said, Finley wasn't the only veteran player to step up and help guide the rookie throughout the year.
"Even Bear [Hughes], throughout the whole season, has been helping. All the older guys like Nick McCarry as well when he came here. They've all been a big help."
Gudelj knows that as he gains experience in the league, things will get easier for him.
"Just like everyone else, as time goes on, you just to get used to the speed of the game. You start reading the game better. Especially looking at the 20-year-olds, how far they've come, and how they make it look so easy. I just know that like one day I'm going to be like that."
Still, being the youngest full-time player in the WHL, is something that Gudelj is proud of. It's also something that he's used to fuel himself as the season has gone on.
"It's been a motivating factor to prove people that it doesn't matter my age. I can still play in this league and I can be an impact player."
He'll have the opportunity to continue to show what he can do as the Spokane Chiefs take on the Kamloops Blazers tonight, in the first game of the first round of the WHL Playoffs.
Get to know Jake Gudelj
How he will be preparing for the game:
Gudelj says he has a really thorough routine.
"The morning is pretty simple, but I wake up around the same time. I have to get breakfast in me before pregame skate. We get to the rink, and I do a little rolling out session before I get on the ice. After, I stretch, get back home, and then I always do an hour of homework before every game. It gets the brain kind of going. Then after, I take a nap, and it's no longer than 30 minutes, or else I get too tired. I eat always at 3:30. It's chicken and rice. The plainest thing you can have. It doesn't sit heavy in my stomach. Then, I get to the rink a little bit earlier, tape my stick. After that, I go 15-minute massage gun, 15-minute rollout, 35-minutes of stretching, then a dynamic warmup. We do a thing as a team called jump around. After jump around, I do a hip program, get some skipping in, and hit the ice for warm-ups. When I'm on the ice for warm-ups I like to focus on different aspects of my games. I've got a routine on the ice as well and it helps me get ready for the game."
What is jump around?
"It's pretty interesting actually. You're getting the body moving, and then you're jumping around. There's little routines inside of it. Obviously, you've got the high knees and everything to get your body going and stretching. It kind of bonds the team before the game. You're going in a circle in one guy runs it, and then everyone follows that guy."
Team pre-game coffee or no coffee?
"Yeah, huge coffee guy. If I'm really tired, I'll get one in the morning. Always one before a game. I make one at home. I just go straight, regular coffee. If I'm buying coffee, it's an americano."
What does a perfect day off look like:
"I like to sleep in a little bit. It takes a little while to get out of bed, so I just kind of relax there. Have some breakfast. I'm still high school. So I do a lot of school on off days and every day. I live with Nick [McCarry]. So Nick and I will play some crib or just hang out. Maybe watch a movie or something like that. We don't really go out as much late in the later part of the season because we want to rest. But in the beginning of the season, I went and explored Spokane."
If he could be elite in another sport, he would choose:
"I think it would probably be a soccer for me because back home, a lot of my relatives played pro in Europe. Their dad's played pro so kind of like a little bit of a soccer heritage. So maybe I could play pro with them."
While he doesn't follow one specific team, Gudelj mentioned that he grew up liking Lionel Messi and FC Barcelona. He went on to say that if he were to pick a team, it would be PSG. Overall, he just follows every league.
As for the family member who is currently playing?
"I think it's a distant cousin. He plays pro in Spain for Sevilla. He also plays for the Serbian national team. His dad played pro as well."
By the way, the cousin is Nemanja Gudelj.
Favorite road city to play in:
"I like playing in my hometown of Vancouver 100%, but my favorite city to travel to and play in I think I think it's Victoria, actually."
Gudelj specifically mentioned the ferry trip as being a highlight of playing in Victoria. While he's made the trip numerous times due to various other tournaments, the ferry ride has remained an exciting thing for the BC native.
"I don't know if I can ever get bored of it. I just like being on the ocean. I like the cafe. Oh, if you go around dinnertime, on the ferry, there's a buffet. If you pay to get in, the food is so good. I'd never give up on that."
If he could have any superpower he'd pick (and yes, this counts):
"Does being a Jedi count? Because if I were a Jedi, that would be so cool."
His favorite Jedi Knight is Obi-Wan Kenobi, and yes, he plans on watching the series when it comes out.
"I binged Book of Boba Fett recently. I'm a huge Star Wars guy. and I have watched all the movies multiple times. More than I can handle."
We had fun talking about Star Wars a bit, and when I mentioned that it's my favorite as well, Gudelj responded with:
"Because it's the best series in the world."
He is not wrong.
His nickname from the team:
"It's Goody. It just kind of came up in the room. In the beginning of the season I didn't really have one, and then it just caught on."
Best nickname on the team:
"There's so many guys with good nicknames because their names are so easy to get a nickname from, but I have to say Swardo [Graham Sward], because his nickname is Dizzle or Diz. I don't know what it's from, but it's funny. So I like that. It's unique."
Best locker room DJ for the Spokane Chiefs:
"I like Swardo's music and Ray's [Raegan Wiles] music. They both have good taste."
What are they playing that's so good:
"Ray's got throwbacks and just really chill music. Swardo's got good old-time country music, so they both have their like shares of genres."
Who should not be allowed to play music:
(Gudelj actually responded with this when asked about who should be playing music, so you know he means it.)
"100% not Saige [Weinstein]"
After being asked to elaborate a bit, Gudelj doubled down on his original statement.
"That guy should be banned from auxilary cord. Like, we need a permit or something because that guy should not be touching it."
What is the rookie defenseman playing that could be so bad?
"It's terrible rap music. It's horrid."
Jake Gudelj's current top-three songs (aka Jake Gudelj, big country guy):
Keep the Wolves Away by Uncle Lucius (McCarry has reportedly been playing it in the car)
7 Summers by Morgan Wallen
It's Five O'Clock Somewhere by Alan Jackson and Jimmy Buffett
Guilty pleasure song:
"This is a perfect question." (Oh, sorry, that's not the name of the song, I just felt the need to leave that in for you all.)
"Anything Olivia Rodrigo. Especially good 4 u. Me and Finner [Finley] were huge Olivia fans."
Top-three (four) Olivia Rodrigo songs:
good 4 u
All I Want
deja vu AND enough for you (these are tied)
Perfect sandwich build:
"You got salami, prosciutto, and mortadella. Then, I would do any kind of cheese. I love cheese. So any kind of cheese would be good for me. Lettuce, tomato, cucumber, onions, spinach, green peppers. Slight little bit of mayo and a little bit of mustard."
Gudelj also took a strong stand on the best kind of bread to use:
"Flatbread. 100% flatbread. Every other bread is wrong. Flatbread is the only way."
Teammate to watch in the playoffs:
"Nick McCarry, because the guy is on the absolute fire right now. He's our golden boy."
For the Fans: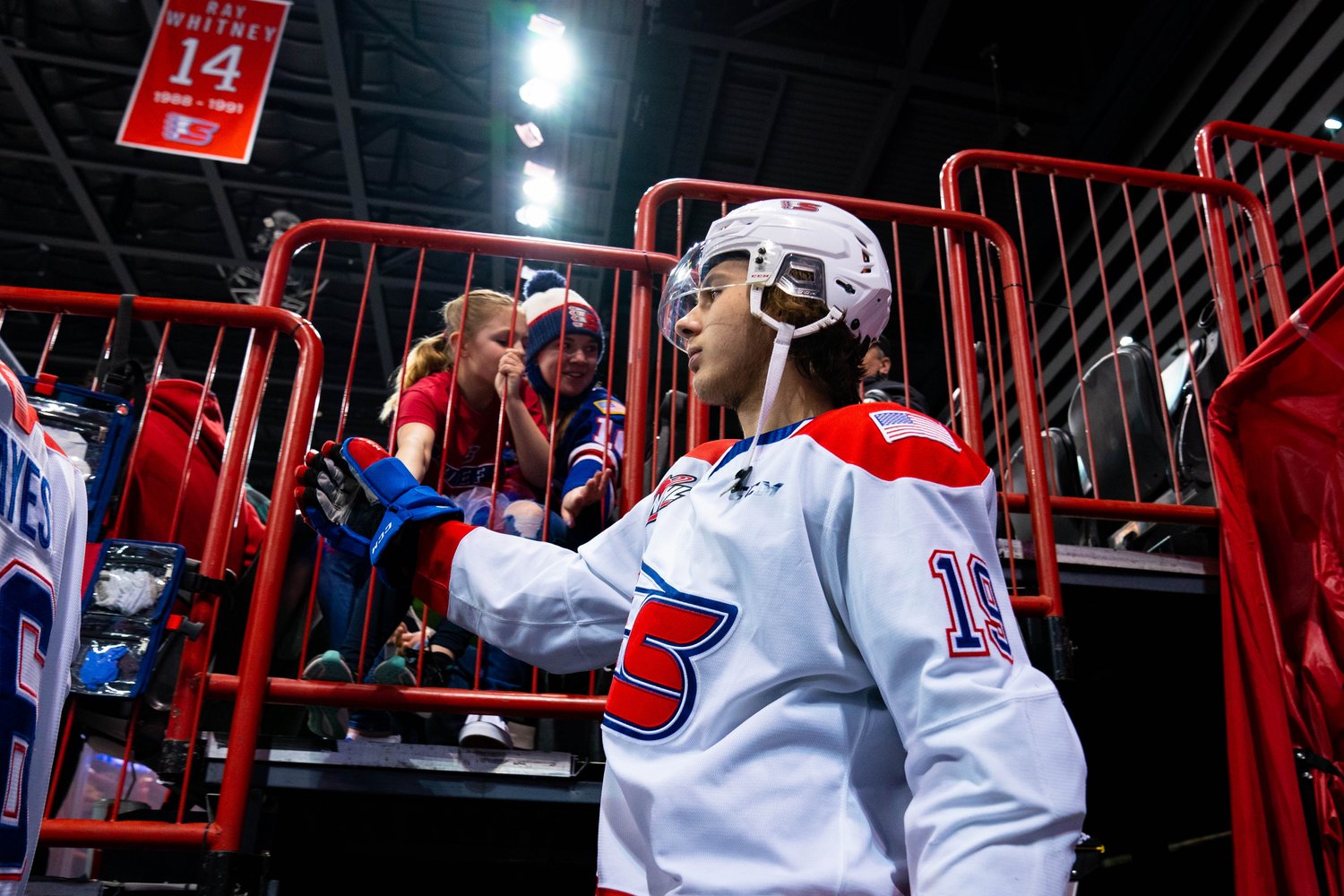 "The fans have been super supportive all year, because the year hasn't gone our way at some times and they've stuck with us through the good and the bad times. So, I just want to thank them for supporting us, being there for us, and cheering us on. I hope that that continues through playoffs because we're going to need it to beat Kamloops."