(Photo: Brian Liesse/Seattle Thunderbirds)
*This was originally posted April 22, 2022*
Growing up in Canada, Jared Davidson said everybody plays hockey and, as a kid, you keep an eye on the entire WHL, so it was only right that he did as well.
Davidson's dad played growing up, and so he had to keep the legacy going. He started skating at two years old and absolutely loved it. From then on, there was no option to stop. When it came to adding the stick and puck and going from skating to hockey, Davidson always knew he wanted to be a forward.
"I've loved scoring goals my whole life and so being a defenseman or a goalie would just would not be for me."
Sticking with what he wanted to do has paid off for the now 19-year-old who went undrafted in the WHL. Davidson attended the Seattle Thunderbirds training camp in 2018 and has stayed with the team ever since.
Before coming out to Seattle for that camp, the team wasn't exactly on his radar as a place he was looking to end up, but he couldn't be happier with how things worked out.
"That was the best thing that could have ever happened to me. Coming over to Seattle was awesome," said Davidson. "I think it's been a journey. Coming in at 16 was a huge eye-opener and it was kind of crazy living away from home for the first time. Making the team undrafted was amazing. It was the best feeling ever."
Not to mention, the respect Davidson has for the guys who wore the Thunderbirds crest before him and the impact seeing their success made in his own mindset.
"Growing up and seeing some of the players that had been in this organization and moved on. It was fun to see. So, I thought I would have to work hard in the summer and develop my game a little bit more and become one of those players that get to move on and have a big legacy on this team.
With 89 points in 64 games this season(42G-47A), Davidson has set himself up well to join the Thunderbirds elite. He leads Seattle into playoffs as their leading scorer by an impressive 13 points. In the final two games of the regular season, Davidson notched back-to-back hat tricks. With 17 goals and 25 points in his last 12 games, it certainly seems as though the veteran forward was hitting his stride as the regular season came to a close.
"It's been a lot of off-season training," credits Davidson on what changed in his game. "With one year getting short and then the next one not starting for almost about a year, it was a lot of time to develop and focus on my game. I did a lot of shooting and a lot of mental training for the game."
The extra time to train was not the only thing that helped, and Davidson went on to credit a certain former coach in Seattle for his help in finding scoring success this season.
"I have to thank our old goalie coach here, Ian Gordon. I worked with him a lot. Getting on the ice and shooting pucks on goalies and being able to read what they're doing and change my shots on how they're positioned in the net. Working with him has been huge for me it was a lot of learning with him, where if you can learn what goalies do, you can learn how to beat them in certain ways."
He'll have the chance to continue his hot streak as the Thunderbirds face the Kelowna Rockets in the first round of the 2022 WHL Playoffs as teams battle for the Ed Chynoweth Cup and that elusive Memorial Cup berth for the first time in three years.
"Having playoffs been taken away from us for so long was just awful. That's what we play for, what we play to win."
The last time teams saw post-season action, Davidson was a 16-year-old rookie on the Thunderbirds roster and the team fell to the Vancouver Giants in a 4-2 series. Davidson and the team are determined not to suffer the same fate this year.
"When I was younger, I didn't have as much of a role on the team in playoffs. It was kind of just getting my feet wet and seeing and experiencing what playoffs is like. Now that I'm a little bit older, our goal is to win the whole thing. Nothing less than a win and taking home the championship, so going to this first round is a big one. It's going to be hard but we want to we want to win. We want to play hard and get get past this first round."
Davidson says this is the closest team he's ever been on and mentioned that the team has done a lot of team-building activities to get them to where they are today.
"We're a lot like a family here. We're very close. We all believe in ourselves and we believe we can win the whole thing."
Get to know Jared Davidson
Gameday routine:
"Well, I like to come to the rink before. We get a quick stretch in and do some video and then I end up going home and taking a quick nap. I like to eat my food about three or four hours before the game and then I get to the rink. I roll out, play some soccer, and then get out for warmup and kind of just get my body loose. Other than that, I don't have much."
Go-to pre-game meal:
"Rice and chicken every single time. Chicken's very plain there's not much on it. It's just salt and pepper."
If he could go back and give advice to himself as a rookie, this is what he'd say:
"I'd say take your time. Don't stress over little things that in the grand scheme of things aren't the biggest deal. Take everything day by day and continue to work your tail off because eventually good things will happen, but you're gonna have to work for them. They're not gonna just happen for you."
A player he models his game after:
"I try and model my game around Bo Horvat on the Vancouver Canucks. I think the way he plays and I play are very similar. He's not the biggest centerman, but he uses his body very well. He's got a very good shot where he can beat goalies from anywhere and he's very reliable in the defensive zone and in the offensive zone. So I take a lot of what he can do. His leadership is amazing too. He wears the C, and he's the captain for their team. I take a lot of pride in being a leader and he does it better than anyone else."
A player he would most want to play with or against:
"Sidney Crosby. I loved his game since I was a kid. I think he changed the game in such a great way when he first started in this league and still to this day. I would love to play with or against or just be around that guy and see how he goes around his day-to-day life."
"I mean, he's pretty good. You don't have to be very good to play with him."
Favorite thing about Seattle:
"It's funny if I say weather because back home, it just snows all the time. I would take rain over snow any day."
One reason is that he doesn't have to wear a coat and a jacket every day. A hoodie works for the weather in Seattle.
Ideal day off:
"Heading into Seattle going to see Pike Place. I really like it down there. I think it's very peaceful. Seeing that fish get thrown around, going to check out the gum wall, and just spending the time with the guys on the team."
Pike Place Market is… peaceful?
"I mean it's pretty chaotic, but I think it's pretty nice and peaceful down there."
Best memories from the season (so far):
"Probably a couple games against Everett and Portland. They've been pretty exciting. Pretty rowdy. When we beat those guys, it's always fun in the dressing room after, so I think beating Everett and beating Portland are probably the best parts of the season."
On that note…
Best road city:
"I like going to Everett. Their fans are are very loud. So it's an intimidating game, but it's always very eventful and there's always lots going on. So I like going there. But if I was going to say the place I'd have to say probably Kelowna or Victoria because the city there is so nice. The weather's nice and with the mountains, it's a nice place to go just to be in Canada and have some fresh air."
Any hidden talents?
"I can juggle four balls at once. I don't know if many people know that about me. I can juggle pretty well."
Perfect sandwich build:
"I'd have to start with some steak, steak slices. Then bacon, lettuce, cheese, some pickles, and a whole bunch of ranch drizzle on it.
Don't worry, he's balancing out the ranch… kind of.
"Oh, whole wheat bread. Gonna be healthy, a little bit healthy."
Best locker room DJ:
"Oh, Ryan Gottfried."
A very quick answer followed even quicker by…
Worst locker room DJ:
"Conner Roulette tries sometimes but he's not good at it. He's terrible."
Why is Roulette so terrible?
"He doesn't play very good music and he just plays the song and then he switches halfway through and it's a gongshow."
Davidson's top-three (four) artists:
"I'm a big country guy. So my artists got to be probably Chris Stapleton, Eric Church, and Morgan Wallen or Luke Combs. Either one there's no in-between. They're both really good."
Guilty pleasure song:
"Love Story by Taylor Swift. Yeah, I love Taylor Swift, her music's so good."
His nickname from the team:
"Very simple. It's Davey, Davo, David, pretty much anything Dave-related. We're simple creatures."
Best nickname on the team:
"Sawyer Mynio. His first Western League goal was a really nice shot so we call him Sniper all the time."
For the Fans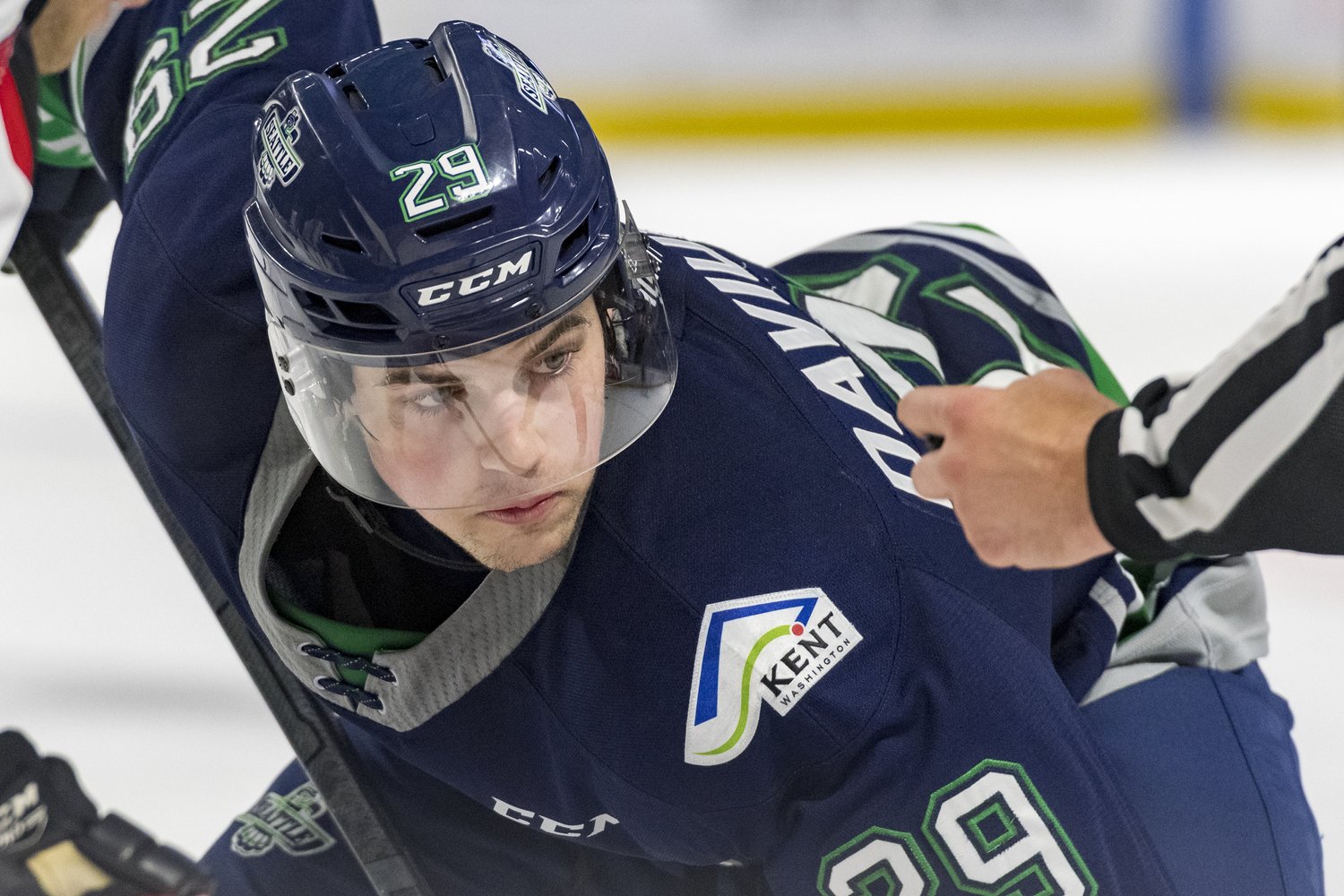 "I think they're going to want to be there. It's going to be a great couple months of hockey for the Thunderbirds. I feel like we're gonna go all the way and we want you to be there with us, cheering on loud."
His final thought?
"I don't want to go home anytime soon. I like it here too much."