(Photo: Jay Wallace/Victoria Royals)
*This was originally posted April 13, 2022*
In just two years, Victoria Royals Defenseman Gannon Laroque has gone from a 16-year-old affiliate player in the WHL to a highly discussed San Jose Prospect. Still, obviously, his hockey journey started long before.
When Laroque was four or five years old, his friends had been playing hockey for about a year. They were all telling his parents that he should be playing too, and the first time he took to the ice to play hockey. He was hooked.
"I just kind of enjoyed it ever since the first time that I played," says Laroque about what he can remember of that first experience. "I just kind of went from there. I've just always been playing since."
However, the standout defenseman for the WHL's Victoria Royals almost played another role on the ice.
"I actually did buy pads when I was like, 10 years old," he laughed a bit as he said this. "I was really close to being a goalie, but I just made the decision to stay as a defense. I actually started as a forward, but make the move back to defense."
A position that allows him to have a bit of both experiences on the ice.
It seems to be a good thing that the 18-year-old decided to stay at the blue line, and there is no doubt that the San Jose Sharks organization is glad he did.
Just 17-years-old at the time of the 2021 NHL Entry Draft (his birthday was just under a month later), Laroque said he didn't know what to expect.
However, the day before his 18th birthday, Laroque was in San Jose and participating in the Sharks Prospects Scrimmage. He stuck around for Sharks training camp and even appeared in a pre-season game with the Sharks as they took on the Vegas Golden Knights in Las Vegas.
"I can't say enough about the [San Jose Sharks] organization," started Laroque when talking about last summer. "They treated me awesome and treat everybody amazing."
He took time to soak in the entire experience and did as much learning as he could during his weeks with the Sharks.
"You see the guys in the NHL like [Brent] Burns and [Erik] Karlsson, all their leaders and stuff, right? So take a few things from them when they're up in the gym or on the ice kind of look for things and take it back to my level here. I'm trying to be a sponge when I'm there."
That being said, it wasn't all just work for Laroque. He was able to have some fun with the guys and meet everybody off of the ice as well.
"I roomed with [Santeri] Hatakka so I got to learn a little bit of Finnish from him and that was pretty fun for me. Just meeting other guys, you kind of see the WHL guys stay together," noticed Laroque. "But, I tried to roam around a little bit and meet kind of some of the guys from Europe or down in the States or the OHL guys too."
Don't ask Laroque to recite any of that Finnish to you now, however. Hatakka will have to start from scratch with Laroque this summer because none of it stuck around months later.
"I remember his town was called Tempere," said Laroque on the one thing he does remember. "I was practicing, but I don't know."
As for the other WHL guys Laroque was able to connect with, one stood out, in part, because of last season's division-only play.
"I faced Montana Onyebuchi, he's on an AHL deal down there, and we would go at it a little bit in the bubble that we had up here and in the WHL. I was pretty fun to see him."
However, Onyebuchi wasn't the only WHL peer Laroque was looking forward to seeing.
"I've heard lots of things about you know, Ozzy [Weisblatt] and [Tristen] Robins and stuff like that. So I was excited to see how they were and they're all great guys."
Between only seeing BC Division opponents last season and Western Conference opponents this time around, Laroque hasn't been able to face either Weisblatt (Prince Albert Raiders) or Robins (Saskatoon Blades) in a WHL tilt. However, they were able to battle it out on the ice a bit during camp.
The biggest thing Laroque says he brought back to Victoria with him was the simplicity of the game, but he also says he brought a drive to continue to be a leader as well.
"You see the guys in the room that they have there, and you want to be the best that you can be."
The Sharks sent Laroque back to Victoria with a few things to focus on.
"They wanted me to work on my explosiveness and just try to not overcomplicate things."
Because of the speed of the game at the NHL level, Laroque has been working on his on-ice decision-making. "If you can improve and improve and improve on just playing simple and getting up the ice and play the full 200 feet, it will be crucial," he says. He ended by saying that the Sharks didn't ask him to work on anything overly difficult. "They saw what I brought to camp."
In his own words, these are Laroque's strengths as a player:
"Plays with the puck, my physicality, using my shot to my advantage, and trying to find the lanes as well is huge for me."
The Sharks undoubtedly liked what they saw, and the Royals are surely happy with the work he's put in this season.
Through all of his experiences, what is something he'd go back and give himself as advice before he made his WHL debut back in February of 2020? A three-game stretch that saw Laroque don the Royals jersey for the first time as an affiliate player.
"I was a really quiet guy when I came up as that 16-year-old and they actually played me as a forward for a few shifts. I wasn't expecting that but I'd say just try to talk more with the guys and not try to be the casual AP that is always scared to talk to people."
Another thing that Laroque just wishes he started earlier? Taking recovery seriously. "I've started to really do that. But you obviously want to start always earlier." Stay tuned for a bit more on that.
THE FUN STUFF
Nicknames
"There's a backstory to this one. They call me George up here in Victoria. Just because of like Georges Laraque when he played the National League, I don't know why. You're going to have to ask the boys but yeah, it's really just George. They just say 'Hey, George. How's it going?' and that kind of thing."
During his time in San Jose, his nickname was "Rocky" from some of the guys.
However, there is a third option. My option.
Gannon Laroque is Pebble.
Before we even talked, Laroque was aware of this nickname I had given him, and when I asked if he was okay with it, he said, "Oh, 100% yeah, that's pretty funny."
So from now on, he is Pebble.
You know what to do.
Ideal off-day activity:
"I'm from Edmonton. So you know, golfing wasn't really allowed in December, but some of the guys brought their clubs out, just at the driving range or to go play a few holes."
(For all of my fellow Californians and those who live in nicer weather, golfing wasn't allowed in December because of the snow. I had to ask.)
While golf is high on the list, Laroque wasn't kidding when he says he's been taking his recovery seriously.
"I find that a huge advantage for me so I'm always rolling out or giving myself like an hour to do that stuff."
However, if he isn't doing one of those two things, there's a third option Laroque enjoys as well.
"I have the ocean five minutes away, so I'll probably go for a walk too."
Which Royals teammate is the best golfer:
"I haven't golfed with Bailey Peach yet, but he actually stayed with me for a few days at my billet house and showed me his scorecards for like the past few rounds. He's like a scratch golfer and I can't compete with that. But I heard [Tarun] Fizer's really good, as well as [Anson] McMaster on my team. So there's some good golfers on our team."
He's going to have to learn from his Royals teammates a bit before he heads to San Jose again:
"When I was in camp, Ethan Cardwell was telling me that he's a scratch golfer. I don't know how the topic came up, but he is really good as well."
Perhaps he can head out with Peach, Fizer, and McMaster for a few rounds.
If he could have any superpower, what would Laroque want?
"I would definitely do teleportation."
Why?
"I don't know. Sometimes I get impatient with things. So I'd teleport and do it right away. Some bad traffic and stuff like that."
He mentioned that flying would be a good one to choose as well.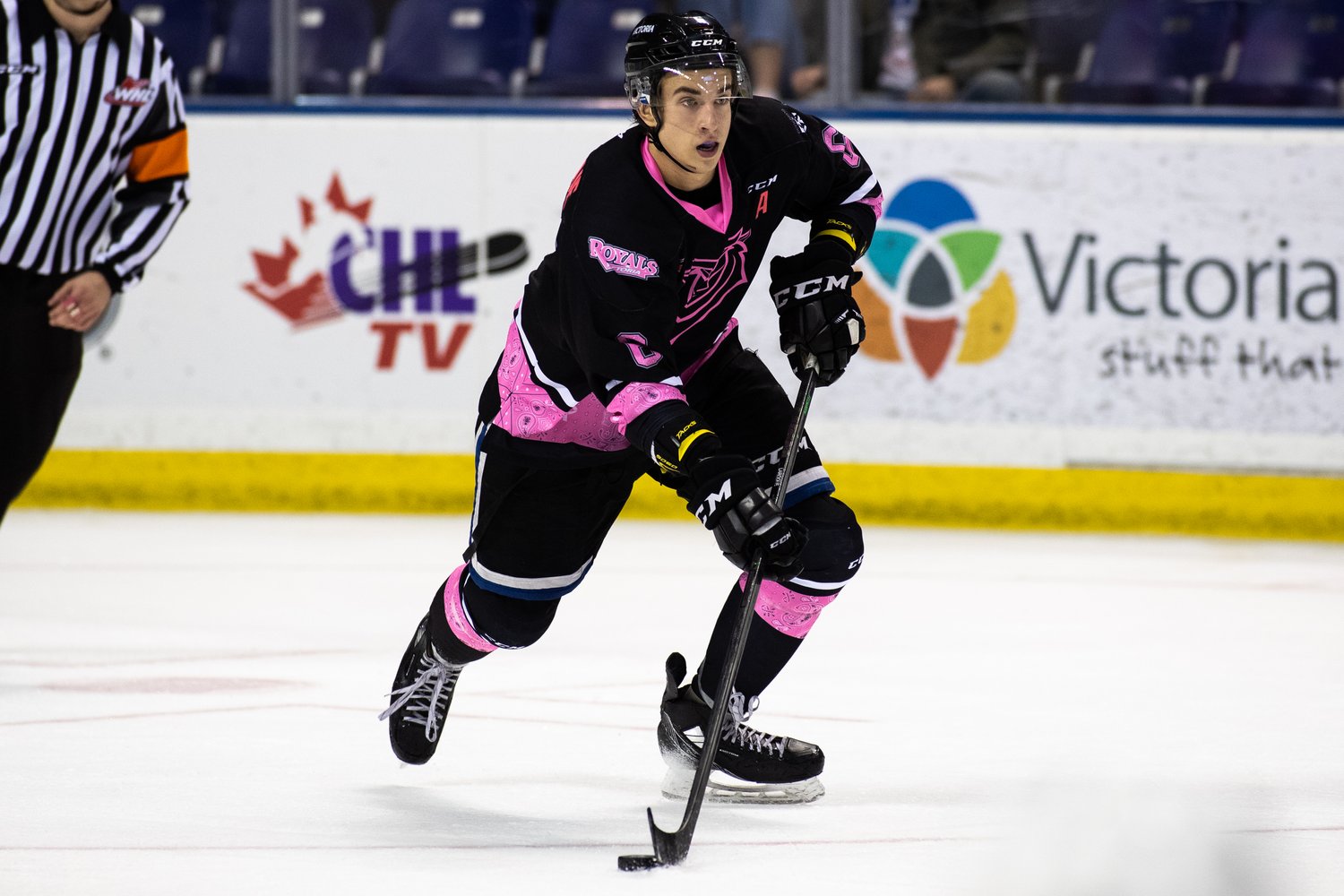 Best locker room DJ for the Royals:
(Full disclosure, I tried to get him to say anybody but Bailey Peach)
"I literally have to say Peacher. He's always dialed. He's always got the right music that I'm feeling. Great minds think alike, I guess, right?"
He mentioned that Fizer also has some good music, but it was too late. Peach has yet another vote.
Worst locker room DJ for the Royals:
"Sometimes Luke Shipley has some like really like depressing music and I'm just not in the depressing mood."
Laroque continued on to clarify a bit:
"I wouldn't say it's depressing music but it's slow kind of when I'm kind of more upbeat kind of guy, but yeah, I'm gonna have to go with Shipper on that one."
What is this slow music Shipley is playing?
"I don't even know. I feel like I've heard like Tate McRae on there? There's there's the time and place obviously, but not as the hockey rink."
What's Laroque listening to?
"I like the mixes on SoundCloud like those, those big booty mixes and stuff. I'm kinda in the hip hop relm. Definitely stay away from the sad songs like Shipper."
While he says he doesn't have a top-three for songs, he has some thoughts on a guilty pleasure song.
"That's such a hard question. It's probably going to be like something with Taylor Swift or something. I don't know what song, though. Or Selena Gomez? One of those two. There are some pretty good songs, quietly."
What is a must-do on gameday?
"I have these things called Normatecs. They're compression leg boots that you wear and they kind of help with recovery. So I wear them on game days, for like, 15 minutes. They're like, air compression. It's hard to explain, but I like wearing those. I love taking a cold shower on my gamedays, they just kind of get me going. That's about it."
What about a pre-game nap?
"I love my nap. I don't nap for long, though. I stay really clear on the sleep cycles. I've done some research on it and stuff like that. So I only nap for like 30 minutes."
Team pre-game coffee or not?
"No, I can't. Everybody's telling me to get on coffee, but I've actually stayed away. I think 90% or 80% of the guys drink coffee on our team."
Best road arena:
"I have to say Everett is really fun to play in this with their crowd. But they're all really good. Honestly, Portland was a memorable rink there too. In the BC division, Kamloops is pretty fun to play in as well. I'd like to stay at home and play in Victoria, but those are good ones to go to."
Perfect pizza/sandwich:
"Well, that kind of makes it really difficult for me because I'm lactose intolerant. So I probably just loaded with a ton of protein. Just loaded with literally every protein you can imagine, and 100% I'd have it on there."
His perfect sandwich takes the opposite approach:
"Probably just simple like mustard and ham on whole wheat. I stay away from the white bread."
AS THE REGULAR SEASON ENDS
"It's been an up and down season for us. Being a leader on the team, I think we have confidence going into these last games and going into playoffs. We discussed playing simple and sticking to our structures and stuff like that. We're confident in the team and especially our coaches as well.
FOR SHARKS FANS
"I'm a very physical defenseman, play 200 feet, like to join the rush when possible, and just try to use my shot to my advantage. I look forward to the goal of playing in the NHL there."