(Photo: Nick Pettigrew/Moose Jaw Warriors)
When you hear the word "slippery," what's the first thing that comes to your mind? Maybe it's a snake, weaving in and out of the grass, or possibly the walkways next to a summer pool, where lifeguards shout at you to walk, not run. While these are valid answers, they're not what I immediately think of. The image I see is a 5'10 forward who plays in Moose Jaw, Saskatchewan, with fiery red hair and a remarkable tendency to slip in and out of tricky spots in a tough game. Jagger Firkus, with a stellar name and an even more impressive skillset in the game of hockey, is just about the definition.
I'm not the only one who thinks so. "There are different types of small players and one of the first things you notice with Jagger is how slippery he is," Moose Jaw Warriors head coach Mark O'Leary said. "If anything, I think Jagger's really good at using his size to his advantage."
Jagger Firkus plays for the Moose Jaw Warriors of the Western Hockey League and was drafted 35th overall by the Seattle Kraken in the 2022 NHL Draft. Prior to the draft, many scouting reports listed his size as a weakness or a hindrance to his game. Firkus is working on getting both bigger and stronger, but in the meantime, he effectively uses his smaller stature to his advantage, rather than letting it hold him back. 
"I think the biggest thing with Jagger is continuing to push him to get stronger. Those skills that he has are good, and obviously are helping him put up numbers and be a heck of a player in our league. But once you get to play pro, it's a different animal. As slippery as you are and as good as you are at putting the puck into places to protect it, there's nothing you can do to play against strength other than get stronger yourself. As he continues to develop and mature, he's really starting to learn and put the work in [at] the gym to get stronger. Those same skills—if you match that with an added strength? That's what's going to allow him to play pro hockey," O'Leary said.
"We have a strength and conditioning coach who works with them. Jagger really took a step in the summertime with Adam Huxley back home with his training there. With our schedule, we try to get one to two training sessions in with the players a week, depending on how busy their schedule is. A lot of his gains are gonna be over the course of the summertime, and my job is to push him to eat over the season. That's a big thing with him."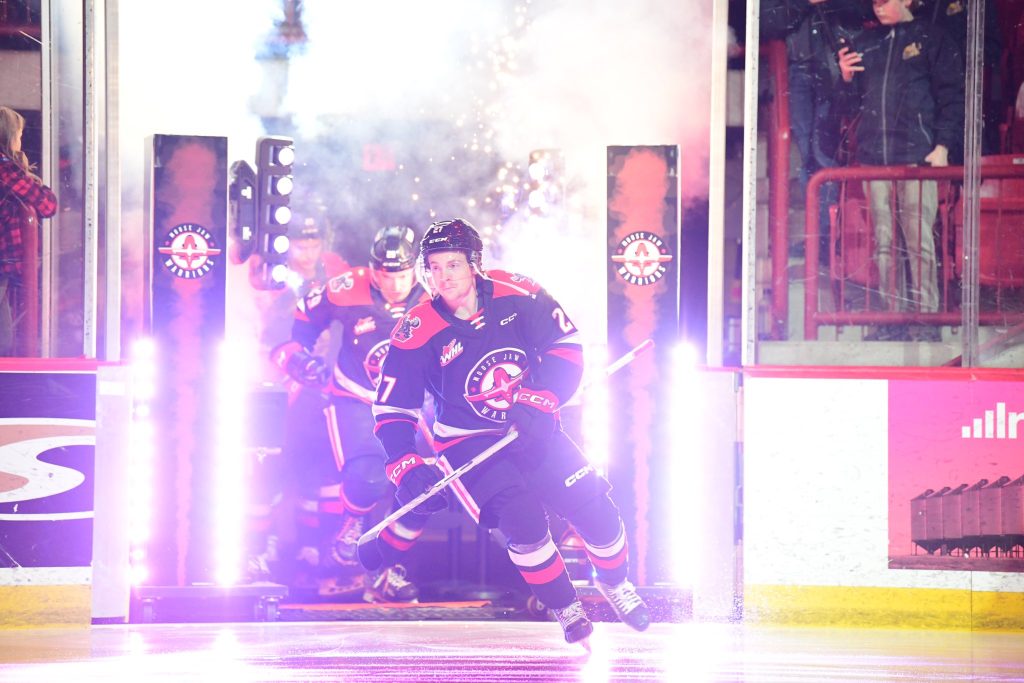 All the work Firkus has put into his game has shown. The draft is now something he can reminisce on, rather than wait anxiously for. "[My favorite hockey memory] is the draft for sure," Firkus said. "I think more so just because my family and a bunch of friends out there in Montreal were able to show me around the city throughout the week, and then as the draft came closer obviously the nerves got higher. It was just such a fun and cool thing.
"If you had told a young Jagger Firkus at twelve years old that he'd get to go through that opportunity he'd probably jump with joy. It's something I'm super grateful for and it was even better that my family was there with me too."
Seattle wasn't the only team to look at Firkus, either. "I think I spoke to every NHL team going into the draft, on Jagger," O'Leary said. "I believe most of them did interviews with him. There was certainly interest from everybody and we knew he was gonna go fairly high, it was a matter of where."
Although every team expressed interest, the Seattle Kraken was the one to win the draw, and they gave him nothing but good impressions. The facilities, the city, and the coaching staff all added to the memories Firkus can reflect back on—and look forward to experiencing again. "There were lots of good things [about Seattle]," he said. "I mean, the facilities for the Kraken were unbelievable. I was there for actually quite a while during camp, so I got to see a lot of things going around me. We went up into the [Space Needle], went to the Climate Pledge [Arena], got to play there. It was phenomenal." When it comes to the coaching staff, it was no different. "[The Seattle coaching staff] are really good. Super open door—if I have any questions I can go to them, if I need anything during the camp I know they're just one question away and they'd have an answer for me."
The staff weren't the only ones to welcome him to Seattle. "Honestly there were a lot of guys [I got close to]," Firkus said. "There was a good group of all the '04s that went to development camp together. We're all pretty tight. I still talk to quite a few. David Goyette was my roommate throughout the camp so I got extra tight with him. He's an unbelievable guy and he's having a great season this year too, so I'm super happy for that."
Although each day is one step closer to playing pro, Firkus' current focus is on the Warriors. The team has yet to clinch playoffs, but it's only a matter of time. Third in the East Division and seventh overall, the team has had a solid run in their regular season, and are gunning for the post-season. "This year we have a good group," Firkus said. "Our record shows we have a really good group. As the months go on here we're getting closer to playoffs, and we have to make sure we have a good playoff run this year. We want to go in well-rested and focused. Obviously, you can go through the regular season, but playoffs are where it really matters, so when those games come time, that's when you need to show up. We have a good group of guys who can do that."
When it comes to Firkus specifically, his production has only increased. Last year, his first full season with the Warriors after the deemed 'Covid-season,' he recorded 80 points (36G-44A) in 66 games played. This season, he's sitting at 74 points (32G-42A) in 59 games played, and is projected to hit 83 points by the end of the season.
His use of his size isn't the only thing that contributes to his production—far from it. He's tremendously fun to watch and possesses such high creativity in playmaking that it's hard to take your eyes off him. With a strong, fast and precise shot, he has a knack for scoring, and those goals are always a joy to watch.
When it comes to Firkus' stick handling, O'Leary deemed it well above average. "There's a skill that he has with the puck out on open ice, but his skillset with the puck and where he's able to carry the puck to be dangerous sets him apart. He can shoot the puck from anywhere while he's holding the puck anywhere, and that makes him real dangerous. He's a bit of a sponge: you throw a puck in his area and it's gonna end up on his stick. He just has that special knack. I think that's his athleticism. He's a baseball player, you can see a little bit of that in him, little bit of shortstop. His hands allow him to put himself in positions to use that shot that he has. I'd put his skillset with puckhandling as well above average."
Some scouting reports listed his skating as either a weak point or something that's simply average. "Firkus' skating is an area that could use some work, considering his size. It isn't bad, but he lacks the top-end speed needed to beat NHL defenders wide and create separation on the rush," wrote Austin Stanovich of The Hockey Writers. And while they're not necessarily incorrect, I'd consider it more a strength than a weakness. O'Leary agrees. "His skating— he's got a good stride, and he anticipates so well that it allows him to use those first three strides. He can usually get those out before anyone else does because he knows where the puck's going. When he wants to play at the next level, he's going to have to get faster, but so much of that happens just by getting stronger, especially when you have a strong stride like Jagger does." It falls back to Firkus' development: getting bigger, stronger, and faster, to build off the strengths he currently possesses.
Before the WHL, he spent most of his time with the Lloydminster Bobcats U18 team, and before that played for the Lloydminster Heat U15 team, both Triple-A. But how did he get into hockey? When did the Firkus Circus first don skates?
"My family for sure [got me into the sport]," Firkus answered. "My older brother always played hockey, my older sister also played hockey, my dad played hockey…. Also coming from Irma, Alberta, it's really just hockey and fastball, it's all you do as a kid. I grew up in that town and hockey grew in me and I enjoyed working at it and here I am now."
Firkus isn't just a great hockey player, though. He's also a great person. By all accounts, he's kind, gregarious, and jovial, and people naturally gravitate toward him. "He's a guy that people like being around, and with that, you wear the emotions of your teammates a lot," O'Leary commented. "He takes it hard when another player is struggling or having a tough time. He's a team guy, on and off the ice. It matters so much to him to be a good teammate."
When I talked to him, it was so obvious how much Firkus loves his team. He seems very down to earth, honest and open and someone you know you can trust. "I believe in the team," he said. "I think everyone knows I believe in the team. This year I really want to win and I think we have the team to do it. Going into the playoffs, I really hope… I know, myself included, we have to make sure we're ready. If you want to make a deep run you have to make sure you're ready to dig in and play a team game. I know everyone in the room is willing to do that, so I'm excited for playoffs this year."
Three Questions with Coach O'Leary
Gabriel Neumann: How does it feel to hear your players' names called in the draft?
Mark O'Leary: It makes you proud. I think the biggest thing is just seeing the smile on their face. There's a relief side of it as well, both for the player and the coach. You know how much pressure they put on themself, to be drafted. They know it's a big year and I try to remind them to have fun with it. It's what they want to do for the rest of their lives, so when you hear their name called you can take a deep breath. You just want to see them enjoy the moment and remind them the work's just beginning.
GN: What's one word you'd use to sum up Jagger?
MO: I wanna say 'swagger.' The fact that he has swagger allows him to do all these things as a smaller guy. He's confident in his skillset. His shot, he knows he's got a good shot. He's smart, he thinks the game so well. When he's at his best he's not quiet on the ice—he likes to talk to the other team and get under their skin that way. He has fun playing the game and when he's at his best he's got that swagger.
GN: What's one thing you wish more fans knew about Jagger?
MO: How much he cares about his teammates. He wears the emotions of his teammates as well and wants them to do well and wants them to be happy. He's a popular guy and I know a lot of guys flock to him.
Q&A With Jagger Firkus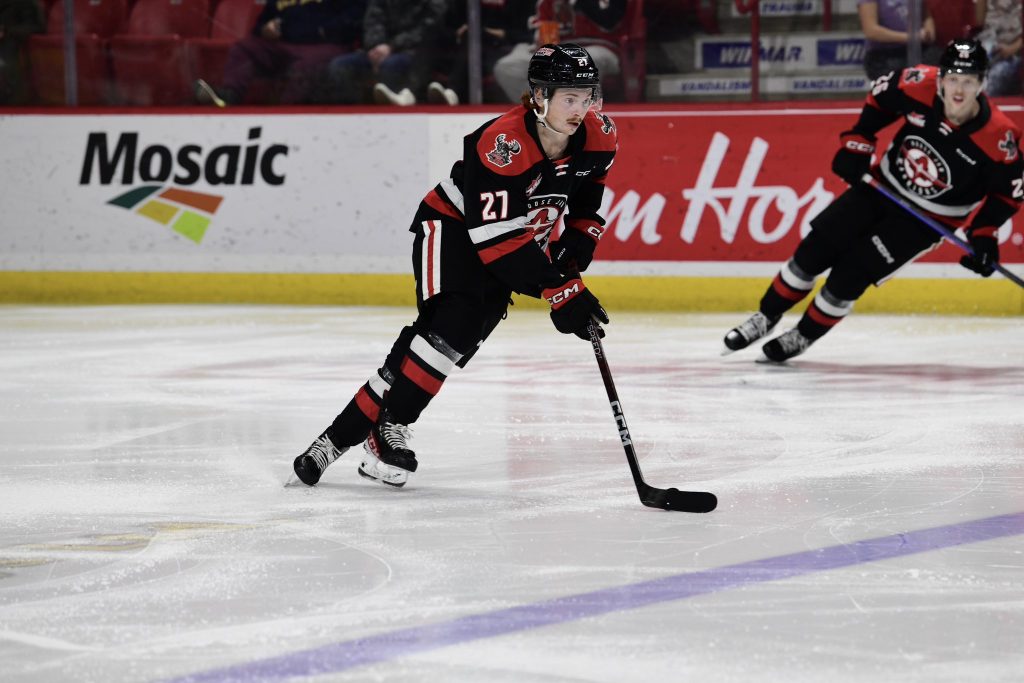 Gabriel Neumann: What advice would you give your last-season self?
Jagger Firkus: Just enjoy it. There's a lot going on, especially when you're only seventeen years old going into your draft. You can overthink a lot of things but at the same time, you don't realize the moment you're in right there is such a cool moment. You get to do all this stuff and get to meet all those other top prospects. It's just super fun. I absolutely enjoyed it, so I don't really regret anything, and it's a great year and I hope everyone enjoys it this year.
GN: Describe your game in your own words.
JF: I'm an offensive player on right-wing. I like to shoot the puck; I think I have a really good release. All I do is pass the puck and shoot the puck and that's my whole game right there.
GN: If you weren't playing hockey what would you do?
JF: Some kind of athlete, maybe baseball or golf.
GN: What was your favorite NHL teams growing up?
JF: My favorite NHL team growing up were the Edmonton Oilers, just because they were the closest team to where I grew up. My dad was a Calgary Flames fan, and my granny as well, so there was always a rivalry in our family between the Flames and the Oilers. It's fun and that'd be my team. They weren't very good though when I was growing up, to be honest. (laughs)
GN: What about your NHL idols?
JF: There's lots of players [I look up to]. When I was younger I liked watching hockey, I liked watching every game. There wasn't really a certain player or certain team I enjoyed watching more. You can learn so much from just watching the game of hockey and growing up in hockey. That's where it all came from.
GN: Do you have any superstitions or rituals on game days?
JF: I don't think I have any rituals where if I don't do them I'll be worried going into the game, but playing sewer ball or playing soccer before the game is one big thing a lot of guys do on the team. For me, I enjoy doing it, and it's competitive before the game too so it gets your competitiveness up. 
GN: What's your favorite thing about playing in Moose Jaw?
JF: I think the small community. Especially being from Alberta, which is a super small community, so coming to Moose Jaw it's nice for me. I mean, you're five minutes away from a lot of things. If you wanna go hang out with any of the teammates or you wanna go to the rink… it's all really close and I enjoy that. I'm not really a huge city guy so I enjoy that. It's kind of a small-town effect here.
GN: If you could pick three Moose Jaw teammates to survive the zombie apocalypse with, who would you pick?
JF: That is a tough question. I think probably Luke Brenton because he's big and he can guard. I think… Riley Niven would be a good one because he's creative and can come up with some ideas if we have anything going wrong. The last one would be Brayden Yager as well, he's a great guy and he'd be fun to hang around with.
GN: Who would get you killed the quickest?
JF: Ryder Korczak for sure. If you knew him, it'd be pretty obvious why. He's a goof.
GN: Who's an underrated teammate fans should watch?
JF: Lynden Lakovic— I think he has a really bright future. He's young and he's super fast and he can handle the puck. Looking at him in practice every day, he's a really good player and he's so young that he can keep growing throughout the years. I believe he'll be a good player in the future as well.
GN: Who's your favorite team to play against?
JF: I for sure think Winnipeg. They're at the top of the rankings and there's a reason why we play them a few times. They're a really good team and I think we match them well. If we met them in the playoffs I think we could win a couple games, that's for sure. I believe in my team against them. I respect them. They've got a good team as well and they work together.
GN: What about in the Western Conference?
JF: When we were on the B.C. swing, I'd say Kamloops. I think Kamloops not only because of the team they have right now but because of the atmosphere in that rink and the fans there. It was really cool and it was a neat experience going through that B.C. road trip.
GN: Which team has the best away rink?
JF: From what I've been through, I think Kamloops would be number one. Their fans are really good.
GN: Are you a pre-game coffee guy?
JF: Yes, for sure.
GN: What's your coffee order?
JF: Just a double-double. Tim Horton's double-double, pretty simple.
GN: Who's the loudest guy on the bus on roadtrips?
JF: Maximus Wanner. He's always talking, and he's a good guy as well.
GN: What's a message you have for the Seattle Kraken?
JF: For the team – Looking at them this year they're doing phenomenal. I'm super happy for them. Especially for Carson Soucy, I'm excited for him and I know he's had a great year with them as well. Talking about them, it's just nothing but good things.
And for the fans – I just want to say thank you, honestly. I've got lots of texts from fans welcoming me very well and it's super cool and I enjoy it and appreciate it all.
GN: And a message for Moose Jaw fans?
JF: Keep doing what they're doing. Coming into Moose Jaw, it's a great place to play. It's super fun to play here in front of the fans every night. It's enjoyable. The fans are loud and exactly what you dream to play in front of when you're younger.