Kelowna Rockets goaltender Jari Kykkanen (Photo: Kyle Smutzki/Portland Winterhawks)
While Kelowna Rockets netminder Jari Kykkanen started hockey around seven years old, he had already been on the ice for a while, just with the intention of heading down a different path.
"I started off as a speed skater," shared Kykkanen before going on to a small self-evaluation. "I wasn't very good, to be honest."
Kykkanen noted that the switch to hockey happened at his dad's encouragement, insisting that it would be a better fit. It certainly seems as though he was correct. Though, the Lloydminster, AB native started off with no intention of being in net.
"I was a defenceman. I really loved being a defenceman," said Kykkanen about his original position. (Yes, he'd be willing to try it again if the need arose. Or just for fun. We vote he gets the chance at least once.) It wasn't until he was around nine years old that Kykkanen says he put on the pads for the first time, during the period of time in pee wee hockey when everybody takes a rotation in net. Though, he says the one week spent as a goalie was something he loved. It was something the guys he played with loved for him as well.
"I played my game and I did really well so the guys were [saying] 'you were awesome' and 'you should always be the goalie'! Just telling me I was good, so I was just kind of like okay, yeah. This is nice."
However, the full-time switch to goaltending took a couple more years, making the jump around 12 years old. Now, the 18-year-old Kykkanen says that the best part of being a goaltender is the honour that comes with the position. While there is pressure and responsibility that comes with goaltending, Kykkanen commented that "winning the games and kind of being the guy" is one of the best feelings.
Kelowna Rockets, round two
While the 2022-23 season marks Kykkanen's first full season in the WHL with the Kelowna Rockets, he did appear in net for the team in 13 games during the 2021-22 season, as well as twice in the 2022 playoffs. Playing in four different leagues over as many years, Kykkanen has had to adapt to different styles and levels of hockey quickly, and heading into the current season in the WHL, Kykkanen admitted was a little bit intimidating. Spending part of last season with the AJHL's Drayton Valley Thunder, the netminder says he was able to learn a bit of how junior hockey works before joining the Rockets, however coming into a fresh season, it was still a new experience.
"I didn't start the season [in the WHL] last year, so I didn't really know what to expect [this year], to be honest. I didn't know what I was kind of get myself into."
Not only did Kykkanen start the season with the Kelowna Rockets, but he was also the starting goaltender for the club as Talyn Boyko had a long look with the New York Rangers before being reassigned to Kelowna.
"That was a pretty tough adjustment because it's my first time ever being a starter," noted Kykkanen about the first few weeks of the season. "I've always been split 50/50, or the backup, so getting that trust to be the starter was awesome. Obviously, I'm happy to have Boyko back, I missed him a lot, but I do want to be the starter again. So obviously, we're working towards that, but it was good to get that trust and kind of learn what it's like. Next opportunity I get, I'm ready for it."
Summer in sunny Florida
Going undrafted in the 2022 NHL Entry Draft, Kykkanen was invited to Florida Panthers development camp in July and asked back again in September for rookie camp.
"That was crazy," said Kykkanen about the experience with the Panthers. "That was easily one of the best experiences of my life by far and such a huge confidence booster for my own game too. Coming into the season halfway through, I wasn't really sure what to expect. Obviously, [I was] pushing to get drafted that year, but to get invited back for the [Prospect Showcase] was really awesome, too. Rolling into the season, it's a huge confidence booster heading in — like, I'm meant to be here and I can play at this level."
Being around that NHL environment, Kykkanen says he picked up on just how much work goes into being at that top level.
"You have to bring it every day. That's part of being a professional. Even if you're not feeling good, you have to find a way to be there and be the hardest worker still. It's hard. Something I've been trying to do here in Kelowna is to always be the hardest worker and it's hard to bring it every day for sure, but that's why they're in the league."
At the end of NHL camps, the players take part in exit interviews to give them a sense of where they are and what the organization may be watching them for throughout the season and Kykkanen had two main notes:
"Just working on my confidence and my mental game were really the big takeaways."
Putting in the preparation
Working on his mental game is something Kykkanen says he gives a little extra focus during his work over the summers.
"I do a lot of mental stuff during the summer with flexibility and weights. I do a lot of on-ice too, but I try and focus more on the off-ice stuff."
During the season, Kykkanen says the focus is on keeping consistency and keeping in a straight line, rather than being "like a roller coaster" and having too many dips. The idea is to keep the progression in either a straight line — getting better or at least being reliable at the same level throughout the year.
During intermissions, Kykkanen goes through a bit of a mental reset before heading back out for another
"I try to calm my mind if that makes sense. Just focus on my breathing a bit and try to relax, decompress, get the adrenaline down, and then just before we're going back out and I'm trying to pump myself back up again."
Get to know Jari Kykkanen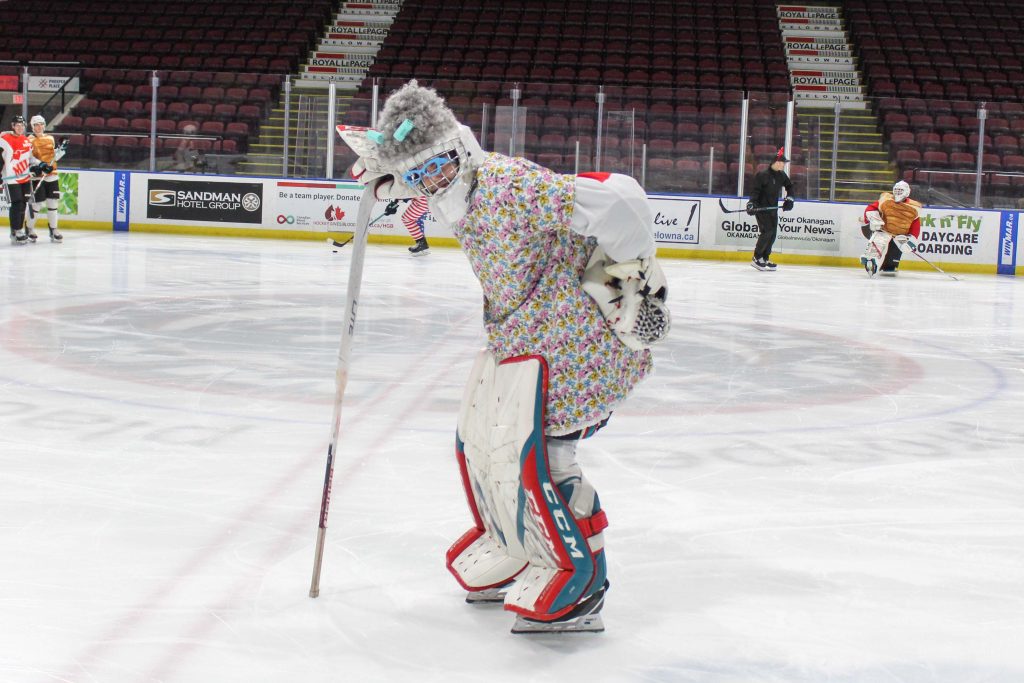 What does your gameday routine look like?
Jari Kykkanen: I try and keep it the same. It's the same thing every day. I prefer if we have a morning skate, and then after that, I have a quick little snack — nothing too big. Then, I lay in bed for an hour just kind of relaxing and then at least a two-hour nap. I always eat pregame at 2:45 and I always have chicken and rice. Even driving to the rink and listening to the same exact song in the same order.
What if there's traffic or something?
JK, laughing: That throws a bit of a wrench into the works. Then I usually have to pause the songs, and sometimes the car's just absolutely silent.
Okay, what about once you get to the rink?
JK: Tape my stick first. I get a little like pregame sewer [ball] in before we play an actual game, so I'm not the first one out. Then, we do our power play and penalty kill meeting. Start our warm-up, we play our two games of sewer ball, and then after those two games, I kind of go off and do my own thing. I do my own little dynamic warmup and then I do racquetball drills, and then get dressed for the game.
What does your perfect day off look like?
JK: Sleeping until noon, at least. Usually, our off days are on Sundays so it's Sunday football. We always go over to one of the guys' house and watch all the games, so that's the idea off-day.
If you could pick a song that played after you make a big save, what would it be?
JK: Either something by Motley Crüe or ABBA. One of those two bands.
What's the most fun thing you've played on the tuba?
JK: I think the Darth Vader theme. The Imperial March. That was easily the best.
(Yes, he is a Star Wars fan and yes, we still need a goalie band. Starting with Kykkanen and Seattle Thunderbirds netminder Scott Ratzlaff)
If you were a fruit, what fruit would you be and why?
JK: I'm gonna go with an orange
Everybody says orange.
JK: Oh, okay watermelon. It's one of the best snacks of the summer, by far. I worked outside this summer and when I came home, getting the cold watermelon from the fridge was the best part of the day.
Do you have any hidden talents?
JK: I can juggle. That's it's not too hidden, but most people don't really know that. That's all honestly it, just playing the tuba and juggling.
(He's also a pretty good chess player, but he doesn't have anybody on the team to play with.)
If you had to choose three teammates to be on your zombie apocalypse team, who would you pick?
JK: I'm going to go with Jackson DeSouza, for one. Then, Rilen Kovacevic and Nolan Flamand.
Okay, now what would their roles be?
JK: Oh, Rilen would be the one going out to face the zombies. That's why I picked him, he's the muscle. I think Jackson would be a good medic, that would be his role on the team. Nolan would kind of do it all. He'd be everywhere, kind of helping out with everybody. Wherever he's needed.
What would you be doing?
JK: Oh, I don't even know. I think I'd be worrying about the food and water. That kind of stuff.
Would you survive very long?
JK: That's tough. I feel like we'd either last a really long time or we'd be dead instantly. There's no in-between.
Who's scoring the Teddy Bear Toss goal this season?
JK: I'm going to say Marcus Pacheco. I think everybody else is going to guess [Andrew Cristall] or maybe [Gabriel Szturc] and [Colton Dach]. So, I think Patches might fly under the radar.
Do you have any stories you just want to share?
JK: I got one story. When we were playing in Portland, our last game, the other goalie ended up getting a penalty for playing the puck outside the trapezoid. It was really funny because, in my first game, I actually did that on accident. I played it outside the trapezoid. It was pretty much in the corner, but I didn't know that you couldn't play outside the trapezoid. I just remember because me and [Boyko] have been joking about it all week because I remember in my first game, he was like, "Hey, do you know you can't do that?" and I was like, "Oh, I had no idea." Actually seeing someone get a penalty for it is really funny.
Did it give you a little bit of a flashback?
JK: Yeah, a little bit, but I've been there. I understand him.
We'll have to let him know that it's not just him.
JK: We've all been there.
For the Kelowna Rockets Fans
Thanks for the support! Every game, win or lose, they're always supporting us and cheering us on. It's really appreciated. Especially lately. The fans have been really good lately, so it's awesome. Just really appreciate the support.