Tyler Thorpe's journey is a great example of how hard work pays off. After a 2021-22 strong season with the Richmond Sockeyes of the Pacific Junior Hockey League, he earned a BCHL contract this year with the Langley Rivermen before eventually signing with the Vancouver Giants. A player that wasn't drafted or listed by Vancouver, it is safe to say he has earned this opportunity in the WHL.
When the Giants signed Thorpe, many had to do a double take as Vancouver already had a Ty Thorpe on the roster. Despite the almost identical names, the two players are not related, making this situation just a cool coincidence.
"It was pretty funny," said Thorpe. "Over the years, people have asked me if he was me because they thought I was that Ty Thorpe and I always told them no. When I finally met him, it was really funny, and he had a good laugh too."
While he is listed as Tyler Thorpe or Tyler McInnis Thorpe on Elite Prospects, he has been called Ty in the past.
"Most coaches usually call me Thorpe or Ty. That's generally the two I get called the most."
Getting the call from the Giants is a moment Thorpe will not forget. After a few days of deliberation, he signed his contract and was off the Alberta to join the team.
"This all happened within a couple of days. It was exciting but also shocking because we had to make a decision, as Barclay (Parneta) wanted me on the road trip as soon as possible. It was pretty surreal and shocking."
Thorpe made his WHL debut on November 1st against the Medicine Hat Tigers. From the rookie lap to the overtime win, it is an experience he won't forget.
"It was fun. I remember getting changed, and I was like, you know what, I'm in the right place and ready to go. That rookie lap was so exciting because I grew up watching the Giants, and now I'm playing for them. It was a surreal feeling. It was definitely fun playing outside of B.C. because you get to experience different towns and different arenas. It was nice to leave B.C. for the first time in a couple of years."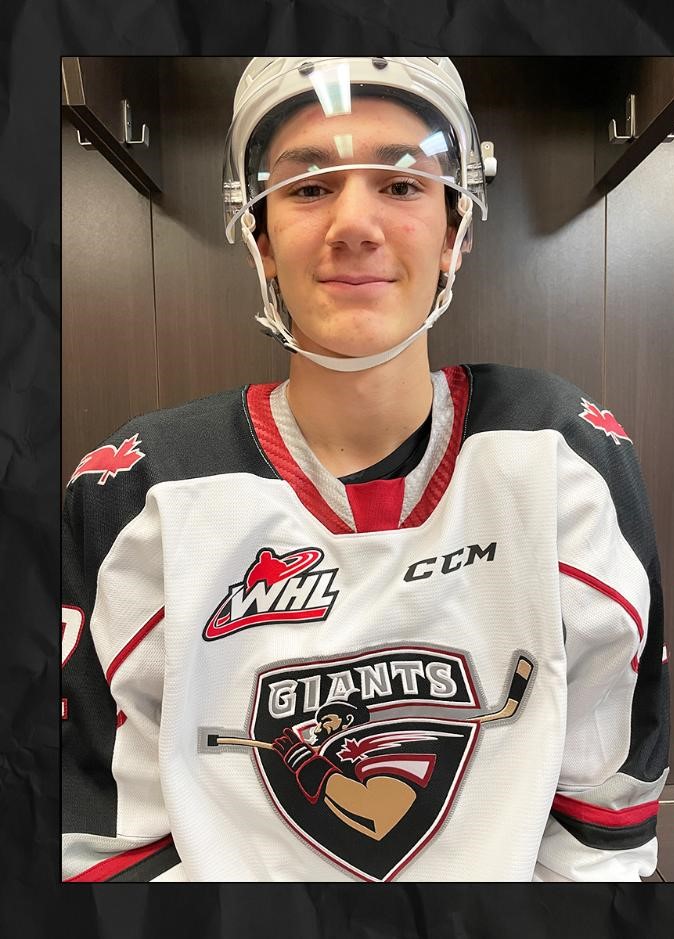 As for his first shift of the game, Thorpe quickly learned how fast WHL skaters really are.
"When I first stepped on the ice, I had to turn around and skate backwards on the back check. I was like, Holy; these guys are fast. Once I got my feet moving, it was exciting. I had nerves, but the adrenaline was going.
Thorpe is listed as 6'5″, 205 pounds. Overall, he likes to bring physicality and is a player who is not scared to crash the net, but that was not always the case.
"As of right now, I'm definitely more of a physical, drive-the-net, but I can play the skill game. I did grow up a smaller forward, so I morphed my game around being a smaller forward. I feel like I can play both games, a skilled game and a physical game. I try to model my game after Josh Anderson (of the Montreal Canadiens) because he can score goals but also hit guys and play a gritty game. He is the guy I model my game around."
Growing up a Giants fan, Thorpe attended games both at the Pacific Coliseum and the Langley Event Centre. While he has many memories, one moment that features a Giants legend sticks out.
"At the Coliseum, I remember seeing (Milan) Lucic absolutely lay out a guy in the middle of the ice. It was such a core memory for me that I have never forgotten."
With the road trip coming to a close, Thorpe is excited to finally play in front of the hometown fans, this time playing in the jersey he grew up cheering for.
"I'm so excited because it's where I grew up. There will be people from my hometown, and I'm excited to play in front of a hometown crowd."
Thorpe has worked hard for this opportunity and is ready to prove that the Vancouver Giants made the right decision by signing him. The 17-year-old Richmond, B.C. native is ready to step up and make an impact for his hometown team. Just like Lucic, he hopes he can bring the Vancouver faithful to their feet with big hits and big goals throughout his Giants career.