After ten games, the Vancouver Giants find themselves with a record of 2-5-1-2. While they haven't gotten off to the best start, there have been positives surrounding this team. Here are some players that have stepped up over the first ten games.
Leading Scorer: Ty Thrope
Ty Thorpe finishes his first ten games with six goals and six assists to lead the Giants in scoring. He is also the only player on the team to play in all ten games and be above a point per game on the season. The 20-year-old also leads the team in power-play goals with four and shots on goal with 39. A great start for the overager, as he is fighting for an NHL contract this season.
Best Defenceman: Mazden Leslie
Mazden Leslie has come out hot to start the 2022-23 season, leading all defencemen with ten points in ten games. He is also just two points off the league lead when it comes to defensive scoring, ranking in the top ten for assists and points. Overall, he continues to round out his game and has taken another step forward in his development early this season.
Unsung Hero: Jaden Lipinski
It is hard to describe just how important Jaden Lipinski has been to this organization. Not only does he have seven points in ten games, but he has also become the team's shutdown center throughout the season. He has also become a leader for this organization as he was given an "A" to wear with Tom Cadieux out of the lineup, with Head Coach Micahel Dyck calling him "an emerging leader." If the Arizona native can continue his strong play, do not be surprised if he hears his name called on draft night.
Best 2023 Draft Prospect: Samuel Honzek
While he is still trying to adjust to playing on the North American ice surface, Samuel Honzek has been electric so far this season. He has five goals and five assists and has already landed on the WHL Plays of the Week. One thing is also clear; he loves to play Victoria, as he has recorded five of his ten points this season against the Royals. He is a big-bodied, smooth skating forward who has one of the best shots in the league and should hear his name called early at the 2023 draft.
Best Performance: Ty Thorpe vs Victoria
The top performance of the first ten games was an easy one. It goes to Thorpe for his four-point effort versus the Victoria Royals on October 22nd. He scored two goals, including bringing the Giants back within one with less than two minutes to play and was instrumental in helping Vancouver tie the game with less than two seconds remaining. Just like Honzek, Thorpe loves playing the Royals, as six of his 12 points have come against Victoria.
M.V.P: Ty Thorpe
So far this season, it is hard to argue against anyone but Thorpe for M.V.P. He leads the Giants in most offensive categories, has a 62.3% faceoff win percentage and has won the eight most faceoffs across the league.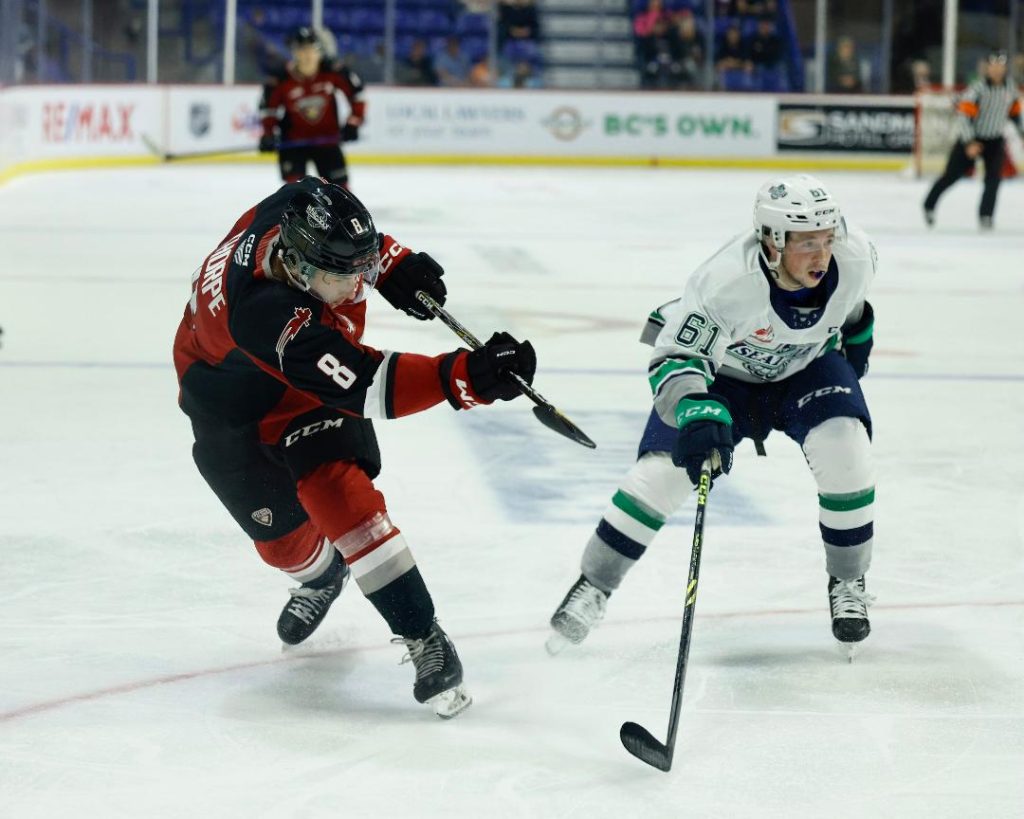 He is a true leader on this team and one of the reasons they have been able to stay close in most games this season. If the Giants have their eyes set on the playoffs, expect Thorpe to be a big reason why they get there.
That will do it for the Giants' ten-game update here on the Area 51 Sports Networks. Make sure to keep your eyes peeled right here as we bring you the best WHL coverage all throughout the season.