Tyler Palmer (Photo: Rob Wilton/Vancouver Giants)
*This was originally posted March 20, 2022*
In just his first season in the WHL, Tyler Palmer has made himself a household name among fans.
How did he get started in hockey? According to Palmer, it was always going to happen.
"My dad has always been a hockey player. I grew up watching hockey, and it just seemed like a no-brainer for me. I just kind of grew up into it."
Of all the positions in hockey, why did he become a goaltender?
"That one is a funny story. I love scoring goals. I was actually a pretty good player, but I hated getting scored on. My dad coached my team, and if he wanted to put me up front to play forward, I would go back and play defense. He'd put me on defense, and I'd basically play goalie and block all the shots. Basically, the only way I would actually do my job is if he put me in goal, so that's what I ended up doing."
When did he make the jump from skater to netminder?
"I think I was probably about eight years old when I made the switch. I was maybe in the Atom age group."
Unlike some of his peers, Palmer did not have that instant connection to playing in goal. While clearly a position he was made for, it took some time for it to settle in that goaltending was his calling.
"Once I made the switch, and I played a full year there [as a goaltender], I had it figured that it's where I wanted to play."
Who are the goaltenders who inspired him?
"[Miikka] Kiprusoff was my all-time favorite goalie growing up when I was a kid. Also, Marc-André Fleury and Carey Price had big impacts on me. All the big names."
However, the big names were not the only influences on the young Palmer.
"There's also guys who are just a little bit older, playing minor hockey that are only one age group older, but you still look up to those guys. Even goalie coaches that were ex-goalies. All those guys, I really looked up to them. I think just taking elements of all the different styles of games helped me form and do my own now."
A lesson he's brought with him to the WHL:
"Just always be a student of the game. Always keep learning new things or improving new things. There's always something to work on. Also, not just on the ice. There are a lot of things mentally you have to work on to be able to consistently play well every night. I had a lot of ups and downs last year with my season in the AJHL, and I think that definitely helped me with my success this season."
Contributing to that success, what would he say his strengths are as a goaltender?
"I would say my strengths are probably my athleticism and my speed. I try to use that to my advantage all the time."
Are there any skills he sees from opposing netminders that he wants to add to his game?
"When it comes to playing the puck, I think yeah, there's definitely a lot of tricks I want to try out, but I also want to just get better at being a third defenseman."
He said he loves scoring goals, but would he ever try for that elusive goalie goal in a game?
"I don't know if I would ever give it a try if we're only up by one goal, but if we got up by two goals, I think maybe I would try it."
His former Saint Grove Saints teammate recorded the AJHL's first goalie goal in January. Perhaps it's Palmer's turn next?
Victoria
What was he looking forward to most before the season started?
"I was excited to be able to come to the City of Victoria. Honestly, that was a really exciting thing for me. I'd only been here once before, and I'd heard how nice it was here. So that"I and playing in front of fans again were probably the most exciting things."
Has the city lived up to his expectations so far?
"Yeah, I mean, there's a little more rain than I was expecting, but other than that, it's been really nice."
Was there anybody who took him under their wing when he first came to the Royals?
"Our whole team is just full of great characters. I think everyone collectively takes everyone in and shows them the ropes. When Arny [Campbell Arnold] came here, he kind of showed me what an experienced goaltender in the league's routine is and what they do, so that was really nice."
November 26 marked the beginning of an incredible month for the Royals as they beat the Everett Silvertips and went on to win 9 of their next 13 games. What was winning that game like for Palmer?
"To be honest, I was in complete shock when we managed to find a way to win that game. I didn't really know what to do. We had a rough start to the season, and we were just starting to get our players back in the lineup and get healthy again. We had managed to take a couple of games to overtime, but none of them had resulted in a win, and then that one finally went. It was just a huge turning point in the season."
What was going right for the team in December, a month that saw the Royals win 10 of their 12 outings?
"Me and Campbell were both playing well. We knew it was just one after another, just rolling out performances. I think we did that really well. The team was healthy. Everyone was rolling. We all just seemed to click at that time. We even carried it on after Christmas. All the way up until COVID hit. When COVID hit, not sure what happened, but we kind of lost all our momentum."
Following the COVID postponement of two games in mid-January, the Royals went on a 16-game losing skid. How do you keep a positive mindset throughout the rough patches?
"Eventually, things are going to turn around if you just keep improving, being a student of the game, and working as a team. I think that's the most important thing, to come together as a team and just try to battle as hard as we can to find a way to get out of the rut and start winning."
In the 13-games since the losing streak, the Royals have gone 7-5-1-0 and are getting their season back on track just on time to make a serious playoff bid.
Get to Know Tyler Palmer
Palmer's perfect pizza
"That would have to be just regular pepperoni and bacon."
So… no pineapple?
"Yeah, no. For me, absolutely not. I don't mind if people have it on their pizza. My dad likes pineapple on pizza. I don't understand it, but you do you."
While Palmer and his partner in net Campbell Arnold have different views on the pineapple debate, Palmer doesn't seem to be willing to let it drive a wedge between them. Good for the post-game goalie hugs!
Palmer answered a second food-based favorites question and built his perfect sandwich:
"Probably a spicy crispy chicken, again with bacon. Then, maybe some lettuce and maybe a little onion and mayo."
Locker Room Music
Who should always get aux?
"I actually like Arny's music sometimes. It depends on the situation, really. Peacher [Bailey Peach] is definitely a before-the-game kind of guy. He plays a lot of mashups and remixes. I like them, but for the mornings and practices, when you want more country music or something like that, I prefer Arny's music."
Who on the team should not be allowed to DJ?
"Anthony Wilson. I don't know. I'm not sure about his music."
Why?
"A lot of songs I've never heard of. I think a lot of the guys haven't heard of them."
Palmer's top three songs (at the moment he was asked):
"If I go with a country song, I really like Starting Over by Chris Stapleton. Iris by the Goo Goo Dolls that's a good one. If we go for a bit more of a pump-up song, I would probably go with maybe some Drake or something along those lines. That's a tough choice."
What about his guilty pleasure song?
"It would probably be Our Song by Taylor Swift or something like that."
(10/10 selection, Palms)
In a movie…
If he were a character in a movie, what kind of character would he be?
"Probably just a background character. Honestly, I'm not too keen on being a main character or anything. I'm the one that you would see in a couple of scenes. Not anyone too important."
With two WHL Goaltender of the Week honors in his rookie season and multiple Save of the Night highlights, it might be too late for Tyler Palmer not to be a main character in the Victoria Royals' story, though it's not a movie, so maybe that's okay.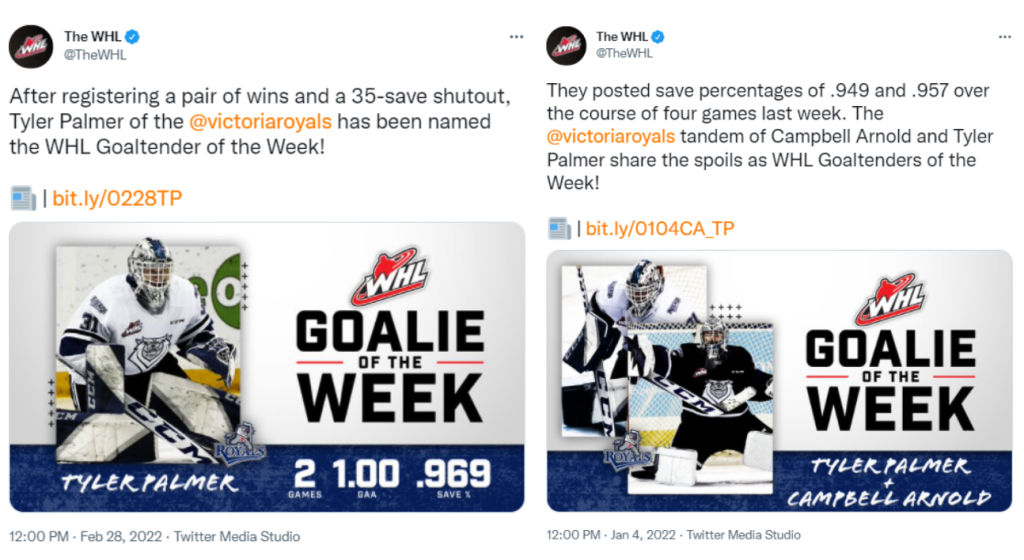 Everyone's favorite sport…
Palmer and a few of the Royals hit the course the day we talked, but their game got rained out. That dang Victoria weather. However, I had to know, how is his golf game?
"Not looking too good so far. Usually, my handicap is right around 14 or 15. Not awful, but not great."
Which teammate would he say is the best on the golfer?
"[Tarun] Fizer and [Anson] McMaster are both pretty good golfers, so I'd have to say one of those two. I haven't golfed with Peacher yet, but I've heard he's pretty good."
What's Palmer's favorite club in his bag?
"Oh, I'd like to say my driver, but I'm just too inconsistent, so I would probably have to say my favorite club, my most consistent club, is probably my pitching wedge."
The pre-game stuff…
Pre-game naps, yes or no?
"I do like to take naps. Not too long, though. I usually take about 20-30 minute naps."
Any weird superstitions?
"I don't have any real superstitions. I have some routines and little things that I do, but not anything too weird."
What are these routines?
"I have a juggling routine that I do before games. I like to have a pre-game coffee. Before I leave, I play guitar, when we're at home anyway. I'm not sure why; I just do. I like to play sewer ball before [games]. I always tape my stick before games. That's pretty much all the basic stuff that I do."
What's in his coffee?
"Two creams, two sugars."
Go-to song to play on guitar?
"I like to play Sweet Child O' Mine by Guns N' Roses. I play that a lot."
Skills off the ice…
Other than being able to play guitar, does Palmer have any hidden talents?
"I can solve a Rubik's Cube."
While he isn't quite as fast as the Rubik's Cube Kid from Saturday night's game against Prince George, he isn't too shabby when it comes to the cube.
"I HAVE [solved a cube] in about a minute before, but that's not an average time of how fast I do it. It's usually closer to two minutes."
To the Doubters
Tyler Palmer has a message for doubters of the Victoria Royals. Okay, maybe the message isn't entirely in words, but everyone will understand it by the end of the season.
"I don't really have anything to say. I think it's just going to come out in our performance. We're starting to step up our game, and I think we will make this playoff push happen, honestly. We have two games against Spokane at the end of the season. Those are going to be huge games, but I think we can make it happen. Those games are going to be huge in getting us into the playoffs. I think if we can win both of those games, we get in. Obviously, the games before that are important, but we will win enough to put ourselves in that spot."
Royals fans, it's time to pack the arena.
"I think this part of the regular season is probably the most exciting. It's when it gets the most intense, so if you want to watch hockey, this is the time."