(Photo: Brian Liesse/Seattle Thunderbirds)
*This was originally posted March 14, 2022*
Goaltender Thomas Milic is standing out and having a solid season for the Seattle Thunderbirds.
How did he get his start in hockey? It was just one of a few options available to Milic as a kid, but one that was an easy choice to fall into.
"It's something my parents put me in when I was younger. They gave me a try in all sorts of sports just to see what I'd like. It started with skating lessons, and then I remember seeing the older kids playing hockey at the same rink. Eventually, I signed up for a little hockey lesson, and I've loved it ever since."
Even before he made the jump to wearing the pads full-time, the BC native had an affinity for preventing goals.
"When I was playing as a skater, I'd always be a defenseman as well. I loved blocking shots. It's something that every time I did it, I loved it more and more."
Even though he was drawn to stopping pucks, it took a few years for Milic to make the switch from skater to netminder.
"I was probably about 9 or 10 years old when I made the switch. Before that, we'd always have one set of gear for the team, and we'd rotate around the guys, but I was always the one that was volunteering to hop in net and stop some shots. I think it was just something that just kind of chose me."
Who are the goaltenders that influenced Milic when he was younger?
"Growing up in Vancouver, I was always a big Roberto Luongo fan. I wouldn't say I model my game after him too much, but I used to always love watching him. Jonathan Quick was another one of my favorite goaltenders growing up. I just loved his pure athleticism and compete when he was playing."
So then, who does he try to emulate in his play, if not Luongo and Quick? WHL fans will be very familiar with who Milic named.
"There's actually been a few that were playing in the US Division before me. Dustin Wolf is one that I was lucky enough to play a couple of games against, and I'm a big fan of his style. [He's a] quote-unquote smaller goaltender, but I really love how he plays. Beck Warm is another US Division goaltender, who used to play for the Americans. I love the technical style of his game."
SUCCESS IN SEATTLE
This is the third season that has seen Milic in games for the Thunderbirds. Though, through his first two rounds in Seattle, he saw the net just 11 times. This season, he's appeared in 39 games and is having the best season of his WHL career. The short stints before this season, Milic says, helped ease him into the WHL.
"Last season was sort of my first real taste of WHL hockey. We had a decent amount of games in a short amount of time. It was a pretty short season, so I think it really helped me to get my feet wet. I got a feel for the league, and I think that really helped me get a good start to the season."
Speaking of the short 2021 season, Milic mentioned that the team knew they still had fan support, despite not having them in the building.
"The atmosphere we have in Seattle is second to none. A lot of guys missed that for sure, having the support behind us, but we knew they were all watching on streams and cheering us on at home as well."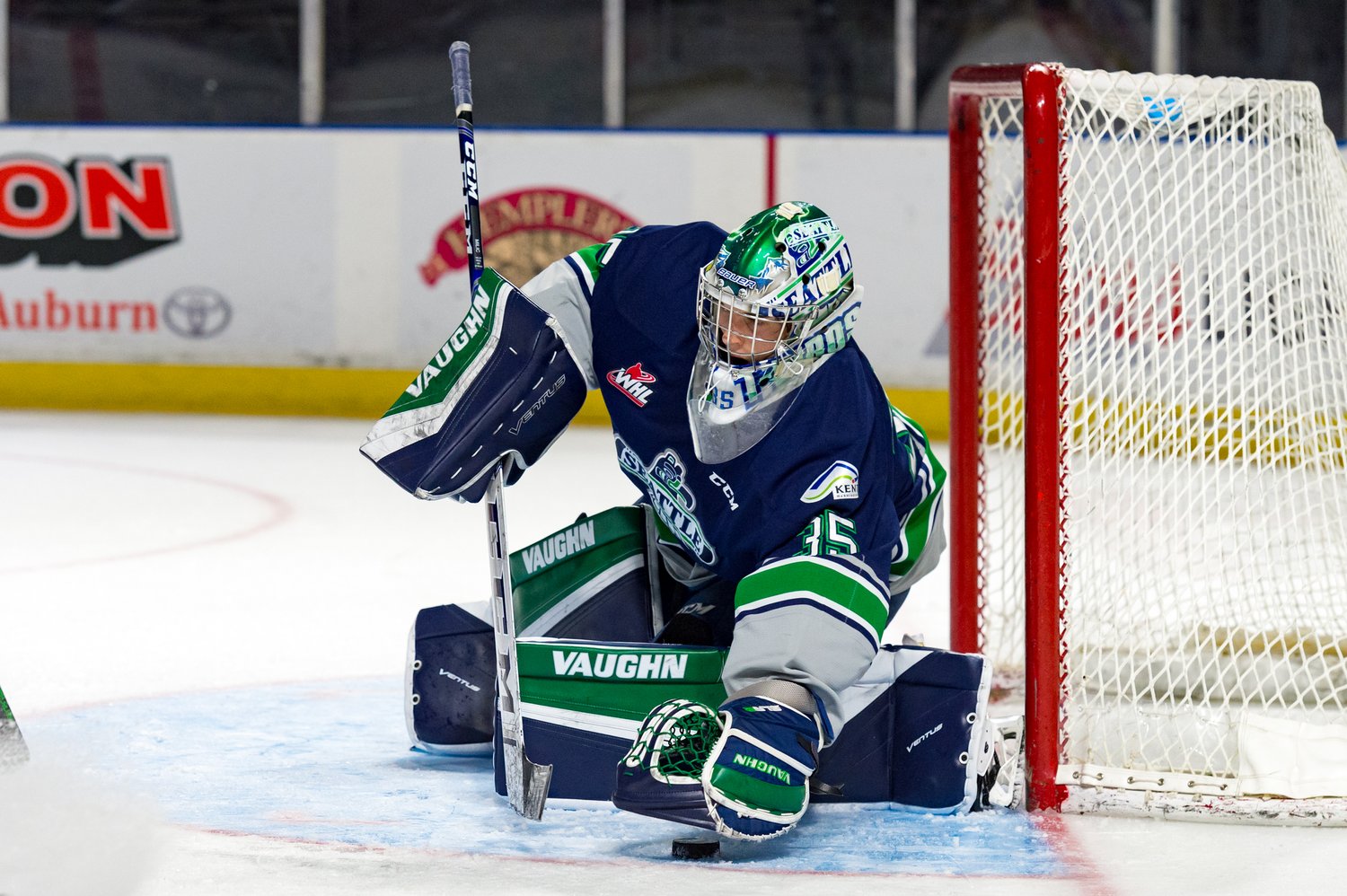 As for the current campaign, the 18-year-old believes the team's confidence is key to their success thus far, especially knowing they've already put together a few streaks. Oh, and he is sure the team will continue its rise throughout the remainder of the season.
"We're a really tight group this year. Everyone gets along with each other. I think that team chemistry really helps a lot. Going on those runs, it obviously feels good having a few wins in a row under our belt. As we get towards playoffs, we're going to continue to make a few more of those pushes and hopefully crawl our way to the top of the division."
BATTLE OF THE SOUND
Though the Thunderbirds lost at the Battle of the Sound on February 26, Milic recognized that playing on NHL ice is an incredible experience.
"That was super cool and something that we were looking forward to for quite a while, once we heard it was happening. Being able to have all of our Thunderbirds fans against one of our rival teams, the Silvertips, was a special experience getting just a taste of what pro hockey is like."
With over 8,000 fans in the building, Climate Pledge Arena was loud as it saw WHL action for the first time since 2008.
"There were definitely a lot of T-Birds fans and a lot of Everett fans as well. We had a lot of chants going back and forth between the two fan groups, and it made for a special night."
The NHL team that now calls the arena home, the Seattle Kraken, invited Milic to their development camp last summer. However, Thunderbirds fans were quick to notice that his name was missing when the camp roster came out.
"Funny enough, I'm not sure if this news got out at all, but I actually got injured right before the camp. I broke a finger, so I wasn't able to attend any of the camp."
Getting another invitation is something that Milic says he is working for overall, but it's at the top of his concerns right now.
"That's a goal of mine towards the end of the season, but my biggest focus right now is contributing to team success here with the Thunderbirds."
Last summer was Milic's first time eligible for the NHL Entry Draft, but he, and fans, didn't hear his name called. This didn't deter the netminder.
"After not getting drafted this past season, I was pretty hungry going into the season to prove that I belong here. Not only that but that I can dominate in the league and do whatever I can to help with the team's success."
With a 22-13-2-2 record, he has undoubtedly been a significant piece for the Thunderbirds' season. He must be thinking about finding his way to the NHL through the upcoming draft, right?
"Of course, but I know there's a lot of ways to get there, so whatever it takes."
If he could face some shots from any player past or present, Milic would pick another name Thunderbirds fans will recognize easily.
"One day, playing against Mat Barzal would be pretty cool. We were just at a Kraken game against the Islanders a couple of weeks ago. After the game, he came up and talked to us, just telling us a couple of stories. With the success he's having, it would be cool to stop a couple of shots from him."
Barzal gave the latest Thunderbirds some words of advice before leaving Seattle with the New York Islanders.
"A lot of it was around enjoying the whole experience. A lot of guys say this, but junior hockey is some of the best times of your life, so just being able to cherish every moment and not take anything for granted."
Milic has been doing just that throughout his time with Seattle. He's having fun and taking in every second with his teammates.
"Just being able to spend all day, every day with an awesome group of guys and just building these friendships that will last a lifetime. Just having fun that's the biggest thing for me."
IN HIS OWN WORDS
In terms of his game, Milic has a way to describe himself that both teams and fans should enjoy.
"I'm a consistent goaltender that you can rely on every single night. I play a calm, collected style, but can also make big, athletic saves when needed. Reliability is a word that I like to use."
With that said, the netminder knows that there's more than just numbers that the fans want.
"I think my personality and charisma are something that fans might enjoy as well."
If he could build his perfect pizza or sandwich, it would include…
"I'll do pizza because it might be a little more controversial."
You know what's coming next.
"A lot of people are going to love me for this, and a lot are going to hate me, but I think pineapple absolutely belongs on pizza. So I think a Hawaiian pizza with some bacon—all I'd ever need."
It sounds like Milic and former Thunderbirds forward Dillon Hamaliuk would enjoy grabbing a slice together.
Outside of hockey, Milic enjoys to…
"Depends on the season. We're in winter going into spring, and the weather's certainly a little nicer, so I love playing any outdoor sports. I like golfing. Basketball is pretty fun. We have a hoop in our cul-de-sac here that I like to shoot some hoops in. In winter months, when it's not as nice outside, I like doing all sorts of puzzles: Rubik's Cubes and stuff like that. Just keeping my mind occupied and trying to get a little bit smarter every day."
Wait, so not only can he stop pucks, but Milic can solve Rubik's Cubes as well?
"Yeah, it's a little phase I went through when I was younger. Speedcubing, they call it."
We might have to convince the Thunderbirds to get him a cube to show us.
If he could be in a movie, his character would be a…
"A little bit of a cliche answer, but probably some sort of superhero. A bunch of our teammates just watched the new Batman movie the other day, so I think a lot of us think we're Batman right now."
His nickname from the team is…
"There's a handful of them, but I'll rattle off a few here. Millie is probably the biggest one just because my last name is Milic. Any variation of that, really. Millie Bobby Brown, Millie Rock, Meek Mil, just goes on and on."
As for who on the team has the best nickname?
"I don't know if I can expose them here."
Guess we'll have to find out another time.
Does Milic have any hockey superstitions?
"I'm kind of someone, weirdly enough, that tries to stay away from superstition. I just think that the more that has to go right, the more there is to go wrong. I do have my routines that I like to do. My billet brother Mekai Sanders and I have a little thing in our on-ice warmup we like to do. "
(I was told I had to get to a game to find out what it is they do.)
The best locker room DJ is…
"I'd say Ryan Gottfried. He's one of our 20-year-olds this year. He's got a pretty broad taste [in music] and can cater to any audience. He's got it all."
The worst locker room DJ is…
"Some guys might get mad at this, but Leon [Okonkwo Prada]. He's one of our Euros this year, and he has some questionable songs. He thinks they're awesome, but no one else does."
His teammate, Kevin Korchinski, named Tyrel Bauer as the worst DJ. Without telling who pointed the finger, I needed a second opinion.
"I hate to say it, but I also agree with that. There's not a lot of diversity in his music. It's all old country songs no one knows. Great captain, bad DJ."
FOR THE FANS
"Thank you guys for all the support. We love having you guys behind the glass again this season. We have one of the loudest buildings in the Dub and all of the CHL. I think if we can keep packing the barn every night, we're going to have a good run here."