Nick Avakyan in net for the Tri-City Americans (Photo: Keith Dwiggins/Portland Winterhawks)
*This was originally posted March 25, 2022*
Tri-City Americans goaltender Nick Avakyan didn't grow up in a hockey family, but his start in hockey came just as early as if he had been. He's made his way to the WHL and isn't looking back.
"I first saw it on TV, and I told my mom that I wanted to try it. I was four years old, and I took skating lessons. I was absolutely horrible. I started off as a player and was so bad that the coach put me as a goalie. Ever since then, I just became a goalie."
Does he remember which teams were playing in the game that drew him to the sport?
"Yeah, it was the Kings versus the Ducks."
Oh, you didn't know that Avakyan is a Southern California guy?
In true SoCal goaltender fashion, Avakyan had a particular goaltender he looked up to when he first started out in net.
"Being from LA, I was a big Kings fan, and I would always look up to Jonathan Quick."
However, Quick is only one goaltender who has influenced how Avakyan plays the game. A couple of familiar names from the WHL made their impacts as well.
"As I started getting older and older, I started looking up more to Carey Price and Everett Silvertips goaltender Carter Hart. Those are the two goalies I'm trying to establish my game around, but it's also good to have some athleticism like Quick."
How has the transition into the WHL been for Avakyan so far?
"At the start, it was a big jump. I was only playing 16U AAA in California, and now I'm playing against NHL draft picks. So it's a pretty big jump, but I just keep working hard and practicing hard every day, so it's become an easier and easier transition now."
A common thing for US-born players is the pressure to chase a college scholarship or stick with the USA Hockey program, but guys continue to come to the WHL. Why did Avakyan decide to sign with Tri-City rather than take one of the other paths in the sport?
"Well, I know the goaltending history with the Americans. Beck Warm, Carey Price, Eric Comrie, and now we even have Tomáš Suchánek. They just develop really good goalies, and I found that was the best option in that timeframe for me to go to. I'm just really proud to be a part of the Americans now."
His favorite thing about being part of the Tri-City Americans family?
"Oh, definitely just hanging around with the boys. Going to the rink every day and seeing everyone with a smile on their face just makes my day. We're all trying to get better and work hard, and it's fun doing it."
Avakyan's best memory of the season is actually a pair of memories. If you're a fan of goaltenders, you'll love them too.
"The first one was my first game in Seattle. I wasn't expecting anything big out of that game because it was my first-ever start. I ended up getting 52 shots, and we almost won the game in OT."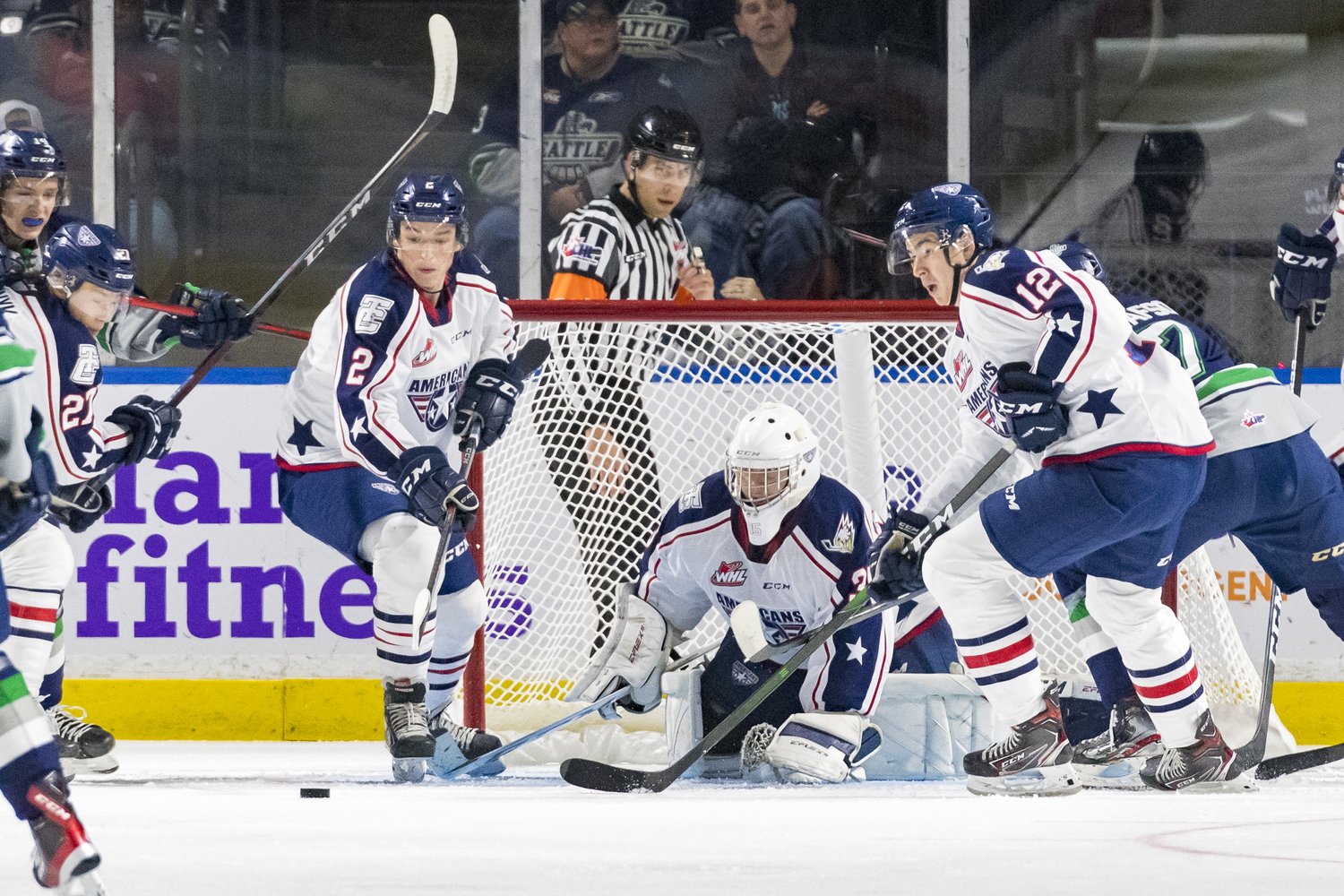 By the way, of those 52 shots, Avakyan stopped 48. In his first WHL start. On the road.
His second favorite memory from this season? Another game on the road,
"The game in Portland where they had 45 shots, and we went to a shootout."
That game took place on January 15 in Portland. Avakyan made 44 saves on 45 shots, not including all three in the shootout. It was the game in which Dwayne Jean Jr. had his second shootout winner of the season, with the first coming on opening night, also against Portland.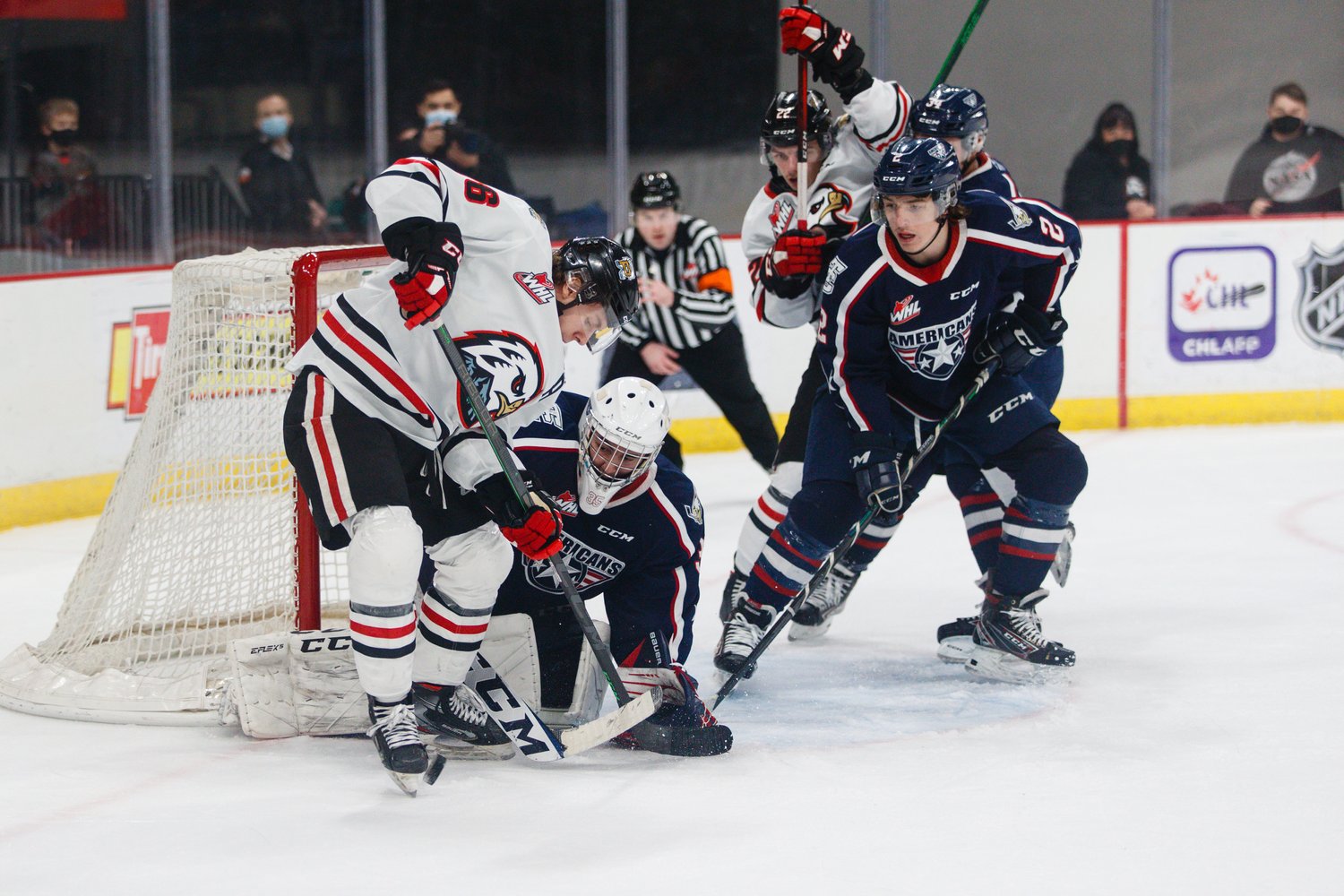 In that game against the Winterhawks, the rookie goaltender was determined to steal a win from a surging Portland team.
"I kept repeating to myself, 'I'm not losing this game. I'm not losing this game.' So I just tried everything in my power. The guys gave me a good chance, and I gave them a good chance, and it all worked out."
The Goalie Stuff
Does he have any game superstitions? Avakyan says no, but he does have a simple routine.
"Before home games, I like to just relax and chill out. I would play a couple of video games, probably just take a nap, eat a meal, and then go to the rink and get ready for the game. I'm not really a superstitious guy. I kind of just go with the flow."
A day in the life of Nick Avakyan (on a non-gameday) is just as you would expect! Well, maybe.
"I get to the rink about an hour and a half early. I just roll out and then stretch, do some dynamic stretching, and get my muscles loose. For the rest of the time, until we go out, I just talk with the boys and get dressed.
I go out 20 or 30 minutes early. I do a lot of skating drills and fundamental stuff.
Then, I do a warm-up. I tell the assistant coach to give me some easy warmup shots and just get loose and feel the puck.
Then, we get into team practice.
After, I stay around, and I just work on more skating.
After practice, I go to the gym. Then, I just stretch and roll out again to make sure my muscles are good.
That's pretty much it. I just go home and relax."
A goaltender working on skating?
"I think skating is one of the most important things, and there's always room for improvement in that, so I really try to emphasize skating. Tomáš Suchánek teaches me how to skate really good.
If you're wondering about the last part of that statement, Avakyan laughed a little as he said it while following it up with:
"He wanted me to say that."
Now for his gameday routine:
"Usually, we have a morning skate at 10 am, so I wake up around 8 am.
I get a quick snack like a protein bar or something before going to the rink and doing my morning skate routine, even though we have a game.
We have morning skate, and then I come home and eat a light snack again. I'm not a big breakfast guy.
Then, I just play video games for a little bit.
After that, I take a nap.
Right after my nap, I have to eat a big meal. Lunch is my big meal.
Then, I get ready.
Honestly, I FaceTime my girlfriend. I know it's kind of not what you expected, but yeah. I talk to her for a little bit, and then I just end up going to the rink and do my stuff."
In his own words, his strengths as a goaltender lie in his positioning and ability to track the puck.
"Those have been my two main focuses. I started working with a new goalie coach, and that was more of his style, being more n position and how to make the right saves at the right time."
As for what he's working to improve?
"Fixing my stance and working on lateral movement."
How does he stay focused during games? It's all preparation.
"I try to move around a lot. Skate to the corner and stretch. It's all mental. That's why I come to the rin a little early, to get myself ready. I prepare myself for the worst situations. I prepare myself to just stay focused on the game."
Well… He is From California
The Tri-City Americans players have some of the most entertaining nicknames in hockey and Nick Avakyan may just have the best one of them all.
"Back in Cali, I would just get called by my first name. Everyone has a nickname here, but they couldn't find a nickname for me. Then, Tomas started calling me Avocado like two months before everyone else did. Everyone else just caught on. That's just been my name now. I like it."
(Prepare for Avocado to be the only way I refer to him from now on.)
However, if you watch the Instagram reels linked above, Marc Lajoie says he does not have a nickname from the team. Perhaps he's gotten one in the weeks since the video was posted on February 27? An investigation will occur.
According to Avocado, the title for the best nickname on the team goes to Rhett Melnyk.
"His nickname is Squirt. I honestly don't know why. I think it was from last year, but I wasn't here, so I don't know, and no one really knows why except for the athletic trainer."
Fun with Avocado
He mentioned that he plays video games. Which ones?
"I play Fortnite and Rocket League."
Favorite road arena
"Honestly, probably Seattle. Seattle is the best. My first game, I was shocked, like 'Oh my god, there's so many people. Am I going to do good?' this and that I kept overthinking for myself. Then, from puck drop, I just shut it all out. I was focused on the game. They have a really big crowd all the time. It's fun. I love playing in Seattle. Definitely my top one."
He quickly followed all of this with:
"The next one is probably Portland."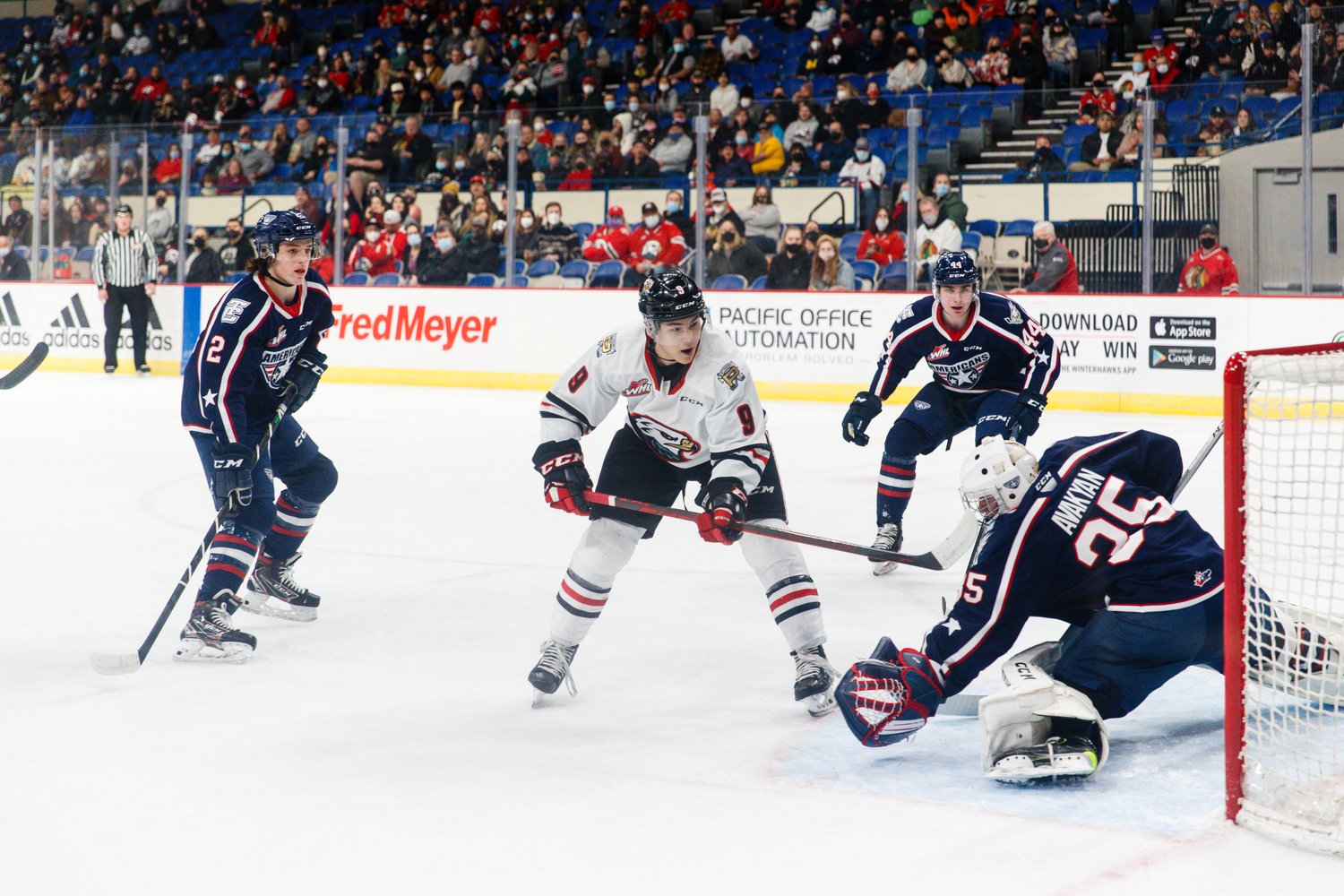 Pre-game meal
"It changes because I'm trying to find one that works for me still."
That said, he does have a favorite pre-game snack.
"Peanut butter jelly is my favorite. I usually eat a big meal, and then right before I leave, I like a snack like a PB&J. So, that's my go-to."
Avocado's perfect pizza
No, it is not topped with any avocado.
"I'll do thin-crust with red sauce. I love putting spinach on my pizza, so I'll put spinach. I like sausage. Oh, and I like jalapenos on my pizza. I know it might sound kind of weird. No one eats it. I hate pineapples on pizza."
Locker room DJ
Who is usually the one running the music for the Americans this season?
"Usually Carson Haynes has the aux, and he has really good music… sometimes. I hate to be that guy, but I'd rather have me on the aux than Carson."
What's Haynes playing?
"A lot of country music, and that's not my thing."
Who shouldn't be allowed to play music?
"Definitely Bouch. Bouchard. Connor. Because he plays too much country music."
More than Haynes?
"Way more than Carson. He's not into that rap stuff. He's an old guy."
Avocado's top five artists:
"Drake, Travis Scott, Lil Baby, Migos, and Gunna. Basically, it's all just rap."
Supposedly the exact opposite of Bouchard's music.
(Also, I suppose I am old too because I had to look up three of the five.)
Has Avocado been on aux much this season? Actually, yes.
"Usually, before games, we play soccer. We try to keep the ball up, and I suck. I always end up getting our first. Whoever gets out first has to go get the speaker and play music so it's just always been me."
Is that a strategy or just luck? Nope, it's not a plan on the netminder's part.
"Honestly, I should do that. I should. I don't. I don't try to get out first. I'm just so bad at it."
For the Fans
"Thank you for your support. It's great knowing that you guys are rooting for the Americans and me. It's just kind of cool. Coming from California, hockey is not a big thing. Coming here to Washington, but most of the teams are in Canada, and we have a lot of fans in Canada, it's just pretty cool. I just want to say thank you guys for your support. It means a lot to us, and it doesn't go overlooked.