(Photo: Jay Wallace/Victoria Royals)
Victoria Royals defenceman Luke Shipley said that starting to play hockey was the best decision of his life, and he made it when he was four years old. He credits a childhood friend with influencing him to give hockey a try.
"My friend from preschool, he joined and I became very close with Nick Peters and his mom. [They] got in touch with my family and told me I should join. I joined and it was the best decision of my life."
That decision has brought Shipley to his third season in the WHL with the Victoria Royals after being selected by the team in the sixth-round of the 2019 WHL Bantam Draft.
Describing himself as a two-way player who defends and competes hard, the 18-year-old has given Royals head coach and general manager Dan Price reasons to call him a unicorn.
"One thing that's really interesting about Luke is that he's a right-handed defenseman that is probably just as good on the left as he is on the right," said Price about Shipley's game. "He might even be better on the left. That's really rare, but one of the reasons is because he is such a good backhand passer. That's one of the things that makes him such a unique player in this league. Big, mobile, skilled, strong, tough, tenacious defensemen who are right-handed are tough to find, but then when you can find one that can play both sides of the ice and is probably better on his off-side? That's a real unicorn."
Plus, as Shipley says:
"I think I got a little edge to my game that helps me."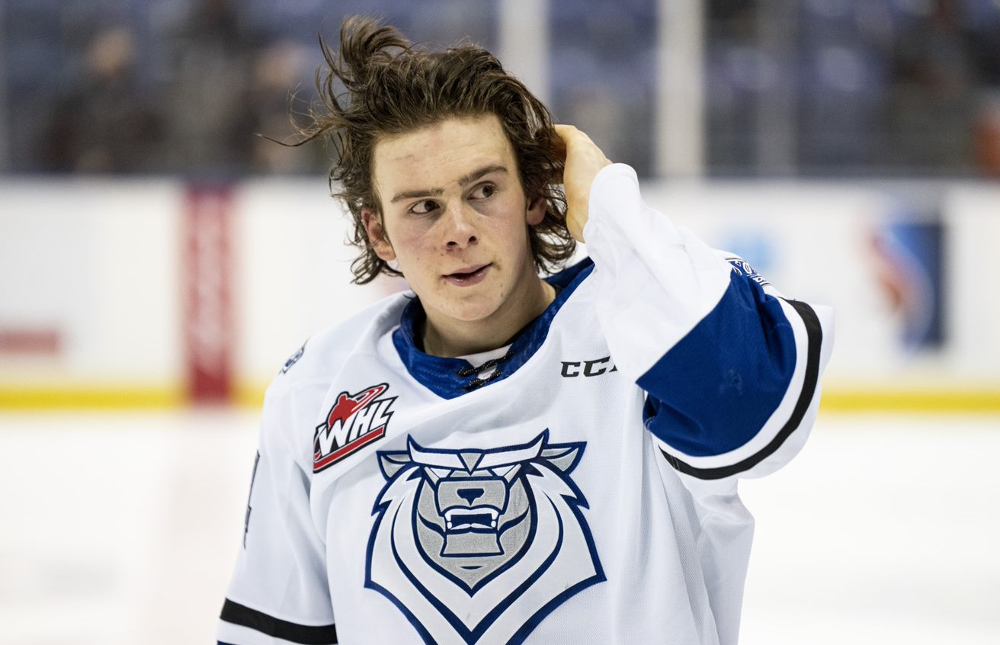 Being so strong on his off-side meant that the Royals could use Shipley alongside fellow right-handed defenceman Kalem Parker, a pairing that the Royals were able to ice throughout the 2021-22 season.
Playing both sides isn't something that Shipley says he's focused on. Rather, he feels like it's something he's just grown into doing, having often played different positions at younger levels. However, the blueliner says that he enjoys playing the left side because of the opportunities that don't present themself when playing on the right.
As for his backhand passing prowess, Shipley reports that he does work on it but it isn't something that he specifically thinks about. Instead, it's just something that comes up in practice that has made a big difference in games.
"Say a guy is in the right lane, and you need to shovel it out with your backhand to the middle, just [working on] little things like that. I think they really benefit your game and I try to work on the little details to improve those."
Year Three
"If we're playing confident all year we're going to do some big things."
With his sophomore season in the rearview mirror, Shipley is bringing one big lesson with him, and it involves a word you should get used to hearing in discussions involving the Victoria Royals.
"You've got to go compete every game, it doesn't matter," said Shipley of the biggest thing he learned last season. "For instance, we had, I think, 13 players one game this year and we almost won that one. I think it's just you going to play your best every game and you don't really care [about the odds]. You can't control what the variables are. I think if you play your game and do your best every night, there's nothing else you can control."
The Royals did, in fact, play with only 13 skaters on Oct. 17, 2021, in a 4-2 loss to the Prince George Cougars. After the first two periods, Victoria was tied with Prince George 2-2, despite having a depleted roster.
After difficult games, Shipley says he tries not to dwell on what went wrong noting that it's cliché, but he's learned that you just have to put the bad games behind you. That said, he does have someone he can talk things out with.
"I talk to my dad quite a bit and he helps me if I had a bad game. He never played hockey, but he's pretty analytical in what he does for his job so he breaks it down and lets me know when I did good and when I did bad. Just talking to him just kind of gets the mind off the loss or if I didn't have a good game but I think just talking to family and friends is a big one for me."
With the preseason in full swing, Shipley would describe the Victoria Royals as "up-and-coming".
"We're still a little bit young, but I think everyone's older and everyone's improved this offseason. Everyone's gotten bigger, and gotten stronger. I think there's gonna be some teams that are going to not want to play the Victoria Royals this season."
Shipley himself took the summer to work on his skating, saying he wants to carry the puck and create more offensive opportunities this season while still keeping his two-way and defensive game strong.
He's off to a strong start offensively, scoring the team's first goal of the preseason.
Heading into year three, Shipley has some advice he'd give to himself, if he could go back to his rookie season:
"I would say be patient, because your opportunity is going to come eventually. I'd also say to just be calm, play with confidence, and have fun. I know when I'm playing by my best hockey, I'm really enjoying myself and not overthinking."
Get to Know Luke Shipley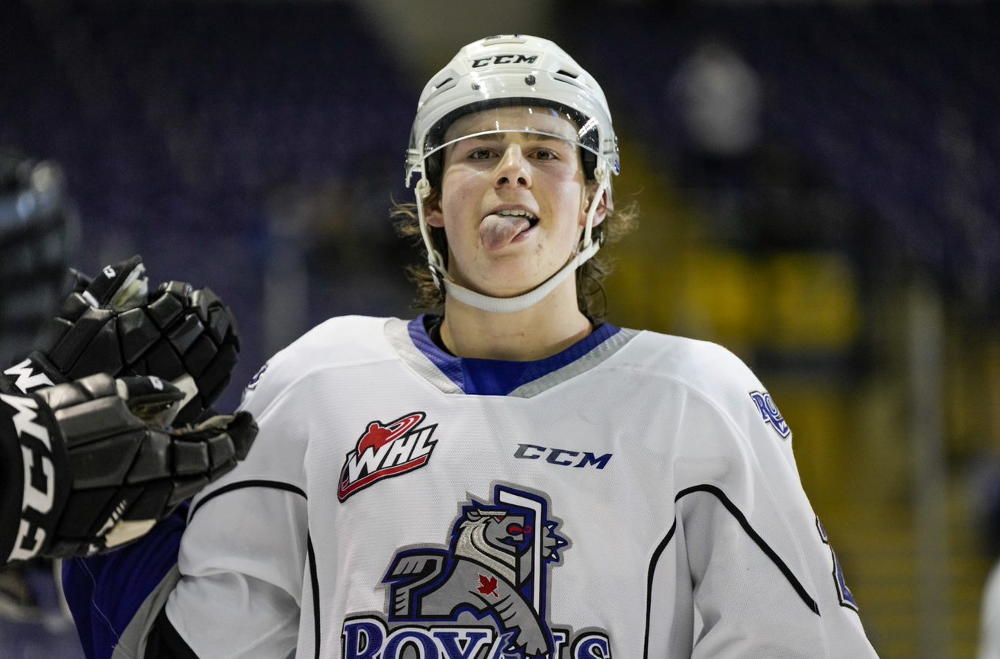 Walk us through your gameday routine:
"Wake up, eat a little breakfast, head to the rink, bump some country — Zach Bryan. We'll do our activation and optional pregame skate. I'll usually skate [when we're] at home. Then, I'll do mobility stretching, come home, usually make eggs, toast, and maybe a little bit of yogurt. Then, I'll nap from about 1-2:30. I meditate for ten minutes, have a shower, eat my pregame, and then head out to the rink around 4."
(Please remember the Zach Bryan reference as you keep reading)
What's your go-to pre-game meal?
"I kind of get sick of food sometimes but most of second half of the year I was pretty much pasta and meat sauce but first half of the year was chicken rice because my billet brother liked that. I don't know, I'm pretty simple. My billet mom's great. She makes whatever we need. She's awesome."
Who has the best nickname on the team?
"We call Tanner Scott Scuba or Scotty. Scott Bop. That's probably one of the best ones."
What's your nickname from the team?
"Just Shipper or Ships"
What three teammates would you want on your zombie apocalypse team and what would everyone's role be?
"Wyatt Wilson because he's a hunter, like me. Maybe [Anson] McMaster, he's got some long limbs so he can fight them off. Probably Riley Gannon just to be there. He's always got some good jokes. I gotta get him in there."
Would the four of you survive?
"Ehhhhhhh. Yes."
(Let's just hope there's no zombie apocalypse anytime soon.)
If you were a fruit, what fruit would you be?
"Maybe like a kiwi. Those are pretty good. They're underrated though, so maybe a kiwi."
What about Kalem Parker?
"He'd probably pick like a banana or something."
He actually picked a nectarine.
"Oh, that's a good pick actually."
Of course, in an earlier talk, we had to ask Dan Price for his take on what fruit Shipley would be:
"I'm going to say an apple. There are two reasons for that. We talked about him being a right-handed defenseman that can play the left side. So that means he's very versatile and I would say apples are probably one of the most versatile fruits. You can have them by themselves, you can put them on cereal, you can make a pie out of them, you can do a lot of different things with an apple. Also, because he's a good backhand passer, he tends to get a lot of assists, so we'll use the apple analogy as far as getting assists as well."
Who's the loudest guy on the bus during road trips?
"Anthony Wilson. That guy is always talking. He's always running his mouth. I'm probably one of the guys that doesn't stop talking too though."
Who has the best music in the room?
"Me and Wyatt Wilson have pretty similar music tastes. [Campbell Arnold] is up there too, I like his too. I like pretty laid back country — sad country like Zach Bryan and stuff. But they get the mood right I think."
A lot of guys last season were saying Bailey Peach was their pick for locker room DJ.
"Peacher ran it most of the time, but up in the gym, it was Arnold and Wyatt. A little bit of me sometimes, but some guys wouldn't like the country."
What's the most fun thing you got to do over the summer?
"I got to see Zach Bryan live. That was a blast. That was the highlight of my summer."
What would you do if you could have a perfect day off?
"Probably go for breakfast with some of the guys and I'd probably go golfing or just walk around downtown and explore Victoria. I love golf. I love just going around and seeing things in the outdoors so probably one of those things."
For the Fans
"I just want to say thank you guys for the support and be ready for this year. I think we're going to be doing some big things and I hope to see you guys there."