Jordan Gavin of the Tri-City Americans (Photo: Brian Liesse/Seattle Thunderbirds)
Selected second-overall by the Tri-City Americans in the 2021 WHL Bantam Draft last December, less than one month after his 15th birthday, Jordan Gavin is ready for his rookie season in the WHL.
Having started playing due to the influence of both his dad and grandpa, who both played when they were growing up, Gavin said has always been a hockey guy. The other thing he's always been? A forward. While he admitted to being in net in youth hockey for a few games, as everyone has to do, there was never a question of which position Jordan Gavin would play.
Being such an early pick and having so much success at every level he's played comes with pressure, but Gavin doesn't let it get to him and part of how he does it, is by thinking about the team.
"I just try and focus on each day at a time and just doing the best I can and doing whatever I can to help the team. I just try and block out the extra stuff and focus on each day."
It's worked out well for him so far. Appearing in nine games for the Americans in the 2021-22 season, Gavin soaked in the experience of getting his first taste of the WHL.
"Every player out there is a really good player. Obviously, the pace of play was a lot different than what I was playing in that season, but it was good to get some games and it was an awesome experience."
Jordan Gavin didn't let the change of pace throw him off of his game, picking up his first goal in his sixth game in a Tri-City Americans jersey in April. He actually became the youngest player to score a goal for the Americans, scoring against the eventual 2022 Western Conference Champion Seattle Thunderbirds.
Gavin remembers the goal, but the biggest thing he remembers about it?
"I remember it didn't come at the greatest time. I think we were down a lot, but it's still nice to score. We almost came back that game so yeah, it felt pretty good."
The Americans came back to score three goals after Gavin got the ball rolling for the team, but the game ended with a 6-4 score in favor of the Thunderbirds.
As for whether or not he felt the goal coming ahead of time?
"I don't know, it just kind of came about," Gavin laughed while thinking about it. "I wasn't really feeling a goal, but I wasn't not feeling a goal."
Spending those nine games with the Tri-City Americans, spread between three separate call ups, the Gavin says the thing he noticed most was off of the ice.
"[It was] definitely how the older guys treat the younger guys. They made me feel really welcome. Leadership skills and respect are huge for me. We talked about it last year when I went up so it was awesome to pick up those things."
Of course, spending the majority of the 2021-22 season with the Delta Hockey Academy U17 Prep team, Gavin had a standout season that continued into the team's postseason.
No, seriously. With 105 points in 28 regular season games and another 30 points in five playoff games, things were going very well for Jordan Gavin.
Crediting his linemates for all of his success last season, Gavin says he doesn't really know what else was clicking so well for him.
"I was on a pretty good line. We all connected really well and we've all played together in the past. So really everything just came together and we were really good that year."
If you look at his numbers from previous seasons, picking up points is just what Jordan Gavin does.
On Jordan Gavin's Game…
Hopefully his linemates are crediting him right back because, if you ask Tri-City Americans assistant general manager and head scout Roy Stasiuk, they should be.
"He thinks the game very quickly," says Stasiuk. "He makes his line mates better because he can find open spots on the ice where he can delay a little bit, draw some attention to him, and allow for his line mates to get open."
That said, Gavin knows that he has some stuff to work on to continue his success into major junior hockey and he focused on those things over the summer.
"I focused on getting bigger and stronger. Going into the WHL, it's definitely something I need because there are a lot of big and strong guys here. So I was just working on strength and speed."
While he recognizes there are areas to work on, Gavin knows he has plenty of strong areas as well, noting that his shot and playmaking abilities are the two areas he counts as the biggest strengths to his game.
"I would say I'm really good in the offensive zone and off the rush. I like to use my shot – change the angles on my shot," mentioned Gavin before going on to say "I also love to play make, can play in all situations and I really excel on the power play."
All of these are things that Stasiuk seems to agree with, saying "Jordan has enough ability that he gets into positions where he can shoot and he practices it, he works very hard at it and not many shots miss the net. Everything's on the net for him, he thinks the game so well, and he's only going to get better as he gets older and gets natural strength as well. But his ability to think the game, his shot right now and, like I said, find open players and make linemates better. It's incredible. So as he gets stronger, he's just going to get better and better."
Though it has only been one preseason game, it looks like the work Gavin has put in over the summer is already paying off.
With the regular season within sight, Gavin is looking forward to his rookie season and has high aspirations for the Tri-City Americans' season.
"I think we've got a better group this year. I think we can really make a push for the playoffs. That's the end goal. We really just want to make the playoffs this year."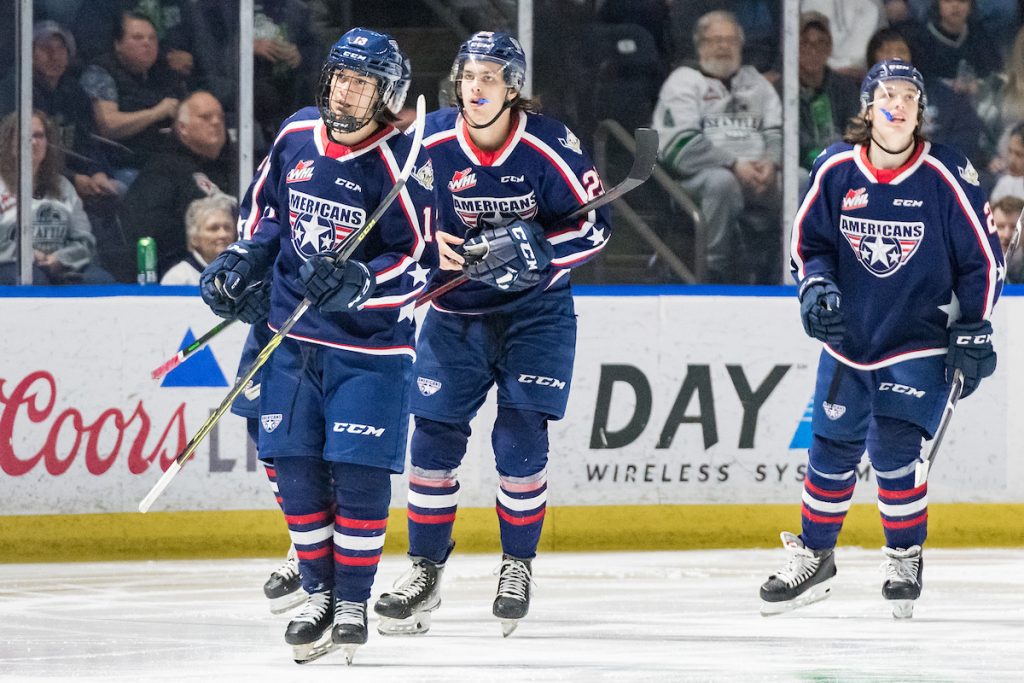 Get to Know Jordan Gavin
Are you a pre-game nap guy?
"No. No nap."
So are you a coffee drinker?
"No coffee either."
(Don't worry, my friends, I don't get it either)
Do you have your own pre-game playlist?
"Not really. I like to put on headphones before we leave for the rink, but other than that I just listen to the team playlist and get ready to go."
What are you usually playing before you get to the rink?
"Usually rap. That's my go-to to get me going and get me hyped up for the game."
What's your go-to pre-game meal?
"Chicken and rice. That's a big one for me."
Is there any one player that you try to model your game after?
"I wouldn't say that. I like to pick up things from lots of players' games, but I'd say the guys I watch most are Auston Matthews and Nikita Kucherov. Those are two guys that I really like how they play and I like to pick up stuff from them."
What has been the most fun experience you've had because of hockey?
"Definitely the Pee-Wee Quebec tournament (Quebec International Pee-Wee Hockey Tournament). That was just an awesome tournament for me and my team. It was crazy. We were just little kids and there was like thousands of people watching us, so that was an awesome experience for me."
How old were you during that tournament?
"I think we were like 12/13."
Do you have any hockey superstitions?
"Not really. If I have a bad game, I might tie my right skate first instead of my left. I don't really have anything too serious, but if I'm having a bad period or a bad game, maybe I'll switch what side I start getting dressed on."
If you were a fruit, what fruit would you be and why?
"I'm trying to think of the biggest fruit I can. Maybe a watermelon. That would take the longest to eat so I would just be alive for longer."
Do you have a nickname from the team?
"Gav."
Ah, but there is a fun story related to the nickname!
"Well, my dad always told me that once I get older people, he said 'I guarantee you people will be calling you Gav,' and it just kind of transitioned when I went up to the WHL [last season]. They all just started calling me Gav, so he was right."
Did you have a nickname from your teammates before that?
"No. I have two first names, basically, so they just called me Jordan or Gavin."
What are you most looking forward to experiencing with the Americans this season?
"I really like the community work that they said they were going to bring this year. I'm excited to speak to schools and just visit schools and visit anywhere in the community. I think we'll be doing a lot of that this year so I'm really looking forward to that."
Have you seen some of the visits the team did last season?
Yeah, I've seen a few of those on Instagram and it looked pretty cool. It's awesome to see the kids.
Those kids ask some hard-hitting questions.
"Yeah, I know. Those videos looked pretty funny."
At least Gav is prepared himself and knows what he's in for with the classroom visits this year!
For the Fans
"I think we can shock a few teams this season. I'm ready."