As is a custom, at the end of every Vancouver Giants training camp, the Quinn/Howe Legends Game is played. This year saw players from the 2005, 2006 and 2007 age groups take center stage in a hard-hitting, battle that featured plenty of goals and some unbelievable saves. Here is a recap of Team Quinn's 5-4 victory over Team Howe.
Team Quinn (5) vs Team Howe (4)
From the first puck drop, it was clear both teams wanted to impress in their final game of training camp. Whether it was creating offensive plays, showing off their strong defensive positioning or throwing hits, everyone on the ice was trying to leave a strong impression. In the first, Team Quinn was able to jump out to a 1-0 lead thanks to Jacob Goudreau, but Team Howe fought back thanks to goals came from Ilija Majkic and Cade Bolding. They led 2-1 going into the first intermission.
In the second, Team Howe added to their lead as Ethan McEneany made it 3-1. Both teams were fighting hard, and that was when Team Quinn was rewarded with two straight before the goalie swap ten minutes into the second. First, it was Ishaan Basanti who got them within one before Ewan Minisofar tied up the game. The game would remain tied until Tyden Redlick potted one home as Team Howe took a 4-3 lead into the second intermission.
The third period is where Team Quinn shined. They threw some big hits and got some big goals, first from Kaden Bogdon to tie the game and then the eventual game-winner from Basanti. Not only that, but goaltender Nathan Niedermeiser made a save that would be on any Top 10 list as he stretched out and stopped Team Howe with a toe save. Unfortunately for Team Howe, Team Quinn was the better team as they walked away with the 5-4 victory.
3 Players That Stood Out:
During the game, three players stood out. The first was McEneany. A 10th-round pick from the 2021 WHL Bantam Draft. The Giants have already signed him to a contract, and he should push for a roster spot during the preseason. He was physical and was able to show off his goal-scoring ability during the second period for Team Howe. Whether it was during this game or through the scrimmages this weekend, he stepped up and showed Vancouver that he has the potential to make an impact at the WHL level.
Next was Will Subject. The 2005-born American defenceman showed off his smooth skating and ability to generate offence from the blue line. In the defensive zone, he was patient with the puck and was able to transition the puck well, whether through a first pass or carrying it himself. A player that impressed all weekend, he has earned himself a longer look during the preseason.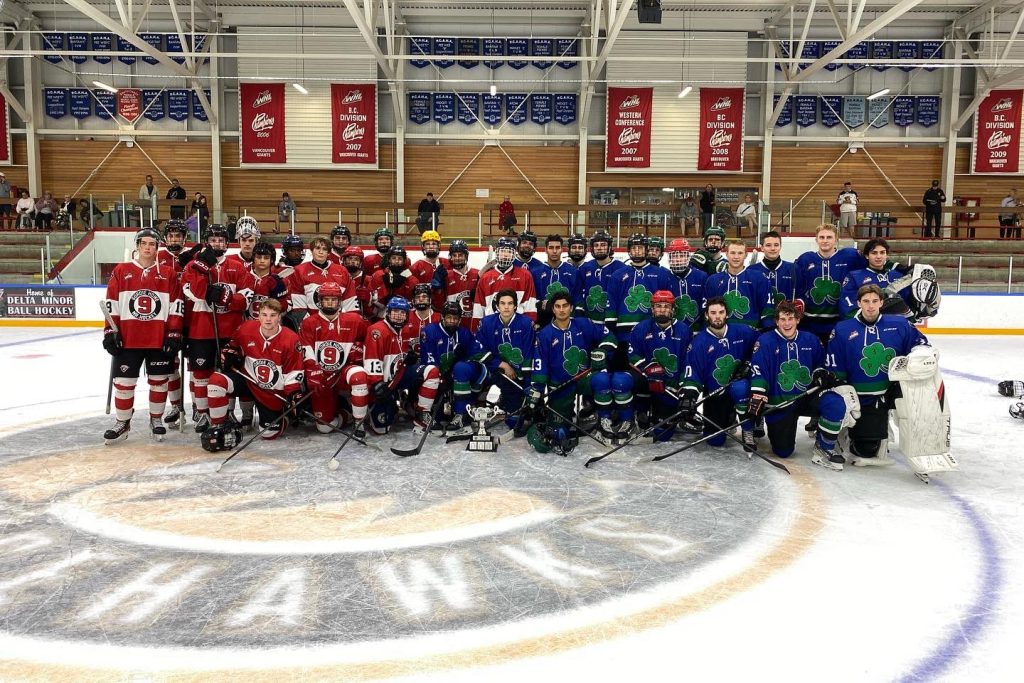 The third player who stood out was defenceman Colton Alain. The Giants selected him in the third round of the 2022 WHL Bantam Draft, and he has already signed with the team. During the game, he was able to demonstrate strong defensive positioning and an ability to separate players from the puck using his 6'2″ frame. It is clear why Vancouver drafted him, as he should be fighting for a roster spot come the 2023-24 season.
Shots on Goal:
First Period: Team Quinn- 18, Team Howe- 18
Second Period: Team Quinn- 12, Team Howe- 13
Third Period: Team Quinn- 12, Team Howe- 9
Total: Team Quinn- 42, Team Howe- 40
Goaltending Statistics:
Team Quinn: Nathan Preston- 25 saves on 28 shots, Davin Grewal – 11 saves on 12 shots.
Team Howe: Burke Hood- 21 saves on 24 shots, Nathan Niedermeiser – 16 saves on 18 shots.
We hope you enjoyed our coverage of the Vancouver Giants 2022 Training Camp. Be sure to follow us on Twitter @WHLonA51 for continued coverage of not just the Giants, but the entire WHL throughout the 2022-23 season.