(Photo: Brian Liesse/Seattle Thunderbirds)
Seattle Thunderbirds forward Mekai Sanders grew up with dreams of playing in the Western Hockey League and began his own journey on the ice after moving to Vancouver, BC when he was about four years old.
"That's all the kids did up there, was play hockey, so I gave it a try and just kind of fell in love with it."
However, being around the skating and hockey-type scene was nothing new for Sanders as his mom played roller hockey and he noted his dad was always on skates of some sort.
The Gig Harbor, WA native is living the life his childhood self had his eyes on, and Sanders isn't taking a second of it for granted.
"Ever since I was little, living in Seattle, I've always wanted to play in the Western League, especially to play for my own hometown. Going to games when I was younger, I was always wanting to be just like the guys I was watching on the ice. So it's really just a blessing that I [am] able to do what I've always looked forward to and always wanted to do."
Growing up in the area, Sanders has been able to see the growth of hockey in the PNW, especially in Seattle, with the Seattle Kraken joining the NHL last season.
"It wasn't often you'd see random people on the street wearing hockey jerseys or any type of hockey support, but you see Kraken jerseys everywhere. You see Thunderbirds jerseys everywhere. So, it's really nice to see the popularity going up."
Sanders played in Michigan for the Compuware Bantam Major AAA 14U and 16U teams prior to joining the Thunderbirds. Many US-based players are encouraged to head down the NCAA hockey route, but Sanders said he never really gave the option a thought.
"When I went over there, the environment was clearly different. Everyone only advertised NCAA and over here, nobody even thinks about it. The Western League is kind of everyone's focus over here, but over there [NCAA] was all they would advertise. When they found out I signed [with the Seattle Thunderbirds], they were all like, oh, you should wait to sign though. Maybe you'll visit some colleges and see, but I already had my heart set on Seattle so there was no talking down from there."
Coming back to the fold
While Sanders was enjoying his best season with the Seattle Thunderbirds in the 2021-22 season, an injury in March took him out for the remainder of the season, including the deep playoff run the team saw.
"It was devastating, honestly," said Sanders of the timing and extent of the injury. "I worked really hard the last summer and was really enjoying showcasing what I bring to the table and what I've worked so hard for. So, it was really devastating when the injury happened, but I feel that God had a plan for me and I feel I'm definitely feeling that right now with returning to play."
Back in the lineup for the first I-5 Rivalry game of the season in Portland on Nov. 4, Sanders went into the game ready to do more than just pick up where he left off.
"I feel I'm even stronger than I was before. So I'm really excited to show off all the work I put in."
Coming back from injury, Sanders mentioned was a bit of a mental battle, especially during the 2022 WHL Playoffs.
"It was a battle every day because you don't get to do too much. You just kind of sit around and watch, and then obviously [the team] losing in the finals, it was really hard on me just because I wished I was out there battling with my brothers. So it was really tough just watching them."
Along with the mental battle came the physical recovery
"Physically it was tough. I did physical therapy every day, multiple times a day, just. I was trying to keep stay careful and not overwork my knee, but at the same time just working my hardest every day. Whether it be stick handling without moving too much or just trying my best to work it out as much as possible so I can make the quickest recovery. I had awesome trainers helping me along the way and I thnk we definitely did well."
One thing on their mind
While Sanders said his biggest goal for the season was, of course, just getting back on the ice in games, he also mentioned that contributing to team success was on his mind — and he's not alone.
" I think all the boys have it in our hearts. All of our minds are set on one thing, and that's the championship this year."
As for how Sanders is planning to help the Thunderbirds reach the Ed Chynoweth cup this season? By bringing his style of play back into the mix for the team.
"Fast, physical, with a scoring such and definitely heavy on the forecheck. I like to be physical and I think speed definitely plays a big role in my game."
While reaching the WHL Championship once again is a lofty goal, the Thunderbirds look primed to continue on from their successes last season, opening the 2022-23 season with an impressive nine consecutive wins. However, with the success come days that are harder to go through, but in those moments, Sanders looks back on some advice he's been given.
"Not every day is going to be fun and time flies. Find a way to enjoy the things that aren't even fun."
A concept that seems to run throughout the Seattle Thunderbirds roster.
"One of the quotes we use around the locker room is 'embrace the suck'. It may suck some days, but find a way to enjoy it because that's how you're gonna get better."
Get to know Mekai Sanders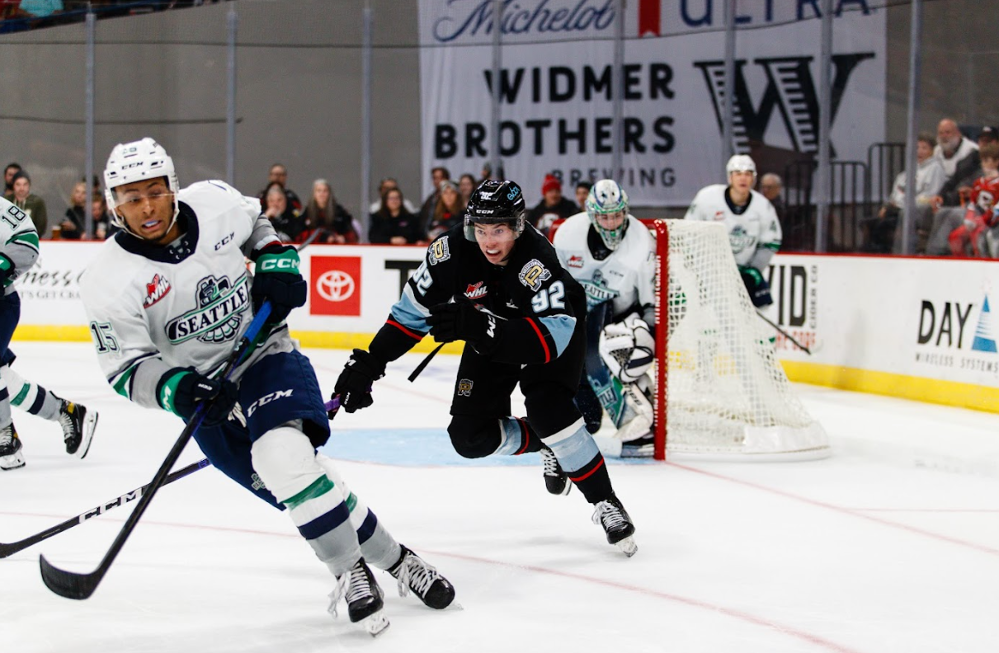 What does your gameday routine look like?
Mekai Sanders: The night before, I've got to prioritize sleep, so between nine to nine-and-a-half hours of sleep the night before. That's kind of my preferred. Wake up get a good meal, a good breakfast. My usual is blueberry pancakes and bacon. Go to the rink stretch. Ice, if necessary, get a little warm up in there. Then come home and have a snack, not always the healthiest, but something that's going to make me happy. And then definitely a nap. Probably an hour-and-a-half nap. Get to the rink a couple of hours early and then start getting ready. Do some meetings and get the body ready for the game.
Are you a pre-game coffee guy?
MS: Yeah, I'm a pre-game coffee. I'm a big caffeine guy before the game.
What's your go-to coffee?
MS: I like to keep it pretty simple. Make sure the stomach's happy for the game. Just black coffee or a little bit of creamer of sugar.
Do you have any pre-game superstitions?
MS: Not so much a superstition, but I always get geared up left to right. I actually saw an NHLer, say that in one of his interviews recently, and I was actually a little upset because that's what I did.
This might upset you a little more, but there are a few guys who have said that…
MS: I was actually told that when I told one of my teammates that I was upset about that. He mentioned the same thing.
I was told you and Thomas Milic had an on-ice warmup thing that you do, can you share what it is?
MS: "It's a little passing routine we do, but you'll have to tune into the games and see if you can spot us."
What does your perfect day off look like?
MS: Just hanging around the house with the family. Maybe go outside and just hanging out. I like hanging out with my family a lot. So they'll definitely be incorporated in that and then probably just a big dinner.
(For the record, Mekai Sanders describes himself as a homebody)
What has been your best hockey memory to date?
MS: I'd say my first WHL game or winning nationals with my Compuware team in U14.
What advice would you give yourself before your first WHL game?
MS: Just go for it. Don't think, just do. I think that's definitely helped me a lot throughout my career. Don't think so much and just trust your instincts. I mean, I was on the ice every day for hours. I think you must learn to trust your own instinct and just believe that you're going to do what you need to be doing.
What's your favorite away rink to play in?
MS: I probably have to say Everett or Portland.
Pretty rowdy crowds in those two.
MS: Yeah, no, definitely. And then they don't like us too much so it's really fun to mess with their crowd.
If you had to choose three four teammates to be on your zombie apocalypse team, who would you pick and what would their roles be?
MS: I probably have to go with Lucas Ciona. He's a big body. Definitely useful, for sure. And he's the type of guy where you tell him to run through a wall and he doesn't ask questions. He just goes. Yeah, he's the juggernaut you just load him up with gear and send him out about. I gotta go with my billet brother, [Thomas Milic]. He's really smart and he's just a reliable guy. One more guy… you know if we're speaking on this anything goes I know [Gracyn] Sawchyn has a big truck, which could definitely be useful. I'd say Sawchyn or [Sam] Popowich. Popowich, I love his play style. He's feisty and he's not scared of anything. So yeah, I'd definitely want him on the line of battle with me.
What would your role be?
MS: I would probably be the zombie killer. I feel like any guy I choose to be a very offensive type of zombie apocalypse. We wouldn't be hiding we'd be the ones exterminating.
(Sanders is confident they'd survive for a long while.)
If you were a fruit, what fruit would you be?
MS: That's tough. You know, I think I'd be a pineapple.
Why?
MS: They've got a hard outside, pretty spiky, but get to know the pineapple and it's soft and nice on the inside.
Who's the loudest guy on the bus during road trips?
MS: I gotta go with [Kyle] Crnkovic. Oh, or [Jordan] Gustafson. He's always giggling. Crank is always just loud and talking because he's always trying to make fantasy trades. So, they're pretty loud. Especially when they're together. They're really loud Yeah, I'd say those guys.
For the Seattle Thunderbirds Fans
MS: I'm coming back stronger than ever. So, I'm excited and I hope you guys are too.