(Photo: Megan Connelly/Portland Winterhawks)
*This was originally posted April 11, 2022*
It certainly seems as though all Dawson Pasternak knows how to do is win, and in his first season in Portland, he aimed to continue that trend.
The Manitoba native has been skating since he was four years old and began his hockey journey just as many others with older siblings. Getting his start by going to the rink to watch his older brother play and finally putting on the skates himself, he met one of his best friends and has made his way to the WHL.
However, hockey hasn't been the only game Pasternak has been involved in growing up. He wasn't even sure he wanted to pursue hockey as a career when he was younger, he just knew he loved playing it, and when the time came to commit to one when he was 13 or 14, he picked hockey. Aren't we happy he did?
"Growing up, I played tons of sports, but hockey was the only one that I loved, and I knew that's the one I wanted to pursue."
Which sports was he involved in?
"Baseball. I played football for four years, and I did all of them."
With Pasternak and his many talents, it seems one sport was left out of that list. Though, it is a version of hockey. Specifically, ball hockey, a sport where the 19-year-old has previously represented Canada, winning the World Junior Ball Hockey Championship in the summer of 2019. As a member of Team Canada West, Pasternak was named tournament MVP at the event in Czechia.
So, how did the Winterhawks forward get involved in ball hockey?
"The buddy, my best friend who I played with when I was younger, is a year older than me. He was the one that told me one day he's like, Yeah, we should come and play ball hockey try to play on Team Manitoba. So I was like, 'Okay, I'll come.' I went, and I made the team that year, and I had so much fun. I love that sport, and I guess I was pretty good at it. I got recruited to play for Team Canada, and we went to Worlds."
Pasternak, who was the top scorer at the tournament in Prague, says that while there are plenty of differences between ball hockey and ice hockey, "if you're a hockey player, it's hockey still." Though, he does admit that there is a lot more running in ball hockey.
"It's exhausting, I promise, but if you have a good mind on the ice, you're going to have a good mind off the ice too. So I guess that's the best way I could put it."
If you look at that Canada West roster from 2019, you'll find an interesting name as a teammate of Pasternak's. Conner Roulette is a familiar name to WHL's US Division fans. The Seattle Thunderbirds forward and Dallas Stars prospect found himself in Czechia alongside Pasternak. Going from representing Canada together to facing one another in the I-5 Rivalry has been a fun experience for the pair.
"I love it. Me and Conner, we grew up together too. I played hockey with him since we were seven or eight years old until we were 14. After that, we went our separate ways. I went to South Dakota, and I think he started playing some games with Seattle that year, but I grew up playing with him. So I always love playing against [the Seattle Thunderbirds] because it's lots of competition. A lot of friendly battles and stuff like that."
After signing with the Winterhawks in February 2019, Pasternak continued to play in South Dakota with the Sioux Falls Power 16U AAA before joining the USHL's Chicago Steel for two seasons.
"It's a great organization," Pasternak said of the Chicago club. "It's a great team, and I learned a lot of good things there playing with a bunch of guys who are now in college and who I'm sure are going to play in the NHL."
As a member of the Chicago Steel, Pasternak won the USHL Clark Cup Championship in 2021.
Playing for the Steel prepared him for making the move to Portland this season.
"It's just a good learning process. It's the same thing almost as here. You treat it like the pros, and that's how Portland runs it. I got to see both sides of the hockey world because all those guys want to go to college. Here, you're trying to get drafted, and you're trying to go to the pros, right when you're 20."
While Pasternak is a Canadian athlete, he spent three years playing in the states and experienced the pressure of everyone else choosing the college route for their hockey careers. Luckily for Winterhawks fans, his plan was always to come to Portland.
"I signed when I was 15. I loved Portland, and I always wanted to play here. I ended up in Chicago, and everyone is always saying, 'you can go to college now' and 'save your eligibility.' I maybe listened to them a little bit here there, but deep down, I always wanted to come here. I love it here."
If there were some advice he could give himself before he arrived in Portland to play for the Winterhawks this season, Pasternak would remind himself not to take a single day for granted.
"You got to work so hard and push yourself every day. For me, my season ended pretty early, which was unexpected. I'm not saying I wasn't giving it my all for the first half, but maybe I could have done more to prevent [injury]. Maybe I could have just produced a little more. I think just in general, just have fun, work hard, and take every day like it will be your last."
Pasternak suffered two injuries during his rookie season in Portland this year. He worked his way back from a facial injury in December before suffering a season-ending injury in late January. Don't let that deter you from looking forward to what he can bring in the years to come.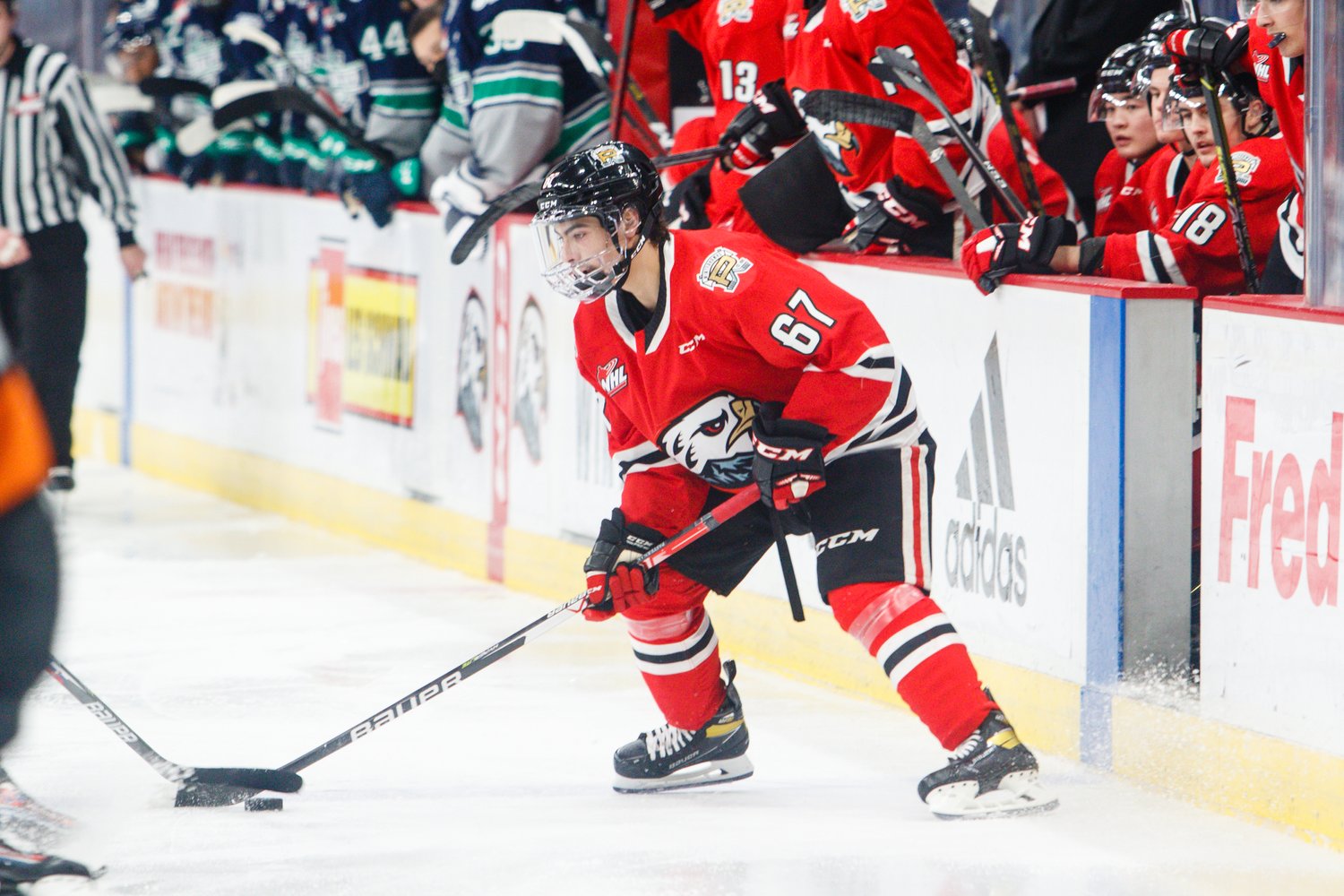 Moving forward, Pasternak says his mindset is to "just be stronger."
"Don't let it get to your head because if you let these little setbacks and things get in your head, you're never really going to go far again anywhere. So I just have to move on and look forward to what's coming up next."
Don't be surprised when Dawson Pasternak makes his return and is better than ever for the Portland Winterhawks.
Favorite road city in the WHL:
"I think I like Kelowna. It's really beautiful there. When we're on the road, we don't get to go exploring and stuff like that. But just the city, in general, is so nice."
If he could be elite in any other sport, Pasternak would choose…
"I think golf. I love golf. If I could be a PGA player somewhere, I think that would be so much fun. Probably not too tough on your body but it's still work."
His favorite club to use on the course?
"Probably my 4-hybrid. It always just gets the job done for me."
Pasternak has golfed with a number of the guys this season and has a pick for the best golfer on the team.
"[Gabe] Klassen. He's definitely the best."
Pasternak's perfect pizza:
"I actually like having barbecue sauce as the sauce. You can do that now. I don't know where, but I've had it a few times and I really like it. I like pineapple on my pizza. I know that's a weird one. Lots of people don't like that. I don't know, honestly. I think just the barbecue sauce base, I like that. I don't think it really matters what's on top. I'm not a picky eater."
Go-to pre-game meal:
"Honestly, I don't necessarily have one. If I if I have the choice, I like to have rice and chicken and beans and stuff like that. Simple stuff, which you probably always hear but what I always probably revert to."
If he could have any superpower, Pasternak would pick a very reasonable one for today's day and age.
"I think flying. You can just do so much with flying. I don't really know if there's a good reason to it. I just think it'd be so much fun, and you can get here to there. Gas prices are so high right now it saves your money. 
Locker room music:
There is an emerging favorite locker room DJ among the Winterhawks this season:
"I think I like Kyle [Chyzowski] on the aux."
There also is a fairly consistent name coming out of who shouldn't be controlling the music for the guys:
"I'd say. Robbie, sometimes he just plays some questionable stuff."
What's on Dawson's playlist?
"I don't know, because some days I'm liking country music. Some days it's rap and whatever."
As for a guilty pleasure song?
"I don't know what it's called. I think it's called Summer? I think it's by Calvin something."
(My best guess is that it's Summer by Calvin Harris)
Teammate to watch in the playoffs:
"I think [Taylor Gauthier] will be one for sure. Especially because he really hasn't played in the playoffs. He's been in this league for a long time, and he's a superstar. I think he really wants to win, and he's going to play well for the team."
Personal goal for next season:
"I want to come back, and I want to be a lot stronger than I am right now. That's what I'm doing. I'm really focusing on the gym and doing things. I want to make sure my skating is really good, and I just want to feel comfortable out there again and hopefully score a lot more goals."
Hockey superstition:
"I don't do it on purpose, but I always put my right stuff on before my left: my right shin pad, my right skate, my right elbow pad, and things like that. I think it just might be the way I've always done it. Maybe it is a superstition, but I don't think of it like that. If it doesn't happen for some reason, I don't let it get to my head. So I don't let it count as a superstition, but I guess that's my superstitious thing."
For the Fans
"Just make sure to cheer loud for all the guys in playoffs. We're definitely going to put a good run in. I know all the guys are really excited for it. They work so hard every day. Just be excited and stick with us. Fill up the rink here. We need all the support we can get."