(Photo: Larry Brunt/Spokane Chiefs)
Spokane Chiefs forward Kooper Gizowski says he's always loved scoring goals and being up in the rush, but hockey wasn't his first sport. Instead, he started out playing soccer. While his dad had a bit of a hockey career of his own, he began taking a young Kooper out to the rink and teaching him how to skate. After little Gizowski hit the ice, it was the end of any hope of taking another path.
"Personally, it was always just hockey since I started playing. I never really turned back from it."
It wasn't just his dad's influence that helped Gizowski to find his passion for the sport.
"I started watching hockey, watching the NHL, and I guess just something clicked. It's a sport I've always enjoyed and always loved. Waking up early. Those morning practices. It's just been something I can't stop doing and can't stop loving."
While Gizowski now describes himself as a skills player who has good hands, a good shot, and speed, he always knew he was going to play as a forward.
"I've always loved scoring goals and always being up in that rush and being that offensive guy. I really don't feel like I'd be pretty good stopping pucks in the net or being that defenseman."
Back for Year Two
Of course, heading into his sophomore season with the Spokane Chiefs, it seems like it's been a solid path for the Edmonton, AB-born skater. Mentioning that he is definitely an offensive type of player, Gizowski says he'll go into the gritty areas on the ice if he sees the need to make a defensive play.
Reflecting back on his rookie season, Gizowski recognizes how big of a step the move to the WHL was.
"Going from playing Bantam, and COVID hitting so not really getting to play midget against the older guys, to stepping into my first WHL game, even preseason where they still have those older guys playing. It was a big step because it's a lot faster. Bigger guys. Guys are stronger."
In his 47 games during the 2021-22 season, Gizowski gained confidence, holding his own despite the change of pace. The 17-year-old forward has learned to keep his head high and to stay in the moment so he doesn't complicate things for himself.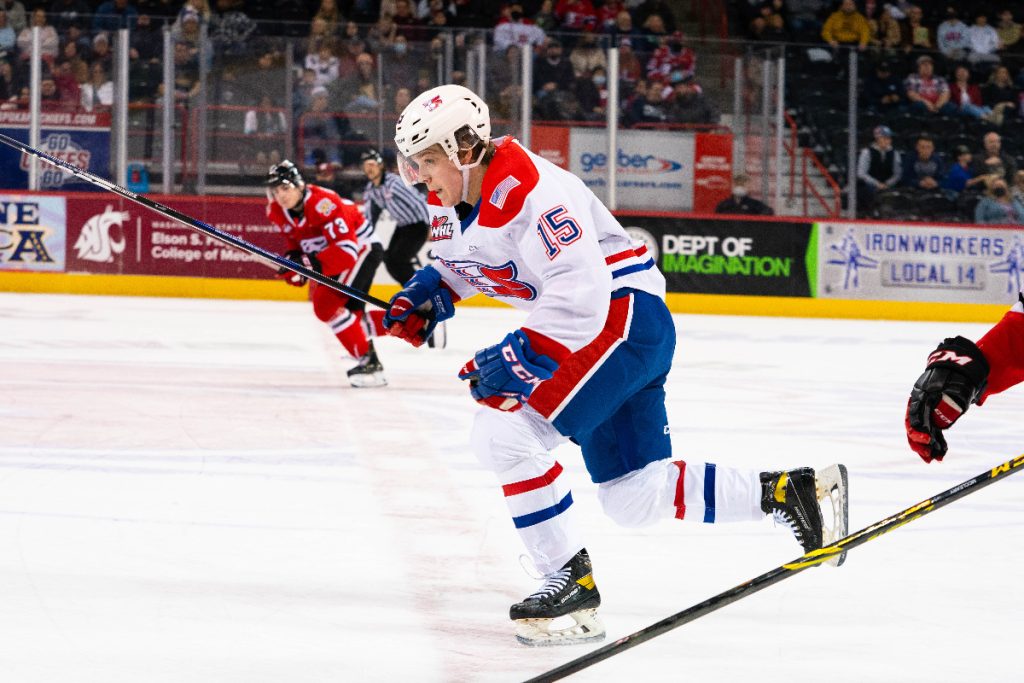 "Obviously, not every day is going to be perfect. Not every day I'm going to have the best game or best practice — but even talking to the coaches last year and this year, just [working on] staying focused. Going day-by-day and not worrying about how I'm going to play the next day."
That may be what he's worked on mentally over the last year, but over the summer, Gizowski put in the work and there are a few things he wants the fans to notice in his game this season.
"I've gotten bigger, stronger, and I've gotten faster. I've been playing the game more simple. Trying not to rush things and make those mistakes. Even though making mistakes is fine, I'm trying not to overwhelm things. Just keep it simple while I'm playing."
With Friends
Kooper Gizowski and defenseman Saige Weinstein have been best friends since before their names were called by the Spokane Chiefs in the 2020 WHL Bantam Draft. Getting to go through their first season in the WHL together is something that Gizowski calls amazing.
"Honestly, when I first met him and started playing a bit with him and against him. I never thought that I'd be playing junior hockey with him, but last year, just seeing him every day and seeing him at the rink, I guess, you can say we've gotten even closer than what we were before."
More than just being friends on the ice and having that familiar face on the team, Gizowski noted that it was nice to know that he always had a person to talk to.
However, in a Spokane Chiefs Q&A following the 2020 Bantam Draft, Gizowski said that he was looking forward to playing against another one of his bantam teammates in Anthony Wilson. Drafted and now playing for the Victoria Royals, Gizowski got the opportunity to play against Wilson last season
"It was fun," said Gizowski about facing off against Wilson and the Royals. "I played with him in bantam and he's always that gritty guy, so it was fun to play against him. He's a good player, but it gives me that little fuel to the fire when you play against a guy like that."
Speaking of giving fuel to the fire, the Spokane Chiefs and Victoria Royals finished the 2021-22 regular season with back-to-back games against one another, with the outcome of the second game deciding which of the two would move on to the postseason. With the start of the 2022-23 regular season fast approaching, Spokane and Victoria will open the season with a back-to-back set of games once again.
"Starting the year against them, they're gonna want to come out for revenge and want to get those four points against us. So they're gonna be good games and hard-fought battles, for sure. It'll be fun."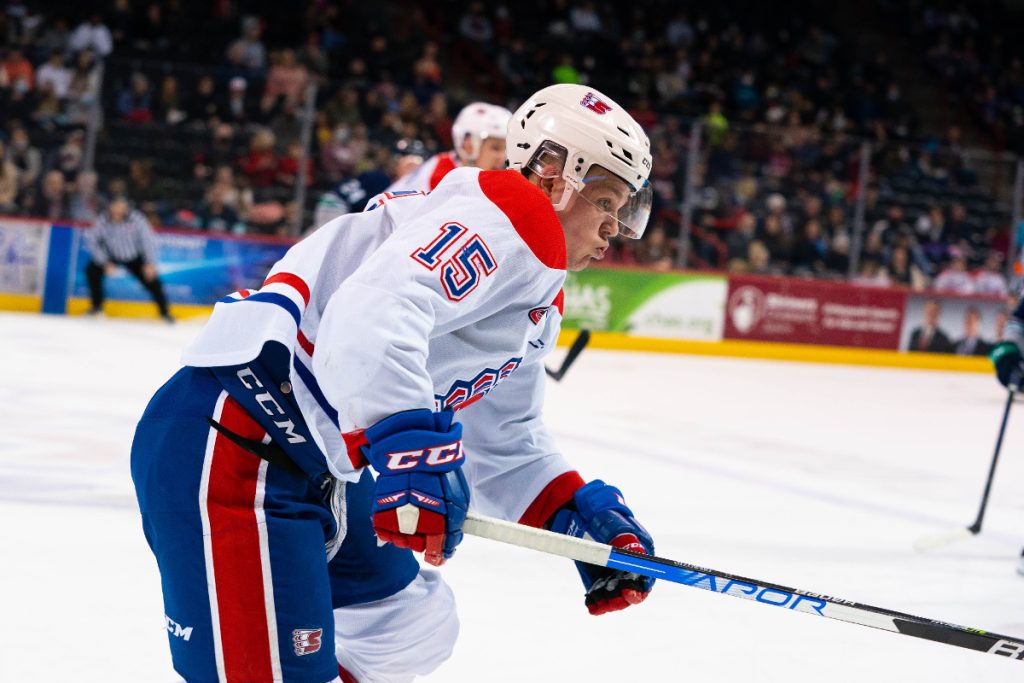 Representing Canada
The best experience Gizowski says he's had because of playing hockey was representing Canada at the U17 Capital City Challenge.
"It's always been a dream of mine, not just making the NHL, but being able to put that maple leaf sweater on. It was an honor for me when I got selected for it. I feel like that really gave me a boost of confidence when I first went down there and finally got to put that jersey on."
The best part of the experience, Gizowski says was being able to see how good everybody was and seeing how hard everybody was working and pushing one another.
"After going to that camp, you noticed that there's always that one person that's trying to take your spot or is working harder than you. It's just looking at it kind of seeing that it's not going to be easy, and just everybody is at the top of their game."
At these events, there is not much time to develop chemistry with teammates, but Gizowski hasn't seen that as an issue.
"All the guys are really good hockey players so everybody kind of comes together right away. I feel like once everybody gets in there and we start doing like some team builders and some stuff off the ice and on the ice, I feel like everybody comes together in that short amount of time and it clicks right away."
Get to Know Kooper Gizowski
What has been the most fun bonding activity you've gotten to do with the Spokane Chiefs?
"Probably the batting practice we did. It was a couple of days ago. It was just fun getting out of hockey, moving on to another sport, and seeing how everybody else compares to each other and the competitiveness of when the ball is coming in. Everybody's running to catch it. I feel like it was super fun for the guys — just hanging out and playing some baseball."
Who did the best?
"I'd say Ty Cheveldayoff. I mean, he did say he played baseball when he was younger. So, that's kind of a disadvantage for everybody else. But he hit a couple of home runs. That was fun to see."
Who did the worst?
"Honestly,I probably have to say Saige Weinstein. When I was watching him, he couldn't really see the ball that well and struck out a couple of times for sure. It was fun to see, and it was funny to watch too."
What does your gameday routine look like?
"If we have pregame skate in the morning, I'll get up, shower, kind of just relax a bit, have breakfast, usually bacon and eggs or some sausage, head to the rink, get dressed, hang out with the guys, and skate. I always have to come home and take at least an hour nap before a game just to kind of relax and when I wake up, it's kind of a fresh start for me. Then, get dressed and put on my music. No matter where I am or what I'm doing, I always have my headphones in kind of on my playlist to get me ready for the game. Then, I always go stretch a bit, play sewer ball with all the guys before the game, and just have some fun to kind of keep it relaxed before the game. When everybody is getting dressed, we'll be listening to music. I'll have my headphones in and that's when it hits that it's time to play. Get ready to get focused and warm up. Then, it's game time."
Is there any part of the routine that you're a little superstitious about?
"I'd probably say the pregame nap. I've been doing that since I was younger. Also, my pregame meal. I've eaten chicken and rice since I was probably six or seven years old before a game. It's just something I've always done and I've enjoyed. You can't go wrong with some chicken and rice so can't complain."
So, we've heard that you and Saige Weinstein don't have the most popular music in the room. What are you playing?
"I'm more of a rap music type guy. Older rap and newer rap, but it's not really fair when all the guys on our team like country. It's kind of a disadvantage for me and Saige when we play music, but it's a personal preference so, it gets me ready for a game. I don't know about everybody else but I enjoy it."
So what are the top-three must-haves on your playlist?
"One would be 'Dreams and Nightmares' by Meek Mill and then probably some Drake and some Lil Baby.
Are you a pre-game coffee drinker?
"Once in a while. Before last year, when I first showed up, I wasn't a big coffee drinker, but going throughout the year, living with Regan Wiles, once a while we'd make a Starbucks stop before we headed to the rink. So it's not an everyday type of thing, but once in a while, I definitely will."
Who's the loudest guy on the bus during road trips?
"Definitely Erik Atchison. That guy, he's loud, for sure. He knows how to get the guys going for sure, but when everybody's trying to sleep, or everybody's kind of just quiet and relaxed, all you can hear him yelling at the back of the bus. But the guys enjoy it. It's funny, for sure."
What three teammates would you want on your zombie apocalypse team and what would everyone's role be?
"Okay, well, to lead us through the door. I'd have to pick I'd have to take Graham Sward. After living with him, I've seen some things. He could definitely lead us through that door for sure. The medic, I probably have to say Blake Swetlikoff. I can see him as one of those guys that keeps everyone healthy and keeps everyone intact. Last one, I would probably just bring Saige in there. Just for fun just to have him in there. Him and me have some chemistry going so we could take some zombies down for sure."
If you were a fruit, what would you be and why?
"Probably an apple. Good flavor. A hard on the outside but soft on the in kind of deal there. Everyone enjoys apples."
Most fun thing you did over the summer?
"There's this festival that happens in Edmonton called K-Days. It's kind of like Stampede, but without the country mix to it. I go there every year with a bunch of buddies and go on rides and play games. There were a couple of concerts there this year that I made my way to. It was definitely enjoyable. I go there every year, so it's always exciting."
For the Fans
"They better be ready because it's gonna be a good year for sure. The home opener is gonna be loud and the boys are definitely excited and ready to have a good year this year. So it's gonna be an exciting one."