Bear Hughes of the Spokane Chiefs (Photo: Brian Liesse/Seattle Thunderbirds)
*This was originally posted January 28, 2022*
It's been just over a week since Bear Hughes was named captain of the Spokane Chiefs. He took over the role following the trade of former captain Jack Finley to the Winnipeg Ice. While the two haven't had a chance to talk much due to busy schedules, Hughes says that Finley did reach out to tell him congratulations and remind him that he's earned this.
Speaking of busy schedules, with four games in five days, the first week of Hughes' captaincy was a busy one. The Chiefs went 0-3-1-0 in those four games but managed to take the Portland Winterhawks to overtime on the road.
"We got a couple games in. The weekend didn't go the way we wanted it to, but we have a really young group. I think right now, the main focus is development and just doing the best we can. We struggled a little bit, but as far as wearing the 'C', it was a big honor and I'm enjoying it."
As for his leadership style? Hughes believes in being a leader by example.
"I'm not a super vocal guy in the room, so I think the biggest impact I can have on the guys around me is just to do all those things to do everything right on and off the ice."
One thing that was evident in speaking with the 6'2 forward is that he remembers to think of the younger guys on the team and the example he sets for them, especially in a leadership role.
"I think a lot of them look up to us older guys. You can say one thing but if you're not doing it then it doesn't mean a whole lot."
Drafted by the Washington Capitals in 2020, Hughes spent the 2020-21 season in the USHL with the Fargo Force. His time in North Dakota offered new experiences and a slightly longer season than the short season the WHL saw in 2021.
"It was a big change, not just with hockey. It was my first time living away from home and living with a billet family. That transition took a little bit of time to get used to."
As far as the difference in play between the two leagues, Hughes
"It's a little bit different style over there because it's a little bit of an older league for the majority. More 19 and 20-year-olds on the teams so guys are a lot stronger and faster so there's not as much line matching like you see in the WHL."
The time spent living with his billets in Fargo is one reason Hughes thinks about the rookies and younger guys on the team off the ice.
"It was kind of an eye-opener, seeing how it is for the younger guys, especially like a sixteen-year-old coming to Spokane. You have to kind of realize that there's more than just hockey that they're dealing with. I think you just have to talk to those guys once in a while and make sure that they're doing alright. Sometimes they're homesick and they need someone to talk to and who is trying to be a good friend to them."
Hughes is lucky enough to live in the same area where he plays. It allows him to live at home and still pursue his hockey career.
"It was definitely weird being in Fargo last year. Spokane had a little bit of a season, and I wasn't on the team. It was really weird at first, just watching the games and stuff like that but coming back this year, especially as a twenty-year-old. I get to live at home and play locally with my family and friends right around me. I think that's the biggest thing I really enjoy. Plus, growing up I was always a huge Chiefs fan and being able to put the jersey on every night I really enjoy it."
As a player, you always want to make it to the playoffs. As captain, Bear Hughes has one goal in mind for the Spokane Chiefs.
"I mean, we're sitting in last place in the Western Conference right now. We need to be in eighth place to make the playoffs. I'm 20 years old, and it's my last chance of having playoffs in the Western Hockey League so I'm going to do everything I can to try and help. That's kind of my only goal right now is to try and help this team make the playoffs."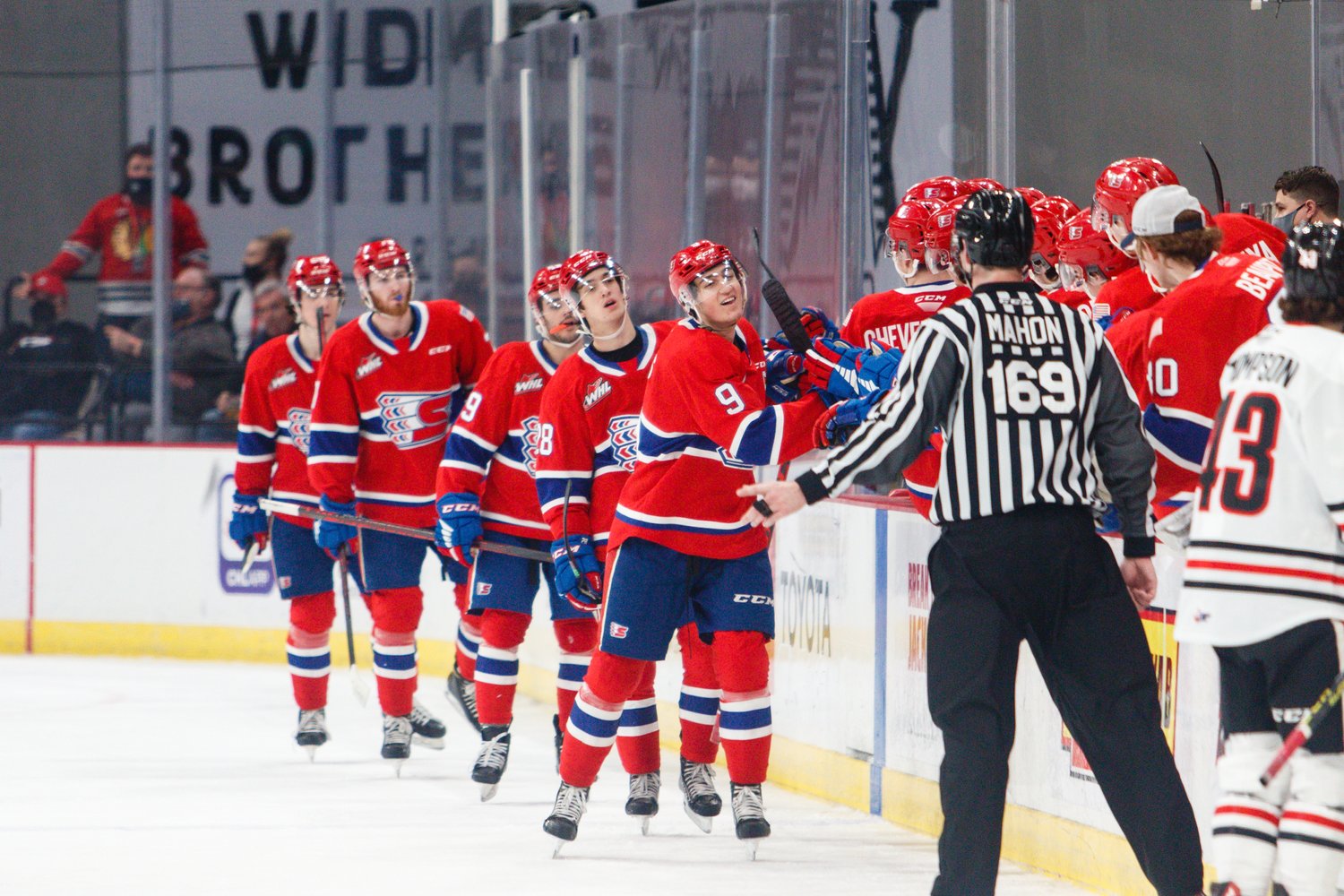 Who knows? It may just be the story of the year if the Chiefs make it to the postseason. Who wouldn't love seeing that comeback? Maybe the other teams? Yeah, okay. Good point.
If he weren't in hockey, he'd want to excel at…
"That's a hard one but this is probably a difficult choice between football and golf. I think football is a more physical sport and I think I'd be a lot of fun to play. However, I think golf is pretty impressive. The mental toughness of those guys having to go up out in golf however many holes every day and just the consistency in their game, I think that's pretty underrated in the sports world."
Having missed the team's golf tournament at the beginning of the year, he's only heard that Reagan Wiles and Graham Sward are pretty good and play in the summer. Hughes is curious to see if the rumors are true or not (and so am I).
A perfect day off from hockey looks like…
"When it's warm I like to go golfing with some of my teammates. It's always fun to get away from the rink a little bit, but during the winter it's a little bit harder with all the snow around. I'm really close to my family and friends. I have a big family, so I really like to hang out with them when I'm not on the road or or when we have a day off. Maybe play a board game with my family. Sometimes I'll go hang out with my friends and watch a movie or play ping pong or pool."
What kind of board games does the Hughes family play? Catan and Risk are the top two, with Bear mentioning that his family is competitive. Sometimes games end up in an argument or with someone leaving the game because they aren't happy with something that happened. For those who may not be aware, Bear Hughes has nine siblings and is the sixth oldest of the ten. If you think your game nights were competitive, he may have you beat.
Bear's Favorites…
We have a new contender for best locker room music. With a swift response, Hughes cast his vote for Erik Atchison as who he feels should control the music.
On the other hand, there have now been two votes for Timafey Kovgoreniya as the guy who should not be DJing on game day. Apparently, Russian rap is not a popular soundtrack when prepping for a game. (Does anybody else WANT to hear it now? No? Just me?)
Hughes did end off on this question, saying that he does tend to enjoy everyone's music, for the most part. It's just that Atchison has the best selection, in his opinion.
Moving on to food, Hughes mentioned that overall, steak is his favorite, but if he's grabbing something after practice, it's probably Chipotle.
"We go there quite a bit as a team because it's not that far from the rink."
This must be some not-so-subtle move by Chipotle to just always put locations near hockey arenas.
"I'm guessing that's what every guy says because that's where we go all the time."
Captain Hughes, you would be correct.
For the Fans…
The final thought from Hughes was to say that the fans' presence at games has not gone unnoticed.
"We appreciate the fans coming out. It's been a lot more difficult this year with all the restrictions. I know, for my family, it has been a little harder for them to go, but it is what it is and we appreciate their support."