Kevin Korchinski (Photo: Brian Liesse/Seattle Thunderbirds)
*This was originally posted February 4, 2022*
While the Seattle Thunderbirds have been finding success as a team this season, Kevin Korchinski has found ways to stand out individually while maintaining that it is all about the team.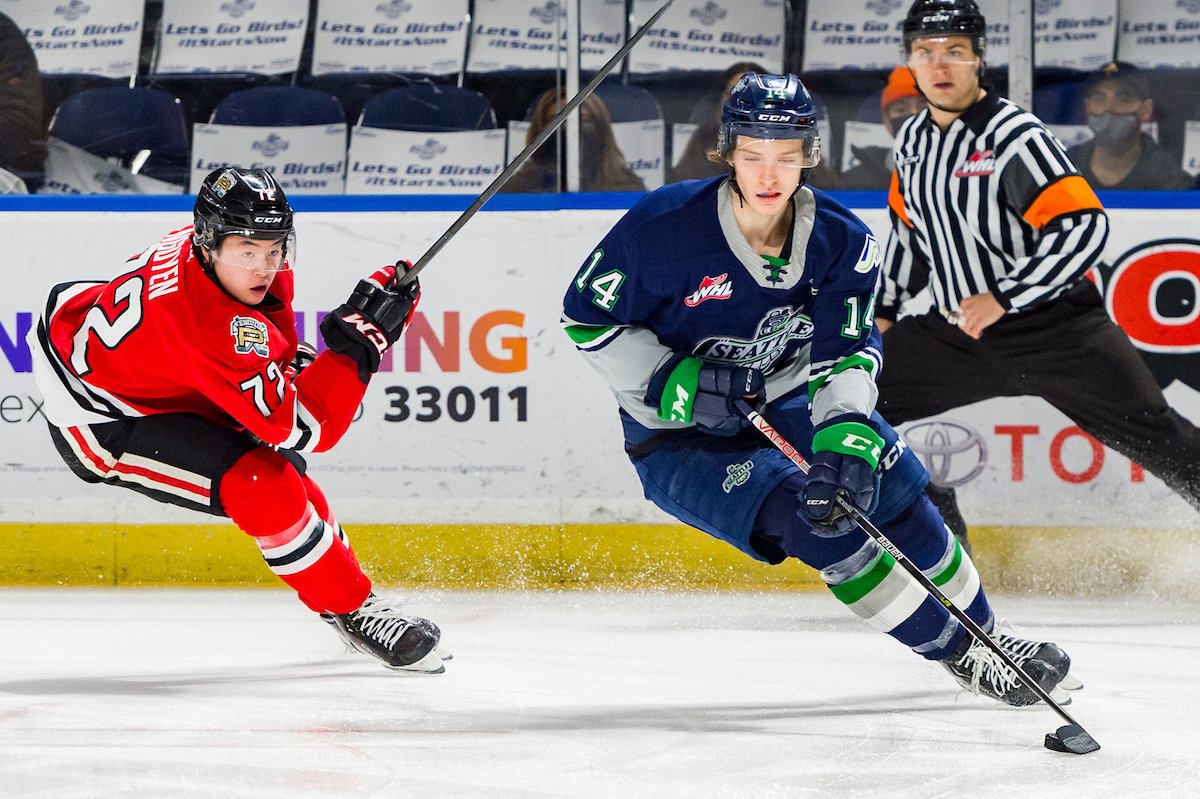 Starting his hockey journey, taking to the ice with his father when he was two or three years old, Korchinski grew up playing hockey in Saskatoon.
"I just grew up around the rink. Always being around the rink, I loved it."
Growing up, his dad was always one of the coaches, and Korchinski says it was nice to have him around helping out. The Thunderbirds defenseman's father, Larry Korchinski, spent his own time in the WHL playing for the Saskatoon Blades (1981-84).
The younger Korchinski spoke fondly of the time he was able to spend starting to develop his hockey skills with his father.
"Creating those memories of just getting up early on Saturday or Sunday mornings and heading to the rinks wherever you can find ice and after, just going to get breakfast, me and him."
Just One Year Ago…
Now in his sophomore season in the WHL, Korchinski is grateful for the experience that brought him to where he is now. The experience of moving away from home, he says, was a pretty significant change for him, having only played for teams in Saskatoon until last season.
"The coaches, staff, teammates, really everyone here made me feel accepted, so it wasn't hard at all. I enjoyed gaining a lot of great experience last year to get games under my belt in my rookie year."
Speaking of those experiences, was it easier or just odd to play in empty arenas? Korchinski says the fans would have just added to the entire experience.
"When you have a home game, you feel like the fans are cheering for you. The crowd goes crazy when you score goals, make blocks, or big hits. It definitely would have been really cool last year, just to get the full experience, but obviously with COVID it was tough to even have a season. I can't really complain much about that. I'm just thankful this year we have fans."
Starting This Season…
While the heavier restrictions of last year's short season eased a bit heading into this season, players have been able to spend time bonding face-to-face more than they had. Those players such as Korchinski, who had their first WHL experience limited, have just been able to experience their first relatively normal season.
"After our training camp, we went to a lake outside of Kent. We went camping for three days, two nights. It was a really good team bonder because we got to do stuff outside of the rink and just bond as kids rather than it just always being hockey. It was a lot of fun."
As far as how this season has been going, the 6'2 defenseman is thinking just about the team.
"We're just trying to focus on winning this year because we have the team to do it."
Korchinski went on to talk about how playing careers in the WHL are so short, and you never know if you'll get another chance to play with a team as strong as the one they have this year, so the team is looking to win now.
The Seattle Thunderbirds are sitting at fourth in the Western Conference and third in the US Division, behind just the Everett Silvertips and Portland Winterhawks. The Thunderbirds have two games in hand on both teams and are just four points back from the Winterhawks. This team has every opportunity to push for the division if either Everett or Portland go on a short skid. Once they hit the playoffs, anything can happen, Korchinski and his teammates know, and they're looking forward to it.
"We're trying not to worry too much about outside distractions."
Heading Into the NHL Draft
Outside distractions are easy to find when you're found pretty high on most draft lists, but Korchinski maintains that his main focus is playing the best hockey he can to help the team. Everything else will follow, and he can think about it after the season. While he is trying not to think about the draft too much, the rest of us can appreciate that Korchinski was listed at number 20 on NHL Central Scouting's Mid-Term Ranking of North American Skaters.
He's also been ranked highly by FCHockey (14), Bob McKenzie/TSN (25), and Craig Button/TSN (26).
*UPDATED MAY 21, 2021 BELOW*
NHL Central Scouting (7), FCHockey (7), Bob McKenzie/TSN (25), and Craig Button/TSN (12).
Elite Prospects Video about Kevin Korchinski (here).
*END OF UPDATE*
Aside from recognition on lists, Korchinski also has had some comparisons to former Seattle Thunderbirds star Shea Theodore. He has heard the comparisons, but while they are both offensive defensemen, the current Thunderbird says he just tries to play his game rather than emulate Theodore.
"A guy of [Shea Theodore's] standards is one of the best defensemen in the NHL and I'm striving to be that one day. I don't take just one guy to model my game after. I try to take things from [Cale] Makar and his elite skating, who plays both ends really well, and a guy like [Adam] Fox who thinks the game really well. I just try to watch as many guys as I can just to see what makes them so great."
Personally, Korchinski sees his skating and passing abilities as his two greatest strengths as a player.
"I try to use my skating to get up the ice, create odd man rushes the other way, and just use it all around the ice. Then, just my offensive instincts, whether it's on the powerplay or just five-on-five creating offensive chances."
With 31 assists in 38 games this season, it certainly seems as though his thoughts on his strengths hold up.
Get to Know Kevin Korchinski
If he could have any superpower, he'd want something like the ability to read minds, specifically because it's more subtle. It's not as flashy as something like super speed, but knowing what everybody is thinking all the time, he believes, would still be cool.
His favorite skills to train are shooting and stickhandling on the ice. In his own words, this is because "They are not the most taxing on the body, and it's fun to work on things you can try to pull off in games like the pros do."
It was a bit more difficult for him to think of his least favorite thing to practice, but he pulled from what they had done at practice that morning. "Well, today we practiced blocking shots, so that's not maybe the most fun. Yeah, that wouldn't be high on my list," he noted. (Yeah, I also don't believe that would be fun to do)
His favorite food is… NOT Chipotle! Korchinski says his favorite is sushi. He's always loved it, and near the rink, there's a place the guys frequent on their days off.
He is not a big country music guy, so he clashes with Thunderbirds captain Tyrel Bauer on that front. Bauer is also the teammate Korchinski would NOT give the aux cord to.
However, Thunderbirds forward Nico Myatovic is the teammate he WOULD give power over the music because they both have similar music tastes. Myatovic has also been on aux for a bit, and according to Korchinski, has "definitely lived up to it."
He listens to… "More rap and mainstream music, whether it's pop or rap. Pretty basic stuff."
He ended our talk by saying, "Go Birds Go!"