Braden Holt in net for the Everett Silvertips (Photo: Matthew Wolfe/Portland Winterhawks)
*This was originally posted March 1, 2022*
Being a goaltender for the Everett Silvertips comes with expectations, but 18-year-old Braden Holt has proven that he is up for the task. How did he get to this point?
"My brother played roller hockey when I was a baby. He's nine years older than me, and he got recruited into ice hockey."
So, of course, what big brother does, little brother has to follow. However, it happened to work for both of them.
"He always wanted to shoot on me in the living room and stuff, playing mini hockey and road hockey. He always bullied me into playing goalie and then I ended up loving it so I just always stuck with it."
This turned out to be a case of positive sibling bullying as the younger Holt is now one of the top goaltenders in the CHL. Perhaps taking shots from someone almost a decade older played a part in the netminder's development? Either way, fans are surely grateful for how everything turned out.
"He definitely turned me into a goalie, and that's always a discussion at the Thanksgiving tables, how he turned me into a goalie every year, so he loves to take credit for it."
However, as is typically the case, Holt started his hockey journey as a skater, but it really wasn't exciting for him.
"I remember my dad coming into my room asking if I was ready to go try out. I was like, eh, not really. I don't really want to go. So he was like, 'what?' and said, 'Do you want to try out as goalie?' and I was like 'Oh, yeah! Absolutely!' So I've just always been a goalie."
When you know, you just know, and Braden Holt was always meant to be in the crease.
"I tried out for a team near me at the time, in Colorado, to be a goalie, and I remember I was wearing my pads backward. I didn't know anything, but I ended up loving it and love stopping pucks."
Though, there is something he misses out on due to being in net.
"Of course, now I want to score a goal somehow, but I don't think I'm cut out to be anything else."
Who knows, it could still happen.
"It's every goalie's dream to score a goal, and to be able to celly in front of fans would be pretty fun."
Angel of the Winds Arena would be absolutely electric if Holt finds the back of the net. (Is it selfish to hope it happens?)
Who was his goalie inspiration growing up? Holt had a quick answer.
"Peter Budaj was a bit one when I was younger because he was buddies with my coach. He would come coach me a little bit, and it was pretty cool to see how he treated me; super nice."
Of course, being from Colorado originally, Holt attended Avalanche games and lived near the team's practice rink before his family moved to Montana. However, the connection to Budaj didn't end with the move.
"He moved to Montana too, and sometimes I still see him around the rink. It's just pretty cool to have that kind of relationship with him."
The best advice he's gotten from Budaj?
"He just always said your path is yours and whatever you feel is for you. The best thing you can ever do is just experience every game. Good or bad. Win or loss. It's just soaking up the experience, and the faster you can learn that the better off you'll be."
Being from the US, Holt was always encouraged to take the college route for hockey.
"It was never really a goal of mine to go to the Western league until I went to the the WHL combine down n Anaheim with the United States guys and started learning about the education package and everything they had to offer."
Until that point, he was mainly only thinking about college hockey.
"I think my whole life, everyone always said 'College is the way, college is the way!' and USA hockey is what they encourage you to do. My parents always believed in me, saying that [I] can get a D1 scholarship and 'You can do it if you keep working hard.'"
Following the combine he attended, Holt was selected by the Everett Silvertips and, thankfully, he decided to head to the PNW. The team brought him out for a visit, had him attend a couple of sold-out games, and he was hooked.
"Everyone always pushed college on me, which is probably part of the reason why I wanted to go back and kind of go to the dark side, at the time, for us US kids, to come to the CHL."
Joining the Silvertips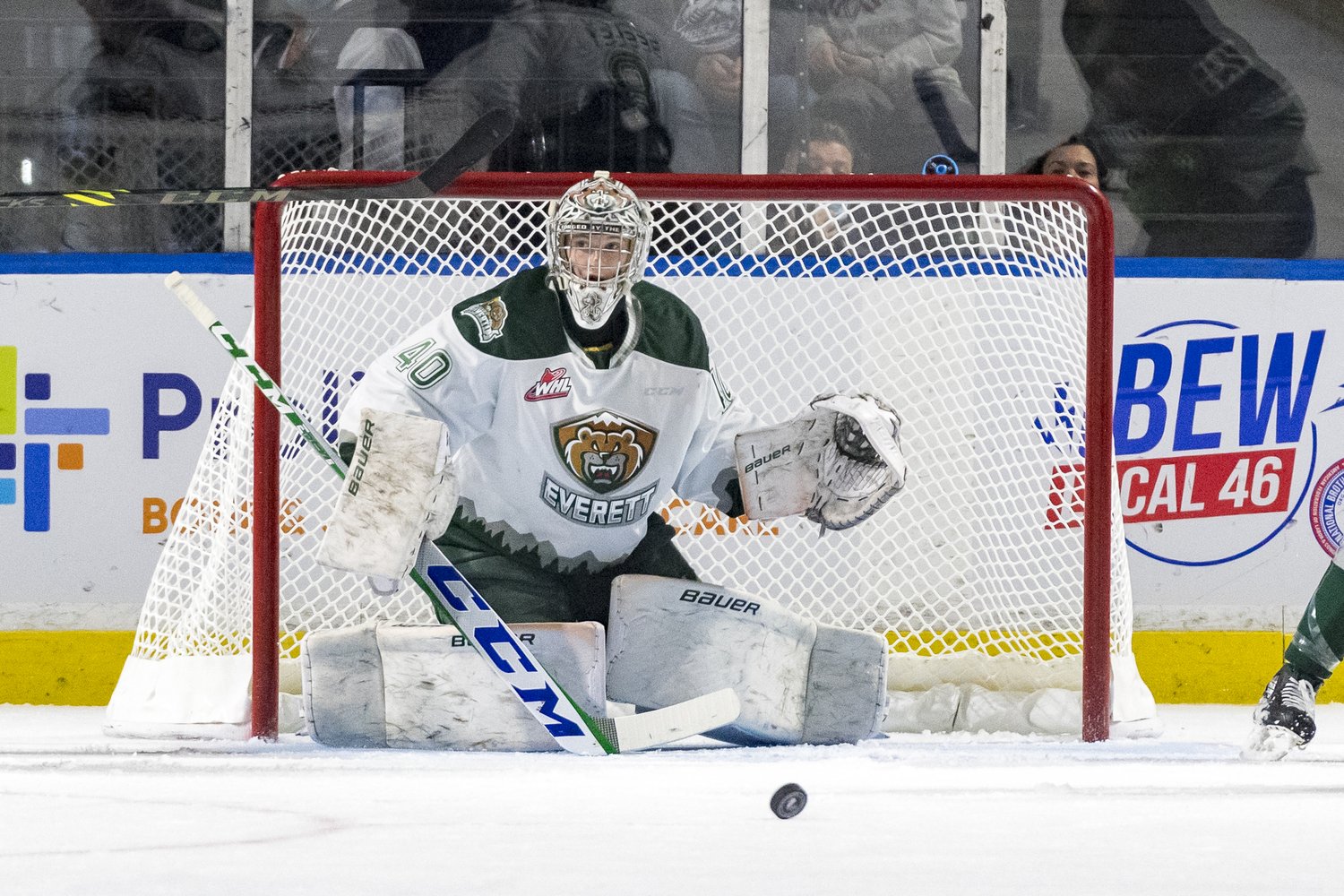 Coming into Everett, Holt admitted that he wasn't fully aware of the goaltending powerhouse he was joining.
"Finally learning the culture in my first few months behind Wolfie [Dustin Wolf] and hearing what he had to say about Carter Hart, and I'm sure what Hart had said about Austin Lotz before him, and all the goalies on the wall – the NHL wall of fame – and stuff that we have in the room. It's pretty cool to see and know that all of these great goalies were once in the same exact position that I'm in now."
If you haven't bought into the four-letter Everett goaltender name powerhouse yet, perhaps this story will convince you to buy in.
"Yeah, it's kind of funny, actually. If you take the first and last letters of Hart and the two middle letters of Wolf, you get Holt. My math teacher pointed that out to me when I was 16 here, so I think that's a crazy coincidence. Maybe it does have something to do with it, so who knows?"
Speaking of the dynamic duo of Hart and Wolf, did Holt receive any advice from them as he stepped into the spotlight this season?
"I've never actually met Hartsy, but Wolfie and I turned out to be really good friends and still talk on a regular basis. He always asks how the games are going. You know, he's one of the best, if not the best, in the American League right now. If I'm struggling or something, he's always a good guy to go to. I just remember after the NHL draft last year, he texted me and was like, 'You'll get your shot next year. You just have to prove guys wrong now and keep working. You can do it.' He's always been a really good motivator and encouragement for me. I hope to return the favor to him if he ever needs it down the road."
The 2021 NHL Entry Draft was the first Holt was eligible for. Though he did not hear his name called, he was invited to the Toronto Maple Leafs' developmental camp. With the season he has had, teams are likely kicking themselves for not selecting him in a later round last year.
On the note of getting his shot, Holt has gone from being a backup netminder who saw limited minutes over the last two seasons to carrying a starter's workload, albeit somewhat split with Koen MacInnes, and he loves it.
"It's been amazing. I mean, the last two seasons, I think I played ten games total, and this year I'm coming up on 30. It's just super fun to really be in the game and be a game-changer night in and night out and just know you're going to get a feel for a puck and get your opportunity. It's incredibly fun to be a part of the team in a different way than I have in the past."
Don't expect the confidence and success to fade from the Silvertips organization anytime soon.
"Every season, everybody wants to come to Everett. We have a winning culture, and that goes to our staff, building that culture front the time that they arrived here. I think that every year, too, before the season starts, you always see the article saying this is the season where Everett's in the middle of the pack, and we just find a way to get better and a will to win games.
On the Road to Playoffs
Everett's playoff push started in their first game of the season. The Silvertips began the season with points in 18 consecutive games and have yet to relinquish their place at the top of the Western Conference standings through 51 games this season. The first team to punch their ticket to playoffs, the Tips are looking to stay hot and just play their game.
"Man, it was really wild. Even still, we go on these runs, and the morale is just so good in the room, and everybody loves everybody. We say that before the games. E.L.E. Everybody's supporting each other. We have confidence in ourselves and in our teammates too. We play for the guy next to each other, and it's worked out really well this season. We're a tight-knit group, so it's no surprise to me."
The pressure going into playoffs isn't getting to Holt, though it is there.
"Every team needs a good goalie, and going into playoffs, that can be a difference-maker, right? So you're going to feel some pressure, and I think this year I've learned how to manage it more because there wasn't really any pressure on me being a number two goalie. I just had to embrace that role. This year, competing for number one, of course, there's going to be a little bit of pressure, but it's been a good experience learning how to manage it and how to use it to my advantage."
Goalie Things
Holt's favorite thing about being a goaltender can't be narrowed down to just one thing. While "making saves" may be the easy answer, it's not quite that simple.
"I think anytime the puck touches you, even if it's just a routine save, and you hear all the fans. It's something that I had never experienced before coming to Everett. I remember my first game, just a shot from the outside hashmark, it just hit me in the chest, and it sounded like I won the Stanley Cup. It is still like that to this day. It's just awesome to have the fan support behind you. Even when you're in away buildings, you hear everyone go 'oh!' [when you make a save] It's just super fun to be in that moment where you're a game-changer no matter what."
Holt notes that the way he trains differs depending on if it is in season or during the offseason, so he doesn't have a favorite training activity.
"I think you have to learn to love everything. When you're rehabbing your body and working on balance and when you're weightlifting and putting more stress on your body. I like doing everything because you're not doing the same thing all the time. Mid-season, you're doing one thing, and in the off-season, you're doing another. When you're doing the one, you're always looking forward to doing the next. So just loving to do everything and being on the ice and working with your teammates is always good."
As for his strength on the ice, Holt recognizes two at the top of his list of skills.
"I think my ability to track pucks and understanding the science of how your eyes work, and being able to stop the first shot are my biggest strengths. I think sometimes when a goal beats me clean on a shot, I'd probably want it back, and I don't think it happens very often. So, I try to play that way as much as I can."
(Yes, he said the science of how your eyes work, and yes, I had to ask for more on that. Thanks for the quick science lesson, Braden!)
Favorite moment of the season… so far.
"Right before Christmas, when we had half a lineup, and we ended up winning 4-1 at home against the Thunderbirds. It was just a crazy moment, having most of our top scorers not in the lineup. It just showed the depth of our group and how we were able to win that game going into the break after a slump for our group too."
During the mentioned game, Holt made 49 saves on 50 shots. He started the following night as well, claiming a second victory in as many games, stopping 30 of 32. The slump in question was a 3-6-1-0 stretch the team started December with.
If he could go back and give himself any advice, he would echo a version of the advice Budaj gave him.
"I think just patience, really. Even when I was 16, every single game felt like an NHL game. I mean, every game is important, but every game is an experience. No matter what, after the game, every single game, you're a better goalie from whatever just happened and not to be so hard on yourself and know that everything takes time. I think it's taken me until this year to figure that out. It just takes a lot of patience to get to where you want to go."
His favorite thing about playing in Everett is the atmosphere.
"It's got to be the fans. I mean, I don't think I've played anywhere else that has as good of fans as we do every single night. We get at least 5,000, and they're super loud. I think we've got a perfect sized arena, to where on Friday and Saturdays we can fill it up and on Wednesdays, it doesn't feel empty. No matter how many fans we have in there, it always feels loud. It's something we really missed last year, and I think it definitely gives us a confidence boost this year when you come in, and we know we're going to have a good turnout."
While Holt commented that other teams comment on the atmosphere when they make the trip to Everett, his favorite rinks to visit are the homes of the Kamloops Blazers and Seattle Thunderbirds.
"The Seattle games are always fun because of how heated they get, and they always get a good turnout when they play against us."
Battle of the Sound
While MacInnes started in net for the Silvertips as the team took on the Thunderbirds in last Saturday's Battle of the Sound, Holt experienced the game from the stands.
"It looked like an NHL game. I've been to a couple of Kraken games, and it looked just like that for me. It was pretty cool to see all those people come together to watch a WHL game. It was cool to see all my teammates out there, and it was good to have 50/50 fans. It was an interesting experience."
With an announced crowd of 8,381, Silvertips and Thunderbirds fans showed up with numbers to support their teams.
"I think we were a little bit louder," said Holt. "Even though [the arena] said no cowbells or anything, I definitely heard some people sneak some in."
With the Kraken so close, and an incredible venue for a new tradition, maybe we'll see the Silvertips return to Climate Pledge Arena soon.
"Hopefully we do that annually."
Hopefully, fans will see Holt in net for the next one if it happens.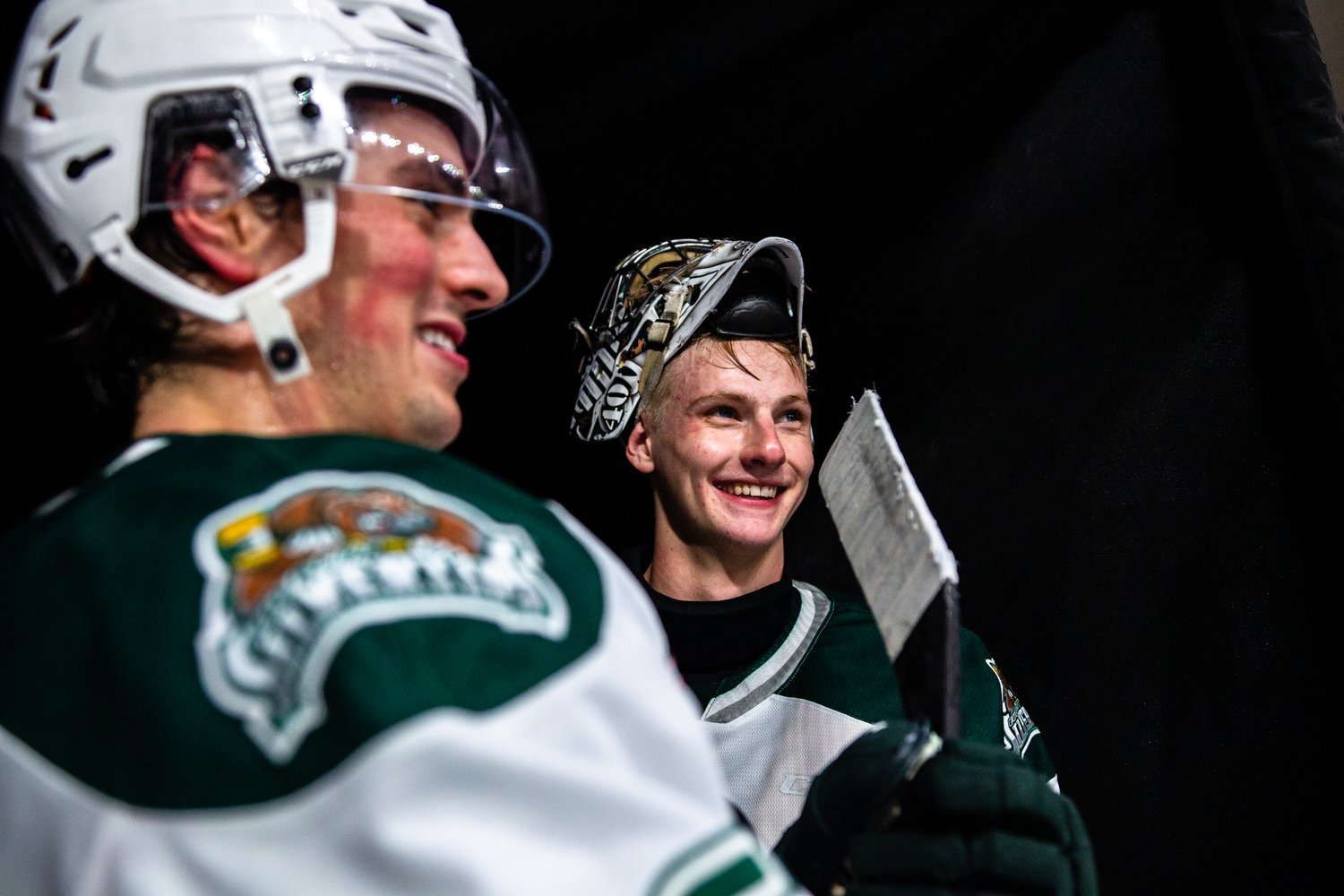 Just for Fun
Braden Holt's perfect pizza is simple and sounds like one that needs trying, for sure.
"Just normal crust with sausage and artichoke hearts"
If he could be elite in any other sport, it would be…
"I would have to say basketball. I absolutely suck at basketball now, but I think it would be really cool to play in the NBA, and I think it's a cool sport."
That is relatable for most. Also, you have to respect the guy for not choosing golf.
Helping out the front office with a new hobby
Holt has picked up a new hobby recently, and it certainly seems like it's working out for him when he gets to do it.
"I like to get into cinematography. I have a drone that I like to go out and make movies with and fly it around nature. I think that's what I like to do. I took it to a big waterfall here in Washington and went out and made a nice little movie about it. I think I'd like to do that more."
If you've been out to Angel of the Winds Arena lately, you may have seen some of his camera work.
"I've shot one of Everett around the rink, and they actually put it on the jumbotron during games and use it for promotional videos. The other one is of a waterfall, so there are only two of them, and I like them both equally."
You can't find his movies on YouTube, though, but never say never.
"I haven't shared anything on YouTube. I haven't even thought about it, but yeah, I would post it. I think it's pretty cool."
He has shown his teammates and says they like what he's done.
Who has been the best locker room DJ this season?
"I like Dylan Anderson on it. He's done a really good job this year. I think that's a new role for him, and I think he's taken it on perfectly. Nobody ever complains, and we're all head bopping in the locker room most of the time."
What is the defenseman playing that works so well for the guys?
"It depends. Sometimes pregame, we go for some EDM remixes of songs, and sometimes we'll go to some rock music. It just depends on the vibe but whatever the vibe is, he has it dialed."
(The team does have a win song/artist, but that will be left to the imagination for now)
After a moment of thinking, Holt had a name for who should not take over the reins of DJ.
"Probably Niko [Huuhtanen] because he listens to Finnish music and nobody understands it."
This far into the season, has anybody started to enjoy what Huuhtanen is playing?
"No, nobody's gotten into it even though he's played it in the locker room a couple times."
Perhaps it is time for the team to learn some Finnish, or maybe just a bit more. Is anybody else wondering what this Finnish music is?
For the Fans
"You guys are great. We love hearing you guys. We're just super excited to go into playoffs with you guys and hopefully bring a championship down to Everett for the first time. That's the goal, and everybody in the room thinks we can accomplish it. You guys are going to help us along the way. So let's get it."