Moving away from home and family is extremely difficult for some, but moving to another country at just 17 can be a shock. That is exactly what Vancouver Giants forward Samuel Honzek had to do at the beginning of the season so he could join the Western Hockey League. While it took some time to get settled, the Slovakian has taken off and become one of the top players in the WHL, with 41 points in his first 31 games. He now gets set for a World Junior tournament where all eyes will be on him as he looks to help Slovakia win a medal for the first time since 2015.
As mentioned, being away from family in friends is hard, but Honzek is excited to reunite with them at the 2023 World Junior Hockey Championships.
"I haven't seen my friends in Slovakia for a long time," said Honzek. "I am excited to be part of the selection team. I have some experience from the summer, so I hope I can bring my best and play there how I have played here. I am very happy to be playing for the national team."
During the 2022 tournament, Honzek could not find the scoresheet but feels that his development this season will help him have a more successful run this year.
"I would say that I have improved a lot of stuff here. I just want to bring my best there. We are a really good team and a good group. I think we can play against the top teams."
Another member of the Giants plays in the tournament with Zack Ostapchuk, suiting up for Team Canada. While it will be odd playing against him, Honzek is ready if their paths cross.
"Chucky (Ostapchuk) will be there, so I will be happy to play against him. It will be a good experience. He left, and I said hey man, goodbye, good luck, and I will see you on the blue line."
As the season has progressed, Honzek has been getting better and better. Whether it is his defensive game or playmaking, he is showing why he was given an "A" ranking by central scouting earlier this year.
"We are focusing on the little details, whether in the D-zone or O-zone. The coaches and other players are trying to help me, and I help them become better players. We are getting better in every situation, and it's only (a matter of time) until we can be the best."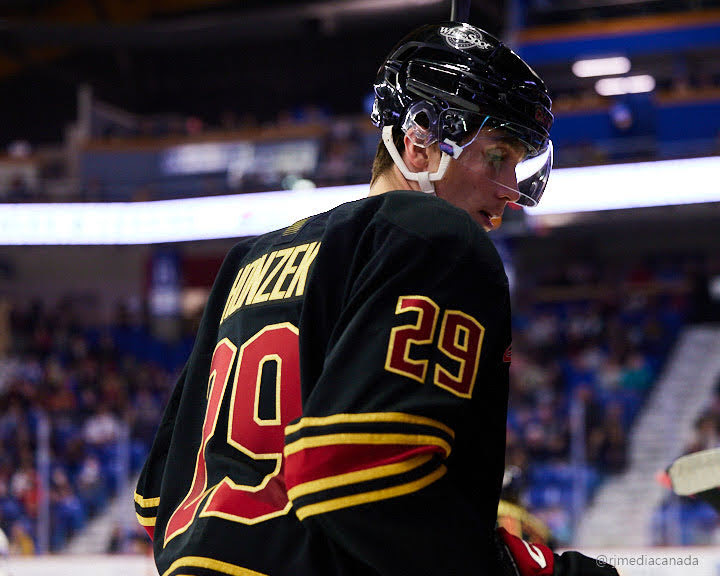 His play has really impressed Giants coach Michael Dyck this season, especially with his development in the defensive zone.
"I think we all knew how good he was offensively, but we have him out there killing penalties," said Dyck. "We put that line together (Honzek, Ostapchuck and Ty Thorpe) not only because we felt they could create some offence but to play against (other teams' top lines). He has become a real reliable two-way guy for us."
Before leaving for the World Juniors, Honzek got to experience the Giants Teddy Bear Toss. It was an experience he enjoyed and won't soon forget.
"I've never been in a Teddy Bear Toss. This was my first, so I am happy we won. I will remember this for the rest of my life. (Throwing the teddy bears into the truck) was exciting. To see all of those teddy bears falling on the ice, it was really cool."
Honzek is the 11th Slovakian to play for the Giants and could break Marek Tvrdon's single-season franchise record of 71 points this season. A strong World Juniors could springboard him in the second half of the season and see him shoot up draft boards around the league. He is an elite talent in the WHL and has a chance to really tear it up over the next few weeks and months.