Another Saturday night, another amazing card full of finishes and amazing performances. The night was headlined by Ankalaev who ended up having another fairly dominant performance over the veteran Thiago Santos. The exciting stories came out of some of the other fights of the main card though with Song getting a HUGE TKO win over Moraes, Khalil Rountree winning with a sickening body shot TKO win and an absolutely unreal battle between Drew Dober and Terrance McKinney. Other standouts included former world kickboxing champion Alex Pereira's return and Miranda Maverick's latest dominant win. All of the bouts from UFC Vegas 50 are covered below along with BLÜ's favourite performances of the night: the BLÜ BONUSES.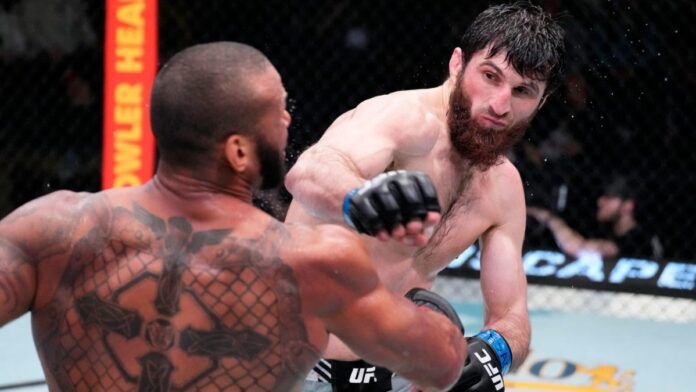 Prelim. Action
Fight #1
BLÜ's Prelim. Pick #1
Tafon Nchukwi vs. Azamat Murzakanov

We opened up the card with a light heavyweight bout between two impressive rising contenders. Nchukwi is early in his career with a record of 6-1. Amazingly, he made his debut on the Contender Series at a record of only 3-0; since then he's done well beating Jamie Pickett and Mike Rodriguez. Plus, his only loss came to Jun Yong Park in a rare, razor-thin Majority Decision. As for Murzakanov, he was sitting at 10-0 before this fight and made his first UFC appearance after getting an impressive 1st Round finish on the Contender Series last August. Given their lack of experience, it was tough to tell who held the edge in this matchup. It always makes sense to lean towards the fighter who's undefeated, but in this case it was more complicated. Murzakanov may be undefeated, but Nchukwi is 8 years younger, has a 6 inch reach advantage and there was no doubt he'd fought the tougher competition. With all of Nchukwi's UFC appearances ending in a decision, it seemed likely that we'd see that again and, thanks to those small factors I mentioned, I leaned away from the undefeated Murzakanov this time.

BLÜ's Prediction
Nchukwi by Decision

Murzakanov showed an early edge on the feet landing the heavier strikes, but Tafon wasn't too phased by it. Nchukwi was stumbled, but was still doing some good work and ended up using some clinches to control that power. In the second Tafon was looking better after landing some early leg kicks but Murzakanov ended up catching one of them and threw him to the ground. In spite of that, Tafon still held the momentum of the fight with his extra activity. In the third it looked as though Nchukwi was going to cruise to a decision win… until out of nowhere Azamat landed a MASSIVE flying knee to finish the fight immediately with an incredible TKO finish.




Result
Azamat Murzakanov def. Tafon Nchuwki by TKO in the 3rd Round

Fight #2
Guido Cannetti def. Kris Moutinho by TKO in the 1st Round

Right out of the gate, Cannetti came in heavy and clipped Moutinho with a good one. After that Kris seemed to rally back and was starting to regain his composure, landing some combos of his own. That all ended after Guido landed a huge shot, pushed him back to the fence and peppered him with some crisp combos until the ref was forced to stop the fight. It seemed like a little bit of an early stoppage, but I see why the ref ended up stopping it.

Fight #3
Cody Brundage def. Dalcha Lungiambula by Submission in the 1st Round
The first thing that was immediately obvious was Lungiambula's size advantage. To avoid that raw power coming at him, Brundage turned to wrestling and tried to control him along the fence. The problem with that ended up being the fact that he was too close to Lungiambula who was landing BOMBS, wobbling Brundage multiple times. Amazingly, Cody ended up jumping into a guillotine, dropped Dalcha to the ground and got an incredible 1st Round submission win.



Fight #4
Sabina Mazo vs. Miranda Maverick




Finally we had the return of one of the most promising contenders in the women's flyweight division: Miranda Maverick. If you've been paying attention to the BLU-FC broadcasts, you'll remember that she was on the wrong side of one of the worst judge's decisions in recent memory. After outstriking and outgrappling her opponent, Maycee Barber, she lost in a split decision and lost her spot in the top 15. After that she went on to fight one of the most promising rising contenders in the division in Erin Blanchfield where she was dominated for 15 minutes. On the other side of the Octagon in this bout was Sabina Mazo. Mazo has also lost her last two, but to slightly less impressive competition Mariya Agapova and Alexis Davis. While Mazo held a slight reach advantage, I didn't think that would shift the tides of this fight. In spite of her loss to Blanchfield, Miranda is still very much worthy of a spot in the top 15. I figured she'd be able to overwhelm Mazo and control the narrative of the fight to win a decision.

BLÜ's Prediction
Maverick by Decision
The fight was pretty even on the feet until Maverick took the fight to the ground. She ended up letting her back up though after getting caught in an armbar attempt. Interestingly, that cycle repeated a couple more times in the 1st Round with strong takedowns from Maverick. The second was starting to look the same with more work on the ground from Maverick. This time she ended up sinking in a submission attempt and finished the fight early in the 2nd Round.
Result
Miranda Maverick def. Sabina Mazo by Submission in the 2nd Round

The Future
If the last couple of fights left any doubt in your mind as to whether or not Miranda belongs in the top 15, this performance should have shown you that she absolutely does. I think the next step should be a rematch against Barber after what happened last time, if not, I could see her getting someone like O'Neill, Grasso or Calvillo. All I know is that Maverick, especially since she's so young, will surely break back into those rankings at some point.




Fight #5
Damon Jackson def. Kamuela Kirk by Submission in the 2nd Round

Damon Jackson took the lead early being the more active fighter on the feet. His momentum was slowed down a bit though after Kirk landed a big knee up the middle. As the round went on Damon regained that momentum back and had Kirk stumbling backwards a couple of times after some big shots. To really solidify that 1st Round, Jackson used that momentum to land a takedown and finish the round on top. Right away in the second, Jackson shot in and dragged Kirk to the ground. The entire rest of the round it was all Jackson on top, working for the submission and smothering Kamuela. Just as the round was ending, he finally got into the right position, squeezed as hard as he could and got the submission win with about 20 seconds left in the round.
Fight #6
Javid Basharat def. Trevin Jones by Unanimous Decision
The first few minutes of the fight were even with both men landing some good shots. The fight then really started to shift in favour of Basharat as he had Jones wobbled a few times and had him slumped against the fence after some HUGE hooks, elbows and knees to the head AND the body. After getting smoked in the first, Jones rallied and came out heavy at the start of the second. As the round went on it stayed pretty even with both guys doing some good work on the feet. With Jones controlling the offence that round, it's likely that it was tied on the cards going into the final round. The third round was just as even and even more thrilling as they both started to really open up their offence in the middle of the round. Basharat landed a beautiful wheel kick to stumble Jones, but Trevin landed a couple of big ones of his own right after. In the end, the judges had it 30-27, 30-27 and 29-28 for the rookie Basharat.

Fight #7
JJ Aldrich def. Gillian Robertson by Unanimous Decision

The ladies started off this one slow, just feeling each other out. Robertson was trying to land takedowns to get her offence going, but Aldrich kept her at a distance with her striking. Aldrich started the next round off using that striking to keep Robertson at bay again. Gillian finally ended up getting a takedown in, but Aldrich managed to reverse the position which had Robertson fighting to get back on the feet. After struggling in the opening rounds, Robertson needed something special in the final round to get a win. Sadly for her, Aldrich just kept that momentum going, nullifying everything Gillian had to offer to cruise to an easy unanimous decision win.
Fight #8
Matt Semelsberger def. AJ Fletcher by Unanimous Decision

Semelsberger came in with a massive size advantage in this one. Fletcher aimed to overcome that power and size by taking Matt down to the ground. He used that position to control Matt and threaten him with some submission attempts. Fletcher never really had too much that looked like it was going to finish Semelsberger, but it was certainly enough to easily win that 1st Round. After a bit of stand up to start the next round, Fletcher dragged the fight to the ground again. After a bit of a scramble, Matt managed to turn the position around and started to land some decent ground and pound. The 3rd Round opened up the same way with some big shots from both guys and a move to the ground. It looked as though Fletcher may have had the takedown, but they got up and Semelsberger got the takedown to land on top. It was looking like a struggle for him but Matt kept him down the entire round and landed the occasional punch and elbow to win the final round. Fletcher tried to steal the round by switching positions late, but Matt got up back to his feet. I'd say that's either a clear 29-28 for Semelsberger or perhaps a rare 28-28 draw after that dominant 1st Round from Fletcher. The judges agreed and all had it 29-28 for Matt. With a debut like that, AJ has a real future here.

Main Card Action
Fight #9
Bruno Silva vs. Alex Pereira

Opening up the main card was the long-awaited return of the former world-champion kickboxer, Alex Pereira. He made his UFC debut in his last bout against Andreas Michailidis and passed his test with flying colours. The purpose of that bout was to see if he could compete against a grappler in the UFC. It should be noted that he did struggle in some of the wrestling interactions, but, as expected, his unbelievable power and precision strikes were too much and he got a 2nd Round KO by flying knee. Taking him on this time was the veteran striker Bruno Silva. Silva only had three fights here before this but they've all ended by KO/TKO, two of which ended in the 1st Round. Outside of that, he's on a 7 fight win-streak, all of which ended in a KO/TKO. If Silva were a grappler or submission artist on a 7 fight win-streak, I may have leaned towards Silva. But, when we're talking about a world-champion kickboxer, you have to lean in that direction every single time. This one looked like it was going to be a wild stand-up fight full of fireworks that could have ended in a KO finish on either side. But, because of all that kickboxing experience, I had to go with a Pereira finish.

BLÜ's Prediction
Pereira by Finish

As expected, this fight was all fireworks right from the first bell. With all that experience and his massive reach, it was immediately clear that Pereira had the striking advantage that we thought he would. In response to all that striking, Silva shot in for his first takedown of his UFC career. Right at the end of the round, Pereira finally landed a BIG one to stumble Silva. Luckily for Silva it was too late for Pereira to jump on it and get any real work done. Even though Silva was keeping up with Pereira on the feet, Pereira was still clearly the more accurate and powerful striker. Silva landed another takedown, but it didn't matter as Alex was quick to get up. That round really could have been scored either way; Alex was landing more strikes, but Silva had the takedown and actually managed to stumble Pereira once. It was looking pretty even as the fight went on until Pereira landed a MASSIVE shot that made it look like Silva forgot where he was for a second. From there it was all Pereira landing bomb after bomb. Silva tried to shoot for more takedowns but he didn't manage to get any. It was close, but I'd say Pereira did enough to win that thrilling brawl.

Result
Alex Pereira def. Bruno Silva by Unanimous Decision

The Future
After facing a wrestler in his last one, we needed to see what he'd do against an MMA knockout artist like Silva. As you would expect to see from a world-champion striker, his striking was a sight to behold. Really, the only reason why he didn't lock down a finish is because Silva was so tough; he had him wobbling and stunned on multiple occasions. It should also be pointed out that his grappling looked good; he was taken down a couple of times but stood right up each time. At this point it's clear that he should be getting someone in the top 15. Gastelum and Imavov are fighting soon, so maybe someone else between 10-15 like Tavares, Shahbazyan or even Weidman would be good. Shahbazyan would be intriguing because he's well-rounded but he's also been falling down the rankings; he may be the perfect opponent to test Pereira.
Fight #10
Drew Dober vs. Terrance McKinney


This one looked like an early contender for Brawl of the Night. Dober is one of the biggest, most fearsome lightweight contenders while McKinney is, of course, one of the most promising young fighters in the UFC right now. Dober was on a 2 fight skid going into this one, but it was a close decision loss to Brad Ridell in his last bout and a loss to the dominant Dagestani Islam Makhachev. Before that he had over 10 wins in the UFC dating back to 2014. The name McKinney should sound familiar as he's hot off his win from just 2 weeks ago, securing his 5th 1st Round finish in less than a year. This was a tough one to predict. On both sides we had two men with huge knockout power for the division. Given McKinney's recent wrestling-heavy performance against Ziam, there was a chance he held an advantage in that department. That aside, I thought this may have been a case of too much, too soon for McKinney. He's talented, but he had never fought anyone even close to as talented as Dober. This seemed like a close matchup, but I thought Dober would be a bit too much for McKinney to handle and may even end in a finish.


BLÜ's Prediction
Dober by Finish

Not even 30 seconds into the fight and McKinney had already SMOKED Dober and dropped him to the ground twice! Dober managed to somehow get out of those situations, but Terrance followed that up with a takedown. Somehow, after all that, Dober managed to get McKinney to ground after a knee and just peppered him with some ground and pound until the ref stopped it. Unreal performance by both men.

Result
Drew Dober def. Terrance McKinney by TKO in the 1st Round

The Future
Dober may have come out on top, but honestly I think McKinney looked better than him for the entire fight. That should say a LOT considering Dober was in the top 15 last year. That tells me that McKinney can hang with a lot of people from 10-15. I didn't think he was ready going into this but I'm convinced he could have a good fight with someone like Ferreira or Riddell. He's so young, so talented, so powerful and hungry that there's really no limit to how good he could be.

Fight #11
Khalil Rountree vs. Karl Roberson

Next was an intriguing bout between two heavy hitters in the light heavyweight division. Rountree has had a spotty record recently with a record of 3-3 in his last 6. These include 1st Round losses to Johnny Walker and Ion Cutelaba and a recent win over Modestas Bukauskas. Roberson has found himself on a two fight losing streak, but it's not as bad as it sounds; his losses were to Brendan Allen and one of the top contenders in the division: Marvin Vettori. The real difference-maker here may be in their weight. While Rountree is used to fighting at light heavyweight, Roberson has been competing at middleweight. These men are the same age and have the same reach, so, really, the only thing separating these two is their weight. For that reason, I went with the man who's used to fighting at 205, the man who got a huge KO victory in his last outing: Khalil Rountree.

BLÜ's Prediction
Rountree by Finish

The fight started off pretty even with both men taking their time and landing a couple of shots here and there. The only noticeable difference was that Rountree may have been pressuring forward a bit more and landing slightly better shots. After likely edging that round, Khalil came in HEAVY to drop Roberson and land one of scariest, most brutal body kicks I've ever seen! Roberson was on his knees and Khalil threw everything he had, dug his toes straight into Karl's body and that was it.

Result
Khalil Rountree def. Karl Roberson by TKO in the 2nd Round
Fight #12
Alex Caceres vs. Sodiq Yusuff

In this one we had two top 15 featherweights. Caceres found himself ranked 15th while Yusuff found himself in 12th before this fight. Caceres has been on a tear recently with 6 wins in a row including Chase Hooper, Kevin Croom and, most recently, an incredible submission win over Seung Woo Choi. Yusuff came off of a recent decision loss to Arnold Allen but still finds himself at a record of 11-2. Before that loss he had won all 4 of his UFC fights with wins over the likes of Fili and Benitez. The odds may suggest otherwise, but this matchup seemed extremely close. Yusuff is talented, but hasn't had any wins over anyone currently in the top 15. Caceres hadn't earned that distinction either, but, unlike Yusuff, he's been finishing his opponents. It seemed like it should be a close fight and that it would likely end in a decision, but with Caceres' submission and grappling skills, it seemed like he should be able to control Yusuff and grind to a decision win or possibly even a submission win.
BLÜ's Prediction
Caceres by Decision

Both men were trying to stick to their gameplans right from the start. Yusuff was trying to use his standup to overwhelm Caceres while Alex was trying to get the fight to the ground. Caceres managed to get it down to the ground for a bit but Sodiq got up fairly quickly. In spite of both of their advantages, Alex was landing some decent shots of his own while Sodiq was trying to get some takedowns. It was a tight round, but Yusuff likely took it with his control along the fence and extra strikes. In the second it was completely dead even with both men landing some big shots and crisp combos. It may have been Yusuff edging ahead again with his leg kicks, but it was impossible to tell what the judges may have been seeing. The final round was just as close; both men looked good and landed their shots but, yet again, Yusuff may have edged ahead thanks to his leg kicks and a couple of better shots. In the end, the judges all saw it for Yusuff with scores of 30-27, 20-27 and 29-28.

Result
Sodiq Yusuff def. Alex Caceres by Unanimous Decision

Co-Main Event
Marlon Moraes vs. Yadong Song

The co-main event was quite easily the most exciting matchup leading up to the night with a huge matchup between number 10 ranked Marlon Moraes and number 14 Yadong. Sadly, Moraes had found himself with a record of 1-4 in his last 5 bouts. But, when you consider his competition, there's no shame in losing to Cejudo, Sandhagen, Font and Merab. As Moraes had been slowly falling down the rankings, Yadong had been making his way up and was 3-1 in his last 4 with wins over 'Chito' Vera, Casey Kenney and Julio Arce and a close loss to Kyler Phillips. Their recent history may have suggested a clear favourite in Yadong, but we couldn't forget how good Moraes still seemed to be. Both men are extremely tough, very quick and very skilled. This seemed like it'd be a tightly contested bout with both men making it to the final bell. For this potential Brawl of the Night contender, I leaned towards the man with the momentum: Song Yadong.

BLÜ's Prediction
Song by Decision

Song wasted absolutely no time and jumped right into it with some HUGE combos. Less than a minute in and he had already almost dropped Moraes with a bomb. From there, Yadong was SWINGING, going everything he could to take Marlon out. He ended up catching him with one of those slick combos, dropped him to the ground and got the walk-off TKO win.
Result
Yadong Song def. Marlon Moraes by TKO in the 1st Round

The Future
There was one name in Song's mouth after his win: Dominick Cruz. Personally, I think that's the perfect person for him to fight. Cruz is an absolute legend and has really only lost title fights. Cruz and Aldo make more sense in terms of the next title shot but, if that doesn't happen, this would make a lot of sense. Otherwise, someone like Sandhagen or Font who have just come off of losses to the top in the division would also make a lot of sense. As for Moraes, I hate to say it because I'm a fan… but we may have seen the end of his career in the UFC. I'd love to see him again against someone unranked, but after 4 KO losses, that may not be in the cards any more. If this is the end, I'll be sad to see him leave like this.

Main Event
Thiago Santos vs. Magomed Ankalaev

Finally, in the main event we saw the legendary veteran, number 5 in the division, Thiago Santos and the rising contender, currently in 6th, Magomed Ankalaev. Although Santos was the closest man to taking Jon Jones' belt with a split decision loss, he followed that up with another two losses to the current champ, Glover Teixeira, and Rakic. Most recently he followed that up with one of the most uneventful wins in recent history over Johnny Walker. Ankalaev, however, had a record of 16-1 with 7 wins in a row leading up to this bout. Although none of these wins was over someone as experienced and well-known as Santos, his wins have been dominant. Once again, this was a tough one to predict. Based on their recent appearances, I had to give a slight edge to the much younger man: Ankalaev. He's 9 years younger, was on a huge win-streak and has been winning dominantly. Being that Santos is so tough and experienced, I didn't think he'd get finished, but it seemed likely that Ankalaev would win with his strength in the clinch and on the ground.

BLÜ's Prediction
Ankalaev by Decision


As expected, both men took it slow with offence in the first round. Even with minimal offence though, it was clear that Ankalaev had the stronger, more precise striking. It was dead even in the second for the entire round with both men waiting each other out again. That all ended though with 30 seconds left in the round as Santos landed a BIG shot to drop Ankalaev and steal the round away. After three it was impossible to tell who was winning; neither man had done anything to separate themselves on the cards. Finally, in the fourth, Santos started to come alive; he opened the round by rushing in and unleashing some combos on him. After that though, Santos slowed down again, leaving Magomed the opportunity to let his offence go. After almost four rounds of striking, Ankalaev let loose a takedown to get the fight to the ground for the first time and clearly win the round. The striking was still even in the final round, but just like the fourth, Ankalaev used the last couple minutes of the fight to push Santos up to the fence to likely win that round as well. With two rounds that really could have gone either way, it was impossible to see how the judges would score the fight. After 5 rounds, they had it 49-46, 49-46 and 48-47 for Ankalaev.

Result
Magomed Ankalaev def. Thiago Santos by Unanimous Decision

The Future
For Ankalaev, there's really only two ways to go. You either wait for the title shot against the winner of Glover and Jiri OR you fight the guy who just lost the belt, Jan. Either route makes sense right now and will be interesting, tough matchups for everyone involved. As for Santos, I mentioned it a couple weeks ago, Jamahal Hill looks like the obvious choice. Hill just smoked the guy that Santos spent 5 rounds with; why not give Hill the matchup to jump up those rankings? Another reasonable matchup could be Reyes, but we haven't seen him in a long time so I have no idea if he'd wait that long for Santos.

BLÜ's Record for the Night



Prelims: 1-1
Nchukwi (L)
Maverick (W)



Main Card: 5-1
Pereira (W)
Dober (W)
Rountree (W)
Caceres (L)
Yadong (W)
Ankalaev (W)



BLÜ BONUSES




KO of the Night: Khalil Rountree




Sub. of the Night: Cody Brundage
Brawl of the Night: Dober vs. McKinney
Most Valuable Fighter
Guido Cannetti
At 42 years old, Cannetti came in and finished a tough, durable young fighter in Moutinho in the 1st Round and looked great while doing it. Any fighter would be lucky to look this good at 42 and I'm inspired!
Other Fight News
Battlefield Fight League 71
Thanks to UFC Fight Pass and BFL 71 we saw another fantastic night of Canadian MMA. The night was headlined by an interim title bout, but, sadly, Sinagoga couldn't take the belt home after missing weight. Before that incredible main event, Saeid Mirzaei won in dominant fashion, locking up a 1st Round submission. Other highlights include amazing performances by Damon Marlow and Mani El-Hefnawi in their first professional MMA bouts, as well as an absolute slugfest between John Nguyen and Gagan Gill. All the fights, along with the BLÜ BONUSES for the night, are described below.

Fight #1
Damon Marlow def. Matt Lepper by TKO in the 3rd Round

It was the professional debut of both of these men for this one. Even though they were just starting their careers, this fight was all action. Each man had a slight advantage in their own area. Lepper was doing great work on the ground with slick submission attempts being thrown up the entire round. Marlow on the other hand was doing slightly better on the feet. Lepper started to change that narrative in the 2nd Round after he started to open up his striking to wobble Marlow a couple of times. By the middle of the 3rd Round it was tough to tell who was ahead on the cards. While Lepper was throwing out some good submission attempts, Marlow was the one on top for the majority of the fight. In the end, the judges were left out of it as Marlow used that position to get a nice ground and pound win in his first pro fight.

Fight #2
Mani El-Hefnawi def. Amin Almelik by Unanimous Decision
Another fight where both men were making their pro MMA debut. The first few minutes of the fight both men were feeling each other out on the feet, then it exploded as Amin caught Mani with a huge shot and dropped him. Right after that though, Mani came back and landed a huge shot of his own! With a late takedown at the end of the first, El-Hefnawi likely won that close 1st Round. The 2nd Round was just as close with both men landing some good strikes and getting some control time in the clinch. This continued into the final round but, as it went on, El-Hefnawi started to pull ahead with more clinch control and a late takedown near the end of the fight. I had the win for Mani and, in the end, the judges had it 30-27, 29-28 and 29-28 for him too.
Fight #3
Indroop Virk def. Nigel Crosswell by Submission in the 1st Round

Right from the first bell, Virk seemed to have clear advantages everywhere, especially on the ground. He was in the dominant position a few times throughout the grappling exchanges and after less than a minute after that, he used that position to get an early submission win.
Fight #4
John Nguyen def. Gagan Gill by Unanimous Decision

The fights reached a new level of excitement for this one as both men were landing crisp combos. After landing the better shots and busting the nose of Gill, Nguyen likely took the first. The 2nd Round heated up with both men landing huge shots and stumbling each other. Gill landed some head kicks and crisp combos to open the round which had Nhuyen shooting for takedowns. It was then that both men really turned it up and landed kicks, punches and elbows that had both of them leaking blood. As if it couldn't get any crazier, Nguyen then started to land spinning elbows. In the third, Gill came in and got Nguyen back along the fence again, but was stumbled once again by another huge shot from Nguyen. Gill got another one back later though with a huge spinning backfist to stumble Nguyen. After getting a late takedown, Nguyen may have won that final round but the round, and really the entire fight, was so close it was hard to tell. In the end two judges saw it 30-27, one saw it 29-28 for the winner John Nguyen.
Fight #5
Mike McAloon def. Broad by Unanimous Decision

Both men came out heavy here but the fight quickly moved to the ground with McAloon ending up on top and dominating the first round in that position. Broad came out hard again in the second with a wheel kick attempt but was immediately taken down again by McAloon and was then controlled for the entire rest of the round. The rest of the fight was even more wrestling dominance from McAloon. It should be noted that there was never much danger of Broad getting finished at any point, but it was still nonetheless an incredibly dominant performance for McAloon.
Co-Main Event
Saeid Mirzaei def. Bobby Poulter by Submission in the 1st Round

The fight started off fairly even but took a turn as Mirzaei brought the fight to the ground and used his wrestling advantage to dominate Poulter. From there it was all but over; Poulter held on for as long as he could but ended up getting submitted and took a long nap as Mirzaei got a 1st Round finish.

Main Event
Dario Sinagoga def. Kyran Cameron by Unanimous Decision


This one was for the interim lightweight belt, but in an interesting turn of events, only one man was eligible to win the belt. With Sinagoga coming in less than a pound over championship weight, he was ineligible to take the belt home. The 1st Round was dead even until Cameron got Sinagoga to the ground and held him in a deep guillotine attempt. He ended up getting out of that and actually controlled Cameron for the rest of the round. The fight stayed dead even straight through the 2nd Round with both men choosing to stay on the feet and trade punches the whole round. The momentum finally shifted in the third after Sinagoga landed some big ones and stumbled Cameron a couple of times. After Cameron started to clinch him up after getting hit, Sinagoga took advantage of the clinch to land his own takedown, take his back and sink in a deep rear naked choke attempt. The biggest moment of the fight up until this point came in the 4th Round where Sinagoga absolutely SMOKED Cameron and dropped him to the ground. From there it was rough for Cameron as he got peppered with dozens of unanswered shots and painted the canvas red. Amazingly, he got through it and even ended up on top and landed some nice ground and pound of his own. The 5th Round started off real close again, but it was actually Cameron that started to control the final round with some ground control, a late heel hook attempt and a huge shot that stumbled Sinagoga in the last minute of the fight. In the end the judges saw it 48-47, 48-47 and 49-46 for Dario Sinagoga. Sadly, he didn't earn the belt, but he still looked incredible and could certainly be a future addition to the UFC.

BLÜ BONUSES


KO of the Night: Damon Marlow


Sub. of the Night: Saeid Mirzaei



Brawl of the Night: Sinagoga vs. Cameron


Most Valuable Fighter
Kyran Cameron



His opponent didn't make weight, but he came in and gave it everything he had to try and win the title. Even though it looked as though he was going to be finished after getting hit with a couple of dozen unanswered shots, he overcame that adversity and survived until the end of the fight. Not only did he survive, he even had his own chances to finish the fight after all that. In the end, even after that beatdown, he lost in a close 48-47 decision to an incredible opponent.