Finally, after over 2 years of COVID-related issues, the UFC leaves the States and Fight Island to make a return to London in front of HUGE, ecstatic crowds in the O2 Arena. The headliner is a massive heavyweight bout between two incredible, ranked contenders in Alexander Volkov and Tom Aspinall. Just as exciting, the co-main is where we'll see Dan Hooker move down to featherweight to take on the streaking Arnold Allen. Since we're in the UK, we'll also see the return of some of our favourite British fighters like Paddy 'the Baddy' Pimblett, Molly McCann, Jack Shore and Cory McKenna. All of these matchups (plus more) are covered below and feature BLÜ's predictions along with the Bet99 Sportsbook Odds.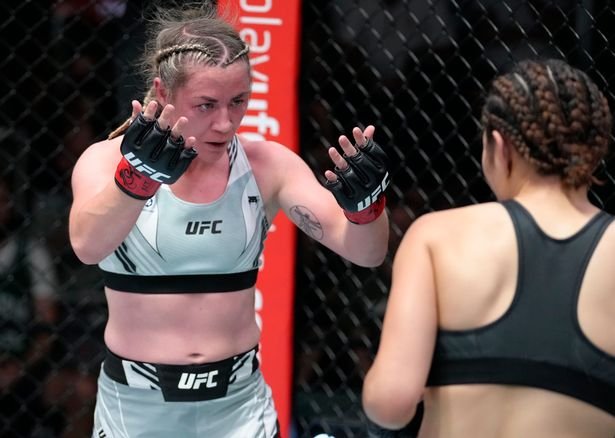 Main Card (1:00 PM PST)

Jai Herbert vs. Ilia Topuria
BET99 Odds
Herbert: +400 Topuria: -600
Over 1.5: +114 Under 1.5: -148

Opening up the main card we have the return of one of the most promising rising contenders in the entire UFC: Ilia Topuria. Not only does he sit at a perfect 11-0 record in his career, over half of those have come by 1st Round finish, including two of his three UFC wins. To make that feat even more impressive, his three UFC wins were over Youssef Zalal, Damon Jackson and Ryan Hall, all of whom are impressive prospects in their own right. If you were to add their records together, those three men would sit at an astounding 36-6. Jai Herbert has also only had three fights in the UFC so far, but has a less impressive record of 1-2. His first two were losses to Trinaldo and Moicano, then he turned it around with a win over Khama Worthy in his last one.

This matchup is by far the easiest on the entire card. Topuria is an absolute destroyer and it honestly seems offensive that Topuria isn't in the top 15 already or, at the very least, matched up against a ranked contender. The one snag that appears in this matchup is that it's being fought at lightweight while Topuria traditionally fights at featherweight. It should also be noted that Herbert has a huge 8 inch reach advantage. Keeping all that in mind, Topuria still seems wildly more skilled and experienced and should come out with the win. He should still be able to challenge Herbert on the feet and get a finish, but it may not come as early in the fight as people believe because of that size difference.

BLÜ's Prediction
Topuria by Finish

Molly McCann vs. Luana Carolina
BET99 Odds
McCann: -140 Carolina: +114
Over 2.5: -375 Under 2.5: +266

We've got two evenly matched women squaring off in the talented flyweight division for this bout. McCann has been in the UFC since 2018 and rattled off three wins in her first five fights. Since then though, she's lost two out of three. An interesting feature of her last 6 fights: all of them have ended in a decision. It should also be said that her wins have come over other impressive flyweights like Lipski, Cachoeira and Belbita and one of her losses was to the number 5 ranked Taila Santos. Carolina also made herself known to UFC fans in 2018, but by way of the Contender Series. Since then she's gone 3-1 with her loss coming from a devastating 1st Round kneebar from Lipski. If you've been following BLU-FC, we actually talked quite a bit about her last win over the Canadian Lupita Godinez. We had been following Godinez because this bout was her second fight in two weeks. We had also mentioned that Godinez had moved up a division against the much larger fighter in Carolina. While this is a good look for Godinez, it doesn't make Carolina look too good.
Carolina has a 7 inch reach advantage, but it's hard to shake the image of (the much smaller) Loopy Godinez having a very close fight with her. Thanks to her experience, I'd have to say that McCann holds the edge in this fight. I'd have to imagine that if Carolina had problems with Godinez, she'll have way more trouble with a skilled, true flyweight like McCann. Of course, since almost every single one of their fights have gone to a decision, it's hard to imagine the same thing not happening here.

BLÜ's Prediction
McCann by Decision

Gunnar Nelson vs. Takashi Sato
BET99 Odds
Nelson: -550 Sato: +375

Over 1.5: -148 Under 1.5: +114
It's been a while since we've seen either of these men fighting. Nelson is making his first appearance since 2019, while Sato is making his first since 2020. Before his extended leave, Nelson had a shaky record of 1-2 in his last 3 bouts with losses to Burns and Edwards. Meanwhile, Sato has also gone 1-2 in his last three with losses to Baeza and Belal. Despite what the odds say, this is a close matchup, especially since neither man fought last year.
The difference-maker here is style. Sato has struggled against grapplers and has lost by submission more than a couple of times. As for Nelson, he's a grappler; he's won by submission more than a couple of times. It's hard to say whether we'll see a finish or not, but I'd say that Nelson will use that grappling experience to control Sato's offence. Thanks to all that time off, it shouldn't end too early, but because almost every single one of their fights has ended in a finish, I'm going to guess we'll see another one here.

BLÜ's Prediction
Nelson by Finish


Paddy Pimblett vs. Rodrigo Vargas
BET99 Odds
Pimblett: -567 Vargas: +400


Over 1.5: -105 Under 1.5: -123

Next we've got the return of the fan-favourite, Paddy 'the Baddy'. He made his debut last fight and ended up getting a WILD 1st Round finish over Vendramini. I have to say though, before he got the KO, it was looking BAD for Paddy; he was getting pieced up and almost got finished. Vargas is slightly more experienced with 3 UFC bouts and a record of 1-2 here. His last fight ended with a win over the skilled prospect Zhu Rong.
The odds may present Pimblett as a MASSIVE favourite, but I can assure you he hasn't really done much to deserve it. This is one of those situations where hype has taken over the betting lines. While I do think Paddy has a slight advantage, especially if the fight hits the ground, he is in no way deserving of being called a 'heavy favourite' and should likely not be put in a parlay. In fact, because of the absurd odds, there's way more value in putting a dollars on the underdog Vargas. So, yes, I believe Paddy has a better chance… but no, I wouldn't try and put a bunch of money on him.

BLÜ's Prediction
Pimblett by Finish

Co-Main Event
Arnold Allen vs. Dan Hooker
BET99 Odds
Allen: -120 Hooker: +100

Over 2.5: -209 Under 2.5: +160

This is one of my favourite matchups of the entire night. On the one side you've got Allen who's got a 17-1 record and 8 wins in a row in the UFC; on the other is Dan Hooker making his return as a truly MASSIVE featherweight. Allen's most recent win was over another impressive young prospect in Sodiq Yusuff whom we just saw last week. As for Hooker, he won't need much of an introduction to most UFC fans. Although he's lost 3 of his last 4 to the likes of Islam, Chandler and Poirier, let's not forget he's also beaten Felder, Iaquinta and had a very dominant win over Haqparast.
Allen doesn't have wins over anyone like Hooker, but in this case, the real question is… how will Hooker perform as a featherweight? If he can maintain his power and skill from lightweight, there's no reason why he wouldn't be able to win this fight. But if he has any problem whatsoever with cutting all that weight, he's going to have a huge problem against someone like Allen. This matchup seems to be dead even, so I'll go with what makes the most sense… Arnold Allen. Allen is on a huge streak and Hooker is not. Hooker is big, even at lightweight, how is he possibly going to safely lose all that weight? I just can't picture someone as big as Hooker making a drastic weight cut like that and beating someone like Allen. I think we'll see a close fight with Allen winning a decision or maybe even a finish if Hooker's chin is compromised by the weight-cutting process.

BLÜ's Prediction
Decision by Allen

Main Event
Alexander Volkov vs. Tom Aspinall
BET99 Odds
Volkov: +105 Aspinall: -129

Over 3.5: -112 Under 3.5: +115

Headlining the card is an absolutely incredible and thrilling matchup in the heavyweight division. Volkov, who's currently ranked 6th after having a very active year in 2021, is one of the most legendary heavyweights in UFC history. He's been here since 2016 and has been ranked for years now. In his 11 UFC bouts, he's only got 3 losses: Derrick Lewis, Curtis Blaydes and Ciryl Gane. I don't think it needs to be said, but those are decent losses to have, especially when two of them were decisions. Among his recent wins are Harris, Overeem, Tybura and Hardy. Aspinall is far less experienced with only 4 fights in the UFC, but has been VERY impressive to MMA fans with finishes in all four of those fights, three of which were in the 1st Round.

This is a unique matchup at heavyweight and reminds me very much of when Volkov faced Gane last year. Gane, much like Aspinall, is a lighter heavyweight who's quick and uses his intelligence as a weapon. They both know exactly what they need to do to win and don't make the same dumb mistakes that most heavyweights will make. It's because of this that I'll be picking Aspinall to win. Volkov is incredibly tough so I don't think we'll be seeing a finish, either that or it'll be a late finish. Instead, Aspinall will likely use his grappling skills to control Volkov's power and hopefully take him down.
BLÜ's Prediction
Aspinall by Decision

BLU's Prelim Picks (Prelims begin a 10:00 AM PST)

Muhammad Mokaev vs. Cody Durden
BET99 Odds
Mokaev: -375 Durden: +280
Over 2.5: +100 Under 2.5: -132
We open up the card with one of the most anticipated debuts of the year so far with the first UFC appearance of Muhammad Mokaev. He may only be 5-0 as a pro, but he had an unbelievable run in his amateur career with a record of 23-0. Amazingly, he notched 3 pro wins in 2021 and 5 other wins in 2020. On the other side is Cody Durden with 3 fights in the UFC so far and a different result in each one to sit at 1-1-1. He won his last one by decision over Aori Qileng and had a loss to DWCS alum., Jimmy Flick and a tie with Chris Gutierrez before that. The one significant factor that should be noted is that Mokaev has won his bouts not just at flyweight (where this will be held), but also at bantamweight.
It's tough when you're comparing two fighters with different experience levels like this. Being that Durden hasn't necessarily had a breakout performance in the UFC quite yet, there's nothing really screaming out that Durden has an edge. As always when it comes to combat sports betting, you always have to respect the undefeated fighter, especially when they've got 28 wins throughout their pro and amateur career. One final note is that Durden has been submitted more than once in his pro career and Mokaev has plenty of submission wins throughout his MMA career. Mokaev should be able to use ground control and clinch to control Durden. In fact, when we're talking flyweights, submissions are not uncommon so there's even a good chance we may see Mokaev get a finish. The safer bet though, because it's his debut, is a decision win.

BLÜ's Prediction
Mokaev by DecisiJack Shore vs. Timur Valiev
BET99 Odds
Shore: -105 Valiev: -120
Over 2.5: -250 Under 2.5: +190

There's a huge part of me that's SHOCKED this hasn't made the main card. Shore is one of the most highly regard young prospects in the UFC right now and has a flawless 15-0 record with 4 wins in the UFC. Much like Mokaev, he had a lengthy, unblemished amateur career with a record of 12-0 before making his pro debut. In his last 2 UFC bouts he's beaten other very promising young, rising contenders Hunter Azure and Liudvik Sholinian. As for Valiev, he's also looked VERY impressive with a record of 18-2 and 2 wins (and a no contest) in the UFC. The most impressive win came in his most recent bout to Raoni Barcelos; he may have only won by majority decision, but Barcelos is a very tough competitorThis fight is a coin toss to me, so it makes sense to go with the statistics on this one. Shore is undefeated and has a slight reach advantage, he's also Welsh so the London crowd will be cheering for him over the Russian; I'll give the slight edge to Shore.

BLÜ's Prediction
Shore by Decision
Nikita Krylov vs. Paul Craig
BET99 Odds
Krylov: -200 Craig: +160
Over 1.5: -143 Under 1.5: +110

After a lot of action in this division recently, we're going to see another great matchup from the light heavyweight division with the return of two ranked contenders: Nikita Krylov and Paul Craig. Krylov currently sits in 9th with a loss last year to Magomed Ankalaev in a decision. Before that he was 2-2 with wins over Walker and St. Preux and losses to the last two champs: Glover and Jan. Craig comes on ranked 11th on a 5 fight unbeaten streak (4-0-1), most recently snapping Hill's arm in half in the 1st Round. Amazingly, all four of those wins were finishes; in fact, three of them came by submission.

One man seems to hold all the momentum and style advantages in this fight: Paul Craig. He's got the win streak; not only that, it's a streak full of devastating finishes. While Krylov has won by submission a few times, it should be pointed out that he's also lost a few times in the UFC by submission. With that in mind, it seems as though Craig will dominate this fight on the ground and could certainly get another incredible submission win.


BLÜ's Prediction
Craig by Finish
BLÜ's Best Bets
Here I highlight some betting lines that you might want to take advantage of for UFC London. These are odds that favour the bettor. Although some of them may conflict with my picks, they offer a fair reward for a slight bit of risk.Herbert vs. Topuria Over 1.5 at +114Topuria may be a devastating finisher, but this is not his normal weight class; he'll be fighting up a division at 155. I still believe he'll likely get a finish, but normally the first round in similar situations are fairly slow. Not only that, being that Herbert is a true lightweight, he should have the ability to survive until halfway through the 2nd Round. It may be close, but at +114 it's worth the slight risk.Jack Shore at -105

This matchup is pretty even, but Shore is the one sitting at an undefeated record of 15-0 with 4 wins in the UFC. In the matchup, he already has statistical edges with the undefeated record, the slight advantage in reach and the home crowd advantage. In such a close matchup, having thousands of fans cheering your every move and booing your Russian opponent could be what makes the differenceThe Underdog Paul Craig at +160
This is one of those situations where I find it baffling that my pick isn't the favourite. There's nothing to suggest Krylov has any kind of advantage over Craig. Craig is on a 5 fight unbeaten streak with his 4 wins all coming by finish. Just like Shore, he's also got the British crowd behind him to really push that advantage over the edge. This is an absolute steal at +160 and is BY FAR the best looking betting line of the night.
Parlay Opportunities:
The Short Run
McKenna + Topuria + Nelson
The Long Run
Mokaev + McKenna + Topuria + McCann + Nelson + Pimblett