UFC 272 was all it was hyped up to be and more! Just as I had said in the pre-event article and stream, every single fight on the card was entertaining and could have been on the main card in a normal fight card and some of them could have been the main event. The highlights of course include dominant performances from Colby Covington over Masvidal, Rafael dos Anjos (or simply RDA) and Bryce Mitchell. Not only that, we had impressive finishes from Jalin Turner, Kevin Holland and Khabib's cousin, Umar Nurmagomedov. All of the bouts from UFC 272 are covered below along with BLÜ's favourite performances of the night: the BLÜ BONUSES. As a special bonus, Unified MMA 43 (as seen on UFC Fight Pass) is also covered below.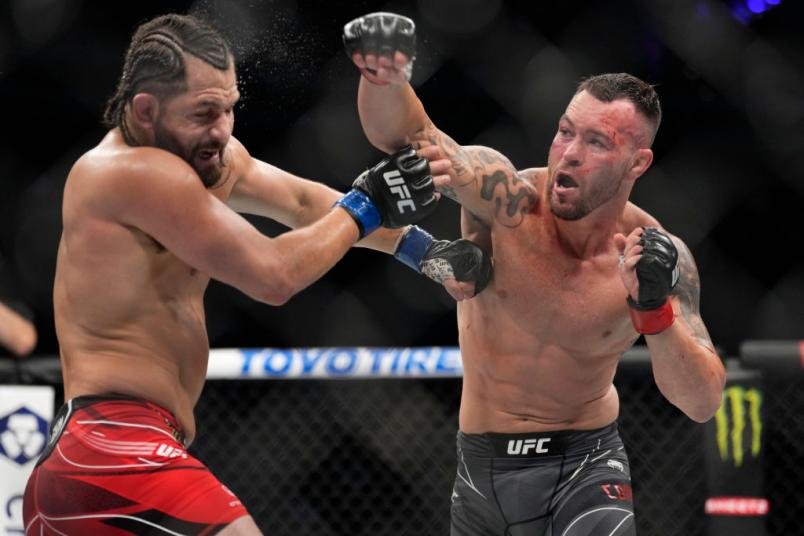 Prelim. Action
Fight #1
BLÜ's Prelim. Pick #1
Dustin Jacoby vs. Michal Oleksiejczuk
Opening up the card was a thrilling light heavyweight bout between a streaking kickboxer, Dustin Jacoby, and rising contender Michal Oleksiejczuk. Dustin Jacoby is an alumni of the Contender Series from 2020. Even though he's a recent addition to the UFC, he's made a splash and has yet to lose with 4 wins and a draw. He hasn't just been successful in the Octagon, he's also been successful in the world of kickboxing. As for Michal, he's also got 4 UFC wins on his resume but also a couple of losses to former ranked contenders St. Preux and Jimmy Crute. This looked like it was going to be a tightly contested standup battle. Neither of them had really shown too much grappling experience, so this seemed like it'd stay on the feet. Thanks to his vast experience in kickboxing and his 4 inch reach advantage, I thought Jacoby would likely hold an edge in the striking exchanges. On top of that, he had the longer win streak and had a draw against one of the better strikers in the division, Ion Cutelaba. Both men have been extremely difficult to finish, so it seemed likely that we'd be seeing a decision.

BLÜ's Prediction
Jacoby by Decision



Right away we started off the night with a fast-paced, elite striking match with both men having some moments in the 1st Round. They seemed to be pretty even, but with a takedown, Michal likely took that round on the cards. Interestingly, even though Jacoby is the more experienced striker, Michal was landing so well that Jacoby was actually starting to look for some takedowns. Then, in the 2nd Round Jacoby came in HEAVY and landed a couple of dozen HUGE shots, stumbling Oleksiejczuk a couple of times and almost ended the fight. After sprinkling in some clinches along the fence, Jacoby easily took the 2nd Round to tie up the score. The 3rd Round was dead even with neither man landing anything solid. Ultimately, Jacoby seemed to have taken the decision in the final round with some late clinchwork along the fence. He mentioned after the fight that his reasoning for not throwing kicks was that he had injured both of his legs during training. Either way, the judges all had it the same as me: 29-28 for Jacoby.
Result
Dustin Jacoby def. Michal Oleksiejczuk by Unanimous Decision









Fight #2
L'udovit Klein def. Devonte Smith by Split Decision



Once again we were treated with an excellent striking battle. Although he got the fight on late notice, Klein looked to be the better man with the crisper combos, stumbling Smith twice and almost ending the fight in the very first round. After coming out on the wrong side of that round, Smith came in hard with some massive head kick attempts. Sadly for him, Klein kept using the clinch along the fence to nullify that offence and stumble Smith again. Klein pushed forward with that momentum again at the start of the third and landed some devastating kicks to the body that had Smith walking backwards into the fence. Devonte was looking like he could steal a KO finish in the middle of the final round, but it just wasn't enough. In the end it was a clear decision win for Klein. Amazingly, one of the judges had it 29-28 for Smith… as always, I'm not sure how.
Fight #3
BLÜ's Prelim. Pick #2
Tim Elliott vs. Tagir Ulanbekov
Here we had a fight that could have been a co-main event on any card; a ranked flyweight bout between number 13, Tim Elliott, and the 15th ranked Tagir Ulanbekov. Tim Elliott has been entertaining UFC audiences since all the way back in 2012. He briefly left the promotion in 2015 but was then brought back for the Ultimate Fighter where he ultimately lost to one of the greatest UFC fighters of all time in Demetrious Johnson. Since then his career has had some ups and downs with a record of 4-5. It should be said that 3 of losses were in a 12 month period where he fought top flyweight contenders Askar Askarov, Brandon Royval and, the current champ, Deiveson Figueiredo. While he bounced back from that with 2 wins, he lost his last one out to Matheus Nicolau a few months ago. Ulanbekov has had a very different UFC experience so far. He hasn't fought those tough names that Tim Elliott has, but he sat at a record of 13-1 with a 2-0 record in the UFC before this fight. Likely the most important feature that he has is that he's one of those classic Dagestani wrestlers… just in a smaller package. This was one of the most exciting matchups of the night and is extremely important for the future of the flyweight division. This was another matchup that seemed like a coin toss. Elliott had the very clear advantage in experience, but Tagir is slightly younger (5 years), had a slight reach advantage and had the confidence and momentum of someone with a 13-1 record. It should also be pointed out that most of Elliott's 12 losses have been by submission and Tagir is a grappler. All of those slight edges, plus his edge on the ground, I had to give Ulanbekov the edge in this fight. I said the most likely scenario was Ulanbekov winning a tight decision because that's what both men are accustomed to, but a submission from Tagir was certainly plausible.
BLÜ's Prediction
Ulanbekov by Decision
The skill of both men was on display right away with Elliott weaving in and out and Ulanbekov landing some nice combos. Interestingly, Elliott was the one who was notching those takedowns. Not only that, he knocked Tagir down with a huge, huge shot to easily take the first round. Tagir managed to grab a takedown in the second but couldn't really get anything going with it. With the striking and questionable tactics used by Elliott (illegal glove grabs), he likely took the 2nd Round as well. Tagir, likely knowing he was down or tied on the cards, came in heavier with wrestling and controlled Tim for the entire 3rd Round. Thanks to those first two rounds though, Elliott got the clear unanimous decision win.
Result
Tim Elliott def. Tagir Ulanbekov by Unanimous Decision
Fight #4
BLÜ's Prelim. Pick #3
Umar Nurmagomedov vs. Brian Kelleher
We mentioned in a previous episode that Khabib's cousin would be fighting… we were wrong that time, but THIS time, Umar really IS Khabib's cousin and sat at a record of 13-0 before this bout. In classic Dagestani style, his last 3 wins were by submission. UFC fans should be well-acquainted with Brian Kelleher at this point; he's been in the UFC since 2016 and is one of the most exciting fighters on the roster. Sadly, the fights haven't gone his way all the time with a record of 7-5 in the UFC. It should be said though, that most of those losses were to men that have, at some point, been in the top 15. There's no doubt that this was set to be Umar's toughest test yet. The odds were one-sided but you've always gotta keep in mind that this is going to happen every single time there's a Dagestani fighter that's coached by Khabib. Besides the obvious standard advantage that Umar had on the ground and his mindset coming into a fight at 13-0, he's also 9 years younger with a 5 inch reach advantage. I didn't think it'd be as one-sided as the odds suggest, but the matchup certainly favoured Umar. Kelleher showed in his last bout that he's got a strong ground game, but Umar was clearly going to be on a different level. That meant Kelleher would have to try and stay on his feet and use his striking. He likely had the better striking, but just like we saw with Islam last week, I thought Umar was going to go through that to get his takedowns. Kelleher has been stopped in the UFC by submission before, so that was certainly a possible outcome here. I went back and forth between a finish for Umar and a decision, but since the finish will always reward more money on bets, I leaned towards that.
BLÜ's Prediction
Nurmagomedov by Finish
At first both men were being cautious, careful not to make an early mistake. Kelleher was keeping up with Umar's grappling, but eventually it was just too much. Umar ended up taking Brian's back, quickly locked in the submission and made him tap almost immediately to get a 1st Round win.
Result
Umar Nurmagomedov def. Brian Kelleher by Submission in the 1st Round
The Future
After a dominant submission win like that over someone as tough as Kelleher, it's inevitable that Umar will be matched up with a ranked opponent soon. The bantamweight division is the most stacked in the UFC, so every matchup is going to be tough. Someone near the bottom like Simon or Assuncao would make the most sense or maybe even the loser of the bout between Yadong and Moraes.
Fight #5
Maryna Moroz def. Mariya Agapova by Submission in the 2 Round
Agapova came in the favourite of this fight but challenged that by dominating her along the fence and on the ground for 4 out of the 5 minutes. She had a couple of extremely deep submissions that looked about 2 seconds away from winning the fight, but miraculously Agapova got out of them. She continued that momentum in the 2nd Round with some more submission attempts and non-stop ground and pound. After smothering her for half the round, Moroz got her into yet another deep submission and this time it was just too much.
Fight #6
Nick Negumereanu def. Kennedy Nzechukwu by Split Decision
The story of this fight was the massive size difference between the two men. Nzechukwu came in looking like a light heavyweight, but Negumereanu looked like a middleweight. This massive difference made it harder for him to land anything significant on Kennedy. It was unclear who won the 1st Round with neither man doing anything significant. In the second though, Negumereanu was in clear control along the fence and landed a couple nice strikes on the feet. It got way more interesting in the 3rd Round after Kennedy poked Nick's eye HARD and lost a point. Nzechukwu took advantage of Nick's blurry sight to land some heavy strikes throughout the rest of the round. Surprisingly though, Negumereanu started to rally near the end of the fight and stumbled Kennedy a couple times. Considering all the back-and-forth moments of the fight and the point deduction, it was impossible to tell what was going to happen with the scorecards. In the end the judges saw it 29-27, 29-27 and 27-29 for Negumereanu.
Fight #7
BLÜ's Prelim. Pick #4
Marina Rodriguez vs. Xiaonan Yan
Here we had one of the first high-profile women's fights of the year with another matchup worthy of a co-main event or even the main event of their own card. We last saw Rodriguez headlining a card in October with Mackenzie Dern where she absolutely dominated her opponent with her striking. Overall, she was sitting with a record of 15-1-2 before this bout with her only loss coming in a split decision to one of the greatest women fighters of all time, Carla Esparza. Yan came in with an impressive record herself, sitting at 13-2. Coincidentally, her only UFC loss also came from Carla Esparza. With Rodriguez sat at number 3 spot and Xiaonan in 4th leading into the weekend, this was another close one. Both women prefer striking to grappling and actually tend to avoid any exchanges on the ground, especially Rodriguez. That meant we were in store for a certified BRAWL that had BLÜ BONUS potential. There is, however, one woman that stood out in this matchup: Marina Rodriguez. Her fight against Dern in October was one of the most impressive striking performances I've seen and it was against someone who only had one loss in her career AND someone who is a specialist at dragging strikers to the ground and submitting them. Based on that unbelievable performance, plus her slight edge in reach, I gave the edge to Rodriguez. I believed that we'd likely be seeing a decision though because of their long history of decision wins and because we're in the strawweight division.
BLÜ's Prediction
Rodriguez by Decision
As expected, the ladies came in to put on an incredible striking performance. Overall it seemed to be Yan leading the exchanges in the first round thanks to her speed advantage. The second was dead even with both women letting their hands go even more. In the third round Rogriguez came alive and really started to control the exchanges on the feet and get some control along the fence. After the fight was done it was impossible to tell how the judges were going to score it. I had it 29-28 for Yan, but honestly this could have gone either way. The judges ended up scoring it 29-28, 29-28 and 28-29 for Rodriguez.
Result
Marina Rodriguez def. Xionan Yan by Split Decision
The Future
It seems as though there's a pretty clear direction for this division to go in. Everyone seems to agree that the next title defence for Rose should be against Esparza. It then seemed pretty clear that the winner of this bout should take on Weili. We also haven't seen Joanna in a LONG time, so there's a good chance she'll be in the conversation to fight either Weili or Rodriguez as well. As for Yan, I'd say Dern would make a lot of sense for both of them. Dern needs to prove herself against a great striker and Yan should have to prove herself against an extremely talented grappler. But if Joanna fights Rodriguez for the next title shot, I could see it being an explosive all-China brawl between Weili and Yan.
Fight #8
Jalin Turner def. Jamie Mullarkey by TKO in the 2nd Round
In a prelim card full of amazing fights, this fight was even MORE explosive. They came out right away throwing everything they had at each other. They both stumbled each other and landed a lot. It was tough to see who edged that round; Turner did more damage on the feet and busted Mullarkey's nose while Mullarkey got a takedown near the end of the round. In the end, none of that mattered as Turner landed a huge shot at the start of the 2nd Round and finished him with a flurry of punches.
Main Card Action
Fight #9
Sergey Spivak vs. Greg Hardy
This seemed like an odd choice for an opening fight on the main card considering all of the matchups in the prelims and it also seemed to be slanted in one direction. Although Spivak was absolutely mauled by the rising contender Aspinall in September, he still had a fairly impressive record in the UFC before this bout with wins over Tuivasa, Vanderaa and Oleinik. He's also still only getting started in his career; he's only 27 and has been in the UFC since 2019. Greg Hardy is on the other side of the spectrum and is (hopefully) on his way out of the UFC after 3 losses in his last 5 fights. The experience was heavily in favour of the younger man, Spivak, in this matchup. There was one advantage that Hardy carried into this bout and that was his massive weight. Hardy always cuts down to the 260 pound range (and barely made weight this week cutting down from 290 pounds) while Spivak tends to come in at around 240 or so. This extra weight likely gave Hardy the edge in power as well as helped him in any grappling exchanges. For Spivak, he certainly was set up to be the faster man with the better cardio. As always with heavyweights, one punch could change the whole fight (or end the fight), so we could have seen either man win. But, when you combine all the factors, Spivak was more likely to be the guy who landed that punch first or even win a decision.
BLÜ's Prediction
Spivak by Finish
Hardy started off the fight with some heavy leg kicks, but Spivak stuck to his gameplan to get Hardy to the ground. It took him a couple of tries and a LOT of strength and technique, but he got him down, let loose some hellish ground and pound and knocked Hardy out cold for an easy 1st Round KO win.
Result
Sergey Spivak def. Greg Hardy by KO in the 1st Round
The Future
Spivak's only losses have come to Harris, Tybura and Aspinall. With Harris sitting in 14th right now, why not make that rematch? If not, we haven't seen Sakai in a bit, that could be an exciting new matchup for both of them.
Fight #10
Kevin Holland vs. Alex Oliveira
It's never a dull fight when Kevin Holland is involved. After the unusual outcome in his last fight with a 'No Contest' against Daukaus after he was momentarily knocked out from a clash of heads, Holland is back and squared off against the scrappy veteran, Alex Oliveira. Although Holland lost to Vettori and Brunson in 2021 because of his lack of wrestling experience, he spent the last 10 months in the gym trying to master those skills and bring them into his future fights. He briefly showed off those improvements in the Daukaus fight where he managed to stay on his feet after numerous takedowns before that unfortunate clash of heads. It's also important to remember that Holland went 5-0 in 2020 in one of the most impressive runs in recent history. Also keep in mind that this was in the middleweight division while this one was contested at welterweight. Oliveira has had a much rougher career with a 2-6 record in his last 8 fights and has lost his last 3 fights. Even if Holland hadn't been working on his wrestling, he would have still been the massive favourite in this fight. Oliveira isn't at the same level of wrestling as Vettori and Brunson, plus, Holland is one of the best strikers in the middleweight division. Considering the fact that Holland had enough power to one-punch KO middleweights, he may be unstoppable in the welterweight division. Not only does he have that unbelievable power, he's also got one of the longest reaches on the entire roster sitting at a WILD 81 inches. I thought we'd see Kevin Holland jump right into his new home in the welterweight division and get another highlight reel KO to add to his collection.
BLÜ's Prediction
Holland by Finish
Just as we all expected, this fight was all fireworks. Oliveira got off some good kicks, threatened Holland with some takedowns and locked in a submission attempt with a few seconds left in the 1st Round. Holland also landed some blistering calf kicks and had Oliveira wobbled a couple times. At the start of the 2nd Round, Holland was done with taking it easy; he came in heavy, dropped Oliveira and ended the fight with some NASTY ground and pound.
Result
Kevin Holland def. Alex Oliveira by TKO in the 2nd Round
The Future
Now that he's got a fight in this division, he's feeling good with the weight cut and he's got the longest reach in the division's history, it seems clear that this is Holland's new home. I think we're all still wondering if he can compete with an elite wrestler, so someone like Li or Chiesa would make a lot of sense. But if we want to test him against a striker like himself, 'Wonderboy' would be an incredible matchup for the talking in the Octagon alone. We're going to talk about it later, why not even have Masvidal? Could you imagine the trash talking?? That's TV gold.
Fight #11
Edson Barboza vs. Bryce Mitchell
As if this card wasn't thrilling enough, we had another two ranked fighters squaring off, this time in the featherweight division. We've talked a lot about Barboza on BLÜ-FC since he's fought recently and he's one of the most legendary icons of the sport, but he sat in 10th position before this one after his loss to Giga Chikadze in the main event in late August. In spite of recent record of 2-4, he's one of the best and most likeable fighters in UFC history and has been around since 2010. The only reason he's got so many losses is because he's been in the rankings for almost the past decade and constantly fights other tough, ranked contenders. Mitchell is far less experienced but came off the Ultimate Fighter in 2018 and holds an undefeated record of 14-0. An interesting fact is that he's also one of the very few fighters in UFC history that have won by twister submission. Once again we've got another extremely tight matchup that was a coin toss. Barboza is an elite, elite striker and is on a level that Mitchell had never experienced before. Meanwhile, Mitchell was undefeated heading into this fight and is a very skilled grappler and submission artist. I didn't think Barboza would get submitted; he's simply too experienced and skilled for that. But I also didn't think it was likely that Barboza would get a KO. That meant we were likely going to see a decision here. Because of what I saw in Barboza's last fight where Giga… a kickboxer… was using grappling to control him, I thought Mitchell would have the edge here because of his grappling. I said Barboza was going to make it tough and Mitchell was gonna get lit up with some kicks, but I thought he could control Edson with his grappling and get a decision win.
BLÜ's Prediction
Mitchell by Decision
It was dead even in the 1st Round until Mitchell shocked us by knocking down Barboza. He then used that position to keep Barboza on the ground for almost all the rest of the round. Just as the round ended though, Barboza landed a huge shot that shut the eye of Mitchell. In the 2nd and 3rd Rounds it was all Mitchell as he smothered him with a dominant display of wrestling. After clear dominance in the last couple rounds he scored 30-25, 30-26 and 30-27 on the judges' cards.
Result
Bryce Mitchell def. Edson Barboza by Unanimous Decision
The Future
After dominating one of the most elite strikers in the division's history… even stumbling him on the feet, it's obvious that Mitchell is going to be getting a huge step up in competition soon. A lot of people are saying Giga is next; I could see that, but I think he may deserve even better. I want to see him against someone even better, someone more well-rounded like Emmett, Kattar or even Yair. Even when Giga fought Barboza he didn't make it look that easy. Mitchell is something special.

Co-Main Event
Rafael dos Anjos vs. Renato Moicano


Originally scheduled to be a bout between RDA and Fiziev, Fiziev sadly was removed due to COVID and Moicano jumped in late to save the co-main event. Interestingly, although this was not the main event and not the original opponent, they decided to continue as scheduled as a 5 round bout. Just like Barboza in the last fight, Rafael dos Anjos (RDA) is a true UFC legend who's been here since all the way back in 2008. Again, he also has a lot of losses on his record, but he's also spent a lot of his career in the top 15 and has fought against some of the best fighters in every era of the UFC. Moicano has also been around for quite a while after making his debut in 2014. Sitting at a record of 16-4 before this fight, all of his losses have come to some of the top contenders right now in Ortega, Aldo, the Korean Zombie and Fiziev. Following the theme of the night, this was set up to be another tight matchup. Both men are very well rounded, very experienced and have absolutely no quit in them. The only factor that stood out to me was the actual nature of the fight itself. Since this matchup was moved back a couple weeks from when it was originally scheduled, RDA was primed for a 5 Round brawl with one of the toughest strikers in the division for about a month now. On the other side, Moicano just fought a little over 2 weeks ago and now had to jump into a 5 round fight on less than a week's notice. Even for that reason alone, RDA held a huge advantage. That aside, RDA is known for his unbreakable cardio, which was on full display in his last bout against Felder, and is an elite striker and grappler. I didn't think we'd see a finish, but I did think we'd see a dominant and thrilling performance from RDA.
BLÜ's Prediction
dos Anjos by Decision
Similar to what we saw in the previous fight with Mitchell and Barboza, dos Anjos used his grappling to absolutely dominate Moicano on the ground for the entire 1st Round. At the start of the next round they traded some big blows back and forth, but ultimately RDA dragged him back to the ground again. As the fight went on into the 3rd, RDA started to really use his relentless cardio to get his striking going. He landed a MASSIVE head kick to drop Moicano and unleashed dozens of unanswered shots on the ground. Unbelievably, he made it out of the round and, perhaps even more unbelievably, he passed the doctor's test and kept fighting in the next round. Next round Moicano came in to try and prove he should still be in the fight and landed a couple of combos. Of course, it didn't matter and RDA just dragged him to the ground once again. After getting absolutely smashed, left a bloody corpse on the ground, Moicano stumbled back to his corner. Amazingly, he STILL made it through the doctor's exam and went into the 5th Round. Against everyone's expectations, Moicano still managed to land some BIG shots on RDA and even wobbled him later in the round. Obviously this was a clear win for RDA, but it has to be said how tough of a fighter Renato is.
Result
Rafael dos Anjos def. Renato Moicano by Unanimous Decision
The Future
The situation remains the same for RDA after this fight, he needs to either fight Islam or Dariush to get a title shot OR he fights Fiziev. Fiziev may get another opponent soon now that RDA has just had a tough fight, but that will always be a matchup that should happen. Of course, another amazing matchup, that was supposed to happen years ago, is the man himself, Conor McGregor. With Conor trying to make his return in a few months, RDA can rest up and finally get that matchup in June or July.


Main Event
Colby Covington vs. Jorge Masvidal
The appeal of this matchup was, of course, the drama and the personalities that these two men have. You may not enjoy either of them outside of the cage, but, inside the cage, Masvidal is an extremely dangerous and exciting striker while Covington is a relentless wrestler and doesn't understand the meaning of the word 'stop'. If you've been paying attention at all to the UFC the past couple years, you'd know that both men have had a couple shots at Usman's belt and have both come up just short. Based on what I've seen in all 4 of those fights, I'd have to say that Covington had a much better chance of winning this fight. It all came down to style and skill. While I thought Masvidal likely held an edge on the feet, Covington doesn't need to engage there if he doesn't want to. He's a gifted wrestler and it seemed like he'd be able to control Jorge's offence with grappling along the fence and takedowns. There was no doubt in my mind that Colby would make this fight interesting, mess around on the feet with Masvidal and make it a war, then reign it in, throw in the grappling and wrestling to take this decision.
BLÜ's Prediction
Covington by Decision
Right away Colby stuck to the gameplan that we knew he was going to utilize as he shot for takedowns and largely controlled that 1st Round. In the second, both men really opened up their striking game as both of them landed some big shots. Surprisingly, it actually seemed to be Colby that was having more success on the feet. Nonetheless, this was a pretty tight round. Maybe because of his unbelievable stamina, Colby started to really steal the momentum of the fight in the 3rd Round after he took Masvidal down and controlled him for most of the round and peppered him with some elbows. In the 4th Round it got slightly more interesting as they both laid into the striking. First it was Colby that landed some crisp combos that had Masvidal falling into the fence. Then it was Jorge that dropped Colby to his knees with a huge strike of his own. The final round was simply just more dominant grappling from Covington with him spending almost the entire round on top of an exhausted Masvidal. After 25 minutes it was a clear decision victory for Colby with 49-46, 50-44 and 50-45 on the cards.
Result
Colby Covington def. Jorge Masvidal by Unanimous Decision
The Future
Dana White said that he doesn't really know where either fighter goes from here. Honestly, I think there's a couple of very clear directions for both men to go. For Covington, he's obviously not fighting Usman soon after losing twice already. The most obvious option is actually the winner of Khamzat and Burns; the title shot should really be going to Edwards at this point. Of course, if Chimaev wins and Edwards doesn't get the shot, how could you possibly deny Khamzat at that point? As for Masvidal, we already mentioned Kevin Holland as a perfect opponent, but there may be another, even better opponent… Conor McGregor! It may sound strange to some, but McGregor actually fought at welterweight because Dana said Masvidal was too big for him. If you've seen Conor's instagram lately… it's actually more surprising that he can even make 155. So, a matchup between 2 of the top 5 biggest draws in the UFC right now, that's a no brainer!


BLÜ's Record for the Night
Prelims: 3-1
Jacoby (W)
Ulanbekov (L)
Nurmagomedov (W)
Rodriguez (W)
Main Card: 5-0
Spivak (W)
Holland (W)
Mitchell (W)
dos Anjos (W)
Covington (W)




BLÜ BONUSES
KO of the Night: Sergey Spivak
Sub. of the Night: Umar Nurmagomedov
Brawl of the Night: Turner vs. Mullarkey
Most Valuable Fighter
Maryna Moroz
It can't be overstated how tough it was to do what she did. She came in to fight a former training partner, meanwhile her country, family and friends are in extreme danger halfway across the planet. TO overcome those thoughts and win this in such a dominant way for her family and her country and to send that message of strength is the definition of fighting spirit.
Renato Moicano
He came in on less than a week's notice to fight one of the best multi-divisional fighters in UFC history in a FIVE round fight and somehow made it to the final bell after getting mangled by ground and pound for 5 straight rounds. Not only did he survive that after getting through two doctor's exams, but he actually made it interesting in the 5th Round after stumbling RDA. It's fighters like this that prove MMA is the best, wildest sport in the world.
Other Fight News

Unified MMA 43



Thanks to UFC Fight Pass and Unified MMA we saw another fantastic night of Canadian MMA. We were treated to some great, tight battles all night long including a WILD battle between UFC alum. KB Bhullar against a zombie in Strahinja Gavrilovic as well as an impressive submission win from an experienced striker Ryan Ford. To cap it all off, we had an amazing main event between another UFC alum. Shane Campbell and Kyle Prepolec. All the fights, along with the BLÜ BONUSES are described below.
Fight #1
Mac Laursen def. Lorenzo Celis by Submission in the 3rd Round
The night started off with a fantastic, back and forth fight that had everything you would want in an MMA fight. At first it looked as though Laursen was going to finish it early with some great combos on the feet. The fight then moved to the ground with Mac taking Celis' back to fight for a submission. But it was here that Celis got back into it with his own grappling skills, trying to use his size to get a submission of his own. After he managed to get up, Laursen flipped the script again to regain momentum with some impressive ground and pound. The 2nd Round was very similar with Laursen doing well on the feet and Celis with some smothering ground control. That being said, Laursen was almost finished on a couple of occasions thanks to some explosive ground and pound and clinch-work along the fence. In the 3rd Round, Celis got back to it, got Laursen back to the ground and shut down his offence. Unbelievably, with a minute left in the fight, Laursen managed to reverse the position, quickly got his arm under Lorenzo's chin and got an incredible come-from-behind submission win.
Fight #2
Ali Charkie def. Sandeep Sran by Unanimous Decision
The first thing that was pretty noticeable was the massive size and fitness advantage that Charkie had over Sran. Only a couple of minutes into the fight and there was something noticeably special about Charkie. He looked good on the feet, his takedown was perfect and he had Sran in danger every moment on the ground. Sran finally got a few punches in during the 2nd Round but that excitement was short-lived as Charkie landed a crisp combo of his own and eventually moved the fight to the ground again. Sandeep threatened with a fairly deep guillotine attempt from the bottom until Charkie regained control and busted open Sran's nose with some ground and pound. He may not have gotten a finish, but Ali looked amazing and dominant throughout the fight. With only a couple of fights down in his career, he showed the skills of someone with endless potential. If he can continue developing, I could easily see him being on the Contender Series soon.
Fight #3
Zackery Powell def. Cole Campbell by Unanimous Decision
The fight started with some crisp combos from both men, but switched quickly to a clinch battle as Campbell shot in for a takedown. Sadly for him, Powell was the one who ended up in the better position and ended up on top when they hit the ground and likely won the 1st Round. The 2nd Round was dead even with both fighters taking it easy… until Powell got another takedown late in the round to likely take the second on the cards and go into the 3rd Round sitting at two rounds to nothing. Campbell was still looking good in the 3rd Round, but Powell got him down again and controlled him for the rest of the fight. Powell was fairly dominant the whole fight, but it should be pointed out that Campbell had some moments throughout the whole fight and still had a chance to win, even in the final seconds of the fight.
Fight #4
Neal Anderson def. Lucas Neufeld by Unanimous Decision
This fight was very reminiscent of the previous with Anderson playing the role of the dominant grappler. The 1st Round was a close battle on the feet with both men landing some combos here and there. The real, significant moments of the round, though, came when Anderson caught Neufeld in a deep submission attempt. The grappling advantage became glaringly obvious as the fight went on, especially in the 3rd Round where he scored a 10-8 round on two of the judges' scorecards.
Fight #5
Ryan Ford def. Dawond Pickney by Submission in the 2nd Round




The fight was explosive from the start with both of the big boys throwing bombs, trying to land an early KO. The momentum then quickly shifted in favour of the Canadian, Ryan Ford, as he got Pickney to the ground and fought with everything in multiple deep submission attempts. Pickney had a couple of small moments here and there on the ground, but ultimately it was Ford who kept finding himself in the dominant position to land ground and pound and threaten submissions. The fight continued on the ground in the 2nd Round with both men scrambling and having their own control time. In the end, Pickney was on top but found himself in a terrible position, leading to a VERY impressive triangle choke submission for Ford.


Co-Main Event
KB Bhullar def. Strahinja Gavrilovic by Unanimous Decision


The fight opened with fireworks coming from both sides. Gavrilovic stole the momentum early with his constant forward pressure. He then continued the momentum by stumbling Bhullar with some HUGE shots along the fence to almost get an early finish. In between Strahinja's moments, Bhullar threw in some HEAVY kicks mixed in with some elbows and slick combos. Gavrilovic likely won that 1st Round but Bhullar was really peppering him with a lot of strikes. The 2nd Round opened with a MASSIVE flying knee from Bhullar that rocked Strahinja back to the fence. Amazingly, he recovered and kept landing some heavy shots throughout the round. Bhullar kept that momentum going though and almost finished him again with a flurry of slicing elbows in the clinch. The 3rd Round was just as close as the first with both men having big, big moments. Gavrilovic almost got it done AGAIN after landing some big shots on Bhullar, but Bhullar was still landing kicks, combos and another massive knee. After it was all done it was unclear who the judges were going to pick. In the end they all had it 29-28 for KB Bhullar.



Main Event
Shane Campbell def. Kyle Prepolec by Unanimous Decision
The skill was evident for both men right from the start of the fight. Both men were using some slick standup skills to land strikes. It seemed as though Campbell was the one ahead early, landing more strikes and controlling Prepolec along the fence. Shane continued this in the 2nd Round with a bunch of kicks and combos that were giving Prepolec some problems. The 3rd Round was a lot closer with Prepolec controlling along the fence and Shane controlling the striking exchanges. It was a tight decision, but I had it for Shane Campbell and the judges agreed with a two 30-27s and a 29-28.



BLÜ BONUSES

KO of the Night: No KOs tonight
Sub. of the Night: Ryan Ford
Brawl of the Night: KB Bhullar vs. Strahinja Gavrilovic
Most Valuable Fighter
Ryan Ford







He's been doing some boxing recently, but this was his first MMA fight in over 7 years and is 39 years old. He overcame all those statistical problems with an incredible performance in front of his home crowd and got a submission win! Of course, being a boxer, that made this win even more special. Every fighter should hope to be this skilled and this fit when they're 39 years old.