(Photo: Matthew Wolfe/Portland Winterhawks)
*This was originally posted May 11, 2022*
Ryder Thompson once mentioned that one of the reasons he likes being a defenseman is because people think of them as quarterbacks on the ice. It certainly seems he's kept that mindset as the Portland Winterhawks defenseman has been working to fulfill that kind of role all year.
In his second full season with the Winterhawks, if you count the short 2021 season, Thompson said his biggest improvement this season has been in gaining the trust of his coaches. Following the trade of Jonas Brøndberg to the Prince George Cougars, Thompson recognized that all of the defensemen have stepped up in their own way, especially on special teams.
"PK, for myself. I think I've been logging more minutes and just having more confidence with the puck in both my end and their end."
The Winterhawks penalty kill finished the regular season as the fourth-best in the WHL, with an 83.2% success rate, having only seen 47 goals-against from 280 opponent power-play opportunities. Currently, the PK units rank second-best of the 2022 WHL playoffs, having allowed just one goal in 15 shorthanded situations. The Portland penalty killers have also scored one goal while shorthanded this postseason, six in the regular season.
Coming into his sophomore year in Portland, Thompson says that he took what he learned from last year's veterans and has been applying it to himself.
"Following the older guys like [Nick] Cicek, I just wanted to come in and be a little bit more of an impactful player defensively and offensively and to be a good teammate all around."
On a larger scale, the Manitoba-born defenseman commented that he enjoys watching Josh Morrissey of the Winnipeg Jets.
"He's a guy I've been watching for a few years now, and he's someone I really look up to. I like watching this game and try to implement some of the things he does into my game."
Another NHL defenseman that Thompson says he likes to watch, but he wouldn't compare his game to, is Quinn Hughes from the Vancouver Canucks.
Hughes may be just the guy that Thompson should be watching, as the Winterhawks blueliner expressed that he'd like to work on being more offensive.
"Whether that's joining the rush or getting the puck on the blue line and shooting it rather than passing first, I think that's one thing that I want to get better at. Being more of an offensive threat."
His longer-term goal is to earn some time on the power play next season, and with his game continuing to improve throughout this year, it's not hard to imagine that he'll put in the work to make it happen.
However, before next season can happen, Thompson and the Winterhawks have more work to do before they will see any significant time off. Heading into game three against the Seattle Thunderbirds in the second round of the WHL Playoffs, the team just wants to keep playing their game, and Thompson says everyone has bought in.
"We're forgetting about the past few games, even though they were successful for us. We are just taking it as a new game and are not going to take anything lightly. If there's something we'll have to adjust throughout the game, then we'll do so."
For the rest of the playoffs, Thompson provided two names as teammates to watch, noting that while the older guys have a huge role, these two are his picks:
"One person that's pretty sneaky is Marcus Nguyen and then Kyle Chyzowski. I think they don't get as much credit as they deserve and I think they're two guys that are really hardworking and are really impactful on the game."
Reversing just a bit, Thompson shared the advice he'd go back and give himself at the start of the season if he could:
"I would just say to have confidence, take it all in, and invest your time at the rink. Whether that's doing video with the coaches, putting in extra work in the gym or on the ice."
Thompson noted that having confidence can open the door to being able to do great things, but of course, you need to put the work in as well.
If you haven't had the opportunity to watch Ryder Thompson yet this season, this is how he describes his own play:
"I'm a passionate player. I'm pretty competitive. I take a lot of pride in my defensive zone. I think I have a good stick and make a good first pass and then I like to jump up ice. I tried to contribute offensively. I think I have a good hockey IQ. Good skating and can be effective on the breakout."
As previously stated, he's improved his overall game throughout the season and has proven that he is a reliable addition to the lineup every night.
While he and the team aren't done yet, Thompson revealed two of his favorite memories from the season.
"We went out to the Ludvigs' ranch in Kamloops and there were some farm animals, like some cows and horses, and we did some fun activities there. So, that was pretty cool. We also had a five-game series against Spokane and we've got to spend a little bit of time up in Spokane. It gave us a bit of bonding time. We spent the Superbowl there, so I think that was pretty fun and it's a core memory that I'll remember."
Here's to maybe having another one of those memories in a few weeks' time.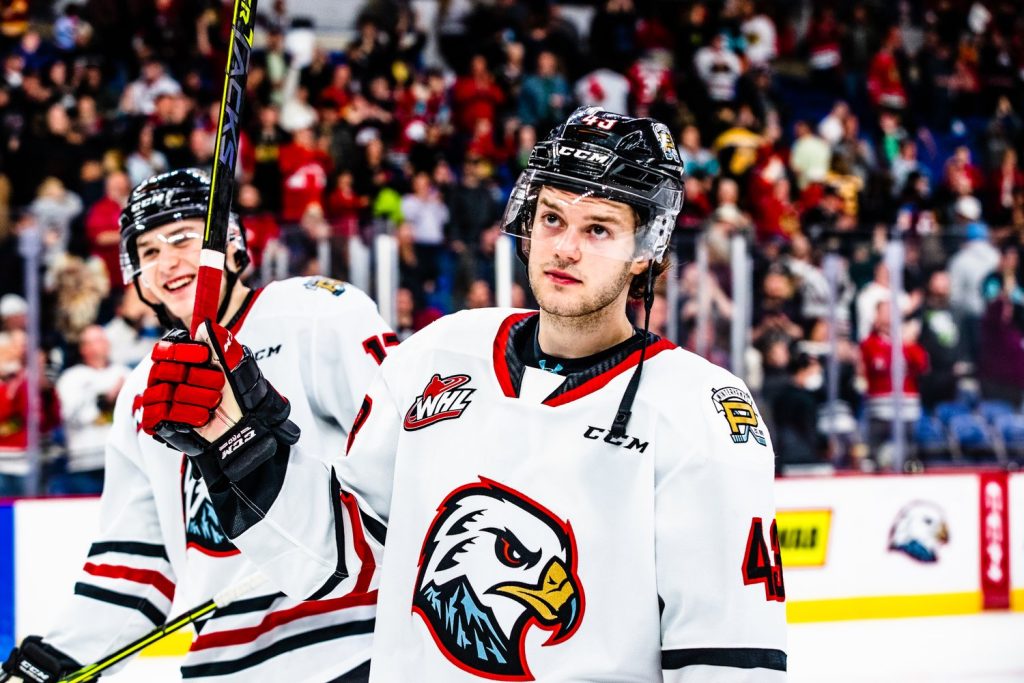 GET TO KNOW RYDER THOMPSON
Perfect pizza build:
"I actually go to MOD Pizza every now and then to treat myself. I like pepperoni with bacon, and then I'll throw some tomatoes and then a few veggies like peppers and cucumbers on."
All of this with red sauce as the base, of course.
As for his thoughts regarding pineapple on pizza?
"Honestly, I think people over exaggerate about it. It's not my number one choice on pizza, but I'll eat it for sure."
Who has the best locker room music?
"I think Clay Hanus does."
What's Hanus playing?
"Some old 80s and 90s rock. It's pretty good."
Who has the worst music?
"Oh, we don't really have that many guys that play music that I don't like, but if I were to say one, I would probably say Kyle Chyzowski."
Ryder's top-three artists:
"I like Chris Stapleton, Morgan Wallen, and then I'll say Billy Currington."
It's safe to say that he likes country music.
If he could travel anywhere in the world, he'd want to visit:
"There was one place that I saw. I think it's somewhere on Instagram, but I think it's called Bora Bora. I would go there, it just looks really cool. The water's really blue and you're just kind of lakeside. You're right in the middle of the lake and it looks like a fun vacation. It'd be cool to go there with some family or friends."
Four teammates he'd want on his zombie apocalypse team:
(Please note that this question was originally for three teammates, but Thompson couldn't decide who to leave out)
"I'll take Dante Giannuzzi, Marek Alscher, Luca Cagnoni, and Josh Mori."
What would everyone's role be?
"I think Dante would be more of the fighter. He'd protect all of us with his experience, being two years older than us. I think Marek would be the supplier for food and supplies. Luca, I think he'd be looking after all of our shelter and keeping everything kind of organized. Mori, I think he'd be a good support guy for the group. He's really positive, I'd give him that. And then me, I think I'd just be the fierce warrior."
Does Thompson think they would all survive?
"I do. I have good confidence in that group."
Gameday routine:
"I usually keep it the same. We show up at the rink at 10 AM and have a pregame skate. I'll come in, tape my stick, skate, get off the ice and roll out, and then go home. My billet mom, she makes a really good chicken parm, so I'll have that around 12:30, and then have a nap. Wake up, shower, come to the rink, and then I always tape my stick at the same time and stretch at the same time. Then, we have a video and I do some more stretching. We have an off-ice warm up and then I come downstairs. I usually like to be the first one dressed, and then we have on-ice warmup. I have a pretty regimented routine and I'm a pretty superstitious guy, so I like to keep everything at the same time."
What part of the routine is Thompson most superstitious about?
"Definitely my stretching. I have a certain amount of stretches that I do. I roll out, and do some stretches. They take a little bit of time and then we have video, and then I do some stretching right after video. I get a little flustered when I don't get to finish all my stretches."
What's Thompson doing on a day off?
"Usually I have school, considering I'm still in school. So, I usually go to school, and then I'll get some lunch and call up a couple of the guys and hit the golf course, come back and then watch a show with my billet family and pretty much just get ready for the next day."
By the way, his favorite club is a driver. In case you were wondering.
What is the go-to show at the house?
"We like Ozark. Ozark is a big one."
FOR THE FANS
"I would just like to say we're really appreciative of our fans. We love the passion that they bring to the rink and I would just say keep on doing what they're doing because they bring a lot of energy to the team and we feed off that. They're really fun to have in the building."