Melvin Fernström has been dynamic all tournament for Team Sweden as he looks to help them claim a medal at the Worlds U17 Hockey Challenge. The Örebro HK J18 forward has been one of Sweden's best players and is showing to be one of the most exciting prospects to watch at this year's tournament. From his strong skating to being able to pick out teammates with perfect passes, fans should be excited about what the 2024 NHL draft prospect can bring to the table.
Despite the strong play, Fernström is his own toughest critic. He believes he has more to give as we get closer to the Medal round.
"I think I played decent," said Fernström. "I think I can play better, but as a team, we have come together as a group to win together."
While this is not the first time Fernström has put on the Swedish jersey, he views every opportunity to put on his home country's jersey as an honour. What is even better, however, is hearing the national anthem played after a victory.
"It is an honour to represent Sweden. (Hearing the national anthem) is magic. It is something you have listened to at big tournaments when you are small, and it is something special."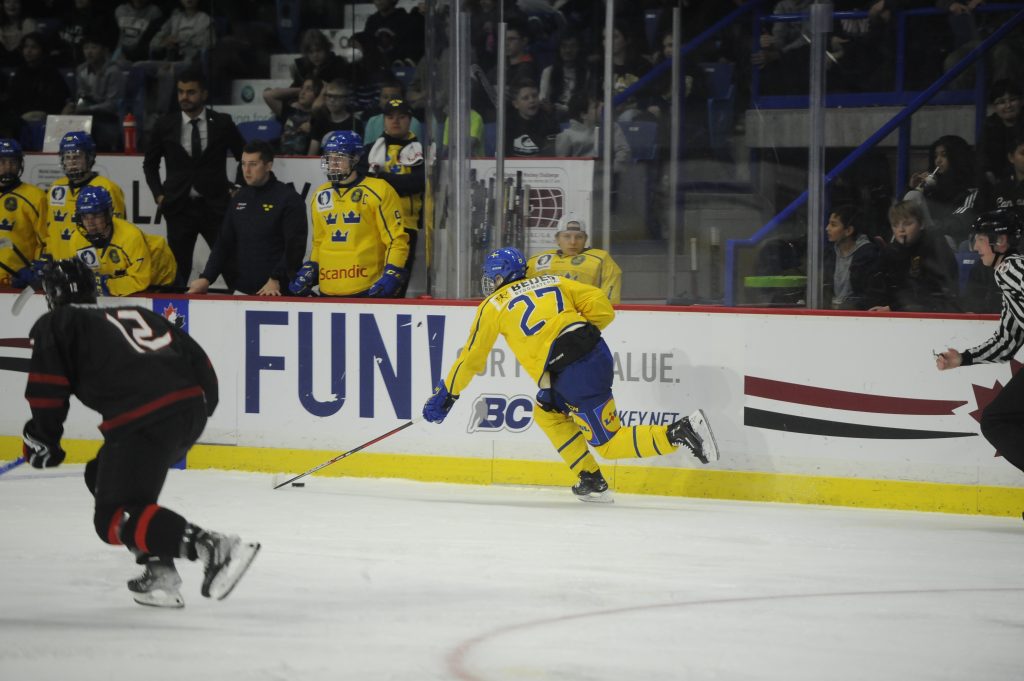 While Fernström doesn't have a specific player he models his game after, he loves watching one NHL player that loves scoring goals as much as he does.
" I like Austin Matthews a lot, so I watch him a lot."
So far this season, Fernström has dominated the Sweden U18 league with 13 goals and 28 points in 13 games. He even came into this tournament hot, as in his final game before travelling to Langley; he put up five goals and seven points. While he has yet to dominate the scoresheet in a game at this tournament so far, it is clear he is one of the most skilled payers on the ice and can take over a game at any point.