Few in the history of the World U17 Hockey Challenge have dominated like James Hagens. With 16 points in six games, he now sits alone in second place on the all-time points list, trailing fellow American Colin White by two points. After helping Team USA go 6-0 to book a place in the Gold Medal Game, do not bet against the recently turned 16-year-old to capture not only Gold but also set a new tournament record.
Before hitting the ice for a game against Team Canada White, The Athletic's Corey Pronman released his list of top prospects for the 2024 and 2025 drafts (2024 NHL Draft top prospects: A way-too-early ranking of Macklin Celebrini, Artyom Levshunov and more, The Athletic, Nov. 10, 2022). Lo and behold, the name at the top of the 2025 list was Hagens. Despite being over two years away from the draft, Hagen was honoured to be ranked at the top.
"It's an honour," said Hagens. It is really cool to see that. Everything I have done in the past to get here and play on this team, it's just an honour. I'm really excited to play for the USNTDP (United States National Team Development Program) and look forward to the future."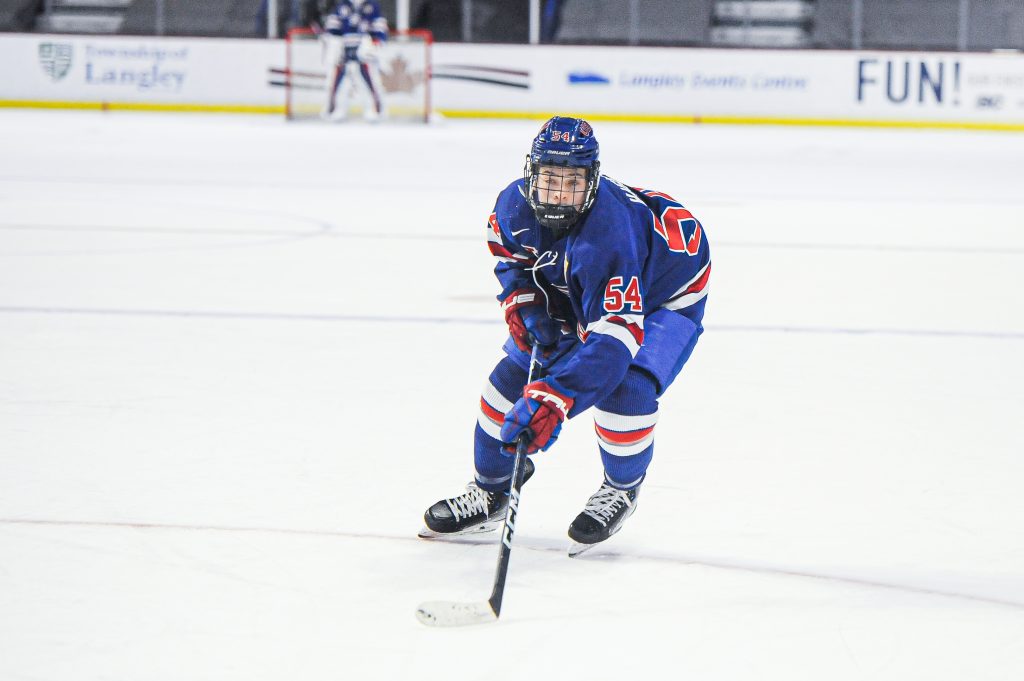 The partnership between Hagens and Cole Eiserman has been dynamic all season, with the two registering a combined 15 goals and 15 assists. The two have great chemistry, which is bad news for teams lining up to play the U.S over the next few years.
"He is such a good player. I wouldn't be able to do any of these things without him. Whether it is Cole, (Charlie) Pardue or the other lines, it's an honour to play with them. It's pretty cool to see what we can do."
To say Canada and the U.S. dislike each other on the ice is an understatement. This is not lost on Hagens, who has enjoyed every minute of beating the Canadians three times in this tournament on Canadian soil.
"It's pretty cool. My whole life, I have been looking up to this moment. I would watch on T.V. U.S. vs Canada, and it's nice to soak in when you get the chance to play against them and win."
One thing is clear, Hagens loves playing for Team USA. From the jersey design to what it represents, these are moments he won't soon forget.
"I love The USA jerseys. I'm all about them. It is so awesome to be able to put on the jersey every day."
While going 6-0 was sweet, hearing the National Anthem six times was even sweeter.
"It's pretty cool. I would sit home on my couch watching the World Junior teams and US National Teams being able to do that internationally. To finally be able to put on the jersey and sing the song, it's truly an honour."
As mentioned, Hagens is now just two points from tieing the all-time points record for the tournament. While breaking it would be a special moment, he is more focused on bringing home the Gold.
"Not really. All the guys in the room, especially myself, just want to take home Gold. The points will come, but that isn't the main point."
When it comes to Hagens favourite players in the NHL, two former American first-overall picks come to mind. Despite being 16, he is already starting to show traits that have made these two players some of the best in the NHL.
"I like Jack Hughes and Patrick Kane. It is really cool what those players have been able to do. Jack Hughes going first overall was really cool to see. Patrick Kane, the things he has done through his career, it's awesome."
Whether it is at even strength, on the power play or even shorthanded, Hagens has shown why he has the potential to be the number one selection in the 2025 NHL Entry Draft. He understands where to be on the ice, can set up teammates with beautiful passes and has a rocket of a shot. This season, the hashtag of teams' fanbases has been Tank for Bedard but do not be surprised if Tank for Hagens starts trending in 2024.