After a quick start and dominating play, Team Finland walked away with the Bronze Medal after a 7-1 win over Team Canada Black at the World U17 Hockey Challenge. The Finns had Canada Black's number all tournament long as they outscored them 12-1 over two games. Overall, they outshot Canada Black 35-17 in the game and 73-52 in the tournament.
The Finns started hot as Lauri Sinivuori scored his second of the tournament, beating Louka Cloutier just 40 seconds in to make the score 1-0. Finland doubled their lead shortly after 2:01 into the first, thanks to Nathan Teshome's first goal of the tournament. Roope Vesterinen's 3-0 goal 7:44 into the first ended Cloutier's night with Missasagua IceDogs Ryerson Leenders taking over in net for Team Canada Black. At the end of the first, Finland led 3-0 with a 12-6 advantage in shots on goal.
The second period started much like the first with Finland's Konsta Helenius scoring his second of the tournament to put the Finns up 4-0 nine second in the period. Canada Black finally found the back of the net thanks to Missasagua IceDogs Lukas Karmiris third of the tournament at 4:51 to cut the deficit to three. Shortly after though, Finland reestablished their four goal lead thanks to Akseli Pulkkanen's second of the tournament at 9:12 of the second. At 19:42, Finland added a six goal thanks to Sebastian Soini's first of the tournament as The Finns entered the second intermission up 6-1.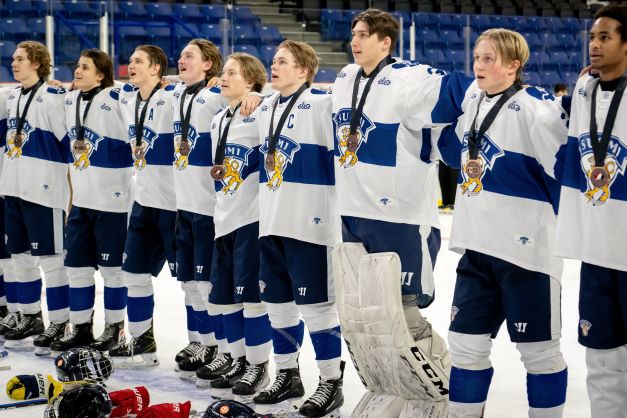 Late in the third, Finland scored their seventh of the game off the stick of Joona Saarelainen. The goal was his fourth of the tournament coming at 17:01 of the period. Finland would walk away not just with a 7-1 victory, but also their second ever Bronze Medal at the World U17 Hockey Challenge.
Despite an up and down tournament, Finland came together and put together a strong performance to win Bronze. As for Team Black, they fought to the end. They found a way to overcome injuries to Macklin Celebrini and Malcolm Spence, and deserved to be in the Bronze Medal Game. Next up, Team USA and Canada Red do battle for Gold here at the World U17 Hockey Challenge.