Jaden Lipniski's story keeps getting better as the Vancouver Giants' center was named to the Kubota Top Prospects Game alongside Samuel Honzek. The Arizona native was a projected later-round pick at the beginning of the season but has shot up draft boards thanks to his strong play. Now, he will get the opportunity to show he is a prospect to watch for the 2023 NHL Draft when he attends the event in Langley on January 25th.
Lipinski's selection is special because he went undrafted during the WHL Bantam Draft. Now, just two years later, he is making an impact and getting the attention of scouts across the NHL.
"A lot of credit goes to my coaches," said Lipinski. "I have really developed since the Bantam Draft, and I've been working every year. I have a chip on my shoulder since I wasn't taken, so that has motivated me to get stronger and better each summer. It is pretty cool."
As mentioned, Lipinski will become one of the few players from Arizona to participate in the game. Others include former Vancouver Giant Ty Ronning and Philidephia Flyers star Sean Sean Couturier. This is a special honour for him as it shows the game is growing in what some consider a non-traditional hockey market.
"It is an honour. The game has certainly grown down there. You are seeing more prospects come out of Arizona, so it is cool to be a product of that."
The Top Prospects Game is also an opportunity to be coached by two of the best to ever play in Vancouver, Daniel and Henrik Sedin. Lipinski watched them play while he was growing up, so potentially being coached by them is a special opportunity.
"The Sedins are iconic. I was fortunate enough to meet both of them, and they are the two nicest guys on the planet. Of course, I watched them growing up. I think their last game was against the Coyotes. I forgot what ended up happening, but I think one of them scored the overtime winner. That was pretty cool to see. I am definitely a big fan of them."
The Top Prospects game will bring the top 40 2023 NHL Draft CHL prospects to Langley. While Lipinski won't reveal who he is most eager to play with, he is excited to play with some of the best prospects from this year's draft.
"There is a ton of talent in this draft class. I have had the chance to play against guys like (Conor) Bedard, (Brayden) Yeager and (Riley) Heidt, those really skilled guys. I am just looking forward to meeting all the prospects."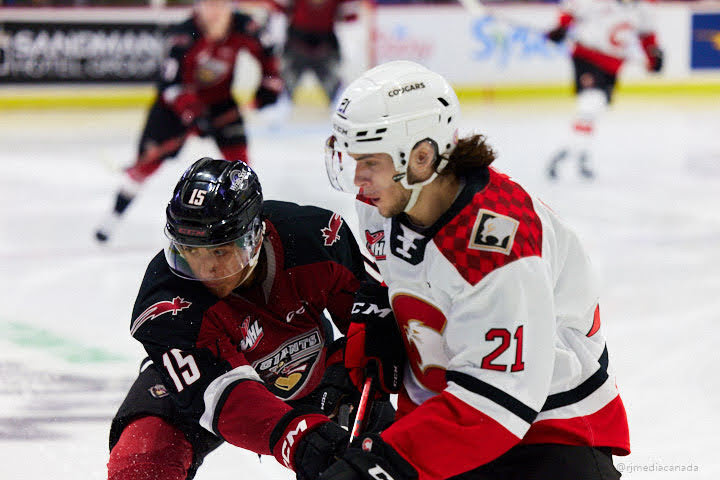 As for advice Lipinski received about the game, go out there and play your game.
"There was a press conference a few days ago about it, and the Sedins said just play your game. At the end of the day, it's just a hockey game. Everyone is there for a reason, so just play your game and not really think too much about it. It will be a fun experience with high-paced hockey. I am looking forward to it and am just going to stick to what I know."
Having watched Lipinski from his WHL debut until now, one thing is clear; he is willing to put in the work to be successful. He also doesn't let outside distractions like receiving a "C" rating in the Central Scouting Preliminary rankings deter him from his goal of being the best he can be.
"I am not one to really look at that kind of stuff. I will say that working every day and taking advantage of good coaches. In my case, both Michael Dyck and Adam Maglio have done a really good job of helping me develop this year. I just have a mindset of getting better every day. I have been lucky with my coaches, so I credit them."
While playing in the game is an exciting opportunity, the chance to play in front of his home fans is something Lipinski is really looking forward to.
"It is phenomenal. I love it here in Langley. I lucked out there, me and Honzey (Samuel Honzek) as well. It will be cool to be at home. I'll be familiar with some of the coaches like Dycker (Michael Dyck) and Seebs (Brent Seabrook), so it will be really fun seeing some of the familiar faces around the Langley Events Centre."
Lipinski is a player that is easy to root for. He doesn't take a shift off and is benefiting from all the time he has put in to improve his game. Tickets are still available, so make sure you jump on the chance to see him at the 2023 Kubota NHL/CHL Top Prospects Game on January 25th.