Playing in goal is not an easy task. From the physical toll it takes on one's body to the mental excursion of bouncing back after giving up a goal, it is one of the hardest positions to play in sports. In this two-part series, Vancouver Giants goaltender Jesper Vikman takes us through what it is like to be a goaltender. Here is part two, which looks at the many challenges faced during a game.
Communication With Teammates
"I'm trying to be as vocal as possible. I also trust my team that they are going to do a good job with their structure. I am a goalie, and I can't position the guys all the time, so I think my job is to scan the ice and look for threats for our defence when they are coming back for pucks; I try to tell them if they have extra time or if they have a guy coming hard on them. That is usually the main point. I can also communicate if there is a guy sneaking up behind, but I think a lot of it comes from good structure and preparation, so I am just trying to simplify the game for them.
"Just be a voice out there that they can trust. If they haven't been able to shoulder check or maybe scan the ice before, I am trying to be able to scan it for them and give them that extra hand for that play they can make. At the end of the day, it is your own choice as to what you do out there, but I am trying to be a helpful voice out there."
Dealing With Screens
"I am pretty tall, so I am trying to look over a lot of shoulders. As they start to creep in, you want to look to the side and find an opening. Sometimes, you have to look under players, so it is tough, especially transferring from the Swedish ice to North America. It is tighter, with more bodies in front of the net, so it is something I have had to adapt to. I think for me, it doesn't really matter where I look as long as I get a sightline of the puck or the release. It is my job to see the puck at all times, so I am just trying to find a lane and see the shots to stop their opportunities."
Odd Man Rushes
"I feel like once you get better experience, you learn to read players a bit better, and you also try to have some type of vision as to how your D is playing the situation. On a two-on-one, my main focus is to have the shooter and trust that my D will take the pass. It won't always happen, so I am trying to have an extra eye and get an early scan before they cross the blue line. Look at what hand he is passing to and how much time would I have if he made a direct pass.
"Would he be able to one-time it, or would he be able to just catch it and snap it off quickly? Small things like that set me up for the play. Not cheating the play but anticipating a pass. There is an opportunity for the pass, so I am staying ready for an explosive movement over to cut down the angle or maybe get my feet set for a first shot. As I said, preparation is key for a two on one, and you also have to know your responsibilities. You can't let that first shot go in or stuff like that."
Facing A Breakaway
"I'm trying to be as patient as possible. You don't want to drop too early and get caught standing still. You want to have backwards momentum and wait for them to make the move. If he is faking it, you don't want to freeze up or get stuck in a position where he can dangle you and put it into the empty net. You always want to have that backflow and trust that you have the angles. I am trying to cut down the angle with my hands and cover up as much net as possible while also being able to follow him if he dekes me."
Playing The Puck
"It is different between a power play and at five on five. On a five-on-five, you have to get the red line, so you don't have as much time. I try to read if it is a high rim or a hard rim. If it is high and hard, it is not too necessary to go out and play it because it will bounce off the glass and in front of the net. The odds of you picking it off from the glass are pretty small. That is also a thing that comes with experience. You learn to read the velocity of the rims.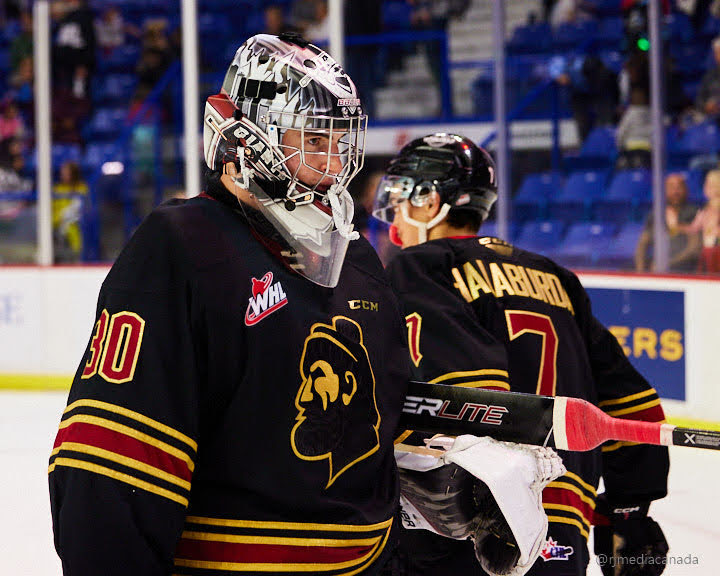 On the power play, it is more about trying to be out as soon as possible. You try to cut it down before the goal line and before it gets into the trapezoid. If it is too hard, you just try to set it up behind the net for a player to pick it up. If they have too much down-ice pressure, you may want to try and beat the first guy with a pass-up and give your team the best possibility to get a free entry into the zone. It is all about experience, reads and learning what is the right play. You don't want to make stupid plays or force any plays. I think my puck handling is all about trying to be solid, not force any errors for my own team, and if there is a play I can make, I will try to make it."
Tracking The Puck
"It is harder when it is a screen. Maybe there is a flash screen, and while you are moving your head, you lose sight of the puck for a split second. That can always hurt your hand-eye coordination a bit. It is something you can work on all the time, but for me, during those moments, I am just trying to find a lane, and hopefully, it is a clear shot that I can see all the way. If it is not, you have the sense of where the puck is going, and you can get something in front of it.
It is obviously harder to track the whole way, so you have to think about cutting down the angle. If you are looking at it on the right side of a player and it's coming from the left, you have to cut off the angle on the left side with your catcher. It is all about knowing where the puck will come and follow it with your glove, even though it's hard. It is a skill you have to learn.
Learning From Goaltending Coach Paul Fricker
"A lot. He has been great for me throughout my time here in Vancouver. He has a good mix of the technical side of goaltending as well as the mental side. For me, he has been helpful with making my game more solid and a bit more consistent. Trying to work on the basic fundamentals and trusted that with my game, I will stop most of the pucks. I have the athleticism and skill to make the second save on a rebound or the sprawling save, so that is something I will always have in my pocket if needed, but he has been trying to make it more simple for me. Being able to help me with making the first save as simple as possible and strategies on the ice with screens, getting the right angles and reading the plays. He has helped me with my whole game here, and I have a lot to thank him for."
We hope you enjoyed part two of this two-part series. If you want to check out part one, which focuses on the mental side of the game, please click here.