As the 2023 NHL Entry Draft draws closer, one prospect to keep an eye on is Vancouver Giants' Jaden Lipinski. The Scottsdale, Arizona native received a "C" ranking on the NHL's Preliminary Central Scouting List but has the potential to shoot up draft boards based on his play this season. He has developed from a bottom-six forward to a key member of the teams' power play in one season and has already passed his point total from last year in just 26 games.
On December 3, 2022, Lapinski had arguably his best game of the season as he helped the Giants come back against the Kamloops Blazers multiple times and win in a shootout. Not only did he score twice in regulation, but he also recorded the shootout winner. After losing the night prior, he stepped up to ensure a similar result would not happen.
"It was frustrating last night, but we took it personally. I think everyone elevated their game. We built off what we did in Kamloops. I thought our game was strong, and we just finished, so I think that was the difference; we were just finishing our opportunities."
This season, Lipinski has become a leader for the Giants and has recently been given an "A" to wear on his jersey. A humble player who would rather talk about the team than his own play, it is easy to say he leads by example every time he steps on the ice.
"It is definitely a responsibility that I feel I am ready for. It is just about being a good teammate. You don't need a letter to lead. It's an honour, and I take pride in it."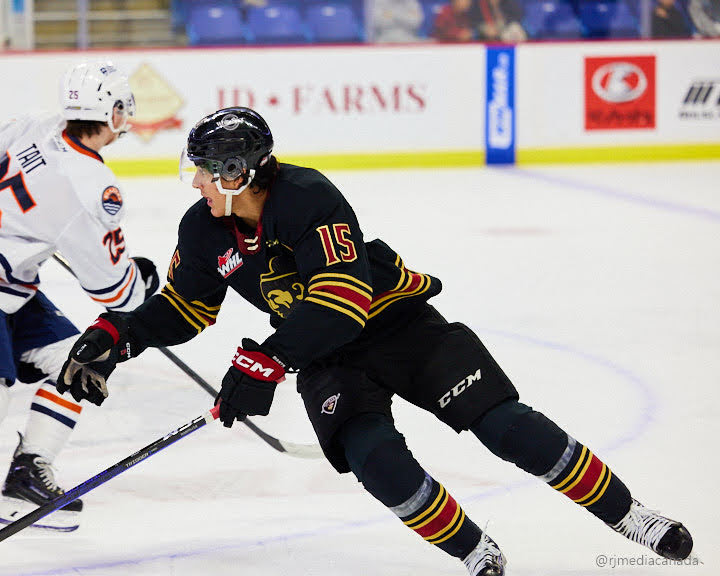 There has been a drastic difference in Lipinski's game from last year to this year, as he looks stronger, faster and more confident on the ice. While it took some time, he has fully adjusted to the WHL and is able to show off just how skilled he really is.
"It is always tough coming into the league in your first year. You are still trying to figure out the game. It was definitely an eye-opener after last season with what I need to work on. Improving my overall strength, I think, helped with my game this year, and it is going to help next year as well."
With the World Juniors fast approaching, the Giants are projected to lose Zack Ostapchuck and Samuel Honzek for about a month. Lipinski believes that the Giants are ready to step up in their absence.
"It's huge. A lot of guys are going to get opportunities, so it will be good for them as well. I think everyone is going to raise their game. That is what we do on this team, and it will be good for some guys.
As mentioned, Lipinski is working towards being drafted at the 2023 NHL Entry Draft. While it is still over six months away, he has already had conversations with scouts who have passed on an important message to him.
"The advice I have gotten from scouts is to not think about it, just play hockey and have fun. That is what junior hockey is all about, having fun."
Lipinski is playing some of, if not the best hockey of his WHL career recently, and even coach Michael Dyck agrees saying, "his confidence continues to build." He is an easy player to root for, as it is clear he never takes a shift off and is willing to do what it takes to win. From his work on special teams to even-strength play, he has the potential to one day be an everyday NHLer.