The summer of 2022 has been a good one if you are named Zack Ostapchuk. The Vancouver Giants captain played an important role in Team Canada's World Junior Gold Medal win and is now set to make an impression at Ottawa Senators' training camp. A player who is not short on confidence, Ostapchuk is ready for a dominant 2022-23 season.
The 2022 World Juniors were run a little differently this year due to the COVID-19 pandemic. With players opting out to get ready for NHL training camps, it opened the door for Ostapchuk to make Team Canada.
"I was in Montreal with my buddy for the NHL Draft and was at dinner with a couple of guys before I got a call. I was getting set to go to the World Juniors summer camp for the Halifax tournament, and they called me and said you aren't going to the summer camp; we want you to come straight to Edmonton and play for us. My excitement was through the roof, and it's something I'll never forget."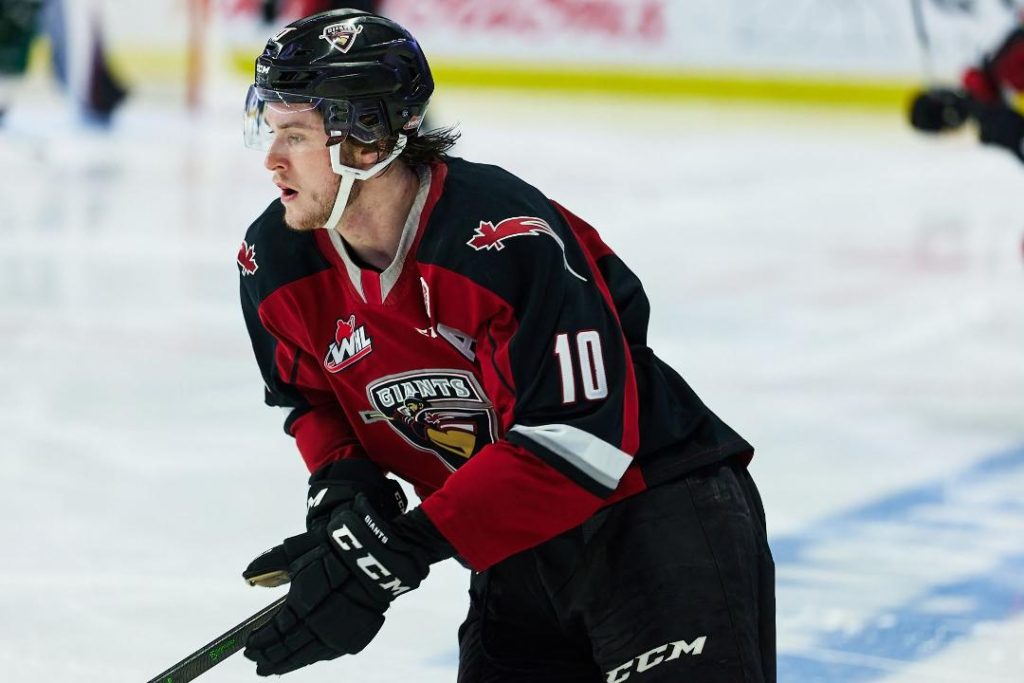 For Ostapchuk, he was lucky as Giants head coach Michael Dyck was an assistant coach on Team Canada. Dyck has been Ostapchuk's coach since he broke into the WHL and was able to share the moment with his captain.
"He brought me out for lunch pretty much after I got the call, and he told me about it. He couldn't really confirm it because they didn't make any official, but he confirmed it over lunch. I went out with him and Barclay (Parneta), and it was pretty cool."
During Canada's 11-1 victory, Ostapchuk scored his first career World Juniors goal. As it was the 11th goal for the Canadians, the celebration was minimal. Despite the lack of celebration, it was a special moment for the Alberta native.
"It was really nice for me and my confidence because I really wanted to get on the board. Yeah, I ended up scoring the 11th goal and they all count, which is something I'll never forget for the rest of my life. It sucked that I wasn't able to celebrate, but in my mind, I was pumped."
During that game, Ostapchuk got a first glance at future teammates Samuel Honzek. While Slovakia didn't have the best tournament, the Giants captain was impressed with what he saw from his the young star.
"We were walking from the practice rink to our room, and I saw Dycker (coach Michael Dyck) talking to him for a bit, so I went over and said hi to introduce myself. He seems like a really nice guy. I was impressed by his play. When we played Slovakia, I thought he was one of their best players. I am really excited to play with him."
Overall, the tournament was a special memory for Ostapchuk. Not only did he get to play for his home country, but he also did it approximately a half-hour drive from his hometown.
"It was really cool for me, especially as it was my first time putting on the Canadian sweater. Stepping on the ice with that jersey on my chest, it was just really cool."
As the tournament went on, Ostaphuck was given more and more responsibility, especially after Ridly Grieg went down with an injury. Whether it was a penalty kill or being put out late to protect a lead, he was ready for the challenge.
"It is a role that I feel pretty confident with from playing in Vancouver as that is a role I'm thrust in quite a bit. For me, to be able to step up in that role when a guy goes down, it was next man up. For our coaches to trust me to shut down other teams' top lines, that was big for me as I felt comfortable doing that."
The World Juniors is also an excellent opportunity for players to play with others from different leagues. During the tournament, Otsapchuk got the opportunity to play on lines with WHLers, OHLers and QMJHLers allowing him to witness firsthand some of the other top Canadians from the CHL and NCAA.
"It was really cool. You never get to see these guys play or play against them, so for me; it was cool to see the different styles of play of different guys. I think our team was well-built. Everyone has a different style of play, but it all meshes together really nicely. Everyone on the team is so highly skilled, and it was a pleasure playing with them."
During the Gold Medal Game, Ostapchuk got to witness not just a phenomenal game-winning goal, but arguably one of the greatest saves by a non-goalie in tournament history. Just like most of the viewers, he thought the game was over, but thanks to Mason McTavish and Kent Johnson, he was able to walk away a champion.
"I watched the replay after, and it was batted out. It was pretty cool. I thought the game was over when I saw that as the puck bounced past Garand. Somehow, that puck was stopped, and the crowd went nuts. I just looked up and went, Holy, well, we can't lose now. (After the OT Winner) our whole bench went nuts. I've never heard a building that loud in my life. Everyone was just jumping high and on top of each other. There is nothing like a Golden Goal."
For Ostapchuk, one Gold isn't enough as his goal is to be part of the 2023 World Juniors team as well. He knows it will be a tough road ahead but welcomes the challenge.
"I have to have a really big start to the year, and I have to play my game. That is why they took me the first time. I just want to elevate my game, so I can rise in that lineup and play a bigger role in next year's tournament. I just have to have a strong start to the year, and so do the Giants."
This is a massive year for the Ottawa Senators prospect and the Giants, with the Memorial Cup being played just down the road in Kamloops. To say he has high expectations may be an understatement, as he is ready to elevate his game to the next level.
"I wanna go back to the World Juniors and win a Gold Medal there and see how far the Giants can go. I think we do have a good team this year. I think we are capable of doing some special things. All our younger guys are a year older and a year more experienced. We have a really driven group that got a taste of it last year, and I wanna see how far we can go."
Otsapchuk has a message for Giants fans everywhere; get ready as this year should be a special one.
"I think our team is going to come out and compete hard this year. I think fans should be excited to watch us go to work. I am fired up and I know a lot of guys are fired up to get the season started. We have some unfinished business from last year."
The Giants, led by Ostapchuk, kick off their season Friday, September 23rd, at home against the Seattle Thunderbirds. Make sure to keep your eyes on the Area 51 Sports Network as we will continue our coverage of the WHL as the year goes on.