Tanner Scott (Photo: Kevin Light/Victoria Royals)
Growing up, Victoria Royals forward Tanner Scott always had somebody to look up to in hockey and now he's coming into his third year in the WHL with a confidence all his own.
With his older brother being seven years older, the younger Scott was influenced to follow in his brother's footsteps when it came to the sport.
"My brother played in the AJHL and I always grew up watching him play and it just inspired me to lace 'em up myself, so definitely that and my dad has always been a huge hockey fan so those two influences always got me into hockey really."
While the duo was never able to play on a team together, the two were still able to spend time playing street hockey and rollerblading together. However, Tanner says he wishes he could have played with his brother, calling him "pretty skilled as well."
The inspiration Tanner took from seeing his brother play has paid off, as the Alberta native heads into a new season with Victoria.
Playing with the Victoria Royals
The short 2021 season was Tanner Scott's first season in the WHL and he spent it in the BC Division hub with the Victoria Royals. Coming into last season for his first full season in Victoria, Scott said it was still a new experience because the atmosphere was so different from the hub season. Now coming into year three, Scott says he is coming back with more confidence.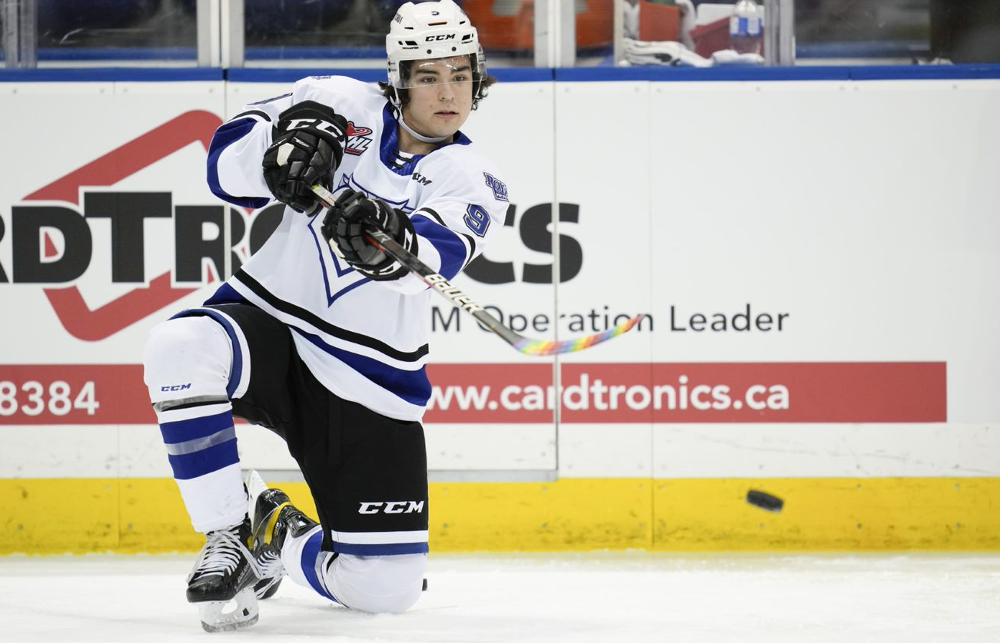 However, now that he knows what to expect, he has some simple advice he would go back to give himself before he made the jump to the WHL.
"I would just say stay patient at all times."
Specifically, Scott says patience because you never know when you'll get the opportunity to play, and even when you're in the lineup, you still aren't guaranteed minutes or that you'll stay in for the next game.
"I got the opportunity to play 20 out of the 22 games, but off the start, I was out of the lineup for the first couple of games before I got my opportunity and I made it work."
As for his second season, Scott has a very clear favorite memory from the year.
"We were losing some games and Everett came to town. They were still undefeated and it was Bailey Peach's 200th game. We ended up winning 4-3 in overtime and [Peach] ended up scoring the goal. That was just a great memory because it turned things around. We got really hot after that win and just before Christmas."
Noting that he's never seen a room with an environment like the one after that victory before, Scott says the guys sat in the room for maybe an hour and a half after the game soaking it all in.
Following that game against the Silvertips, the Royals dropped their final game in November in overtime to the Spokane Chiefs before going 9-2-1 in December.
Now coming back to Victoria for the year, Scott says being back is something he has been looking forward to, both because putting in the work every day and just seeing the guys is something he enjoys.
"I know how hard I have to work to be successful in the Western League. I'm excited to see all the guys too. I miss them a lot, so it'll be nice to see them in a week."
While the Royals missed out on playoffs due to a loss in the final game of the regular season, Scott and his teammates in Victoria are ready to start the season strong on the heels of that unceremonious end.
"Especially starting the season against the team who knocked us out, Spokane, it's going to be definitely a motivator. It just makes it a little more motivated for next year, not making it. It makes us want to be that much better."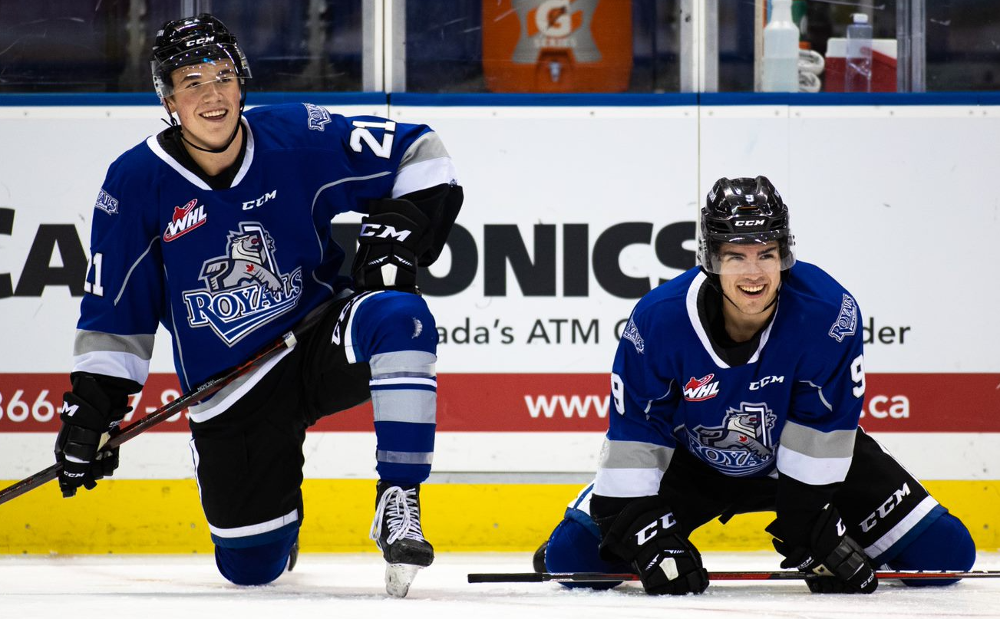 Talking About Tanner Scott's Game
When asked to describe his game in 30 seconds or less, Scott focused on his speed and his playmaking abilities:
"I'm an agile, quick player. The majority of my game has to do with my speed. I think that I use that to my advantage a lot. I can burn people out of the corners quickly and can be dangerous on rushes with my speed. In the offensive zone, I really like to play make. I'm more of a playmaker than a shooter, but I can exploit the defence a lot of times with my speed and get some goals, but I'm a majority of a playmaker mixed with my speed."
He's been putting in work over the summer and he's ready to come back to Victoria and show off all of his improvement. While he says that his size and strength have always been a little bit lacking, Scott says he's grown a bit and has gained 12 pounds this offseason and that's all helped him add a lot of strength.
"I'm really excited to add that to my game because that's going to help with my shot strength. It's going to help my corner battles. Those are kind of the things that I've needed to improve for a while, so I'm excited to add that to my game."
Though he's a forward who plays as both a center and a wing as needed, Scott has spent a decent amount of his time in hockey playing as a defenceman. He ultimately decided to stick to playing forward when he was around 13 or 14 years old, but if he had to pick a different position to play for a game, he'd choose to be on the blue line again.
It's good to know that Scott could potentially fill in wherever needed on the ice as a skater. An idea that, when mentioned to the now 18-year-old, caused him to chuckle before saying, "Yeah, I'm pretty versatile, I think." Just something to think about if the Royals feel like really shaking things up at some point this season.
Get to Know Tanner Scott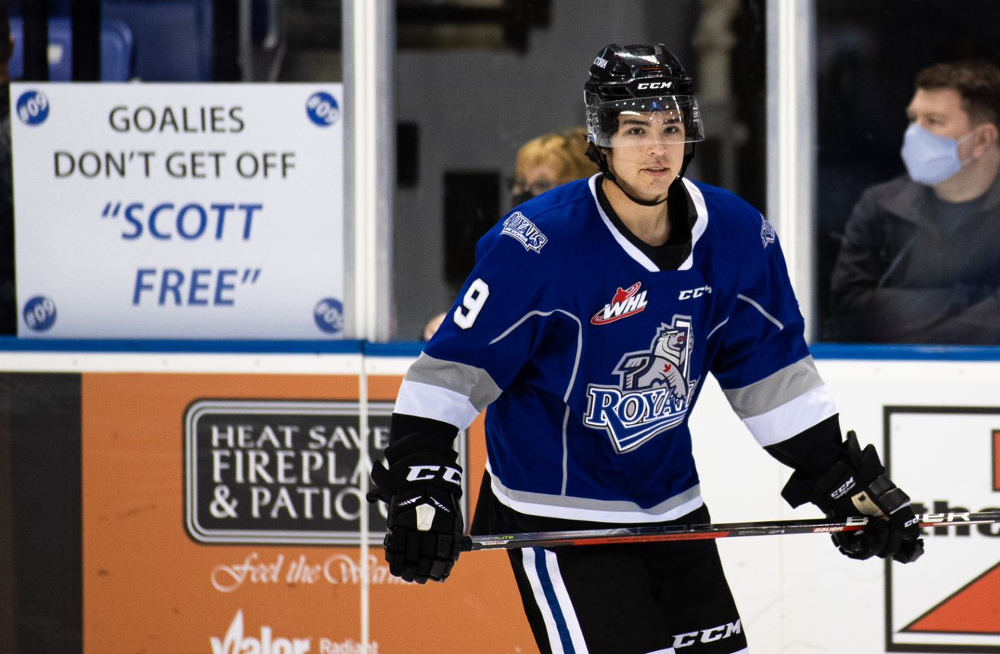 What is your gameday routine?
"I'll go to the rink in the morning, I usually do the gameday skates. I'll pick up a Red Barn sandwich every day before home games. That's what I do. Then, I'll go home. I don't usually nap, so I just kind of rest my body, drink some water and stretch out. I don't really do anything special. Head out, probably three hours before the game, to the arena. I'll ride the bike as soon as I get there for about 15 minutes, just to get my heart rate up. I'll tape all my sticks. And then, I'll end up playing [sewer ball] before the game. After that, I usually have a coffee. I limit myself to one coffee a day, but I have it right before the game. We usually do our team meetings and stuff and then I just get ready for the game."
So, are you a big coffee guy?
"I've never been actually a coffee guy. I do find it does wake me up before a game, but I'm not a person to have two or three cups a day, ever. If I don't have a game, I usually don't have a cup. It's only for game days because it gets me going pretty well."
Okay, so just one cup, but how do you take your coffee? (note: this caused some laughter when asked and I just had to let you know)
"I like my cream and sugar, of course."
What is your go-to Red Barn order?
"I get a wrap with bacon, you've got to heat up the bacon for 15 seconds though, and then Montreal beef with cheese and then chipotle mayo and lettuce. Put it on the grill and that's about it."
It had to be asked, how was doing the Instagram takeover for the Royals?
"As soon as I woke up, it was the first thing I thought about. Thinking I have to get my first post in. It was fun to show everyone my daily routine and, I mean, it was fun to show me playing basketball because I heard people were tweeting about the dunk and stuff. It was pretty cool to get that out there."
Unfortunately, the video isn't available right now, but he's right, we were posting about the dunk on Twitter for sure.
Is basketball something you enjoy or was the dunk just something that happened on a lucky day?
"I've loved basketball forever. I play 2-3 times a week with my friends. So I was like, may as well just dunk on camera for the Royals."
Which three teammates would you want on your zombie apocalypse team and why?
"I'd choose probably [Gannon] Laroque because he's a smart guy. He's a good leader. He'd be a good leader of the pack for us. Then, I'd choose [Brayden] Schuurman because he's just a beast. He's built like a truck so he'd definitely get us through with his strength. I'd just have to bring Briltzy [Carter Briltz]. I just love the guy to death, so I couldn't go through an apocalypse without him, I don't think."
Would the group survive?
"It would be tough to say, but I don't think so. I think we're done in a zombie apocalypse."
If you were a fruit, what fruit would you be? (note: yes, every part of this question was met with laughter)
"Wow, that's a funky one. Maybe a watermelon? I just feel like I'm a fresh guy. A nice bite of watermelon is just fresh and I feel I'm like that in a weird way."
Laroque said to ask you what fruit he would be because you'd instantly know what he'd say, so I have to ask what fruit would Gannon Laroque be?
"Gannon? Oh. Strawberry. That guy is a strawberry. Yeah, that guy loves eating strawberries every day. Everyone started calling him Strawberry by the end of the year."
What has been the most fun thing you've done this offseason?
"I went to Palm Springs with one of my best friends. He took me there with his family for two weeks. It was just nice to soak in the sun all day and hop in his pool. It was pretty cool to go to Palm Springs. It was my first time there."
What teammate should people be keeping an eye on this season?
"I think you should watch out for Marcus Almquist. He took a little bit to get used to the North American ice, I think, but when he found his groove? Man, that guy. I play on his line and I had insane chemistry with him and he is one of the most skilled players I've ever played with. And of course, you can't leave out Schuurman. He's a beast. So yeah, definitely those two guys for sure to look out for."
For the Fans
"It's going to be a great season, I already know. I'm super excited to play for the Royals again, and I'm super excited to get the season started."