Dante Giannuzzi (Photo: Keith Dwiggins/Portland Winterhawks)
During his extensive road trip back to Portland from his hometown of Winnipeg, Dante Giannuzzi could not help but express his excitement for his upcoming overage season with the Portland Winterhawks, the team that he has spent each of his four years in the WHL with.
"A lot of my friends are also goalies, and they've moved around a bit. From everything I've heard, it's tough to play in the same spot for your full career, so I'm really grateful for the opportunity," Giannuzzi said.
The soon-to-be 20-year-old netminder is poised to enter his fifth season with the Winterhawks as the starting goaltender, a role that he is no stranger to. As a result of Joel Hofer's graduation to the professional level, Giannuzzi took the reins as Winterhawks head coach/GM/vice president Mike Johnston's first-choice netminder in the 2021 COVID-shortened season. That season, Giannuzzi finished with a 9-7-3 record with a goals-against-average (GAA) of 2.60 and a save percentage (SV%) of .904%. Giannuzzi kept his starting role at the beginning of the 2021-22 season before a mid-season trade with the Prince George Cougars that brought Taylor Gauthier to Portland relegated Giannuzzi to the bench.
Giannuzzi made the trek to Portland this past week ahead of the Winterhawks' training camp, which historically features the intra-squad tournament known as the Neely Cup. This year, it hits a little closer to home for the two-time Neely Cup winner as he'll be representing Team Petan, named, of course, for Nic Petan. Petan was a key cog in the 2012-13 Winterhawks team that won the Ed Chynoweth Cup as WHL Champions and went on a run to the Memorial Cup final. As fate would have it, the two met early on in Giannuzzi's time in the WHL.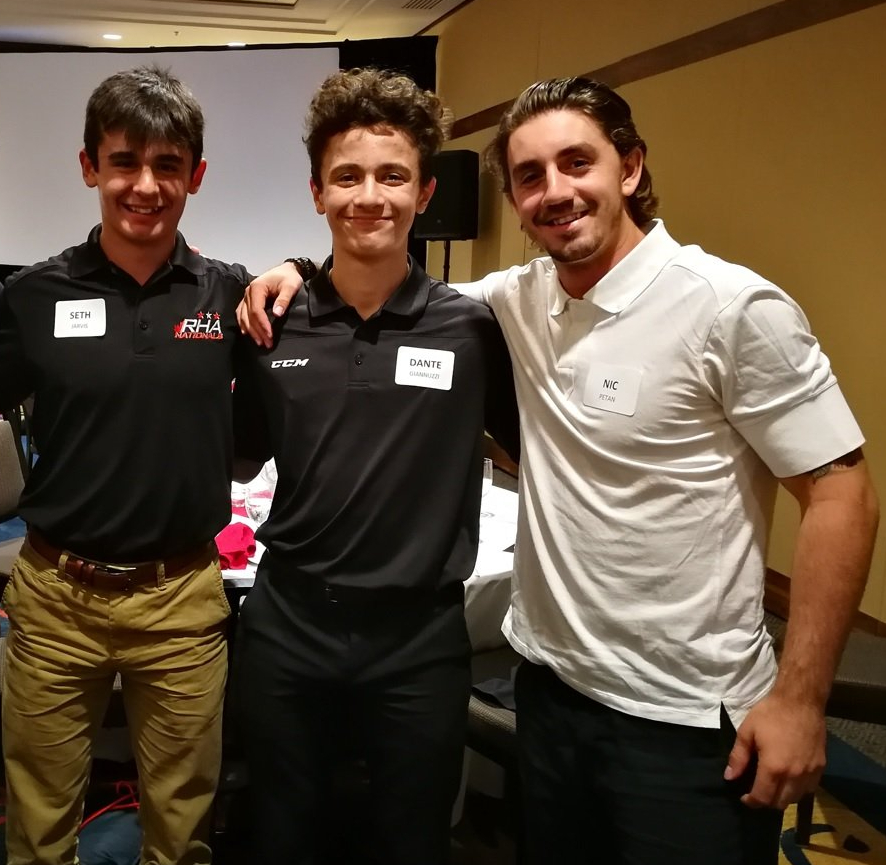 "You always want to try and represent the player that you're representing," Giannuzzi said. "They always send in videos trying to pump the boys up and stuff like that… I guarantee that all the fellas are just gonna do the best we can and bring it home for them."
Putting in the Summer Work
This summer, Giannuzzi spent some time in British Columbia, where he worked out with Sean Murray, one of the owners of Pro-Formance Goalie School.
"I love working with Sean," Giannuzzi said. "It's not the most convenient thing for me to work with them still because now I'm in Winnipeg which is not the closest to Vancouver. Whenever I can, I try to get out there because I love his style and I love the way he teaches."
He didn't need to look far for some lodging while in Vancouver– Giannuzzi stayed with Portland teammate and Burnaby native Luca Cagnoni while working with Murray.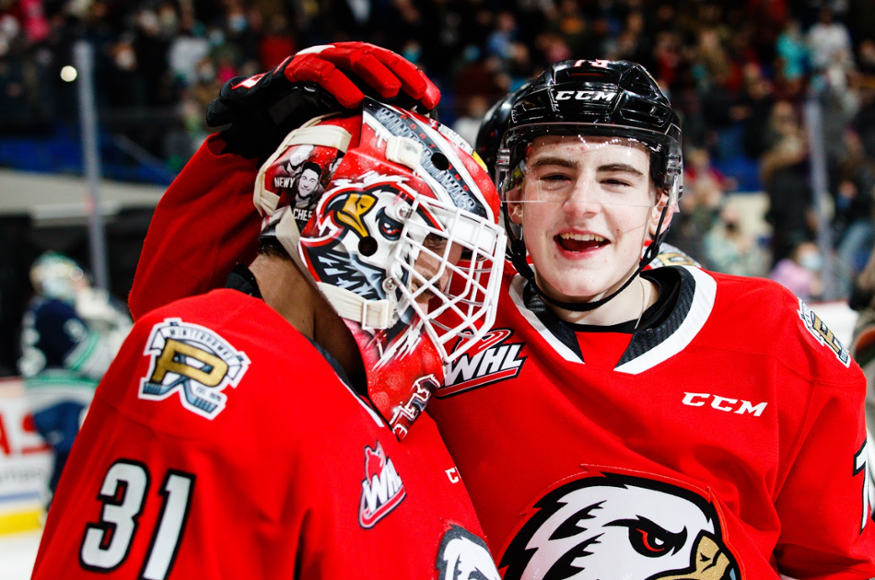 "Being able to stay with Luca was awesome, too. I'm good buddies with Luca [and it was] really fun hanging out with him and his family. They're all great people."
Giannuzzi also spent time working with Eli Wilson over the summer, attending camp and fine-tuning his game even more.
Stepping Into Another Role
As WHL players go through the ranks and make the jump to the professional level, there are always some big shoes to fill with every new season. With Jaydon Dureau and 2021-22 Winterhawks co-captain Clay Hanus completing their time in the WHL and Cross Hanas contending for a spot with the Detroit Red Wings for the upcoming season, Giannuzzi is looking to step up as a leader in the locker room.
"Obviously, [as] the 20-year-old, everyone looks up to you, so I really want to step into that leadership role and take the young guys under my wing and help them out as much as possible and make the new guys feel welcome and form great chemistry as soon as we can."
Coming off the heels of a second-round exit to their bitter rivals up Interstate 5 in the Seattle Thunderbirds, the Winterhawks, and certainly Dante Giannuzzi, have been filled with a resolve for this upcoming season.
"I'm just gonna leave it all out there this year," Giannuzzi said. "This year is my year, and I'm going to do everything I possibly can to bring a championship to Portland. Just leave it all out there, have absolutely no regrets when my WHL career is over."
Get To Know Dante Giannuzzi
Have you updated your pads, your equipment, so to speak, in accordance with the Winterhawks' new jerseys and colors?
"For the past four years now I've had solid red pads, and this year with the new colors coming out and the jerseys changing, I wasn't able to do that because it wouldn't really have matched. So I have some in the works but I don't have them yet, but I'm hoping everyone likes them, I think they're gonna be nice. I'm really excited about the mask, because I think it might be my nicest mask yet."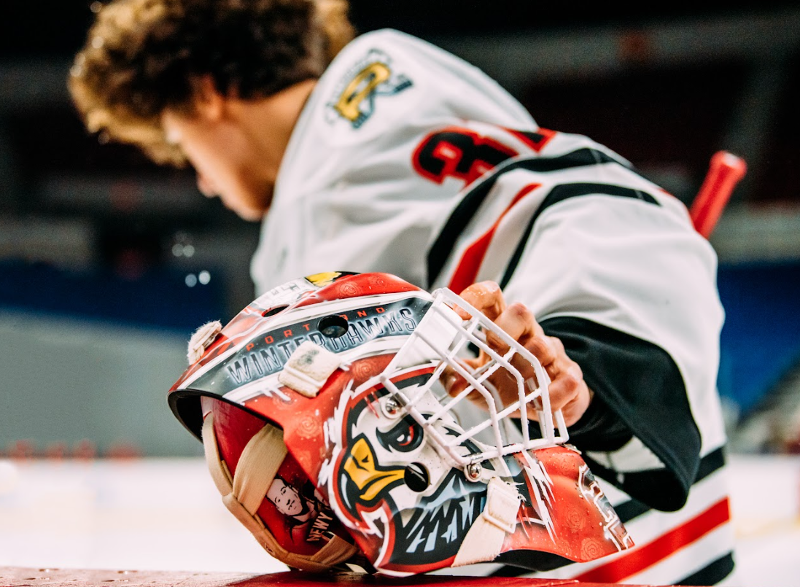 Speaking of the jerseys, which ones do you prefer more: the black jerseys or the white jerseys?
"I'd like to see them fully on the ice first and wear them before I make an official decision, but I'm usually more of a solid color guy, so initially I'll say black, but we'll see."
What does an average off-day for you look like?
"I'd say definitely spending time with the fellas, whether it's at someone's place or golfing or something like that… maybe TopGolf or a movie or something with the guys."
If you could choose one meal to eat for the rest of your life, what would it be and why would it be chicken parm?
(Editor's note: if you haven't listened to Dante Giannuzzi's interview with The 3rd Line Podcast, you should!)
"I would not do chicken parm. Definitely not. (laughing)
It was the COVID year when we were playing the 24-game season, and I just got so sick of it during that year. There was one day where we had it for breakfast, lunch, and dinner, and it was so insane. It used to be one of my favorite foods, and that year just ruined it for me."
So what would it be if not chicken parm?
"I'd probably say my mom's or my nonna's pasta, with meatballs and red sauce. I'll probably go with that because it's unreal to have authentic pasta. I know everyone's like 'Oh, I love Olive Garden, I love Boston Pizza pasta, that doesn't even compare to the authentic stuff. When you have the nice, homecooked, from Italy pasta, it's unreal. I'd probably say that."
Are you more of a marinara guy or an alfredo guy?
"Definitely red sauce, absolutely. I don't mind white sauce, but for the most part, I go with red. I'd say it depends on the day, and it depends on the pasta too, but I'm still picking red sauce."