Campbell Arnold in net for the Victoria Royals (Photo: Keith Dwiggins/Portland Winterhawks)
*This was originally posted February 26, 2022*
October 21, 2021, saw the Victoria Royals trade to acquire goaltender Campbell Arnold from the Spokane Chiefs. He had some thoughts on the experience, but no negativity.
"It was obviously hard. I had some really good buddies in Spokane. It's a great organization, but I was just looking more at the new opportunity and the next chapter."
On the note of moving on, it seems Arnold did not see it as a surprise when he was moved.
"I think it was a mutual thing with the Chiefs and me. We both could tell I was ready to move on from the organization to try to get a kickstart somewhere else. It was hard, but they started my career, and I'll always be appreciative of that."
The BC-native said there was not much of an adjustment period on the ice due to moving divisions.
"Pucks are the same size, and the net is the same size. I took that into consideration and just played my game."
When he joined the Royals, was there anybody he connected with quickly?
"I knew a couple of the guys before. I played with Riley Gannon when I was really young, so I knew him for a while. It was nice to have a familiar face there, but actually, it was Bailey Peach."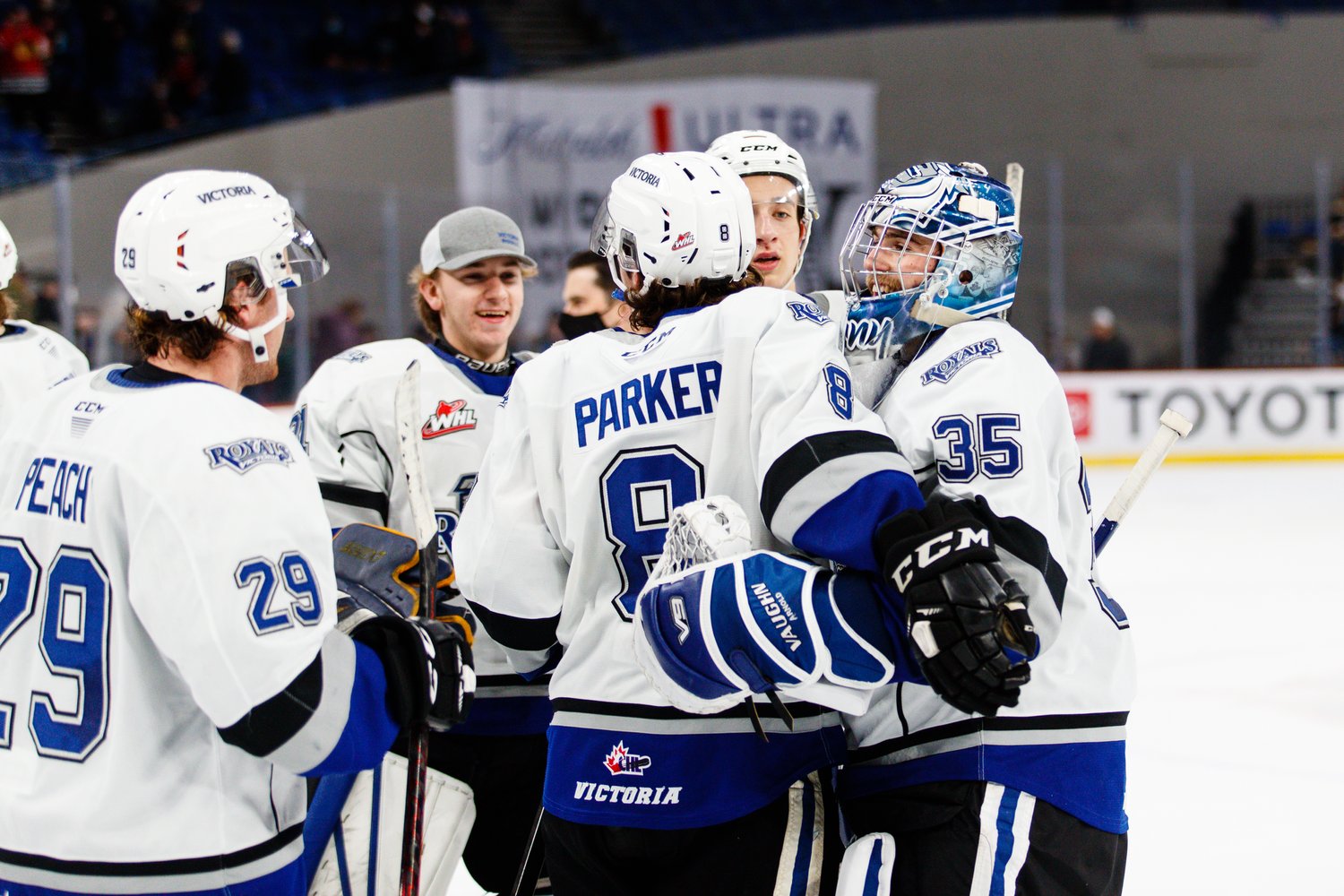 Peach, who also joined the Royals at the start of this season, had noticed that he and Arnold lived near one another.
"He kind of asked me right off the bat. He said, hey, we live pretty close, do you mind driving me when you can? I drive him everywhere, so we became pretty close."
While there is still plenty of time left to create new memories, does Arnold have one standout from the season so far?
"There's been a lot. It's a great group of guys," he started with, before going on to mention that there is one moment that tops the bunch.
"Seriously, the one that sticks out to me is when we beat Everett. I wasn't even playing in that game. Palms [Tyler Palmer] was in. I don't think I'd ever beaten Everett in my career, even with Spokane. After Peacher scored that overtime goal, I think I was the first guy off the bench. I was so excited. I'm always going to remember that for sure, but there are just so many things and moments that I'll remember forever here."
The duo of Campbell Arnold and Tyler Palmer was named WHL Goaltender(s) of the Week to kick off 2022 after they and the Royals went on an incredible run throughout December. A month that saw Arnold go 5-0-1-0, but where did it come from? It's all about confidence.
"I think it did stem from that Everett game. After that, it just felt like everyone clicked, and everyone just gelled. After that, we went on a tear. Going into every game, we never questioned what was going to happen. We knew we were going to win. I mean, that should be the mindset with every game, but in that particular time, everyone was just so confident in their own abilities and the team's ability."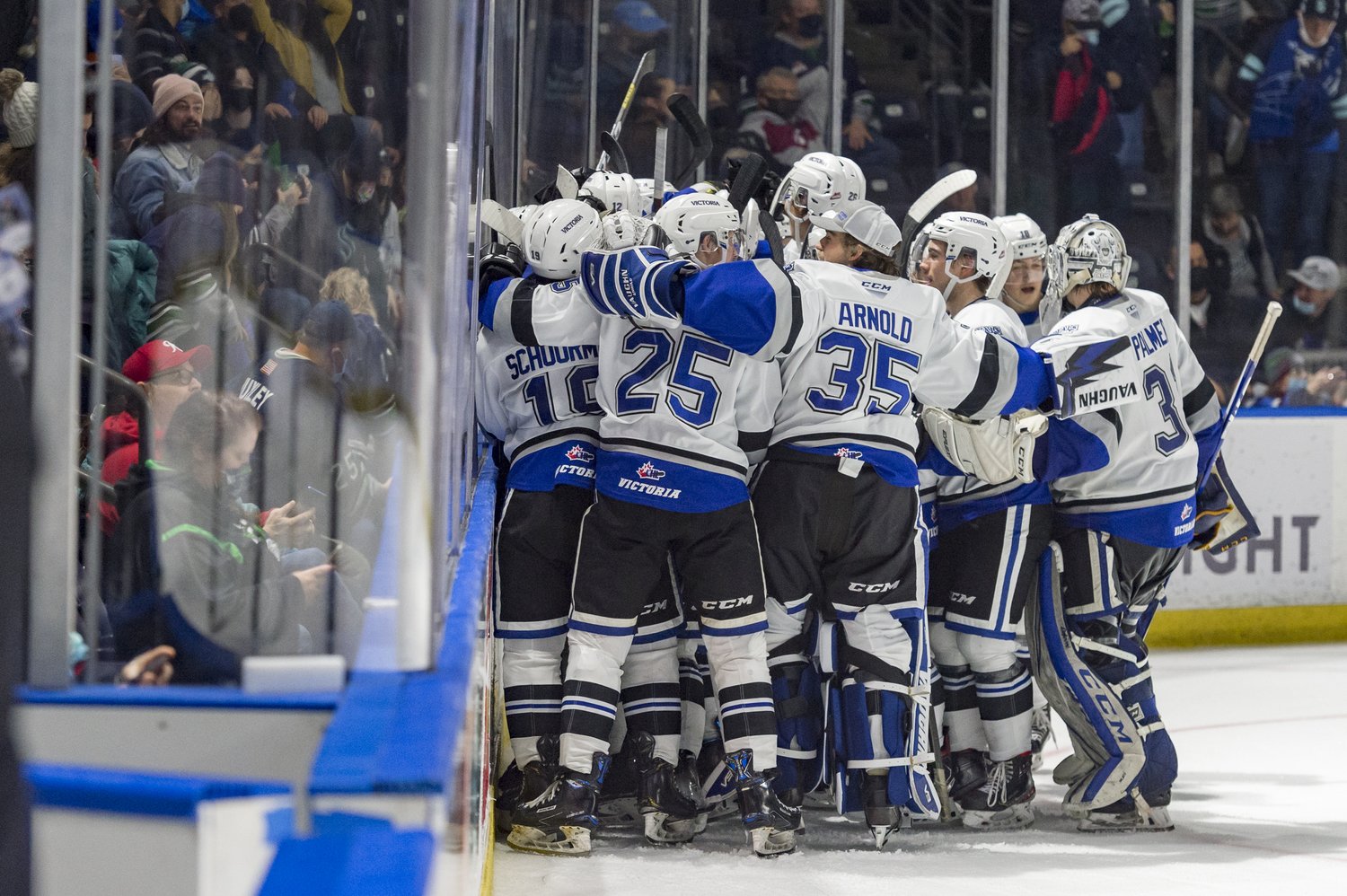 However, following a strong December outing, the Royals went winless in January.
"There's no avoiding that we were in a slump there. I think we kept a pretty consistent mindset throughout it all."
How did Arnold and the team react to the sudden change of pace?
"It sucks losing, but we were all still calm and went into every game with the same mindset; that we were going to battle and compete."
The Royals are still on the hunt for playoffs, just two points behind the Tri-City Americans, who currently hold the final spot for the Western Conference. With the team being so close, it would be understandable to be checking the standings with every game that goes by. Arnold has another way of doing things, however.
"Right now, I'm not even looking at the standings. I just think what we should do is just go and play. Just work our butts off, play, and try to win games. I truly believe we'll get there. We'll make the playoffs and make a name for ourselves in the playoffs too."
The netminder's personal goals align with what he wants for the team as well. While he has a longer-term goal, it's not his main focus.
"I just want to keep my team in every game. Give the team a chance to win. At the end of the season, it would be cool to go to a camp or something like that. Right now, I'm just focusing on day-to-day and game-by-game and just playing as well as I know I can. Just be a rock back there for the guys because they deserve to win."
How is he helping the team to find wins?
"My biggest strength would probably just be my mindset and how I think the game. I'm never too high, never too low. There's been a few times this year that I've gotten lit up, but I haven't really let that go to my head. I've just kept playing."
He is working on training his body to keep up with his mindset. It takes both to win games in this league, and Arnold acknowledges this.
"Off-ice I'd say I love being in the gym and doing leg stuff. I need big, strong legs, so that's always a plus for me. I get excited about that. On the ice, I love compete and battle drills. I want to do competitive drills when it's in tight and two-on-ones. I love that stuff, so I get pretty amped up about it."
Now 20 years old, If he could go back to when he came to the WHL and give himself advice, he would say something that many could benefit from.
"There's a lot. The list goes on, but I think the biggest thing would be not to worry about what other people are thinking, whether it's scouts, fans, or even teammates. Just stay focused on yourself, what you can do, and don't worry so much about the outside noise. I think my first year, I was just so in my head about what other people were thinking. In the end, I did kind of hurt myself a bit, just putting so much pressure on myself. Now that I've gone through the league, I've learned so much. I've really improved on that aspect."
All that he has learned has helped make the game fun again. Though there are times when he says every hockey player is frustrated and has moments where it going to the rink isn't overly enjoyable, it always comes back around when you remember why they play.
"Once you adopt the mindset that you're in the game for a reason and you're playing for a reason, it just becomes so much more fun. Right now, I'm having the time of my life. You know, we did have that losing streak, and it wasn't fun, but I still had the same mindset that if I were to ask my seven-year-old self what he wanted, he'd say to play in the Dub, and that's what I'm doing.
That seven-year-old started somewhere, and Arnold credits his family for his love of the game.
"I'd say my dad was the biggest influencer. He probably had me on skates before I was even walking. My grandparents, too. Both of my grandpas played, so I just come from a hockey background and carry that tradition on."
Goaltending was not always the plan for Arnold, but it's where he was always meant to be.
"I think when I was young, part of it was that I didn't score at all, ever. Even when I was really little, I could never score, and I'd just end up diving on pucks and stuff. I tried to convince my parents to let me play goalie, and they wanted me to stay out. It got to a point where I pushed them so much they let me put on the pads, and I just never took them off. I just kept wanting to go back in net."
Obviously, the Tough Questions
Who would Arnold want to play him in a movie? One hint: it would be a comedy.
"I'm a big Adam Sandler fan, so that would be cool. I don't think I'm as funny as him, but it would be kind of cool to see him play me."
His perfect pizza will cause some controversy, but he stands by it.
"I'd say ham, pineapple, onions, sausage, chipotle sauce, and feta cheese."
Pineapple? Really?
"No, it's a must. It belongs."
As for locker room music, if you listened to the most recent episode of the 3rd Line Podcast, you know Bailey Peach is typically the guy in control. However, he is not the only DJ in the room.
"Peacher has it most of the time," affirmed Arnold. "I try and hop on once in a while, but it's usually more for when we're doing our cooldown. I play the relaxed, mellow stuff. Peacher's got it before practice and before games."
On the other side of things, there's one guy who maybe should be kept away from the aux cord.
"Luke Shipley. He's got some good music, but some is just awful."
What could Shipley be playing that is so bad?
"He just plays super hardcore rap sometimes or, before practice, he'll play super sad songs. He's got the wrong vibes most of the time."
A Message to Those Who Doubt the Royals
"There's a lot I WOULD say because I honestly believe we're going to upset some teams here. We've been working hard, and we may be the underdog, but I think we're going to pull it out."
To the Fans
"Just thank you to the fans. All the fans, being there for not only me but the entire team. We went through a little drought, but they're still behind us and cheering us on, so we appreciate that.