UFC Vegas 48 is set up to be another one of those 'sleeper cards' we've been talking about. The lone ranked fighters on the card are set to meet in the main event with light heavyweights Johnny Walker and Jamahal Hill squaring off. Other notable matchups include Kyle Daukaus and Jamie Pickett in the co-main and Joaquin Buckley and Abdul Razak Alhassan in the opening bout of the main card. Otherwise, we've got the return of the veteran Jim Miller and fan favourites Jessica-Rose Clark and Diana Belbita as well as some UFC rookies making their debut. All of these matchups (plus more) are covered below and feature BLÜ's predictions along with the Bet99 Sportsbook Odds.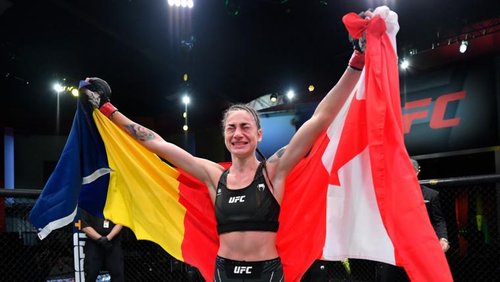 Main Card (4:00 PM PST)
Joaquin Buckley vs. Abdul Razak Alhassan
BET99 Odds
Buckley: -167 Alhassan: +136
Over 1.5: -110 Under 1.5: -116
Two POWERFUL middleweights are set to open up the main card with a bang. Both men are KO machines with all of their UFC wins coming by finish. Buckley is a fairly recent addition to the UFC after being added to the roster in 2020. But since losing his debut to Kevin Holland, he's gone on to have a record of 3-1 including his KO of the year over Impa Kasanganay in 2020. Alhassan has been around the UFC since 2016. Although he started off in the UFC undefeated at 6-0, he's fallen down to 11-4 after a 3 fight losing streak that ended after getting a 17-second head kick KO in his last outing.
With 2 knockout artists like these guys, it's hard to imagine not seeing a finish in this fight. The question then becomes who's gonna get finished first. Both of these men are very close in talent and have a similar level of experience. That tells me that this fight is going to go with whoever lands that KO shot first. Given that Buckley has a slightly longer reach, plus he's 9 years younger and is likely faster, I'm giving the slight edge to him.
BLÜ's Prediction
Buckley by Finish
Jim Miller vs. Nikolas Motta
BET99 Odds
Miller: +150 Motta: -186
Over 2.5: +110 Under 2.5: -140
In this one we've got a clash between the cagey veteran (Jim Miller) and the young gun (Nikolas Motta). We talked about Jim Miller back before his last fight in October; he's one of the most active fighters in UFC history regardless of weight class and has fought almost everyone since he joined all the way back in 2008. Things have been a little rough since the start of 2020 with 3 losses in 5 fights, but that tends to be expected near the end of one's career at 38 years of age. That being said, he turned around that narrative in his last fight where he got a KO finish for the first time since 2016. Nikolas Motta, of course, is just starting his career as he won his contract on the Contender Series back in late 2020.
In spite of the obvious advantage in youth that Motta has, this matchup could go either way. The thing that sticks out to me is that Miller is known for his ground game due to his many submission wins. Motta on the other hand has never had any submission wins and has lost twice on the ground. We've talked a lot about these kinds of matchups before and the smart way to go tends to be towards the grappler. I'm going to have to stick with that trend. I think Miller should be able to use his experience to minimize Motta's offence and win on the cards or MAYBE get a submission win.
BLÜ's Prediction
Miller by Decision
Parker Porter vs. Alan Baudot
BET99 Odds
Porter: -267 Baudot: +210
Over 1.5: -155 Under 1.5: +120
Here we've got two heavyweights that started their UFC journey in 2020. Parker Porter had a rough start with a 1st Round KO loss to Chris Daukaus in his debut. Since then he's gone on to win his last two against Josh Parisian and Chase Sherman. On the other side, Alan Boudot has had an even worse start after getting matched up with the rising heavyweight contender Tom Aspinall and Rodrigo Nascimento. He ended up getting finished by both although the Nascimento bout was changed to a 'No Contest' after his opponent tested positive for PEDs.
It's tough to tell because Baudot fought two absolute killers in his first two fights, but I'd say the momentum is clearly favouring Parker Porter in this matchup. Outside of their records, it should also be said that Baudot has a 5 inch reach advantage while Porter tends to carry in an extra 15-20 pounds more than Baudot. Since I've seen him fight, in spite of his weight, Porter is actually quite a nimble and quick heavyweight. Due to the glaring fact that Baudot has been finished in his only 2 UFC bouts and because Porter weighs more, I'll lean towards a Porter finish. But I should also say that Porter ends in a lot of decisions, so that's certainly within the realm of possibility.
BLÜ's Prediction
Porter by Finish
Co-Main Event
Kyle Daukaus vs. Jamie Pickett
BET99 Odds
Daukaus: -286 Pickett: +220
Over 2.5: -167 Under 2.5: +128
Just before we finish off the night, we're going to be treated to an intriguing middleweight bout between the rising contender Kyle Daukaus and Jamie Pickett who just fought a month ago! Daukaus' last fight was a strange one against Kevin Holland. It was a fantastic fight until the men accidentally clashed heads, leaving Holland momentarily unconscious. Before that happened though, Daukaus was looking VERY good. Pickett, as I just mentioned, last fought just a month ago where he got a decision win over Joseph Holmes.
Based on the brief glimpse of Daukaus that we had in his last fight, that's all we needed to see to know that he should likely be ranked right now and should win this bout with ease. I'm not sure if we'll see a finish since both men end in decisions quite often, but I think we'll see a fairly clear decision win for Daukaus.
BLÜ's Prediction
Daukaus by Decision
Main Event
Johnny Walker vs. Jamahal Hill
BET99 Odds
Walker: +200 Hill: -260
Over 1.5: -134 Under 4.5: +105
We finish off the night with two ranked light heavyweights: Walker who's ranked number 10 and Hill who's ranked at 12. I like to think that every fight is entertaining in its own way… but I don't think I can say that about Walker's last fight. His last fight was a few short months ago against Thiago Santos. I remember it vividly after thinking that Santos won a decision after doing almost nothing the whole fight… because Walker did even less and was torn to shreds by Twitter for it. Hill had the exact opposite result in his last bout as he knocked out Jimmy Crute in less than a minute last November.
Even though Walker looked terrible in this last fight, I don't believe this is going to be a walk in the park for Hill. Walker is still an awkward person to fight and has a slight 3 inch reach advantage. But, because of those last appearances by both men, it's hard not to favour Hill in this matchup. Walker will come in with something to prove after his last fight, but Hill should be able to overcome that and likely get another finish.
BLÜ's Prediction
Hill by Finish
BLU's Prelim Picks (Prelims begin at 1:00 PM PST)
Jesse Strader vs. Chad Anheliger
BET99 Odds
Strader: +210 Anheliger: -267
Over 2.5: +136 Under 2.5: -175
I've gotta include this one because we have a new Canadian addition to the UFC here: Chad Anheliger. He's not new to the hardcore UFC fans after appearing on the Contender Series back in September. He's currently sitting at a record of 11-5 but, in spite of that, he's got a 9 fight win streak going. He won his contract after winning a tight split decision win over Muin Gafurov. Just before that he actually finished Brady Hiestand in the 3rd Round in Rise FC. If that name sounds familiar it may be because he lost in the final of the Ultimate Fighter this season against Ricky Turcios. On the other side is a fairly recent addition to the UFC: Jesse Strader. He's only had one appearance so far against a tough competitor in Montel Jackson.
Physically speaking, Strader holds an advantage with his 6 inch edge in reach and the fact that he's 5 years younger at the age of 30. That will be an obstacle for Anheliger to overcome, but there still seems to be more momentum leaning in his direction. Given that Strader has lost his only UFC bout by 1st Round KO and Anheliger's record has been filled with 1st Round KOs, it just seems likely that Strader will have a problem with Chad's power and stand-up skill.
BLÜ's Prediction
Anheliger by Finish
Diana Belbita vs. Gloria de Paula
BET99 Odds
Belbita: -125 de Paula: +100
Over 2.5: -250 Under 2.5: +185
We've got an honorary Canadian and fan favourite featured here as Diana Belbita returns to the Octagon. I say honorary because she trains and lives in Canada but comes from Romania. She's had a rough start to her UFC career with a 1-2 record with losses to Molly McCann and Liana Jojua. She managed to turn that momentum around with a win over Hannah Goldy last year leaving her with a career record of 14-6. Gloria de Paula is much less experienced with a record of 5-4. After winning her contract on the Contender Series she lost her first two UFC bouts to Jinh Yu Frey in a decision and was the victim of a highlight reel 1st Round KO from Cheyanne Vlismas last year.
These two are the same age and have an almost identical reach so this matchup will come down to their experience and their fight style. Being that de Paula is from Brazil, she's going to try and utilize that ground game while Belbita will likely try and keep the fight on the feet. The style matchup has me leaning towards de Paula, but Belbita's record just seems so much more impressive than dePaula's. This is a true coin toss and will depend on who shows up to fight on the night and because of her record and deeper pool of experience, I'm giving the slightest edge to Belbita.
BLÜ's Prediction
Belbita by Decision
Jessica-Rose Clark vs. Stephanie Egger
BET99 Odds
Clark: -193 Egger: +154
Over 2.5: -240 Under 2.5: +185
Since we've got two women on the edge of the rankings, Clark is a fan favourite and we haven't seen too many women's fights lately, this seems like a great fight to watch. Clark has had a decent record since she joined the UFC back in 2017 with 4 wins and 2 losses. It should be noted that those 2 losses are to two of the top bantamweight contenders, Kianzad and Eye. Egger is much newer to the UFC as she joined in 2020 where she lost to Tracy Cortez. Since then she's bounced back with a finish over Shanna Young.
Unless you're at the top of the division, a lot of these women's fights are probably going to be fairly close and either woman could win. The slight edge in this case has to be given to Jessica-Rose Clark; with her experience of fighting top contenders, she holds a slight edge, especially when you're likely going to see a decision. Also, just from watching her last bout, it was clear that she's been improving quite a bit in all aspects of her game.
BLÜ's Prediction
Clark by Decision
BLÜ's Best Bets
Here I highlight some betting lines that you might want to take advantage of for UFC Vegas 48. These are odds that favour the bettor. Although some of them may conflict with my picks, they offer a fair reward for a slight bit of risk.
Jim Miller vs. Nikolas Motta Over 2.5 at +110
When you've got someone as experienced as Jim Miller fighting someone much younger, their style is going to involve a lot of minimizing offence with clinch and ground work. This style tends to lead to longer fights and decisions. At +110, that's a fantastic betting line for this kind of matchup.
Joaquin Buckley vs. Abdul Razak Alhassan Over 1.5 at -110
These guys are some heavy hitters so it's certainly plausible that the fight ends before that 1.5 mark. That said, normally when there's two heavy hitters (usually at heavyweight) there's a 'feeling out' process where neither man wants to jump in because they don't want to get clipped right away. We're not talking about heavyweights, both these men can handle a bit of power so -110 for Over 1.5 rounds is well worth the risk.
The Underdog Jim Miller at +150
Just based on the fact that we're seeing a newcomer fight a VERY experienced fighter, the betting line was already a great pick. When you add in the fact that Jim Miller's style favours this matchup, +150 is an incredible deal.
The Underdog Gloria de Paula at +100
The matchup between these two women is dead even, statistically speaking, when a matchup is this close, you have a better return by betting on the underdog.
Parlay Opportunities
The Short Run
Anheliger + Daukaus + Porter
The Long Run
Anheliger + Clark + Daukaus + Porter + Hill