Carter Sotheran (Photo: Keith Dwiggins/Portland Winterhawks)
Growing up in a small town in Manitoba, Portland Winterhawks defenseman Carter Sotheran credits his parents for getting him into hockey at a young age. While he says he's loved the sport since he was little, he remembers skating being something that had to grow on him.
What a great thing that it did because, while he believes hockey was more of his strength anyway, the draft-eligible Sotheran might have ended up loving the baseball diamond in his hometown more than the rink.
As the 2023 NHL Entry Draft quickly approaches, Sotheran says he would advertise himself as "a mobile, skating defenseman who likes to lug the puck up the ice and create chances in his own end." Listed by the Winterhawks as a 6-foot-4 defenseman, 201-pound defenseman, Sotheran continued on to state: "I do like to skate with the puck and move with the puck but I do have a physical game to me. I'm not afraid to make a big hit or play gritty, as some would say."
Though, if he could tell scouts to watch for anything when he's on the ice, the right-shot defenseman says it would be his offensive instincts.
"I've had it since I was younger. I didn't have too many offensive numbers this year, but looking at my past and leading my team in scoring last year? It's [knowing] when to jump up in a rush and create chances. I think I've got a good vision in my zone as well, creating breakaways or two-on-ones from my own end. That's what I would tell them."
He isn't wrong in wanting to advertise his offensive capabilities. While, as he noted, the points didn't quite roll in on the scoresheet, his offensive creation is certainly an area where the 2005-born Sotheran has made his mark in the eyes of most who have watched the Winterhawks throughout the season.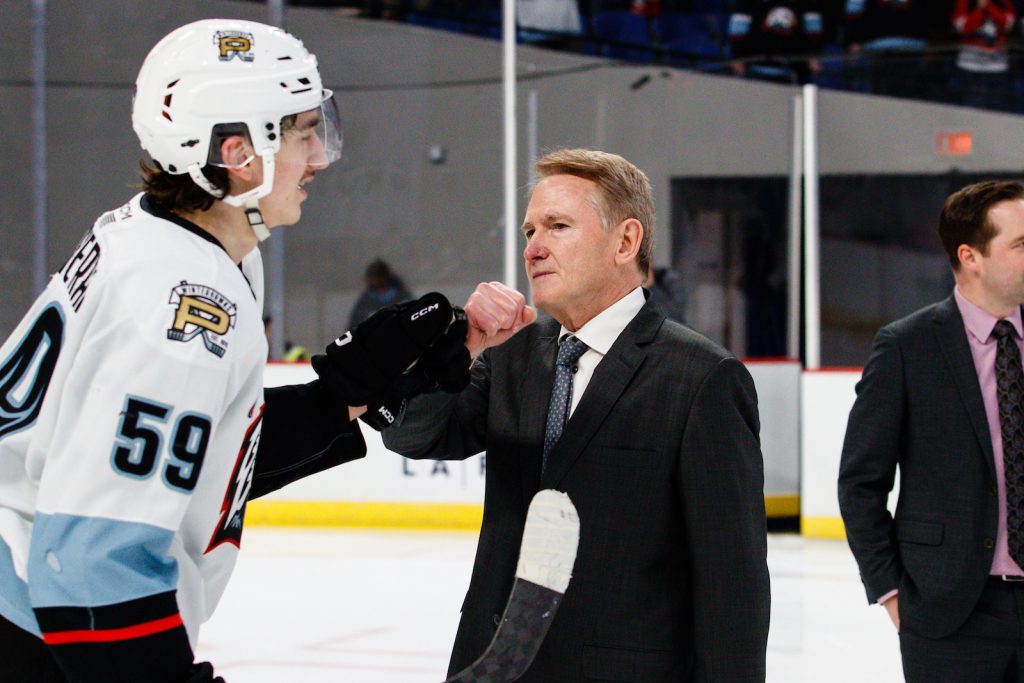 Those offensive instincts never really led to any desire to play as a forward, says Sotheran, though there were some coaches who wanted him to play up front. Unfortunately for them, and fortunately for any team looking for a scoring touch on their blue line, Sotheran wanted the ice time and to stay on defense.
DRAFT SUMMER
While he has been keeping busy in the off-season, including having attended the NHL Draft Combine, the blue liner says he has been getting to the gym every day with a focus on getting stronger all-around and adding power to his game, rather than focusing on a specific area right now.
As for his time at the Combine itself, Sotheran says it was a good look at where everyone else is at and use it as motivation to get to a higher level himself, noting that "they're all great players, all of the players there."
While Sotheran doesn't remember the number of teams he spoke with in Buffalo, he says he feels they were all good interviews. Of course, everyone always wants to know about the funky questions the players get asked but Sotheran only had this to say: "Honestly, I thought there would be more, but I don't think there was too many that were shocking or anything like that or that I haven't heard of yet. I was pretty prepared, thankfully."
His 18th birthday is on June 26. Two days before day one of the NHL draft. While Sotheran says it's still 50/50 on whether or not he heads to Nashville, there may not be a better birthday present than hearing his name called on that stage.
ROOKIE SEASON
While he played alongside fellow draft-eligible defenseman Luca Cagnoni as the top defensive pairing for the Winterhawks, the 2022-23 season was Sotheran's first in the WHL.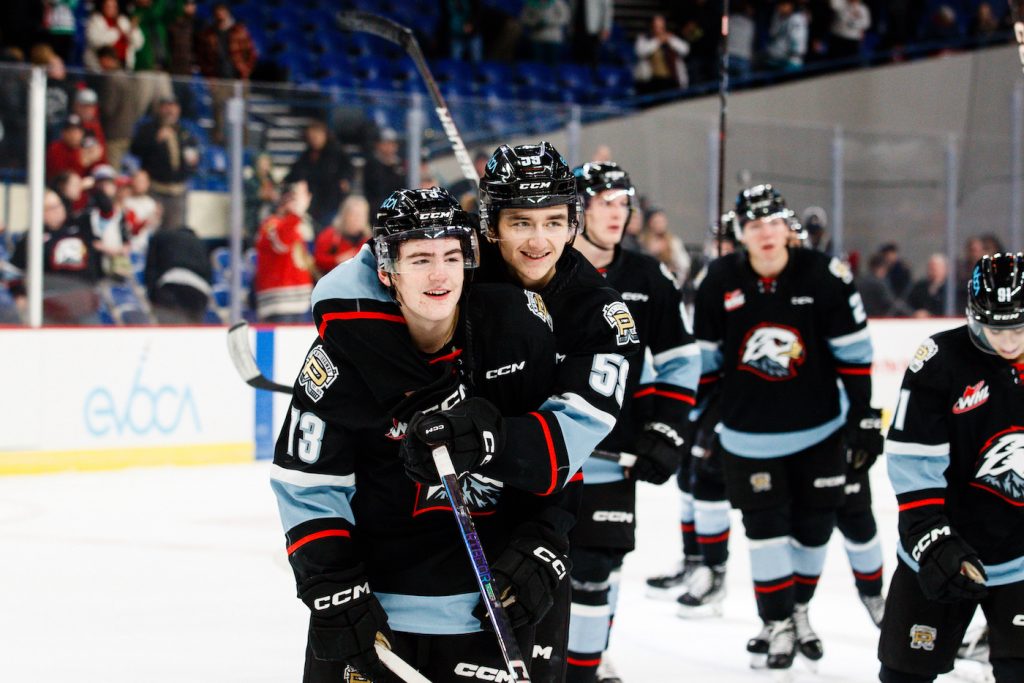 "I think it was a bit of an eye-opener at the start," said Sotheran on his first campaign with Portland. "I mean, you're playing against great players every night, guys that are going to play in the NHL one day, but I think I adjusted to the speed pretty well and by the end, it was pretty physical and I think I adjusted to that eventually. Next year, where I want to be more improved is my physicality. I think I have my feet under me but it's just putting on strength and muscle and getting to that physical play."
While he may already be looking towards next season, when asked about what advice he would give himself ahead of his first regular-season game in the WHL, Sotheran says it would be to play simple and play his game.
"It was definitely a nerve-wracking game, but it would just be to play to my strengths, play simple and be myself out there."
Another thing of note is that of all players to appear in games for the Portland Winterhawks in the 2022-23 season, Sotheran is the only player to appear in all 68 regular-season games. He went on to appear in all nine of Portland's playoff games as well.
"Every game matters for me and I want to play in every game that I can. I definitely didn't think that would happen, but I think it was just taking care of myself at the rink and making sure I'm ready for the next game," said Sotheran on the accomplishment. He went on to praise the Winterhawks training staff, saying, "I think that helped a lot, just talking to our training staff. A great group of training guys and coaches and they helped me get ready for every game. It's all credit to them."
One of the things that the Winterhawks were noted for, in a season with massive trades around the deadline, was for having nearly an entirely "homegrown" roster.
"I think it's everything," said Sotheran about knowing that the organization has that kind of trust in their players.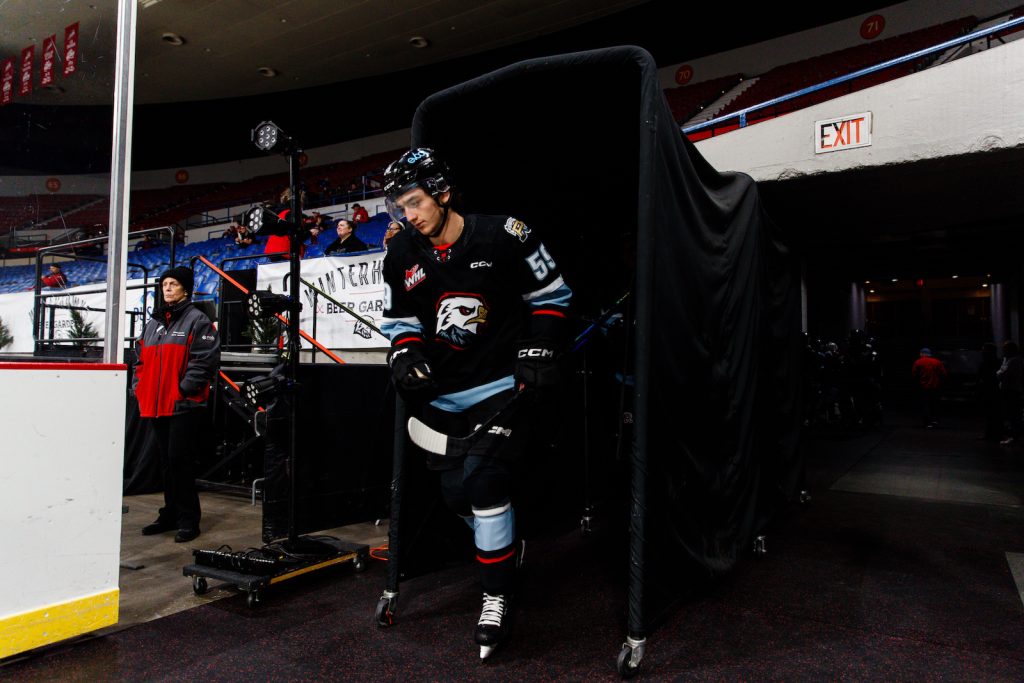 "You come into the year and you know you're going to be sticking around and you can grow with the guys around you. It was probably one of the most special groups I've been with, last year and pretty much everyone's coming back. I think it builds chemistry in the locker room with everyone around. We're going to lose some key guys like Dante [Giannuzzi], who was one of the best guys I've ever met. That will be tough, but we've still got a lot of guys that we can build off of and grow together. That's kind of what Portland is about. Developing their own players. Yeah, we trade for a few players, but it's most keep growing guys who are going to build off each other and learn from each other."
Speaking of growing together throughout the year, Sotheran mentioned playing with Cagnoni throughout the season. With both being more offensive-defensemen, it caused Sotheran to grow into more of a 200-foot player rather than having a fully-offensive mindset.
"I grew a lot in my own end this year, being a more shutdown guy and being more reliable in my own end."
Having briefly mentioned the importance of hard work in the classroom in an interview with PNW Hockey Talk, Sotheran looked back on the academic year, saying it was also nice to go to school and hang out with some of the other rookies, compete in class and be away from the rink with something else to focus on. Finishing the school talk saying he felt it went well and that it was "kind of fun."
Get to know Carter Sotheran
If you had to choose an away rink to play in, what would be the number-one pick?
CS: I always love playing in Seattle. It's always fun when they're chanting your name and saying that we suck and stuff. I think, playing there, especially when we had that win at the end of the year that got us to 40 wins, it was a pretty special moment for us and got us playoff ready. That rink always brings out the best in us and is always something to look forward to.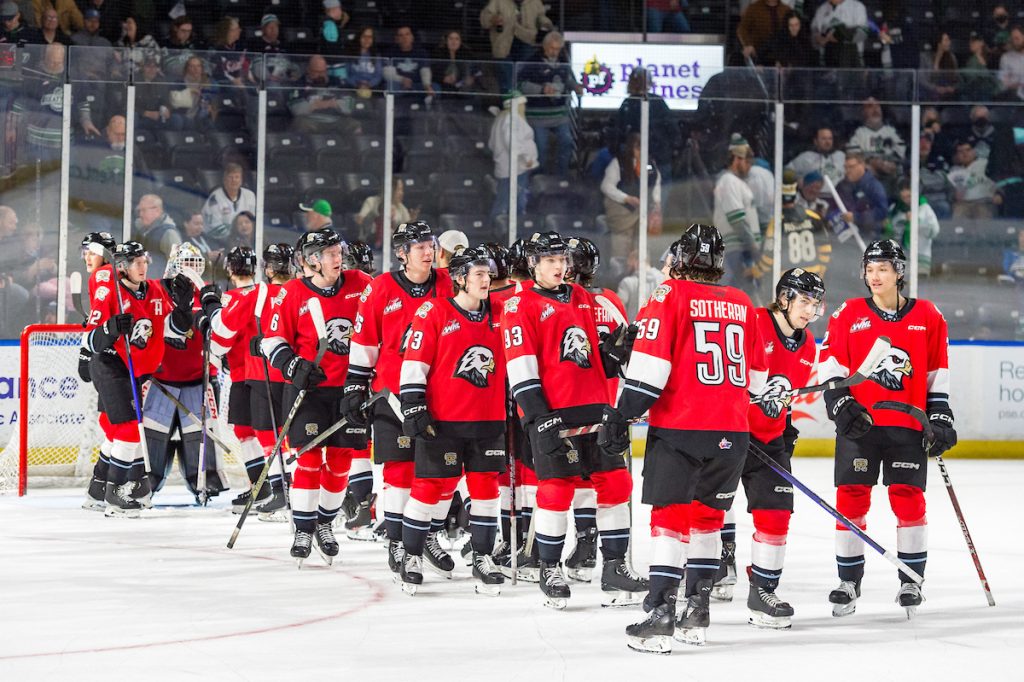 What does your routine look like on a game day?
CS: It depends. Sometimes we have school and sometimes we don't. If we don't have school, then I get up around 9:30 or 10. Usually have something pretty light in the morning and go for pre-game skate with Dante. We usually either skate or do stretches and stuff. After that, come home and relax for a bit. Have a pregame meal and then take a nap, about an hour and a half or so. Once that's done, get dressed and head to the rink. We're usually there pretty early, one of the first guys. It's been a bit so I can't remember how game days go, but that's kind of a rough day.
LC: I feel like that is a good sign that you don't have any major superstitions in your routine.
CS: No, I think it's mostly just getting the nap in. I mean, I can't drink any caffeine or something like that. Try and stay away from that stuff but I don't have too much superstition stuff.
What does your perfect day off look like?
CS: Hopefully, it's good weather. Usually, when you have good weather, guys go for golf and kind of get away from the rink and get our minds off stuff. I usually had either Dante or Chyz [Kyle Chyzowski] or Cagnoni, one of those guys, and go for a round of golf, whether it be near or a little bit away. I think just waking up later and then going for a round of golf and hanging out with the guys after and just resting the rest of the night.
If you were a fruit, what fruit would you be and why?
CS: Maybe a strawberry, I don't know. It's always reliable and you can always go to it. Usually, my go-to is a strawberry so maybe a strawberry.
Songs that are "must plays" in the room?
CS: It definitely changes, but after a win, usually Taylor Swift comes on a bit. Before the game, it's a little heavy rock or rap, but after the game the fun stuff comes out and kind of gets the best of us. Usually, when I'm on aux, Love Story is usually the go-to for me. Katy Perry comes out as well – California Gurls. Last Friday Night sneaks in there as well. Anything to get the guys singing after a big win.
Who would be the best actor from last season's group?
CS: For sure Chyzowski, he's a special guy. I don't know how he does it sometimes but you never know if he's telling the truth or not. He's always doing something to mess with you. I think, if you put him in a movie, he would be super funny and know his role. He'd be good at it. If you put him in a comedy movie, he'd be a main character there. He always knows what to say in the right moments and always gets the guys laughing.
Who would be the worst actor?
CS: Oh, for sure it's [Aidan] Litke. A bit of a goof but I think he'd be a terrible actor. He can't keep a straight face or anything. I don't know how to describe it. He's a funny guy but definitely not good at acting.

The first story that pops into your head from the season. Go.
CS: There were a lot of bus problems this year. That's the thing that pops in my head first. Not because it's bus problems but because the guys get a good laugh about how many times we broke down or how many times stuff happened with that. It's just the adversity that we faced this year. I don't know why. There are a lot of stories, but I don't know if I'm supposed to say too much about that.
(Don't worry, we won't make you spill too many details… yet.)
FOR THE FANS (and the fans of whatever team drafts him)
CS: It was a blast, playing in front of all the Portland fans this year. It was probably one of my most fun years. Everyone coming out and supporting me, whether it be in person or online. I'm really thankful for everyone coming together and saying nice words and always keeping it positive. It kind of kept me going and kept my head high. Thank you to all the fans out there.
To whoever drafts me, I'm looking forward to it and am not going to stop working until I'm there. I think there's a lot to uncover from me and I just want to start.