It has been an exciting two years for Tyler Thorpe. The Richmond, B.C.-born forward has gone from playing in the Pacific Junior Hockey League all the way to the WHL and now finds himself on the NHL's Central Scouting List ahead of the 2023 Entry Draft. After being named to the list, he spoke about his season and what it means to be recognized by Central Scouting.
Moving from Junior B all the way to the WHL in less than a year is a big adjustment. The game is faster, and you are playing against some of the best prospects in the world on a nightly basis. This was not lost on Thorpe as he looks back on the different challenges the WHL has to offer.
"I've taken away the fact that it's a completely different mindset. It's a much more team-focused mindset, and you have to come ready to play for the guys beside you."
Playing junior hockey so close to your hometown has its advantages. For Thorpe, that means he gets to live at home and have his family close by whenever he needs them. At 17 years old, this was very helpful, especially while adapting to playing in the WHL.
"Yeah, I do. I get to live at home with my parents, and I don't have to worry about feeling homesick or home life because I am there. I definitely see it as an advantage."
This season, Thorpe scored four goals, but none was more memorable than his first which came on December 17th, 2022, against the Portland Winterhawks. At the time, the goal had given the Giants the lead in the game as they battled back from a 3-0 deficit in Portland. While Vancouver would eventually fall in overtime, it is a memory he will remember for the rest of his life.
"It was a lucky bounce off a shot. I got it in the middle, had the puck in the slot and just shot it. It was surreal. I know a couple of guys on the Winterhawks, so scoring against them was amazing."
After playing 48 games in the regular season for the Giants, Thorpe suited up for all four playoff games against the Kamloops Blazers. While he didn't register a point, he was noticeable, recording four shots during the series. Despite Vancouver being swept by the Memorial Cup hosts, it was a positive learning experience for the team.
"Everybody is ready to go, playing their best game and focused. It is completely different hockey from the regular season."
One major factor in his success this season is the support he has received from Head Coach Michael Dyck. Having a coach that believes in a player and continually gives them opportunities is a big boost, especially at the WHL level. As Thorpe explains, having that support has been a game-changer for him this season.
"It makes me want to work harder and become a better hockey player because I know there is someone like Michael who will be in my corner always."
As mentioned, Thrope was included for the first time on the final rankings list for this upcoming draft. While it was a surprise for him and his family, it was well deserved after what was a strong campaign. While there are no current draft plans as of yet, there is little question that his friends and family will end up gathering as teams start to make their selections in late June.
"I'd say it was a surprise. Obviously, I wanted to be on that list, but I wasn't expecting to be on it, so when I saw my name on it, I was pretty surprised and excited. My parents were pretty surprised because none of us expected me to be on that list, but when I got it, they were pretty proud and excited to see my name on there. The idea of being drafted into the NHL is more than exciting for me."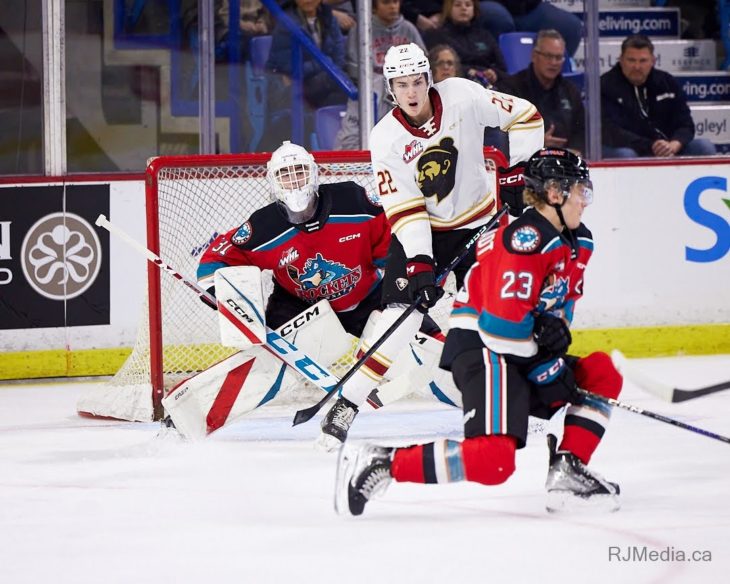 Thorpe is one of five Giants who finished on the year-end Central Scouting list this season. The other four include Samuel Honzek, Jaden Lipinski, Ty Halaburda and Mazden Leslie and have been on Central Scoutings radar since the beginning of the season. Having watched these four throughout the season, he sees the time and dedication that is needed for players to ultimately be selected in the draft.
'I'd say the way they approach every practice and game. Every single one of them that is on that list is always focused, so that is what I have learned the most from them."
Regardless of what happens at the draft, Thorpe wants to show everyone, his name being on the list was not a mistake. He also hopes to put on a little more weight this offseason so he can become stronger and more of a force in the league. If he can continue to develop this offseason and work with other WHL players over the summer, the sky really is the limit for what he and this Giants team can achieve during the 2023-24 season.