Photo Credit: Getty Images
*This was originally posted January 5, 2022*
It's time for another edition of Avid Thoughts. I haven't done one since last year so it's been a while.
With the calendar flipping to 2022, the NHL and Premier League are approaching the middle of their seasons, NFL is closer to the playoffs, lots of College Football bowls and people are making new year's resolutions they won't keep.
It doesn't feel like 2022 to me. It still feels like March 274,2020. Time has lost its meaning since the pandemic began. My perception of times has been lost. In fact, time doesn't really exist. It is an illusion made up of human memories and it is a manmade concept. It was created for humans to help separate the past and the future from the present.
Basically, none of this matters. We will all die in the end. One day, the world will end too. What if none of this is real and we are living in a simulation? Or…wait, where is this article going? It's starting to fall off the rails.
Anyway, let's get into it.
2022 begins with a feel-good story
2022 is still young but we already have a strong contender for the feel-good story of the year.
As you may know by now, Seattle Kraken fan Nadia Popovici saved Canucks assistant equipment manager Brian "Red" Hamilton's life by spotting a cancerous mole on the back of his neck on October 23. She wrote a message on her phone so Hamilton could see it and fortunately, he did. Thankfully, he got it checked out and it was cancerous but it was in its early stage.
"The words out of the doctor's mouth were if I ignored that for four to five years, I wouldn't be here," Hamilton told the media before Saturday's game. "She extended my life, she saved my life."
The two then met before the game and both teams came together and granted Popovici $10,000 towards her education as she has been accepted into multiple medical schools.

Popovici's story is being told worldwide. Hamilton and Popovici have been interviewed by CBC, NBC, CNN and even the UK's Sky Sports.
Their story has been told in Japan, Germany, Brazil, India, Italy and other countries across the globe.

This is exactly the type of story that we need and it also shows that it isn't that hard to do a good deed and you can help someone whether that is big or small. We need more kindness and people like Popovici in this world. She is also going to kill it at medical school and will kill it in whatever medical career she chooses to pursue.
Can the Canucks make the playoffs?
So how about those Canucks? It has been pretty good for them over the past month and they are closing in on the wild card spots. They have won eight out of their last nine games and still have yet to lose under Bruce Boudreau. Their only loss was a 2-1 shootout loss to the Los Angeles Kings.
The Canucks are a fun hockey game these days. They look motivated, they don't wilt in games, they have got great goaltending from Thatcher Demko and the offence, power play and even their dead last penalty kill is improving.
So this begs the question, can they make the playoffs? In my hot takes for 2022 article for The Canuck Way, I predicted they would miss the playoffs by a point. Why? Maybe I'm a masochist. But the more I think about it, it seems that the playoffs aren't as far-fetched for the Canucks as they were a month ago.
Vancouver currently has 35 points which is the same total as the San Jose Sharks and Winnipeg Jets and is three points behind the Colorado Avalanche.
"They have turned the corner, to say the least," said former Canucks Jannik Hansen on Sportsnet Today with Bik Nizzar and Israel Fehr on Tuesday afternoon. "It doesn't look like a trip to the moon anymore, more like a steep hill up a mountain to climb back into a playoff spot."
The Canucks power play is fourth in the NHL since Boudreau took over and the penalty kill is sixth in that period.
The Canucks expected goals per 60 have improved from 1.84 to 2.46 under Boudreau according to Thomas Drance of The Athletic. They have been playing with an aggressive forecheck and defenders pinching. Boudreau Hockey.
So do the Canucks have a chance? Yes.
Colorado is getting better and so will the Vegas Golden Knights with Jack Eichel close to returning. The Anaheim Ducks have been a surprise this season and still look pretty good while the Calgary Flames have looked decent.
It's still going to be a tough climb. JT Miller has led the offensive charge and is the team's leading scorer. Quinn Hughes has bounced back defensively and is starting to look like one of the best in the league. Brock Boeser has started scoring again and Nils Hoglander and Vasily Podkolzin have started to chip in on the offence.
Elliotte Friedman gave us an interesting stat about Oliver Ekman-Larsson in his latest edition of 32 Thoughts.

OEL has been very good defensively this season. However, he is on pace for just 15 points which would be his lowest since his rookie season. With his cap hit over seven million dollars, more offence needs to be produced. He was also acquired because he could provide offence. Though to be fair, it's hard to get points when you are on the second PP unit.


Elias Pettersson has shown flashes of his former self but if he does get back to his old self the Canucks playoff chances could increase even more. No, the Canucks should not trade Pettersson. He is still 23 and slumps by a young player are common. Imagine the Avalanche traded Nathan Mackinnon in 2018 after two down seasons. Plus, franchise centres don't go on trees.

The Canucks honeymoon is going to end sooner or later and the defence and penalty kill is still suspect. But Boudreau has installed a new thing in the locker room: belief.
Belief, I think, is the biggest form of confidence," Boudreau said on the latest episode of the Ray and Dregs Podcast. "If you believe you can do it, you have a chance at being able to do it. If you don't believe you can do it, you're never going to do it."

It is a difficult task but it's doable. As Boudreau says "win the week."

The Oilers are still a mess
The Edmonton Oilers have gone 2-6-2 in their last ten games and have lost four straight. Before the season, the Oilers added Duncan Keith and Cody Ceci to their blueline and gave Tyson Barrie a three-year contract. What about goaltending? They have Mikko Koskinen and Mike Smith.
The Oilers have offensive talent. They have two of the best players in the world in Connor McDavid and Leon Draisaitl. Ryan Nugent-Hopkins is good down the middle and Zach Hyman has put offence before he got injured. To make things worse McDavid (along with Derek Ryan) has tested positive for COVID-19. So he could be out for their next game against the Toronto Maple Leafs.
Edmonton has been a mess for years and still is. They are also wasting the primes of two elite players. If I were McDavid, I would be livid if there were no playoffs in Edmonton this season. Yes, you have two amazing players but they can't do everything. Where is the supporting cast? Defence? Competent goaltending? Peter Chiarelli giving Koskinen a three-year extension and getting fired a few days ago is the NHL equivalent of taking a dump on your desk as your boss tells you you're fired.
It also looks like the Oilers have no structure under Tippet. (Sound familiar?) They have been relying on McDavid and Draisaitl. carrying them and the back end and goaltending is a mess. Change has to be made in Edmonton. (Again, sound familiar?)
The end of an era in Seattle?
For only the third time in the Pete Carroll era, the Seattle Seahawks won't be in the NFL playoffs.
It's been a tough year to be a Seahawks fan. Russell Wilson hasn't looked like an elite QB over the past year and a half and Carroll cannot coach the modern game of football with his reluctance to throw the ball downfield. (Some of this can be on Wilson too.)


The Seahawks have only won twice at home this season and those were wins over the Jacksonville Jaguars and Detroit Lions. They are two teams in the cellar of the NFL. At least they have first-round picks as the Seahawks traded theirs to the New York Jets for Jamal Adams. Adams has looked fine but has made some costly penalties.


The defence aside from Bobby Wagner, Jordyn Brooks and a few others have been mediocre. The offence looks so stale.

Pete Carroll's time in Seattle should be up. The Seahawks need to rebuild. If that means trading Wilson, so be it. The Super Bowl in 2014 was incredible but they need to move forward. The Seahawks have been trying to get back to that height for years and have delayed the inevitable collapse by doing so.
It is going to be the most interesting offseason in Seattle in a long time.
The Romelu Lukaku interview.


I have been quiet about this on Twitter but I'll air my thoughts out on this here but first some context.

So Chelsea striker Romelu Lukaku gave an interview with Sky Sports Italy a few weeks ago and it was released just a few days ago. What is so bad about the interview? Well, it was the stuff Lukaku said. (Translated from Italian.)
"Physically I'm fine, even better than before, " he said. "After two years in Italy, in which I worked a lot at Inter with trainers and nutritionists, I am physically fine. But I'm not happy with the situation, this is normal. I think that the coach (Thomas Tuchel) has chosen to play with another module, I just have to not give up and continue to work and be a professional. I am not happy with the situation, but I am a worker and I must not give up. I think the coach can make me play more, but I have to respect the choices he makes"

He also talked about his former club Inter Milan and expressed his desire to return one day.

" I always think of Milan," he said. " There I experienced the best moment of my career. But the people of Milan and the Inter fans are truly the best in the world. I have always said that I have Inter in my heart, I will return to play there, I really hope so. I am in love with Italy."


When Lukaku signed for Chelsea in the summer for a club record of 97.5 million pounds. he stated that it was his dream to play for the team he grew up cheering for as a kid. Hearing these comments contradict that and gives the impression that Lukaku doesn't want to be at Chelsea and regrets leaving Inter.


The Belgian striker also revealed that Manchester City wanted him in the summer of 2020 but he rejected them. He also said he wanted a contract extension from Inter after winning the Scudetto with them last season but they didn't budge due to financial problems. So once Chelsea came calling, he begged that the two sides would come to a deal.
He also said this:

" In football, for me, there are three top teams in the world: Real Madrid, Barcelona and Bayern Munich," said Lukaku. "One player, all players have the dream of someday wearing the jersey of one of these 3 clubs. I tell the truth. I was thinking of making my story with Inter and, if one day there was the possibility, of going to one of these teams. Only then would I have left Inter, but first I wanted to renew. I would have been even happier because after two years we had done great things with and could continue this progression."

Chelsea fans were livid at these comments. It was like Lukaku committed a war crime. People called him "Lakaka" on Twitter and many demanded that he leave Chelsea asap. The worst part is that Lukaku's agent, his PR team and the club did not know the interview took place. He arranged it himself. This was because he wanted to repair the relationship with Inter Milan fans who felt heartbroken and betrayed he left in the summer.
Inter fans responded with a banner outside the San Siro that read: "It doesn't matter who runs away in the rain, it matters who stays in the storm. Bye Romelu."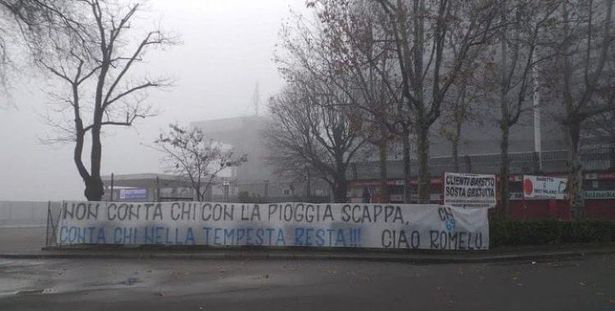 My thoughts? These were very unprofessional and disgraceful words by Lukaku. No player is bigger than the club. Lukaku is supposed to be a leader on the team and he set a bad example for the young players. If he wanted to stay at Inter, he should have never left. It's like if I got married and a month later phoned my ex saying I want to get back together before we get old. He has let down the board, his manager, his teammates and the fans. Lukaku has kissed the Chelsea badge multiple times this season and he has also kissed the West Brom badge (while on loan from Chelsea), Everton badge, has pointed to the Man United badge and has kissed the Inter Milan jersey. This goes to show how big his ego is. Does he really love Chelsea? Or is he just in London for money and fame? As the old saying goes, there is no "I" in team.


At first, I thought the quotes were taken out of context since the full interview wasn't released at the time they first came out (December 30 and the full interview was released the following day.) or that the translation was off but they came from football insider Fabrizio Romano who is fluent in English and Italian.

Lukaku basically spat on the Chelsea badge when he said those things and I can't blame many Chelsea fans for wanting him out.


He was dropped from the team for Chelsea's 2-2 draw with Liverpool on Sunday which was the right call. On Tuesday, Lukaku gave an apology in a five-minute video.

"To the fans, I'm sorry for the upset that I caused," he said. ""You guys know the connection that I have with this club since my teenage years, so I totally understand you guys being upset. Obviously, it's up to me now to restore your trust and I'll do my best to show commitment every day on the training ground and in the games, trying to make sure that we win games. And also to the manager, I apologize, and also to my team-mates and the board, because I think it was not the right moment also and I want to move forward from this and make sure that we start winning football games and that I perform for the team in the best manner."


Didier Drogba has stated he wanted to leave Chelsea and go back to Olympique Marseille multiple times in interviews in the mid-to-late 2000s. He even said he felt "disgusted" to sign for Chelsea. However, Drogba became a club legend and scored the tying goal and winning penalty on the famous night in Munich in 2012. However, it took a lot of convincing especially from Jose Mourinho for him to stay. Imagine social media was as big as it was now back then. Drogba would have been crucified.

Tuchel has handled the situation with professionalism. He has spoken to Lukaku many times since then and wants him to play football matches and stay. Both of them have talked about the system and how it could work for the striker.

"Romelu's very aware of what happened and what he created," said the Chelsea boss per Romano. " He feels the responsibility to clean the mess. Maybe we'll have a bit of smell from it, but he can handle it. He's no other choice, he's our player."

He has also been fined almost 420,000 Pounds.


Lukaku needs to perform on the pitch and score goals to help Chelsea win games and trophies and then the fans can put this in the rearview mirror.

It will be hard to forgive him and forget this but if he starts showing that he loves the club and lives up to his reputation as a goal scorer, then we will forget that the interview ever happened and Stamford Bridge will chant his name once again.