Another week, another Avid Thoughts column from yours truly. I don't feel like doing an intro this time and you probably know how this works. (If you are a first-timer- the concept of Avid Thoughts is pretty much self-explanatory.) Let's just get into it.
Bruce Boudreau's Canucks lose in Florida and *that* Kodak Black incident.


The Vancouver Canucks did not play a game from January 1 to January 11 thanks to games being postponed. The game against the Ottawa Senators was postponed due to the capacity limit. I guess the league wants to gain more revenue. At this point, will the Canucks home game against the Florida Panthers on January 21 still happen? Will they ever play at home again?

Speaking of the Panthers, the Canucks played them last night in Sunrise. The Panthers are one of the best teams in hockey this season which is weird to process because they have been mediocre since their inception. (They did make the Final in 1996 though. However, they haven't won a playoff series since.)
Florida has been led by Jonathan Huberdeau. (one of the league's most underrated players), Aleksander Barkov, and a resurgence by Sergei Bobrovsky. The Panthers are a team that can wake up with one mistake you make and that's what happened with the Canucks. The tide turned after Tyler Motte's penalty. (Though you could probably argue that it wasn't interference.)

The Canucks ended up losing 5-2. If you didn't watch the game, you would think they played poorly. That wasn't the case. To the Canucks' credit they battled hard all game. There was urgency especially after going down 2-0 early in the first. Unfortunately, it wasn't one of Thatcher Demko's usual nights and the Panthers showed us why they are top of the league. Yet, they can't fill their arena.
Oh yeah, the Canucks have to face the Tampa Bay Lightning, Carolina Hurricanes, Washington Capitals and Nashville Predators on the road trip. They are in the top ten in the NHL. The Canucks failed the first test so far and let's see how well they do on the next four.

We also have to talk about *that* thing.
So apparently rapper Kodak Black was at the Panthers- Canucks game last night. He is basically one of today's mumble rappers. I don't really listen to him. He has hit songs such as Tunnel Vision, Wake up in the Sky, and Super Gremlin.
So he was sitting in the stands but later somehow managed to get himself and his date a suite and…well see for yourself. (WARNING: NSFW content.)

That's five minutes for hitting from behind.

What is even more bizarre about this is that they were next to the box where Panthers GM Bill Zito and special advisor Roberto Luongo were sitting. Of course, Luongo Tweeted about it. It was quite the night to be on hockey Twitter and that's saying something.

Turns out, Kodak and his date kept their clothes on and weren't doing the deed. They were "dancing" apparently.

This whole situation was just hilarious. That is one way to enjoy a hockey game I guess.

Kodak Black is already pretty famous and this story has made its way to TMZ and the New York Post. Looks like this is one way to grow the game of hockey.
Should the Canucks trade JT Miller?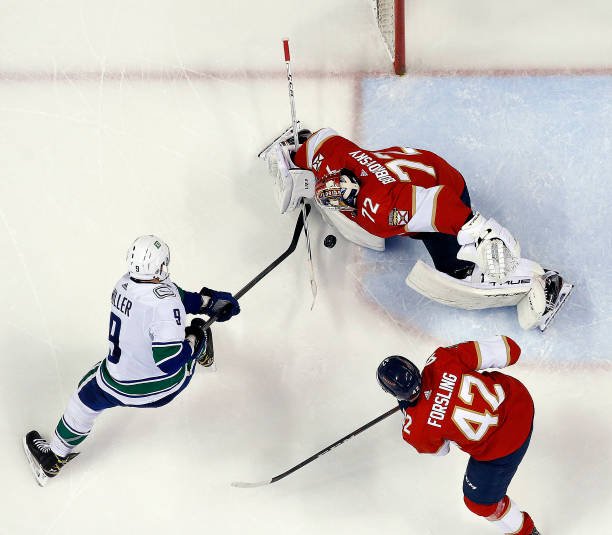 If you are on Canucks Twitter, this has been a big topic of discussion. (Particularly thanks to our flagship hockey podcast, Point Shot.)


JT Miller is the Canucks leading scorer with 11 goals and 25 assists for 36 points in 35 games this season. While he does make some dangerous passes, Miller is a versatile player who can provide offence and is a leader in the room. He's a pretty good player.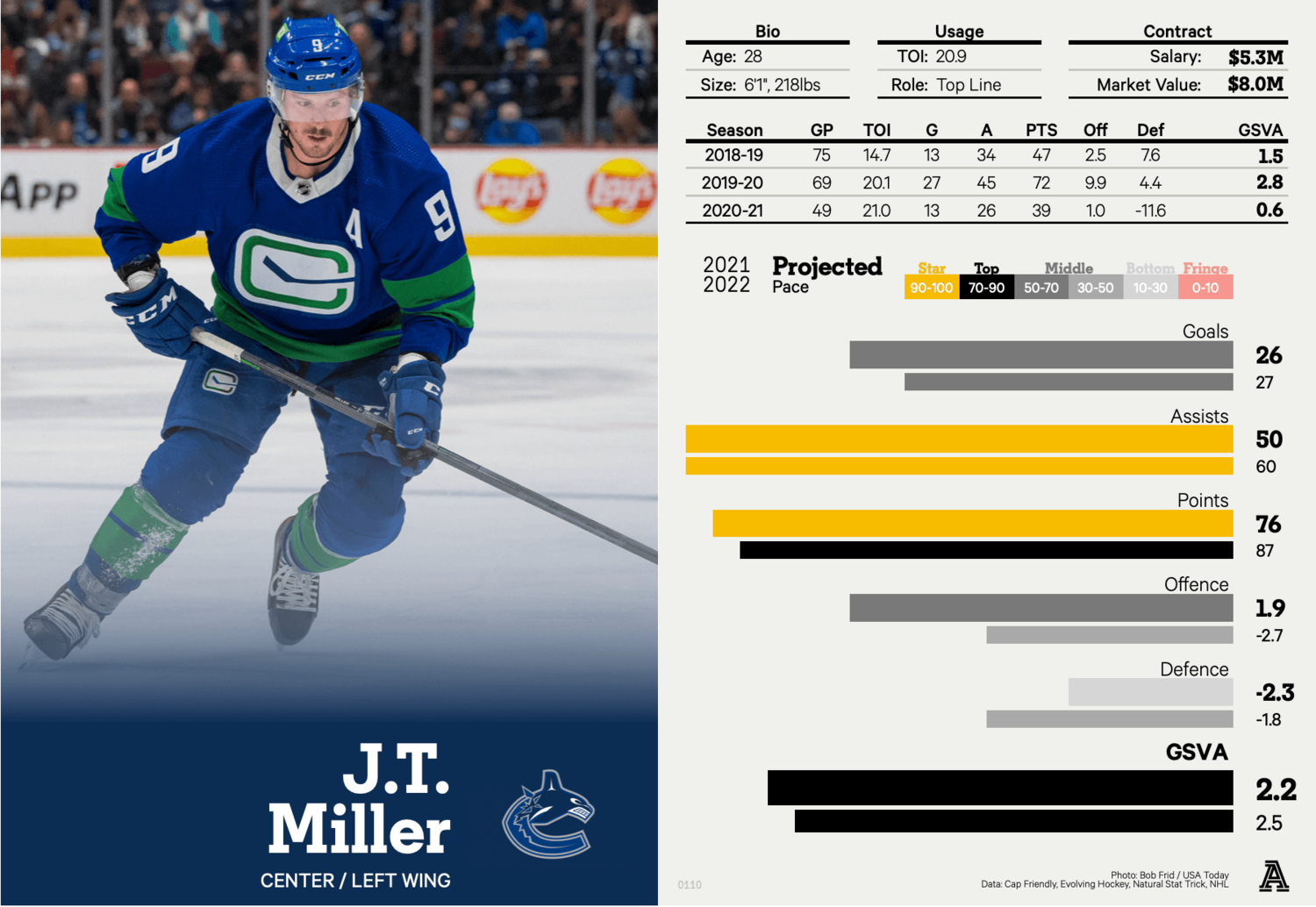 With Miller on pace for 87 points, his value is high. But should the Canucks trade him? Let's look at both sides of the coin.


As I said above, Miller is a big part of the Canucks locker room. Losing him could hurt. He is also still in the prime of his career at 28. (Will turn 29 in March.) The Canucks would miss his leadership, offence and versatility. He is pretty much the heart and soul of the team.


However, he is nearing 30 and obviously, that is when most players start to decline. He is also going to want a big pay raise. In Luszczyszyn and Goldman's chart above, they have Miller valued at eight million. Miller's contract is up in 2023. The Canucks will also need to pay Bo Horvar and Nils Höglander that same year. In 2024, Vasily Podkolzin is coming off his ELC and Elias Pettersson is going to want a big raise since his bridge deal is up.


So where do I stand on this? I'm on team trade Miller. Look, Miller is a great hockey player and one of my favourite players on the Canucks but if you want to win a Stanley Cup. You have to make tough decisions.

If Miller does end up getting eight million and declines, it's not going to look good for the Canucks. Plus, the Canucks prospect pool is shallow and they need picks. Miller is the oldest of the core.


The Colorado Avalanche traded Matt Duchene in 2017 in a trade with the Ottawa Senators and Nashville Predators At the time, he was the oldest of the core. In return, the Avalanche got Sam Girard, Shane Bowers, Vladislav Kamenev, 2018 first and second-round picks and a 2019 third-round pick (That pick was conditional at the time and became a first and the Avs selected Bowen Byram.) and Andrew Hammond. Girard is now a key member of Colorado's blue line and so is Byram. (Right now, Byram, unfortunately, stepped away from the team due to lingering concussion issues.)


The Canucks also need a young right-handed defenceman so Miller could fetch that as well as another prospect or two and some high picks.


I'm not saying trade him now. If the Canucks are in a playoff push at the trade deadline there is no way Rutherford and whoever the next GM is will trade Miller. If they are falling at the deadline, then yes. However, if the Canucks were to trade Miller, it would be in the offseason.

If this team is going to be a cup contender, tough decisions will be made. Trading Miller might be one of them.
The Evander Kane situation
Evander Kane is a never-ending drama in the NHL.


The San Jose Sharks terminated Kane's contract after violating the AHL's COVID protocols. Apparently, he was on his way to Vancouver after testing positive for COVID-19.

Even after that, several teams still want to sign them. Thankfully, the Canucks weren't one of them as Rick Dhaliwal reported of Donnie and Dhali: The Team reported that Vancouver has shown no interest. The Edmonton Oilers are the favourite to sign him as of now and Connor McDavid was asked about it.

"If fans don't like it, or the media doesn't like it, or whatever… it is what it is," said McDavid.

So if the Oilers sign a guy with domestic violence allegations, gambling issues, a history of assault and someone who submitted a fake vaccine passport and violated COVID protocols: it is what it is? That says a lot about hockey culture. That was a pretty disappointing answer and it seems only winning matters.
Honestly, Kane shouldn't play in the NHL again. How many chances is this guy going to get? No wonder the league has a hard time growing the game.
Bobby Clarke rips into Ron Hextall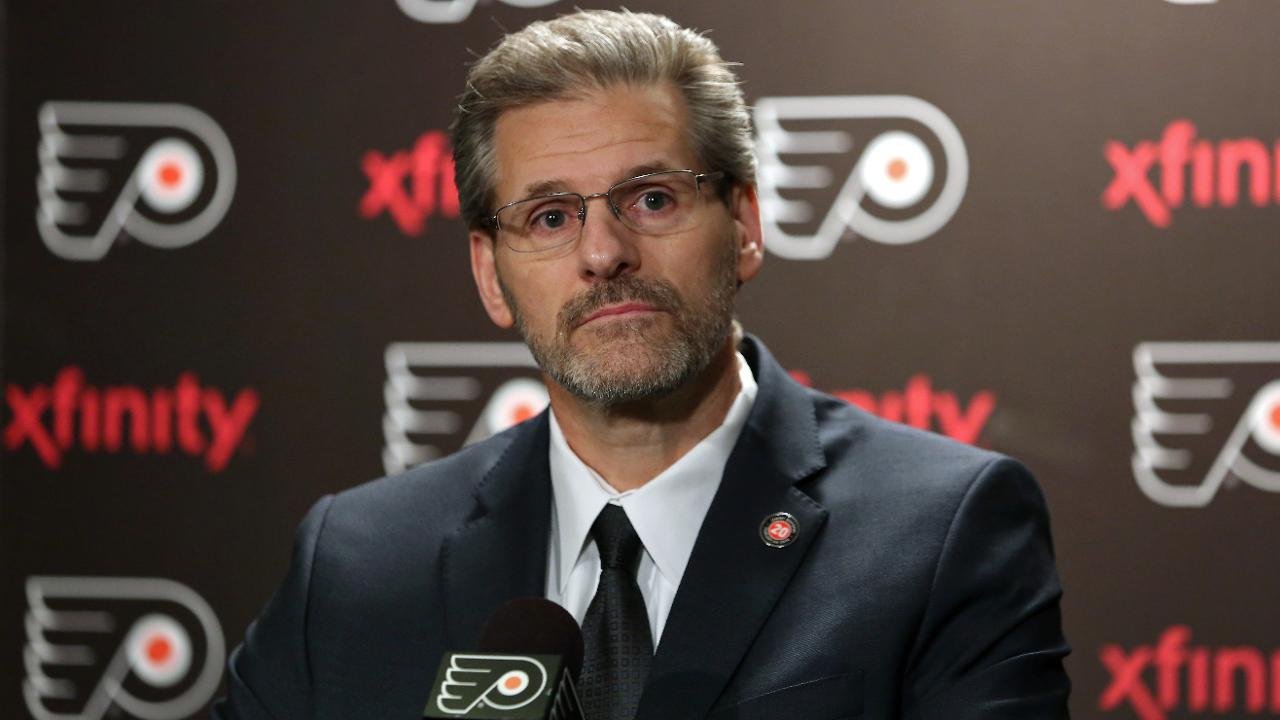 Not sure if I've seen this before.

Philadelphia Flyers legend and senior advisor Bobby Clarke went on the latest episode of the Cam and Strick Podcast and he blasted former Flyers GM Ron Hextall and also a Flyers lege.d

"He alienated everybody right away. He shut his door, he locked the doors. He was the boss and nobody else was a part of it," Clarke said. "We get the second pick in the draft and we end up drafting Nolan Patrick. None of our scouts wanted Nolan Patrick. I don't know where Patrick should have gone after his performances in Brandon, he's a pretty good player, but they certainly wanted (Cale) Makar. Of course, he went next. Now he's a superstar and Patrick hasn't played but Hextall made that choice himself."


Oh, man. There was a time where Patrick was touted to first overall in the 2017 draft but ended up going second to the Flyers and didn't work out in Philadelphia. Looks like the scouts knew all along. Patrick of course was traded to the Vegas Golden Knights in the offseason and Makar is one of the best defencemen in the league.


"There are other choices that were made in our draft that we're paying for," said Clarke. "We've got two or three first-round picks that are never going to play. That's why we're struggling. Hexy made some huge mistakes."


Wowzers.



Clarke also ripped Hextall's trading including the one where he traded Brayden Schenn to the St. Louis Blues for Jori Lehtera and a 2017 first and a 2018 conditional pick which eventually became a first. The Flyers selected Morgan Frost and Joel Farabee with those picks.


"Our scouts were so mad at Hexy for doing the Schenn deal," Clarke said. "We also had a chance to get (Ryan) O'Reilly from Buffalo. We didn't. Obviously, that was the manager's decision, but that was another one that the scouts weren't consulted on."


So what he was saying was that the scouts wanted to keep Schenn, add O'Reilly and draft Makar. The Flyers would have been a lot better than they are now if that happened. It probably happened in some alternate universe. You kind of have to feel for Patrick as he has been dealing with head injuries throughout his NHL career.
Hextall wasn't great as Flyers GM but I have never seen a former GM get called out by one of his former colleagues. Clarke must have thought: "I'll come on that podcast and I will diss Ron on it. It'll be fun!"



Maybe one day we'll have Trevor Linden or Stan Smyl come on a podcast and tell all about the Jim Benning era.
NFL Playoffs are here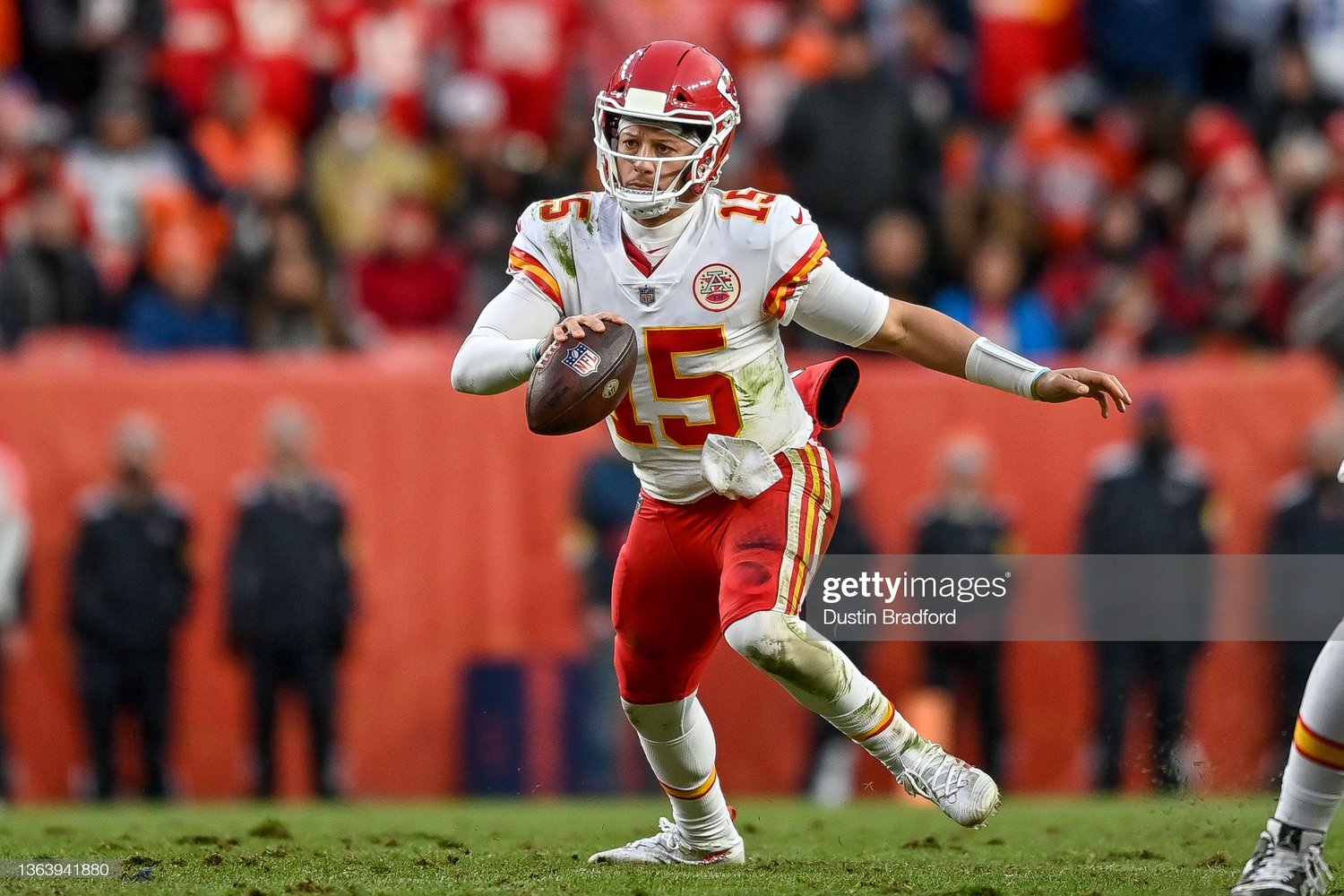 What a way to end the 2021 regular season in the NFL. The Las Vegas Raiders were hosting the Los Angeles Chargers on Sunday night and the team that won would head to the playoffs. But that wasn't all. If there was a tie, both the Raiders and the Chargers would head to the playoffs and the Pittsburgh Steelers would have been out. As a result, Ben Roethlisberger's career with the Steelers would have been over. (He may also retire.)
It was a wild game. The Raiders were up by 15 at one point but the Chargers wouldn't quit, Justin Herbet pretty much converted on every fourth down. Unfortunately, the Chargers Chargered it on OT and took a time out before the Raiders kicked the game-winning field goal.
Both teams should have just kneeled.
So the NFL playoffs are now set. Too bad my Seattle Seahawks aren't in it. The Tennessee Titans are the number one seed in the AFC and the Green Bay Packers are the number one seed in the NFC. That means both teams have a bye week and will play one of the winners of wild card weekend.
Here are my predictions for wild card weekend and the rest of the playoffs. Again, I'm not going to pretend I know the nuts and bolts of the teams. I'll just go with my gut.
WILD CARD:
Kansas City Chiefs over Pittsburgh Steelers
Buffalo Bills over New England Patriots
Cincinnati Bengals over Las Vegas Raiders.
Tampa Bay Buccaneers over Philadelphia Eagles
San Francisco 49ers over Dallas Cowboys
Los Angeles Rams over Arizona Cardinals
DIVISIONAL:
Titans over Bengals
Chiefs over Bills
Packers over 49ers
Buccaneers over Rams
CONFERENCE CHAMPIONSHIPS:
Chiefs over Titans
Packers over Buccaneers
SUPER BOWL:
Chiefs over Packers
So there you have it. It will be Patrick Mahomes against Aaron Rodgers in the Super Bowl at Sofi Stadium. It will be a back and forth offensive game with the Chiefs just edging out winning their second Super Bowl in three years.
But I'll probably be wrong again.
The first hockey anime
I have been watching a lot of anime since the pandemic began and that is way more than I ever did in certain phases in high school.
One of the animes that aired in the fall was about hockey. There have been anime about baseball, basketball, soccer, figure skating, volleyball, swimming and other sports. But there has never been an anime about hockey since it isn't a very popular sport in Japan. Well, there is one now.
The anime is called Puraore: Pride of Orange! It is about a group of high school girls, many of them childhood friends who learn to play hockey and suit up for the Nikko Dream Monkeys. (Nikko is an actual city in the Kanto region of Japan that has about 80,000 people. ) Pretty basic plot but as a passionate hockey fan, I had to watch this.
Don't expect it to be the anime version of Slap Shot or Attack on Titan on ice, however.
What do I think of the first-ever hockey anime after watching all 12 episodes? It was so-so.
I'll start with the positives. First of all, they did a great job of animating the hockey scenes. The camera angles of the girls on the rush were kind of like what you see in a typical hockey movie. The passing and shot sequences looked great too. The animation feels like you are watching the action up close in person.
They also nailed the sounds of hockey. The skating, the sound of the puck being shot and passed and even the posts sounded very accurate to real-life hockey.
Like the characters, I also read that the voice actors were rookies in their craft and they did a great job. They nailed the emotional scenes and brought each character's personality to life perfectly. There was also some good character development. For example, Yu, the centre, quits hockey and moves to Nikko to start a new life but later joins the Dream Monkeys and learns to not be selfish and be a team player. Also, Naomi (or simply Nao) a defender not only learns how to defend but also learns how to stop relying on her childhood friend and teammate Rikorin for help, and learns how to be confident in her own skills
Now the negatives. There are a lot. The opening scene ticked me off. It shows the girls playing for Team Japan against Team Canada in the final of the World Cup of Hockey. The score is tied and they beat Canada on a third-period buzzer-beater. Yes, Japan beats Canada in hockey on the biggest stage. Sure, it would be a great underdog story if this happened in real life but if it did, it would be a big disgrace here in Canada. After watching that, I spent five minutes face palming and rubbing my head in frustration.
That wasn't all. After that, they do an idol sequence where they basically dance and sing on the ice after winning. I thought this was a hockey anime, not an idol anime! This isn't Love Live! I spent another five minutes facepalming.
Then it cuts to the girls at their embroidery club. The main character Manaka then comes in and holds up a poster for hockey classes that she was putting up around the school and asks her friends to join. They all say yes. The introduction was too quick in my opinion. Also, the show kind of felt rushed. Sure, it's hard to fit it all in 12 episodes but practices and games were skipped and I just felt like the show was too slow at some moments and too fast in others.
Also, the idol scene wasn't just a one-time thing. The Dream Monkeys coach Yoko (Actually one of my favourite characters in the show.) wants the team to do a victory dance after every win. Why? It's Yoko's way to grow the game. I mean, it's a more clean way to grow the game than Kodak Black's way but I think it was unnecessary.
One character named Mami moves to Tokyo after episode three and is eventually replaced on the team by Yu. She is eventually seen again but Mami was such an awkward piece in the show. What I would have done is kept her around until the end and she announces she is leaving after the championship game and the team tries to win it as their "last dance" among her childhood friends.
There also wasn't enough hockey in Pride of Orange. In fact, most of it was the girls talking about their feelings about hockey, their teammates, their childhood (Flashback sequences during the games were a bit too long.) and other stuff. Also, there was one episode where they work in a hotel in Okinawa and play beach volleyball. There, the goaltender Kaoruko learns to use her voice while playing volleyball. Not a single hockey scene in that episode.
You could literally replace hockey with anything else and the plot would be the same. This was basically a Slice of Life anime with the girls sometimes playing hockey. To be honest, this is a small step towards growing the game. Maybe some anime fans in Japan or elsewhere will start to get interested in the sport and start watching or playing it.
Basically, the premise of the show is that the power of friendship can win you hockey games. In fact, the Dream Monkeys have a motto: "The pride of our hearts connect the puck." Maybe the Canucks should use that motto too.



Overall, the first hockey anime was a 5/10 for me. While there are good character developments and animated scenes, It was very predictable and cliche. I kind of expected more. Maybe we'll get a more intense and more hockey-focused anime in the future. The trailer is linked above and you can watch Puraore: Pride of Orange on Animehub.net if you want.


Well, that was a pretty hockey-focused Avid Thoughts this week. Look out for this column next week!